These Blue Hawaiian Rainbow Jello Shots will bring a smile to your face with the sky blue color, whipped cream clouds, and rainbow candy.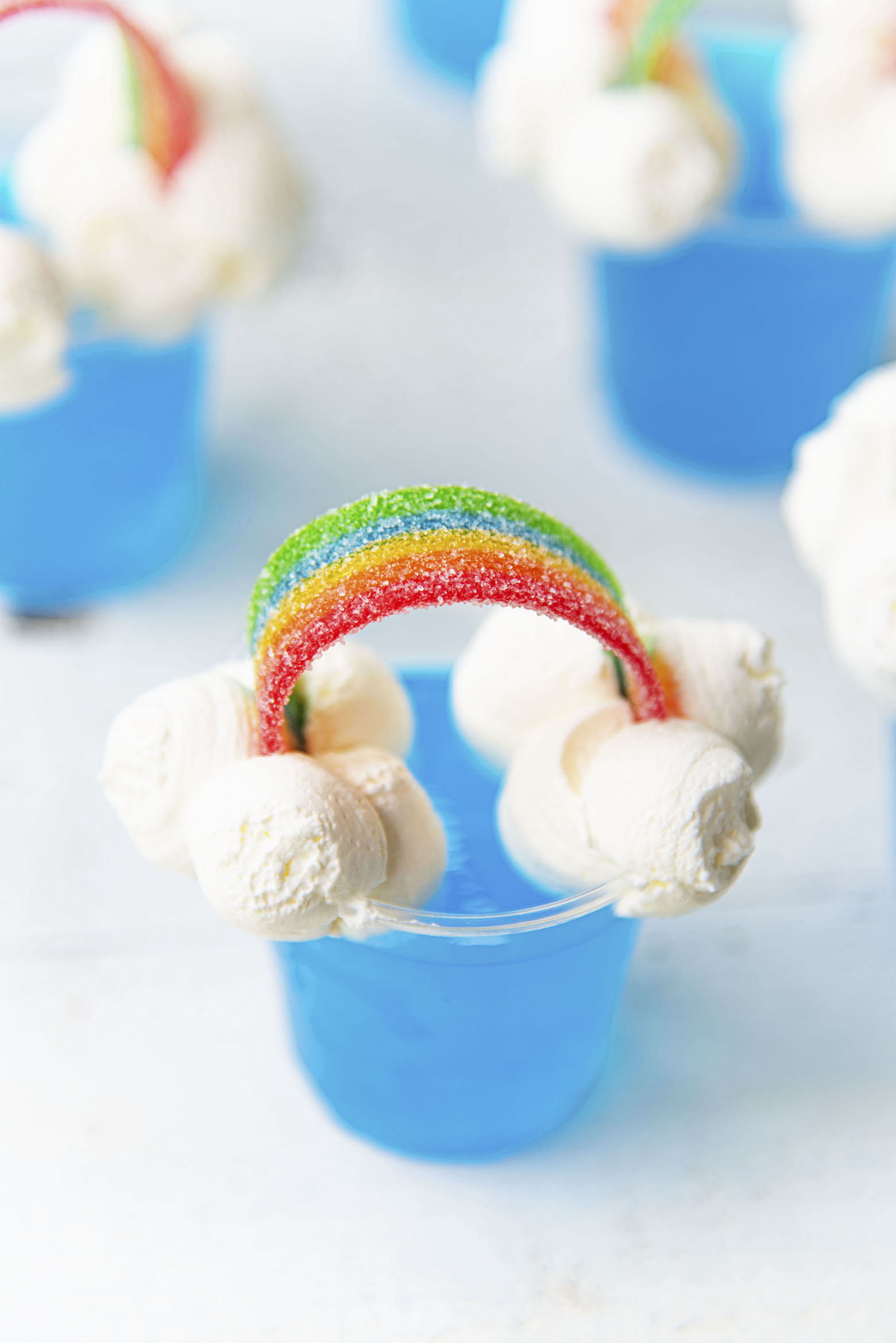 I haven't had a Blue Hawaiian cocktail since moving to Washington state.
Which was about 17 years ago.
So it's been awhile to say the least.
I'm guessing I don't see them often because the Seattle area isn't really a tropical cocktail kind of place.
It's a very tasty cocktail but I think the blue color scares people a little.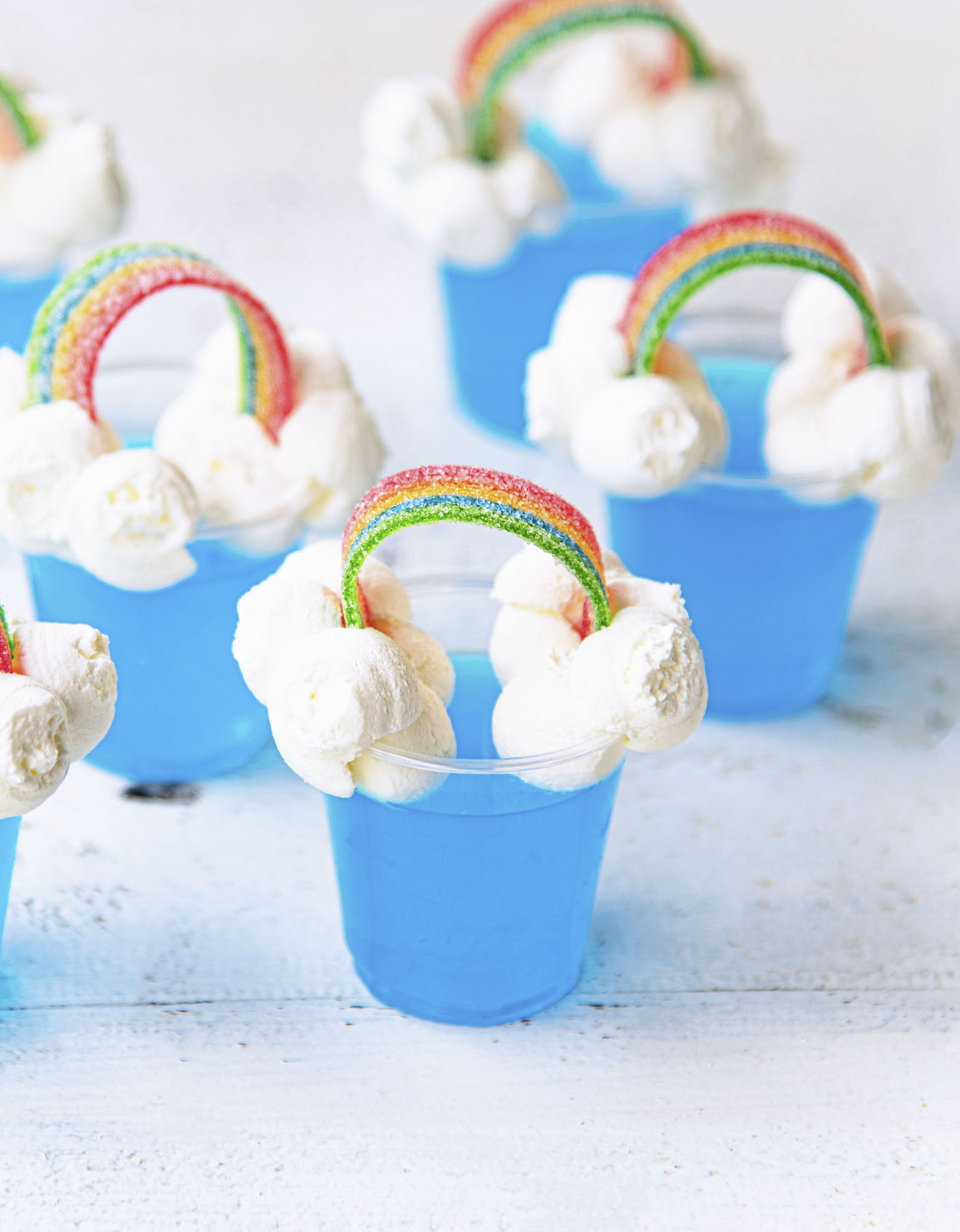 I've had a couple people in the last few weeks ask me when I would be making more Jello shot recipes?
My guess is the warm weather is making them want to make them.
Our weather here is always confused.
Two Saturdays ago we were at 80F and breaking records.
This past weekend it was 48F and rainy.
And often we get a sun and rain mix throughout the day which makes for a lot of rainbows.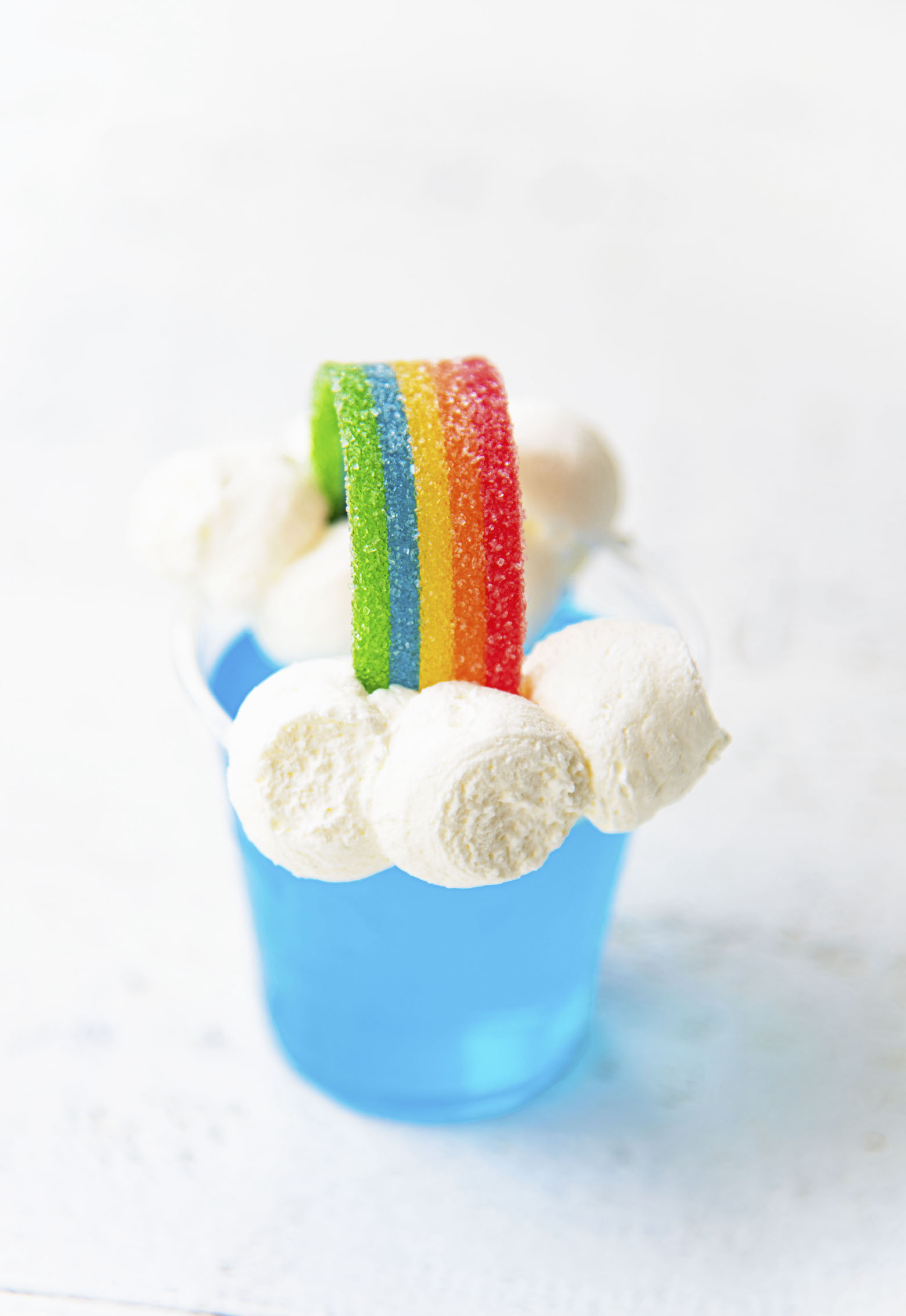 I had bought the rainbow candy around St. Patricks Day.
Thinking I was going to make something having to do with a pot of gold at the end of the rainbow.
But that didn't happen.
In going through my gelatin collection (it's pretty big) I found this Blue Hawaiian (link in the recipe) gelatin.
It's gelatin made with the intent of being Jello shots.
So that works out nicely.
Now I realize not all of you can find that so I would use the berry blue Jello flavor if you can't get the Blue Hawaiian gelatin.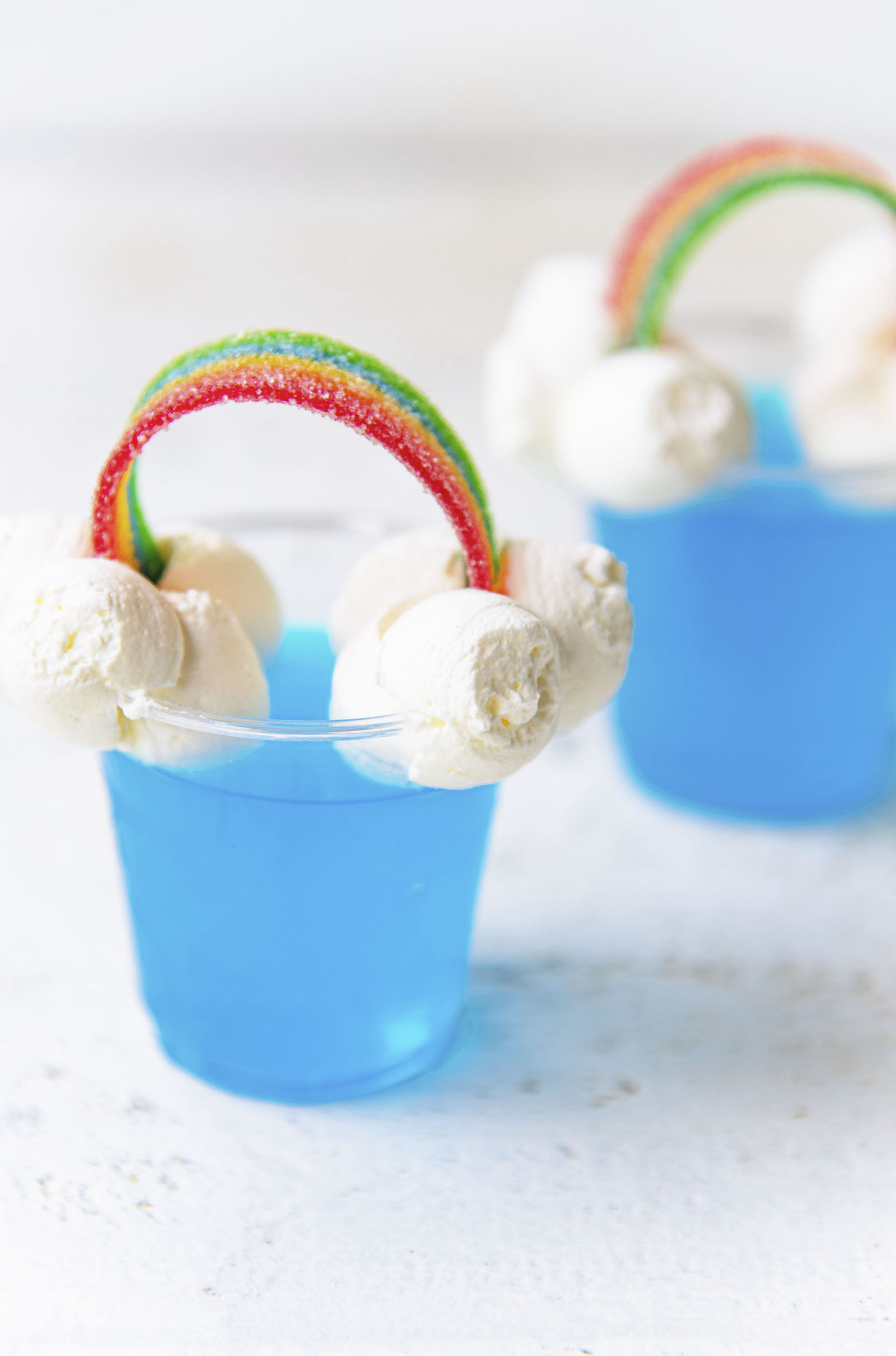 These Blue Hawaiian Rainbow Jello Shots just make you happy.
I mean look at them.
So happy.
I do trim the rainbow candy a little as if it is too long it will droop a little.
The whipped cream on the sides also helps keep the candy up as well.
Last but not least…it's a great time to -order my cookbook. 😀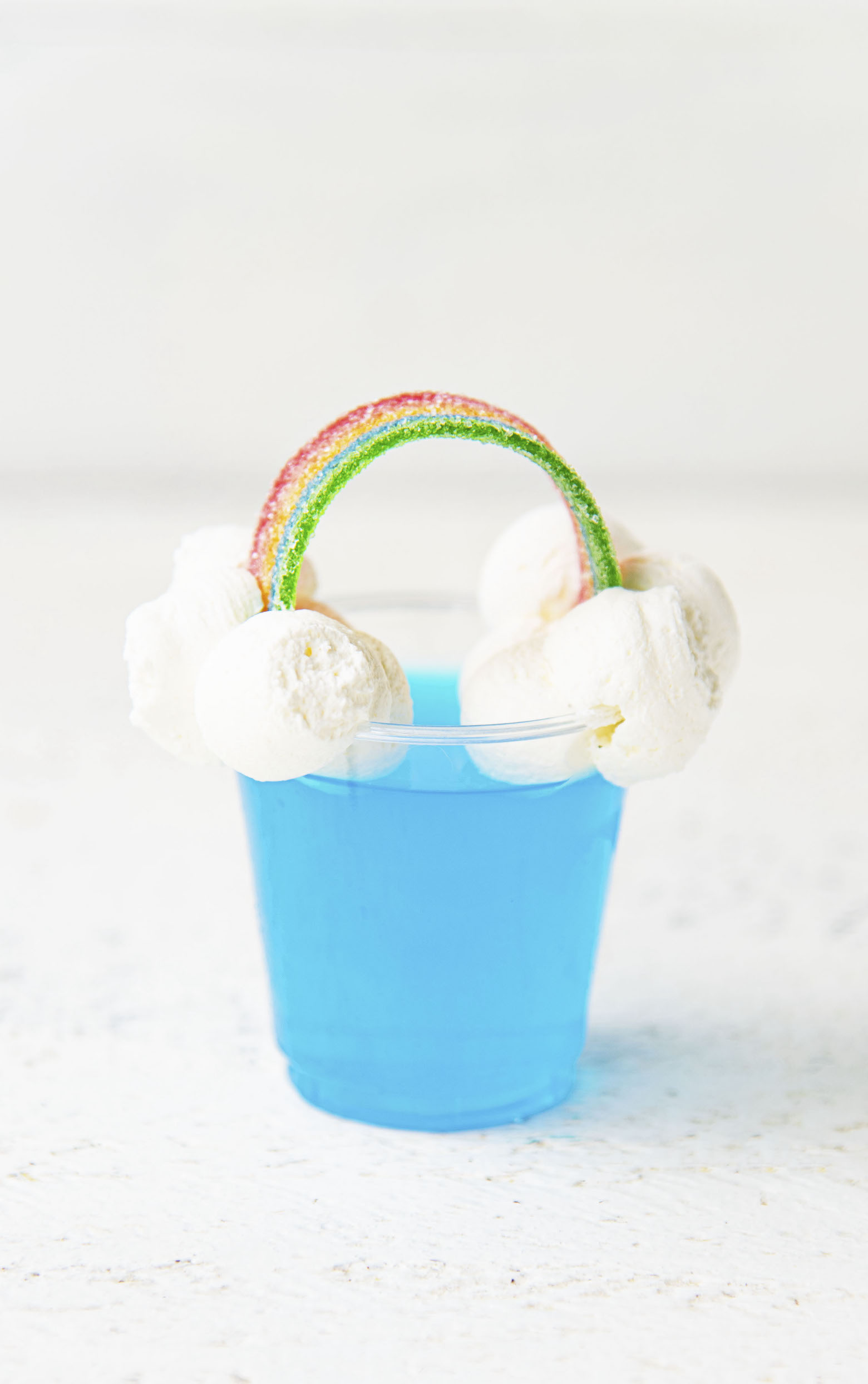 Want More Jell-O Shots?
Dole Whip Pineapple Jell-O Shots
Peanut Butter Grape Jelly Jell-O Shots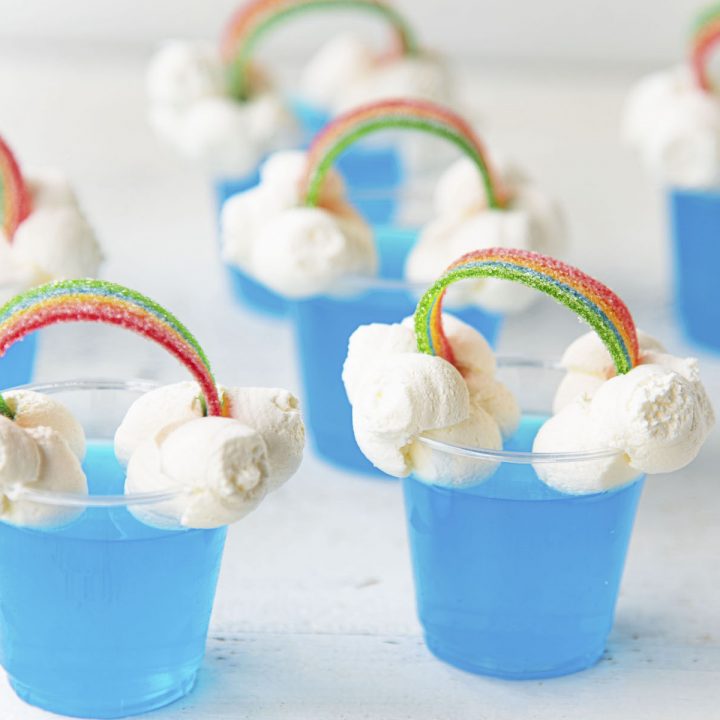 Blue Hawaiian Rainbow Jello Shots
Ingredients
For the Jello Shots:
1 1/2 cups water
1 1/2 cups pineapple juice
1/2 cup vodka
1/4 cup light rum
1/4 blue curaçao
For the Garnish:
1 cup heavy whipping cream
2 TBSP powdered sugar
Instructions
For the Jello shots:
Bring 1 1/2 cups water to a boil.
Empty gelatin powder into a large mixing bowl and add the boiling water.
Continue stirring for two minutes or until the gelatin is completely dissolved.
Add in the pineapple juice, vodka, rum, and blue curacao.
Stir until mixed and pour into 2oz. cups filled 3/4 of the way.
Refrigerate for at least 4 hours.
For the Whipped Cream:
Using a stand mixer with the whisk attachment, whisk the heavy cream until soft peaks start to form.
Add in the powdered sugar.
Continue you whipping until stiff peaks form.
Place your whipped cream into a piping bag fitted with a size 808 plain round tip.
Pipe two small clouds on opposite ends of the shot glasses.
Place a piece of rainbow candy so that it looks like it is coming out of the two clouds. I cut my candy a little to help with the arch because I felt the candy was too long.
Pipe more clouds around the rainbow candy.