These Apple Cider Moscow Mule Jello Shots has a apple gelatin, apple cider, Crown Royal Apple, vodka, and ginger beer for a fall twist on a classic.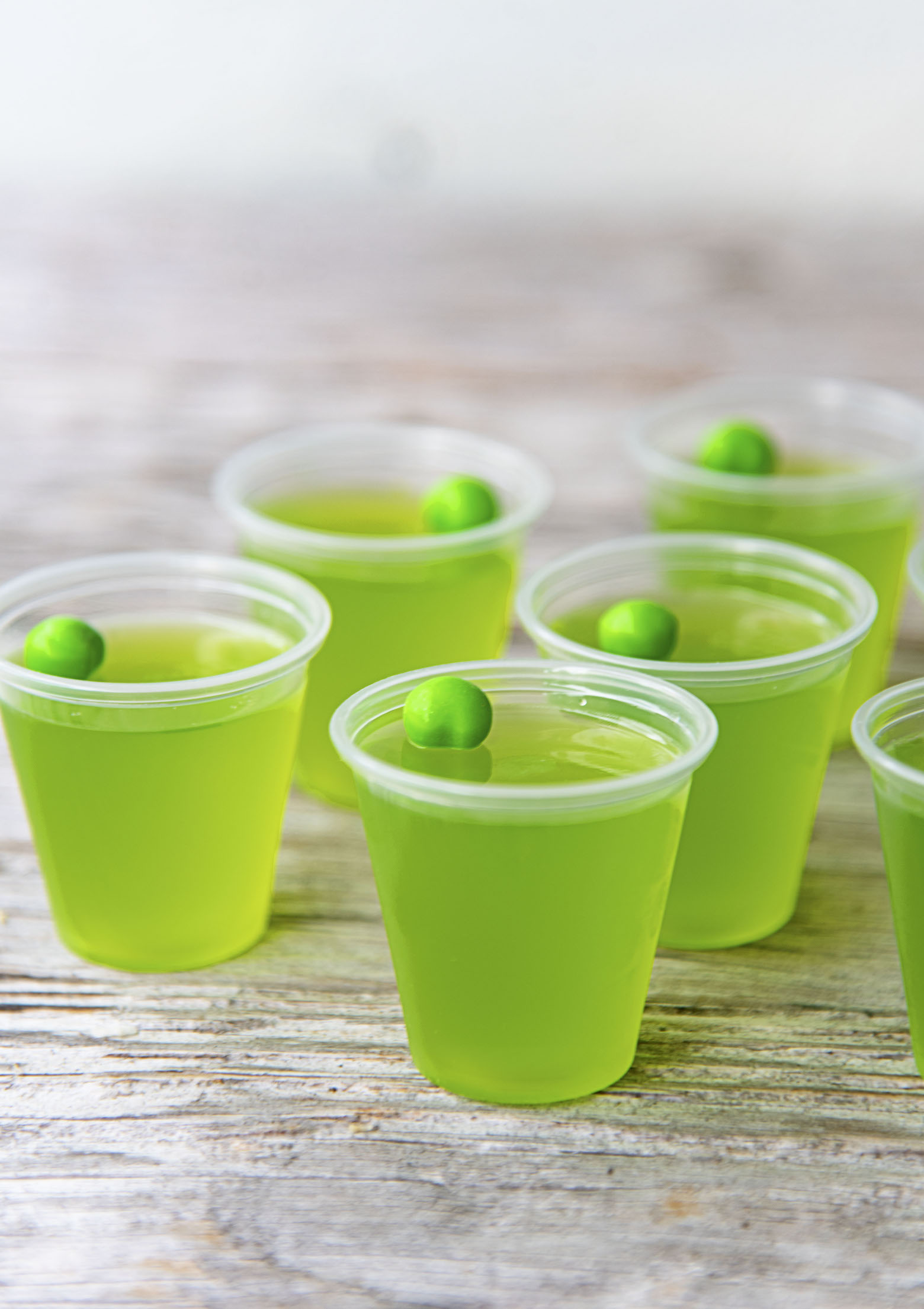 My husband and I were big fans of when Moscow Mules were a big thing again.
While you can still get them anywhere I don't feel they are as popular as they used to be.
Which pretty much happens with all things. I'm sure in 20 years they will cycle back in to being THE drink again.
But since I never care what is popular at the moment we still drink them.
Often.
And in the fall we make them with apple cider.
So I figured let's make a Apple Cider Moscow Mule Jello Shots.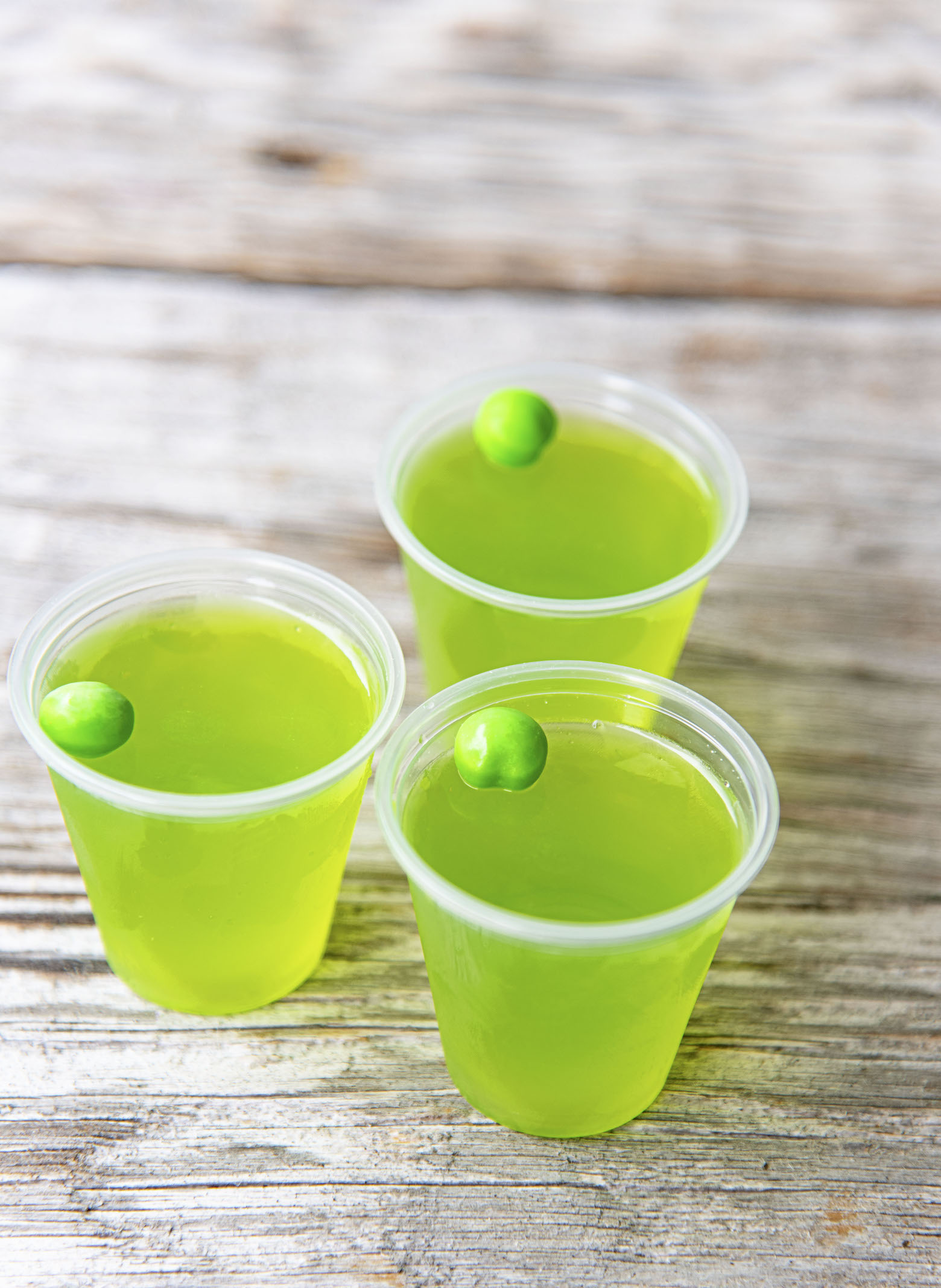 I have quite a few people comment every time I use Crown Royal in jello shots.
That jello shots don't deserve decent booze in them.
And if that's your stance as well feel free to use whatever whiskey you want.
Preferably apple flavored though.
We just happen to like Crown in this household and it's what we have around.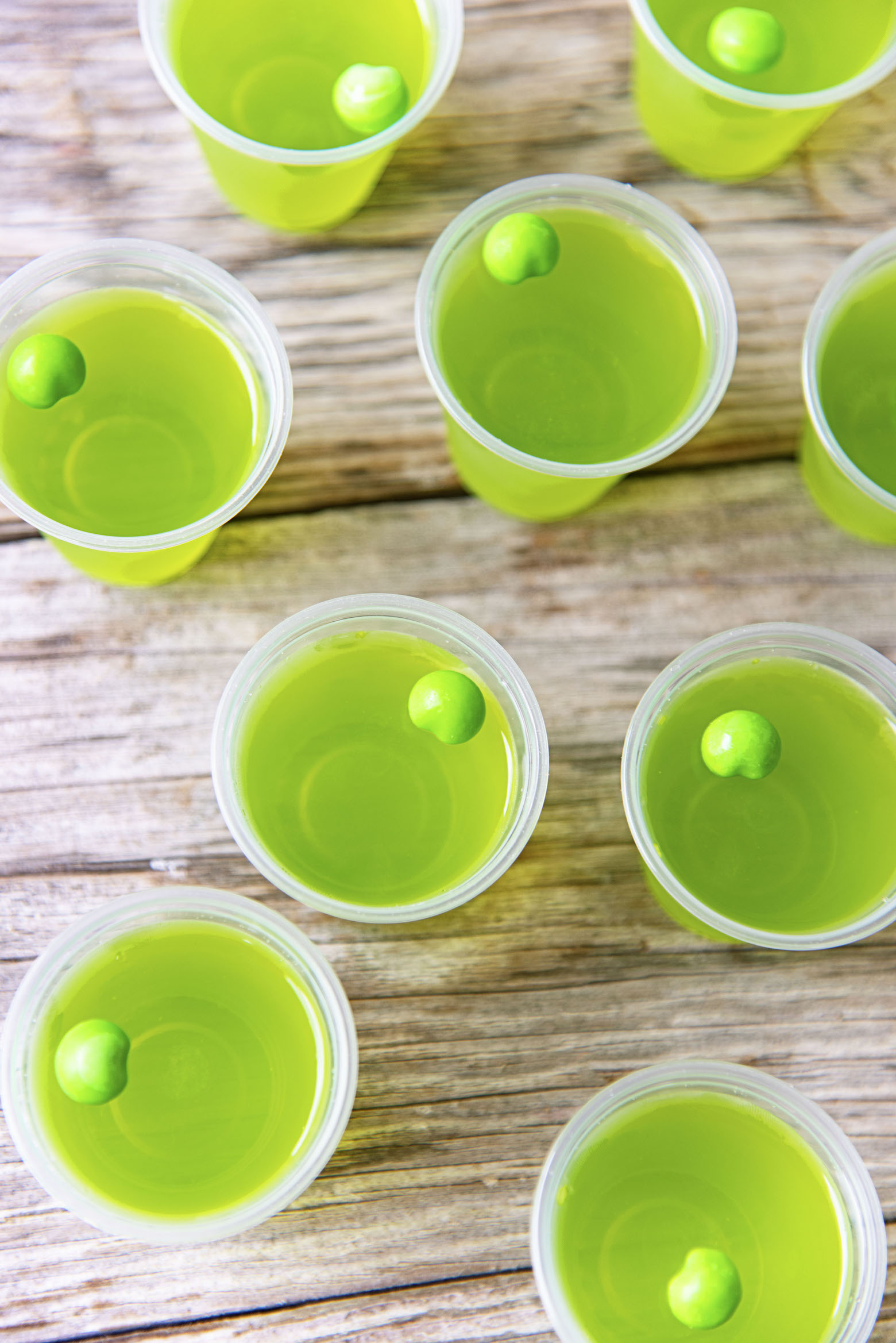 If you can't find apple cider you can always use apple juice.
Though you might want to find some of the apple cider mix and add a TBSP to the apple juice to give it a more spice flavor.
If you are making these in the fall you should be able to find it.
Preferably fresh.
We are fortunate enough to be surrounded by a few farms that sell their own cider.
Both non-alcoholic and hard cider. 😀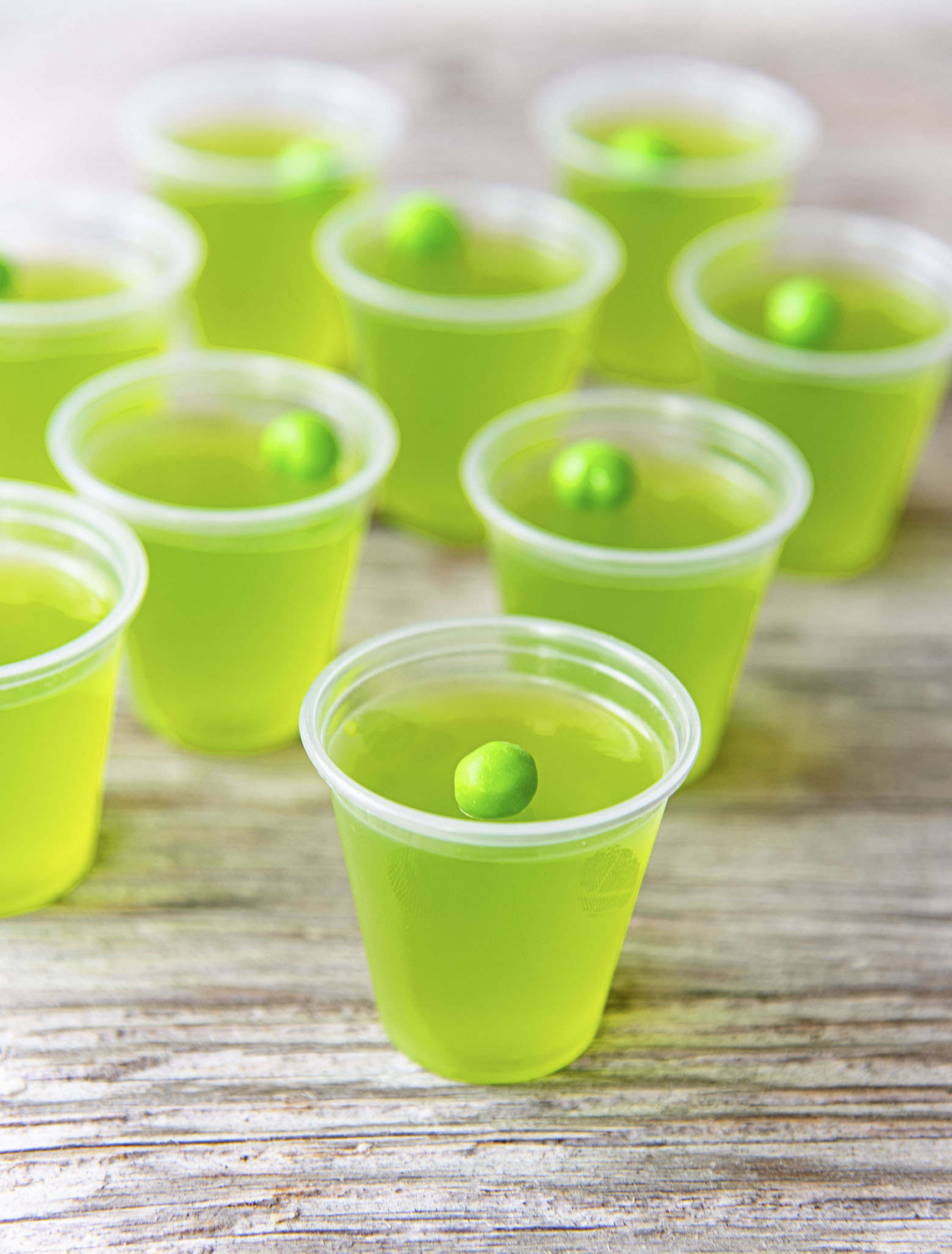 You can find the Jolly Rancher Gelatin usually at Walmart and Winco.
I tend to buy it online just because I use it so much.
Not sure if anyone else makes an apple flavored gelatin or not.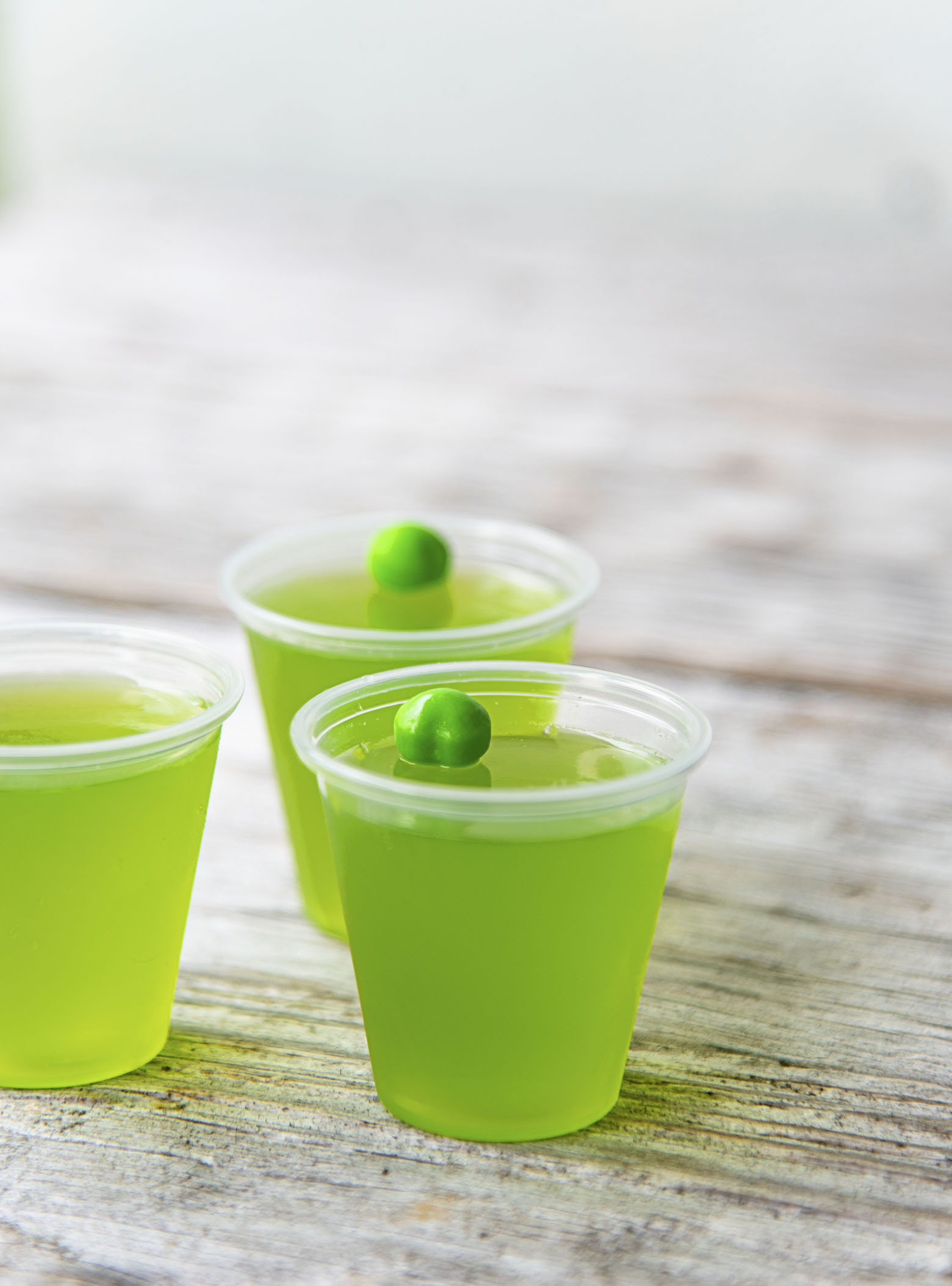 Things to remember when making Jello Shots.
When throwing a party, you'll probably want to prepare 4-6 Jello Shots for each guest.
This batch uses 6 ounces of gelatin and so you will get around 18-20 Jello shots.
If doing a half recipe and only using 3 ounces of gelatin you will only get 8-10 Jello shots depending on how you pour.
If using a garnish, don't place the garnish on the jello shot until just ready to serve.
And as always it's a great day to order my cookbook.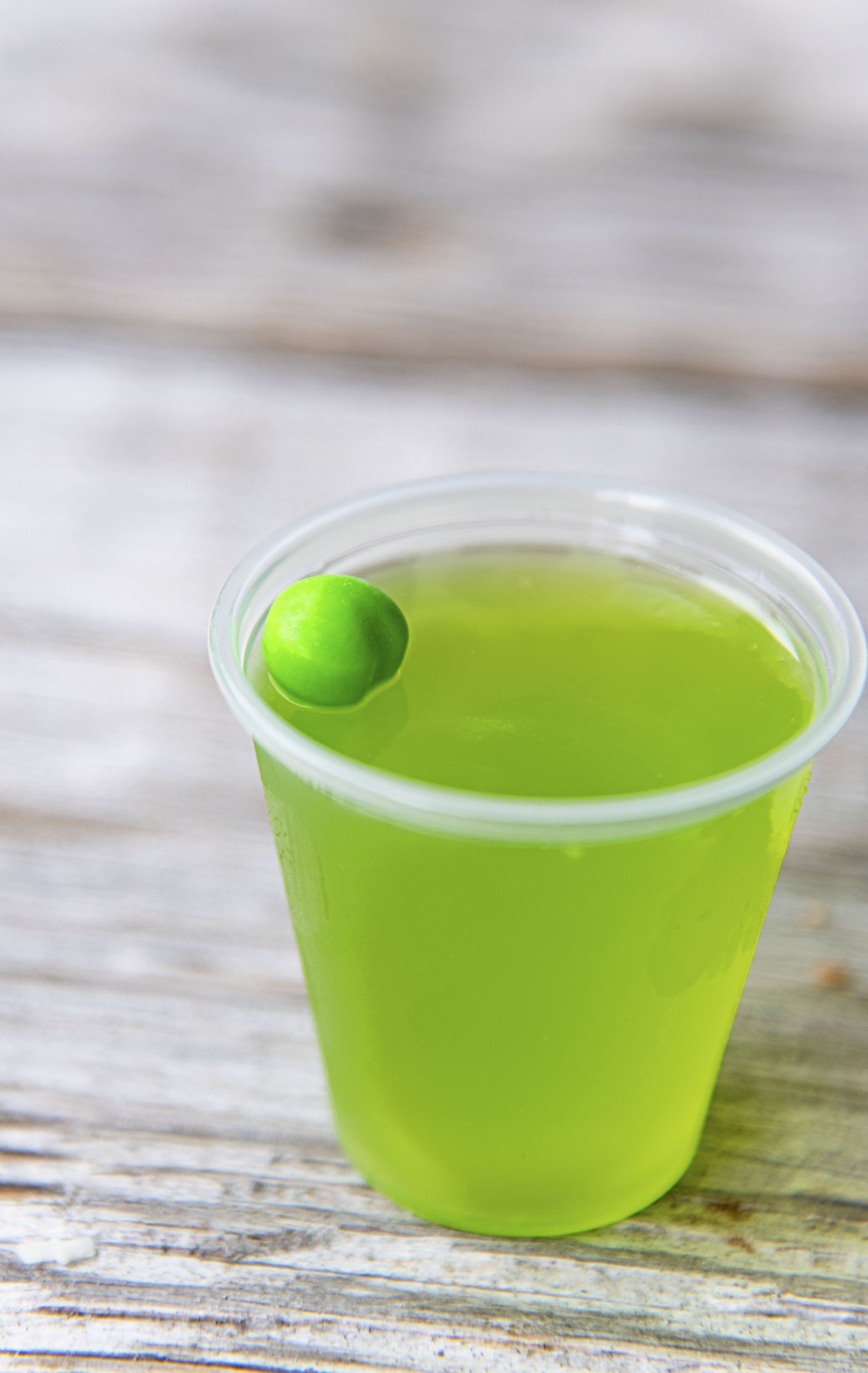 Want more Jello Shot recipes?
Blue Hawaiian Rainbow Jello Shots
Cinnamon Candied Apple Jello Shots
Strawberry Pina Colada Jello Shots
Fruit Punch Moonshine Jello Shots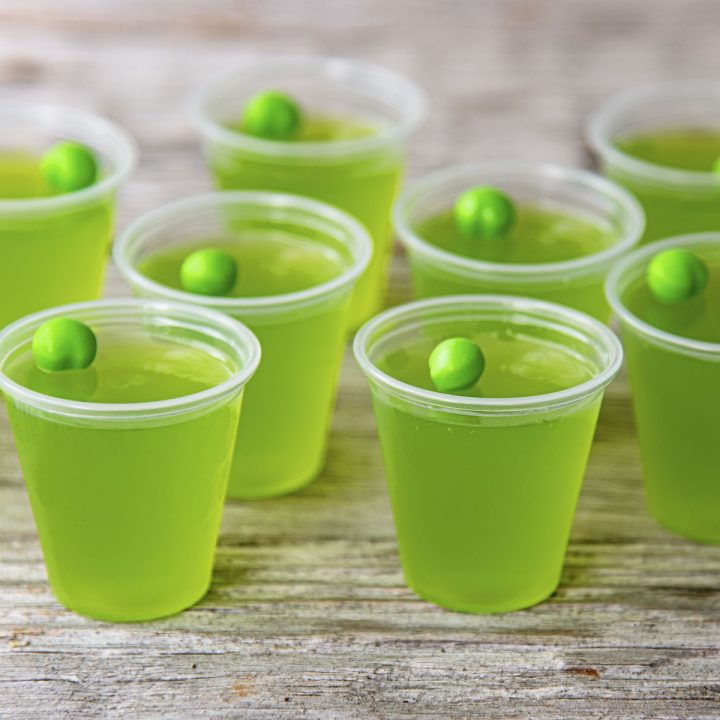 Apple Cider Moscow Mule Jello Shots
Ingredients
1 1/2 cups apple cider
2 (3 oz) packages Jolly Rancher Green Apple Gelatin
1 1/2 cups ginger beer
1 TBSP lime juice
1/2 cup Crown Royal Apple
1/2 cup vodka
Runts Apple Shaped Candy for garnish
Instructions
Bring 1 1/2 cups cider to a boil.
Empty gelatin powder into a large mixing bowl and add the boiling apple cider.
Continue stirring for two minutes or until the jello is completely dissolved.
Add in the cold ginger beer, lime juice, Crown Royal Apple, and vodka.
Stir until mixed and pour into 2oz. cups filled 1/2 to 3/4 of the way.
Let set up in fridge for at least 4 hours.
Top with a Runts Apple Shaped Candy