This Circus Animal Cookie Hot Chocolate is made by using crushed Circus Animal Cookies steeped in milk and white chocolate. Don't forget the marshmallows!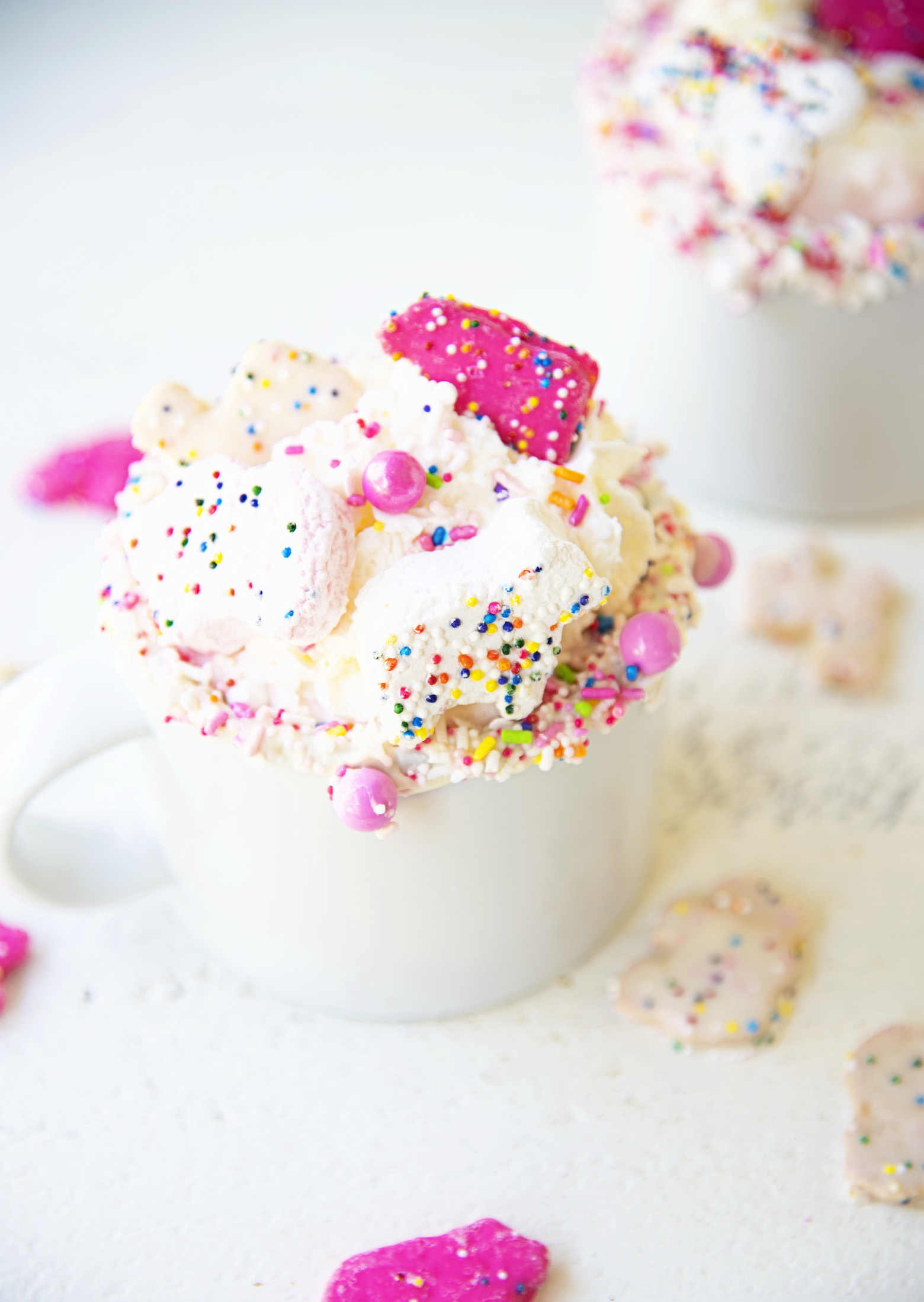 My ex-husband (we are friends I'm allowed to talk about him 😀 ) loves to watch movies.
He is one of those people who doesn't mind going to the movies by himself.
Knowing him, he probably prefers it that way.
He also likes watching them at home.
I, on the other hand, do not like watching movies.
I get antsy.
To get me to go to the movies I have to REALLY want to see the film and I have to believe seeing it on the big screen will be better.
Movies like Jurassic Park and Star Wars kind of movies.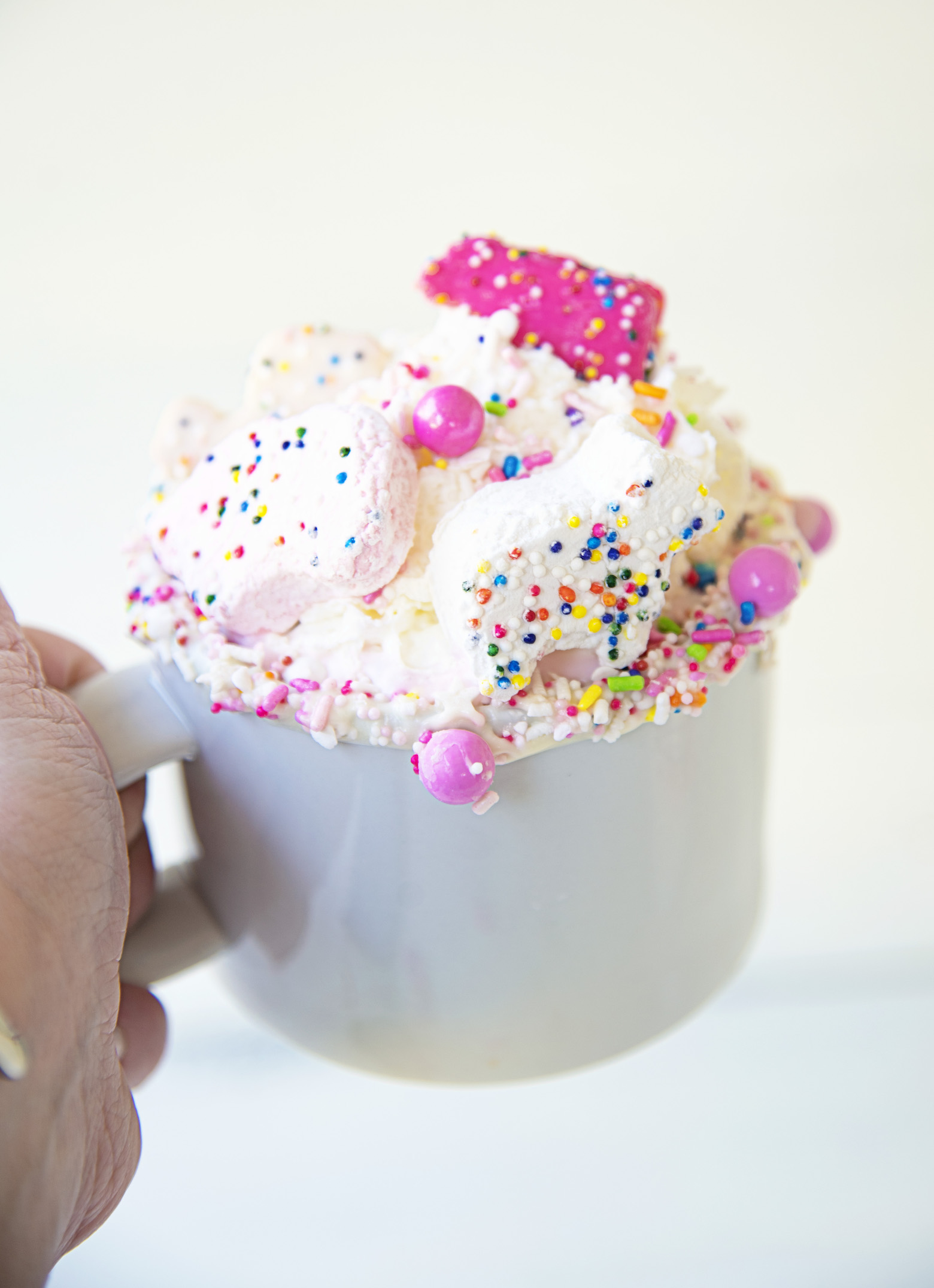 Partially I don't like going because it's too people-y for me.
I'm not really an introvert but for some reason the crowds at movie theaters bugs me.
Maybe it's because I tend to have bad luck when it comes to who sits around me.
I get the loud talker who thinks he is the voiceover guy for the movie.
Or I get in front of the person who is annoyed I'm sitting there because they want to put their feet up…and try the whole time to do so.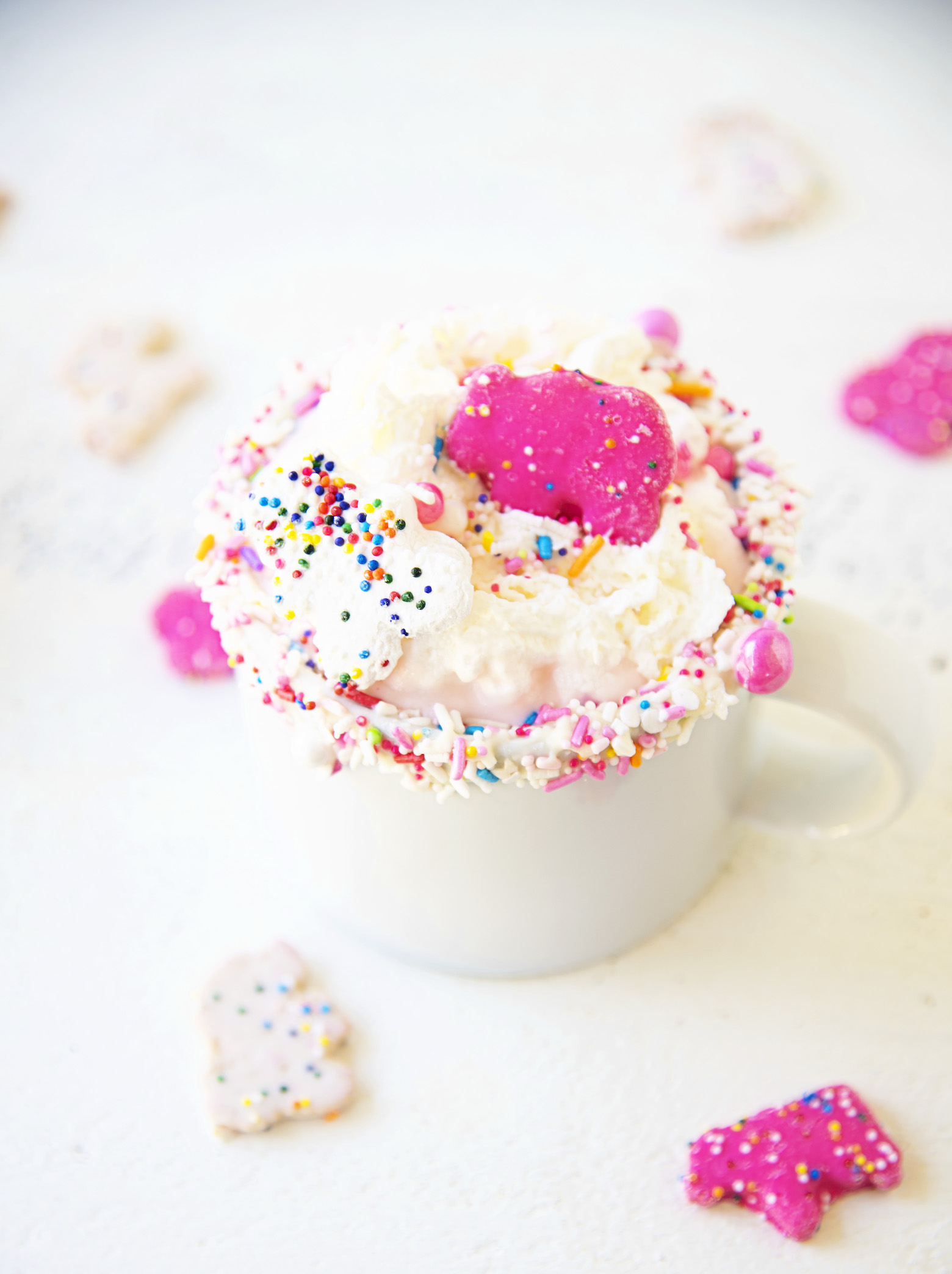 And then there are the kids.
I always seem to be around the family that couldn't or didn't want to get a sitter.
So they take their kid to a Rated R movie at 10 pm at night.
Now full disclosure, my dad was one of those people.
My mom was back visiting my grandma and grandpa when he was left with us.
My brothers (who are much older than me) and him wanted to see First Blood (you know Rambo).
So they bribed me with Red Vines to go and be quiet.
And I was quiet.
The kids I get around are not quiet to say the least.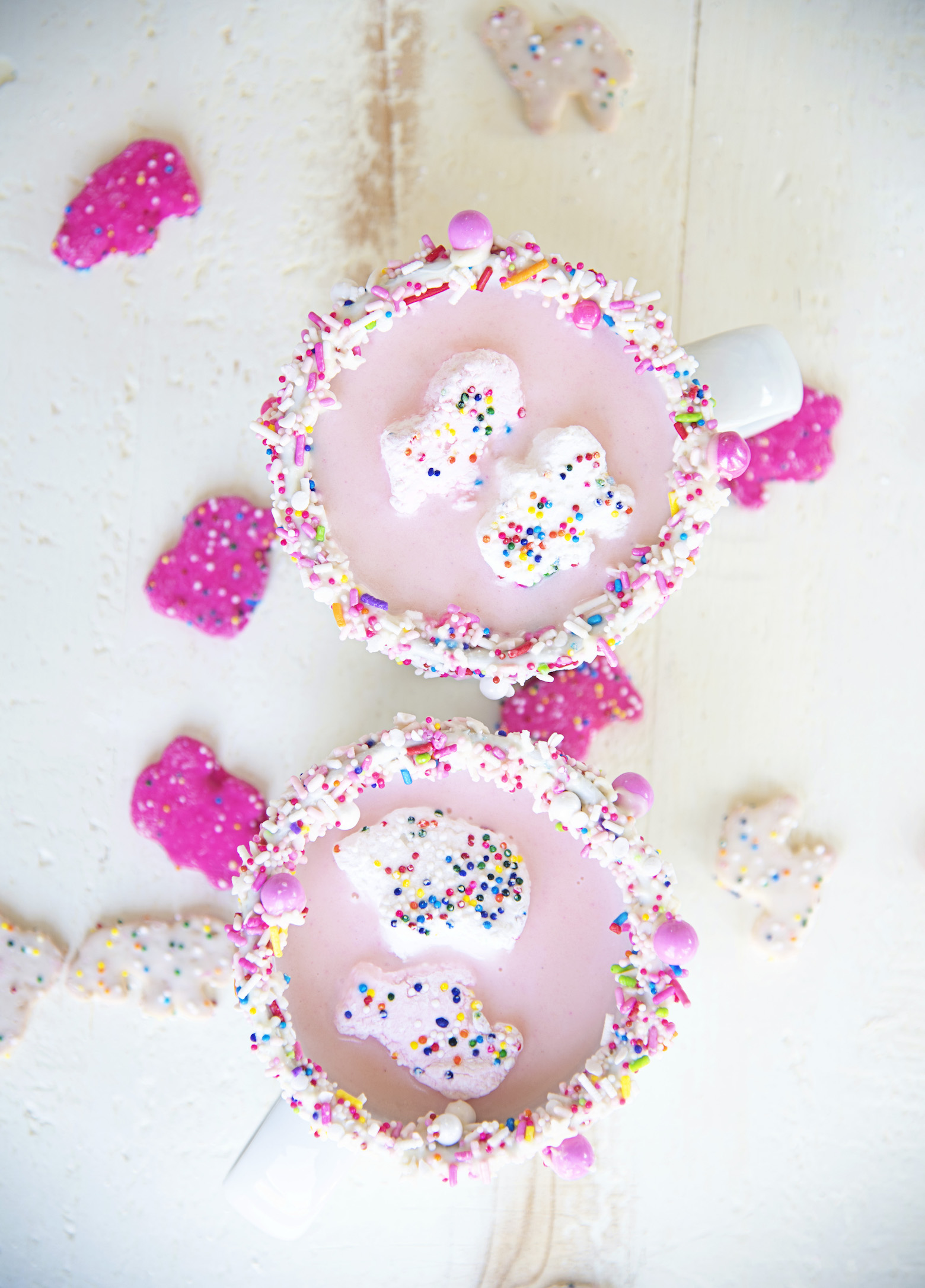 Perhaps the most traumatizing was going and seeing Forgetting Sarah Marshall.
There was about a 5 year old kid next to me.
He tried on several occasions to steal my candy to which the parent told me just give him some.
I did not.
And when it came time for the scene where the two characters are competing to be the loudest during sex (they could hear through the walls) the kids starts moaning along with them.
Then shouting yes, yes, yes right along with them.
It was so cringe worthy I can't even begin to tell you.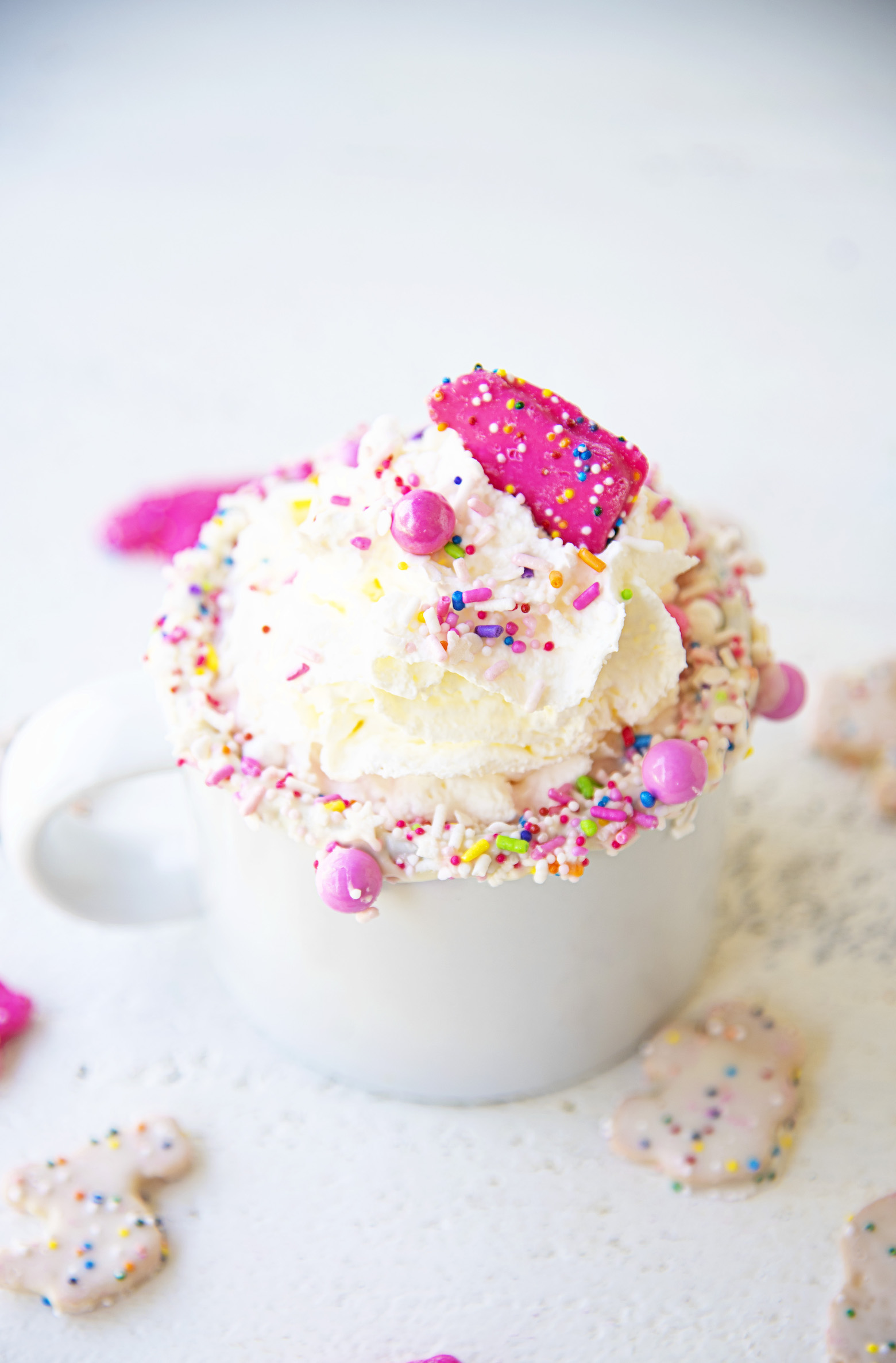 What does any of this have to do with Circus Animal Cookie Hot Chocolate?
Field of Dreams.
A movie my ex-husband loves.
And I have never seen.
But I do know the part where "if you build it he will come".
Which nowadays people adapt that phrase to many a thing.
Myself included.
This hot chocolate is my build it.
And what I need to come is fall.
Also, hopefully some rain considering the fact that you can't see my neighbors house because the smoke is so thick from wildfires.
This is a fun hot chocolate.
It does use the cookies to help flavor it.
You do need to color it pink.
Or else it's is a weird gray color from all the sprinkles on the cookies melting into the milk/cream.
But if you love Circus Animal Cookies then this hot chocolate is for you.
Don't forget to make the marshmallows as well to make it extra festive.
If you love Circus Animal Cookies know that there is a recipe in my cookbook using them.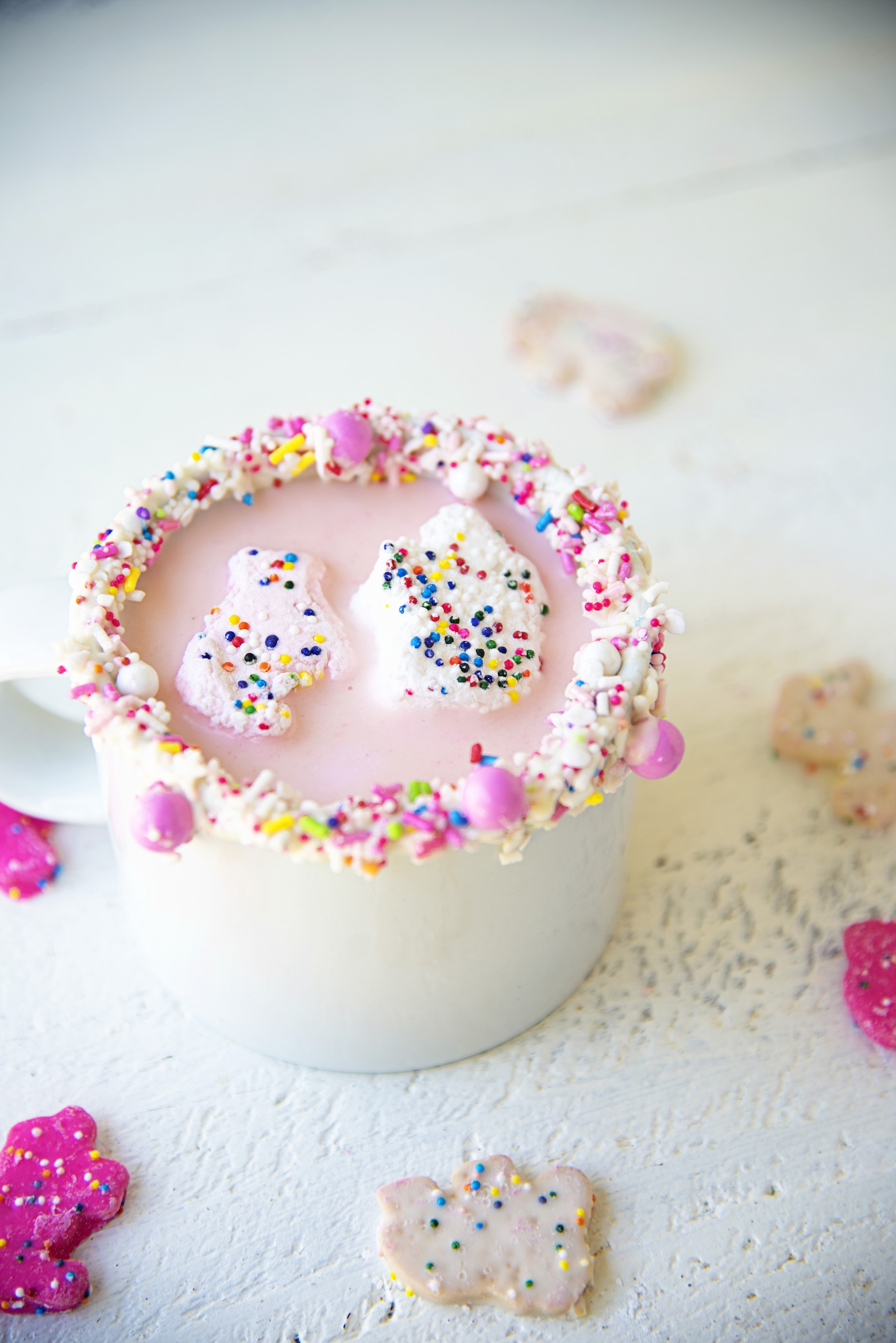 Want More Hot Cocoa Recipes?
Spiked Candy Cane White Hot Chocolate
Boozy Peppermint Slow Cooker Hot Chocolate
Spiked Stroopwafel Hot Chocolate
Spiked Gingerbread Hot Chocolate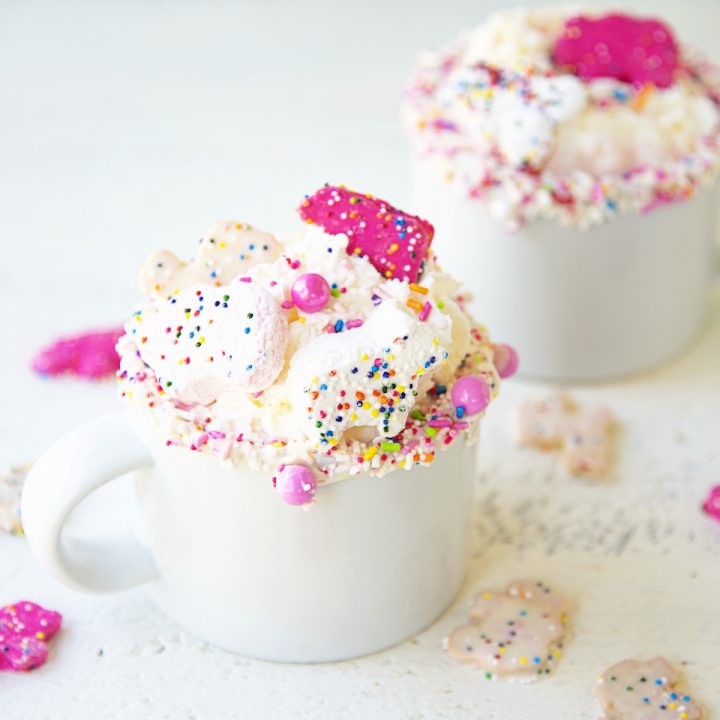 Circus Animal Cookie Hot Chocolate
Ingredients
2 cups heavy cream
2 cups whole milk
20 Circus Animal Cookies
8 oz. white chocolate, finely chopped
pink food coloring gel
Instructions
In a medium saucepan add the heavy cream, milk, and 20 Circus Animal Cookies. Bring to a boil and then remove from heat and set aside for 20 minutes with a lid on.
Once the 20 minutes are up, strain the cookies out of the cream/milk mixture. It's going to not be a pretty color at all. That's okay we will deal with that later.
Stir together cream/milk, Buttery Sweet Dough Emulsion, and chopped white chocolate in a medium saucepan.
Cook over medium-low heat, stirring occasionally, until the white hot chocolate comes to a simmer. (Do not let it come to a boil.)
Remove from heat and add pink food coloring gel. How much you use depends on how pink you want your hot chocolate.
Pour into mugs and top with whipped cream, Circus Animal Cookies, and Circus Animal Cookie Marshmallow. Notice I said and and not or....use all three...live a little. 🙂