These Basic Salted Soft Pretzels are a great soft pretzel recipe with added depth of flavor of molasses and rye flour topped with plenty of pretzel salt.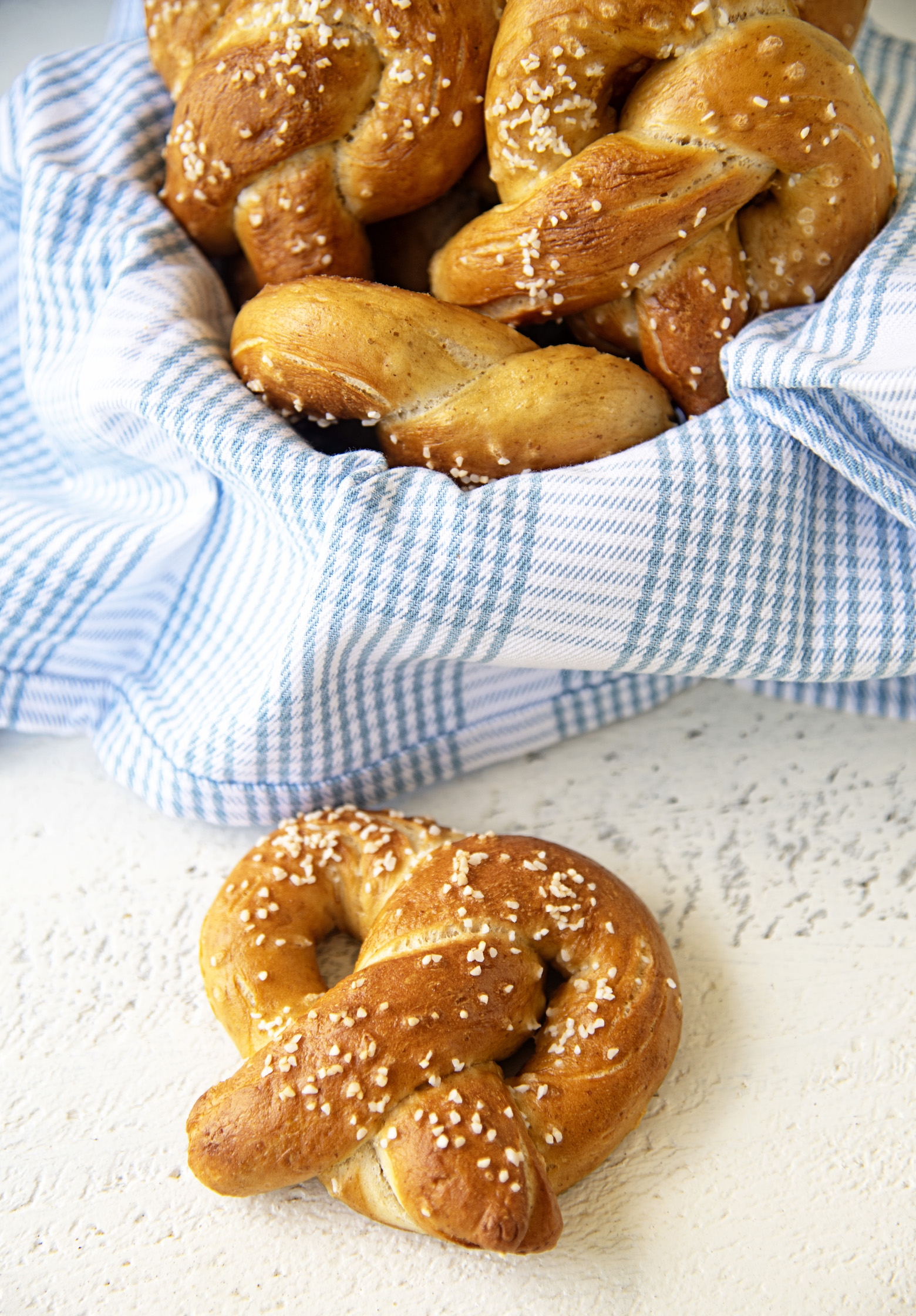 So it's kind of crazy that I have a basic recipe on this site.
Because let's face it, I'm not a basic girl.
Well, at least not for food.
But I saw someone make pretzels the other day and started craving them.
While I had a recipe (this one) that I adored as a food blogger I am always out there looking for a new recipe to give a try.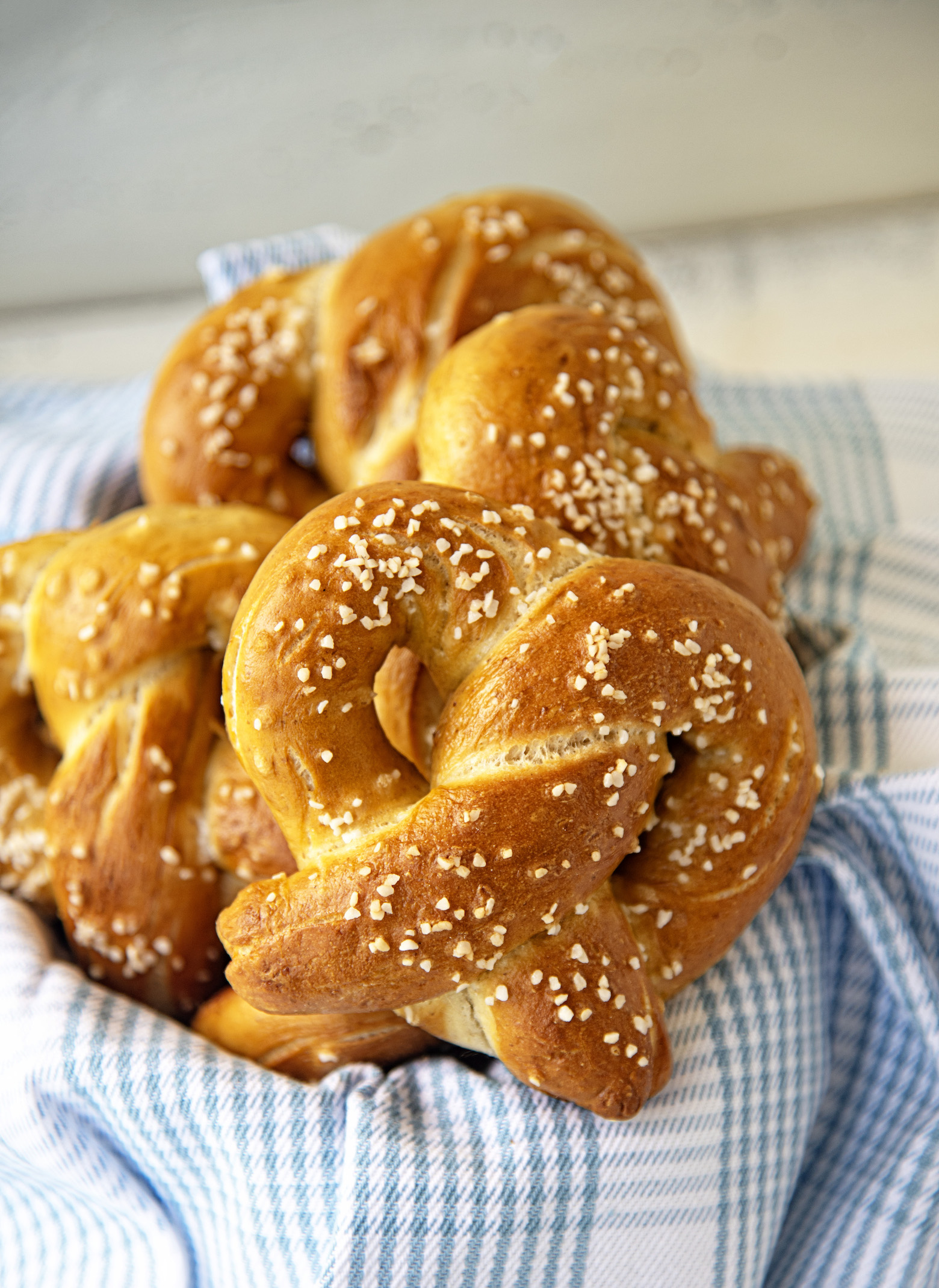 However, in my quest to find a new soft pretzel recipe to try I only really found one dimensional recipes.
Pretzels that were just basically water, flour, yeast, and salt.
I like to keep an open mind and so I made a very popular bloggers pretzels.
And they were fine.
But that's it. Just fine.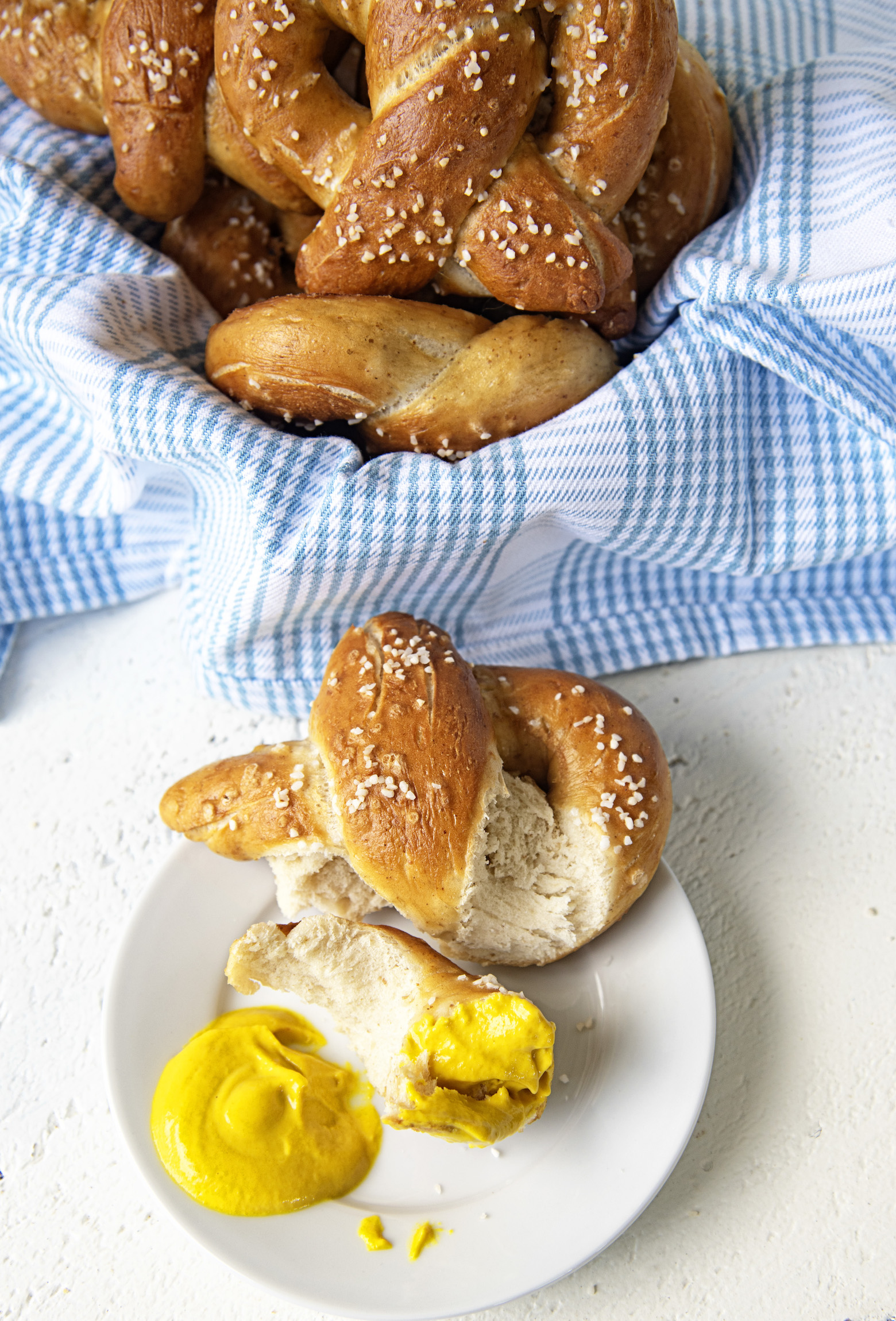 And none of the recipes I saw used ice.
Ice?
Yes, ice.
No, there is no ice in the batter but in the cooking method.
See I use the method where you eat the oven up real hot with a pan at the bottom rack of the oven.
Then when you are ready to bake you put ice in the pan.
Which then creates steam for the pretzels.
And the steam helps create a really great crust.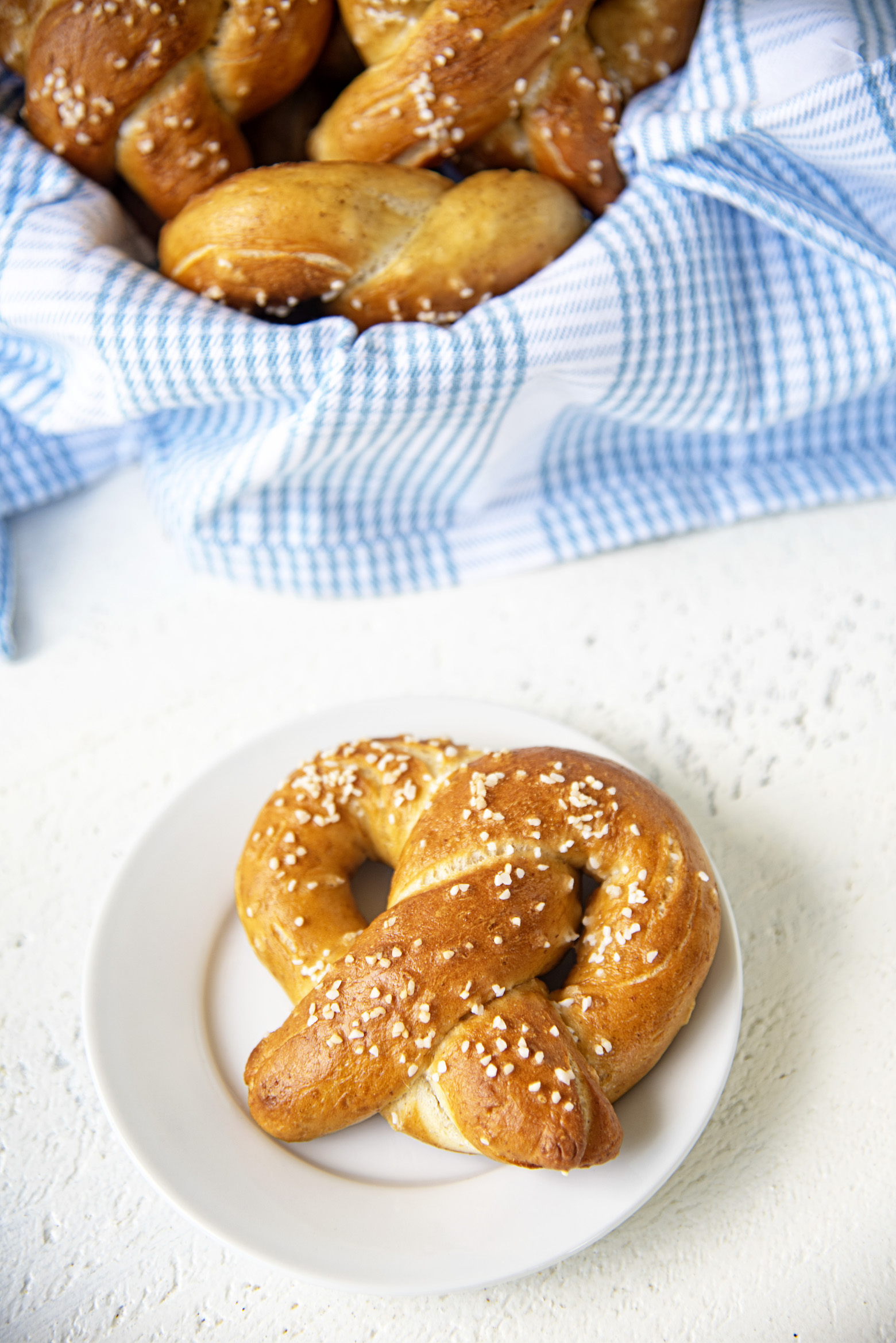 My Basic Salted Soft Pretzels recipe also uses rye flour.
Not much, but just enough to give the pretzel a little more depth.
That's why there is a tsp of molasses in there.
A lot of people use brown sugar and my other favorite pretzel recipe uses that.
Also, make sure to use pretzel salt.
You can technically use any coarse salt but I'm never truly happy with the pretzel unless it has pretzel salt.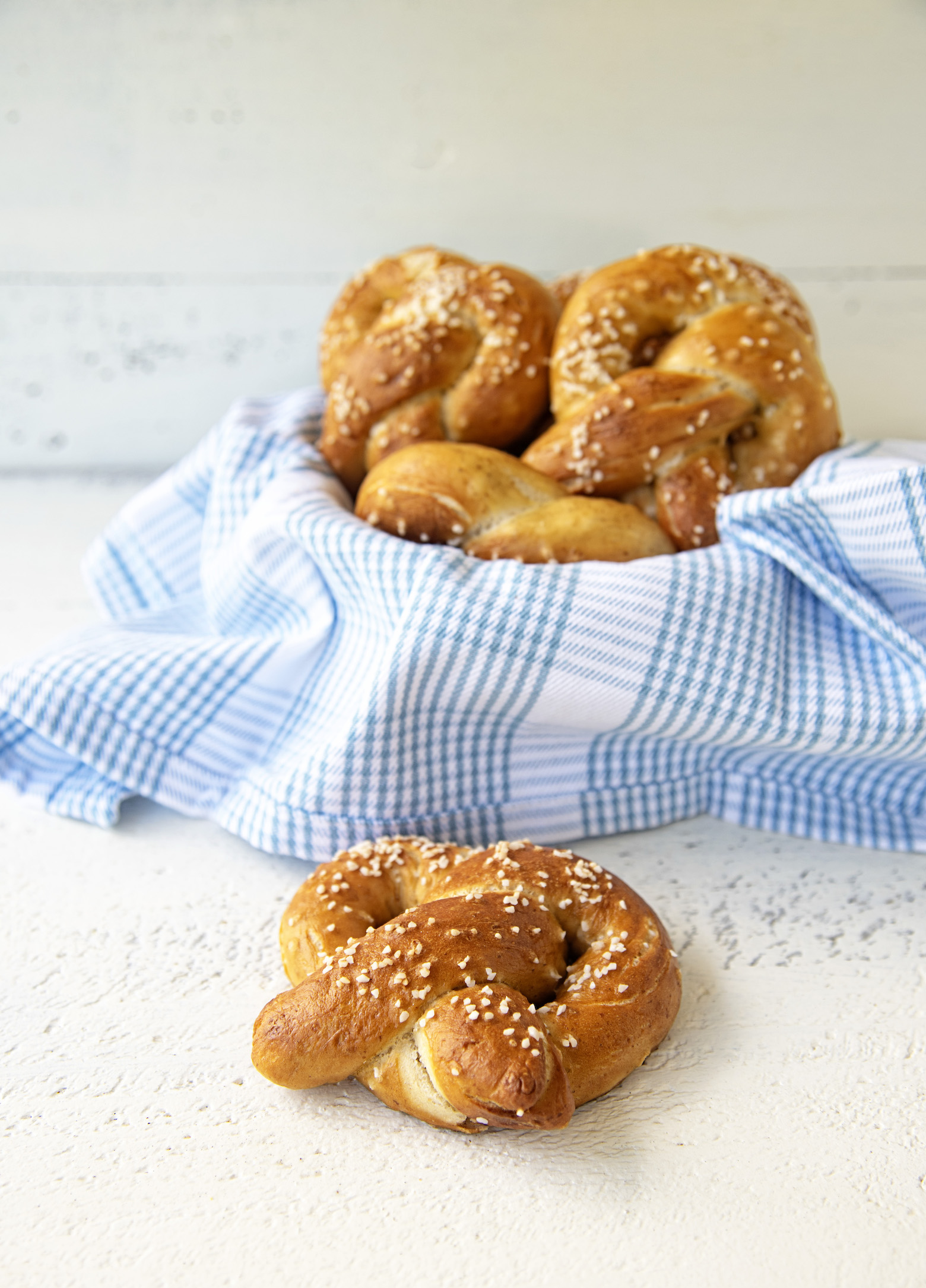 Almost everyone asks if they really have to boil the pretzels.
Yes.
It is there to give you a chewy texture.
And yes you need the baking soda in there so that the pretzels will brown.
The boiling process also helps them keep their shape.
I hope you will try this recipe the next time you go to make pretzels and see how it compares to your favorite pretzel recipe.
It's a great day to buy my cookbook.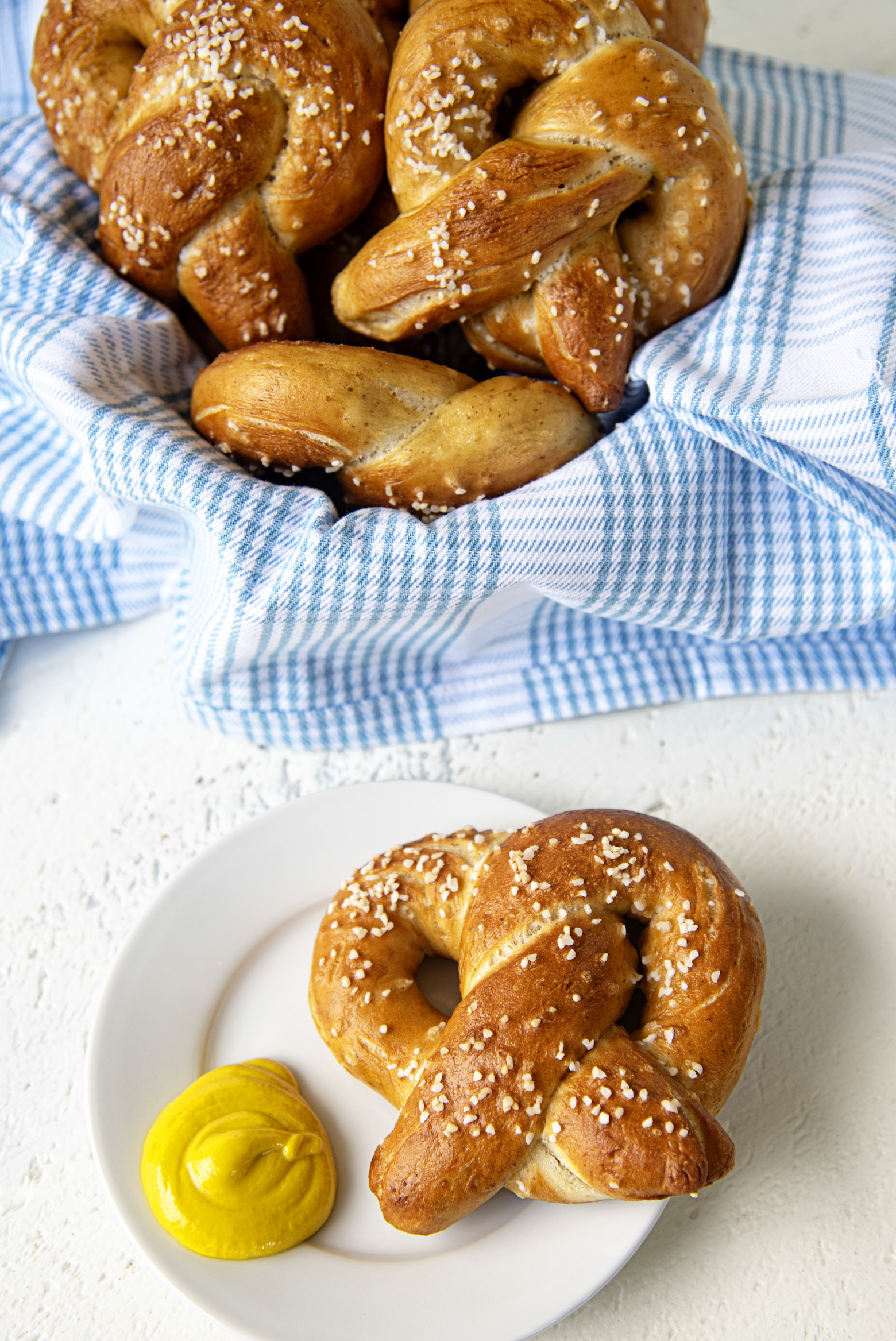 Want More Pretzel Recipes?
Strawberry Pretzel Cream Cheese Cupcakes
Beer Cheese Pretzel Potato Soup
Strawberry Cream Cheese Pretzel Pie
Honey Mustard Pretzel Deviled Eggs
Peanut Butter and Pretzel No-Churn Ice Cream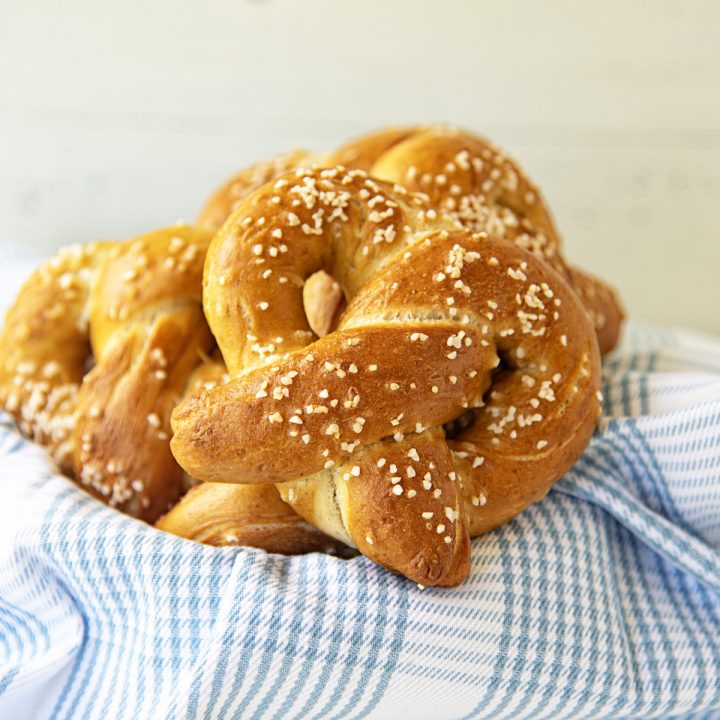 Basic Salted Soft Pretzels
Ingredients
2 cups warm tap water (110-115F)
1 tsp molasses
1 (2 1/4 tsp) packet active dry yeast
2 TBSP rye flour
1 TBSP kosher salt
4–5 cups all-purpose flour
10 cups water
3 TBSP baking soda
Milk for brushing pretzels (about 1/4 cup)
Instructions
In a large bowl, whisk the molasses into the water, then add yeast.
Let mixture sit at room temperature until it "blooms," about 10 minutes.
Add rye flour, salt, and as much all-purpose flour to the yeast mixture as you can mix in with a spoon, about 4–5 cups. (You can do the mixing with a stand mixer, too, which is what I did.)
Turn the dough out onto a floured surface and knead by folding dough in half and pushing it together with heels of your hands. Knead until smooth, adding flour as needed, 10–15 minutes. You can also use the mixer attached with a dough hook. Kneading took about 7 minutes.
Lightly grease a large bowl with vegetable oil and place the dough in the bowl, turning once to coat.
Cover with plastic wrap and let rise in a warm place until doubled, about 30-45 minutes.
Punch down the dough and divide in half.
Divide each half again for a total of 4 equal sections.
Then cut each section into 4 equal pieces. You will now have a total of 16 pieces of dough.
Working with one ball at a time (keep the rest covered), roll it into a 24" length. (It looks really long and skinny but once you form it into a pretzel it won't be). Use water to keep your work surface tacky. Don't use flour!
Now take the 24" rope and shape it into a horseshoe or a letter "U."
Take the open ends of the horseshoe and twist them together just once.
Bring the twisted ends over the loop of the horseshoe and press firmly to seal them. Repeat with remaining portions of dough.
Place the formed pretzels on two baking sheets (8 per sheet) greased with nonstick cooking spray. Space them so they have room to rise.
Cover and rise 15 minutes, or until slightly "poofy."
While pretzels rise, preheat oven to 450°. And put a roasting pan at the bottom rack of the oven.
In a 12" pan at least 3" deep, bring 10 cups water to a boil and stir in 3 TBSP baking soda. Make sure it is baking soda and not baking powder.
Add three pretzels to the pan and boil until they puff slightly and rise to the top, about 30 seconds.
Flip pretzels and boil 30 seconds more.
Using a flat slotted spatula or skimmer, transfer pretzels back to baking sheets greased with nonstick spray. Repeat with remaining pretzels.
Brush pretzels with milk and sprinkle lightly with pretzel salt.
Bake pretzels, one sheet at a time, on the middle rack of the oven. Just before baking, dump ice cubes into roasting pan you placed in there to create steam.
Bake pretzels 20 minutes, or until golden brown.
Remove from baking sheet and allow cool slightly on a rack.
Add more ice to the steam pan and bake second batch.
Pretzels taste best when warm.