These pink and white Circus Animal Cookie Marshmallows are unrecognizable animal shaped marshmallows made in honor of my favorite store bought cookies.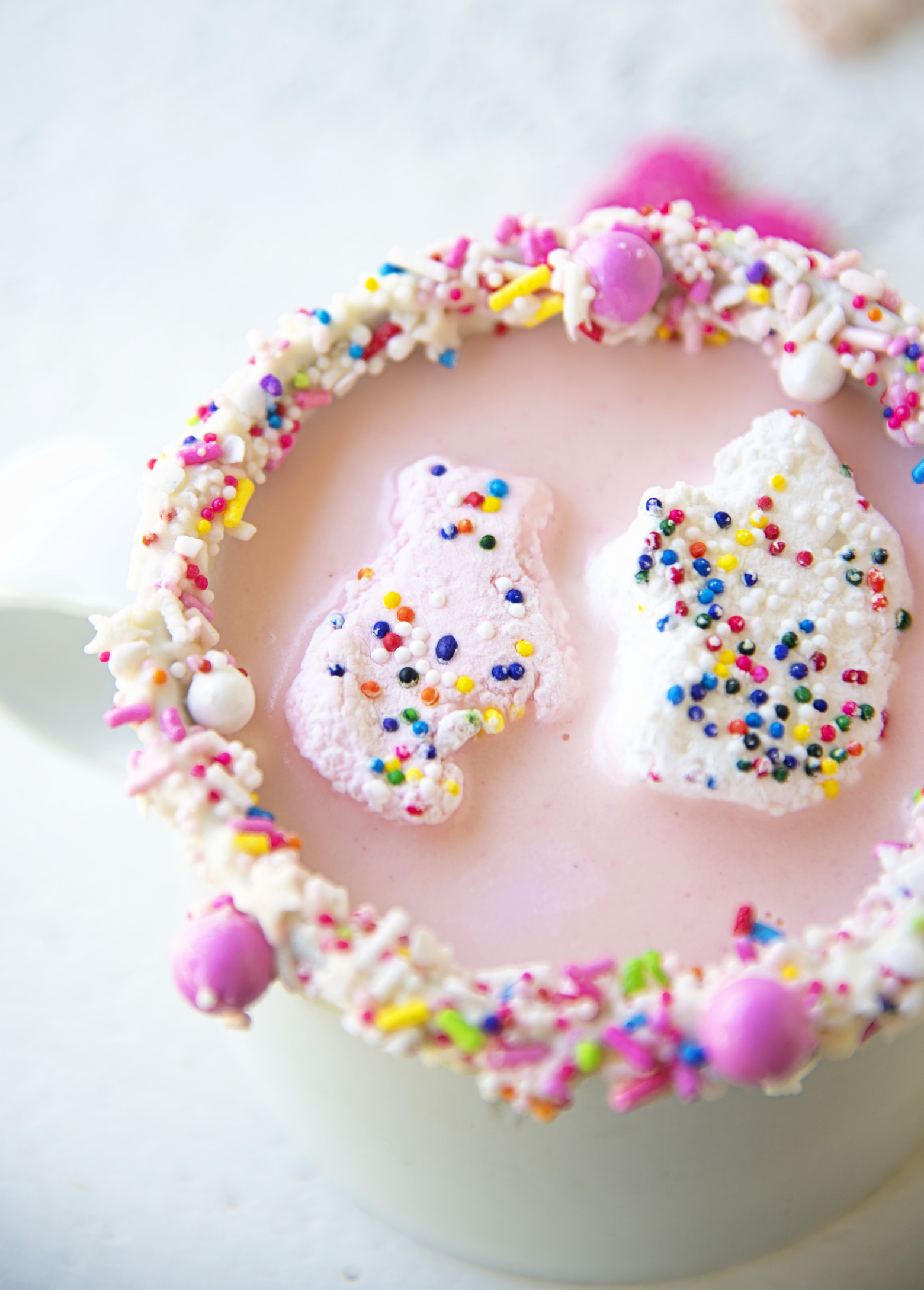 I saw on Pinterest that someone had made some marshmallows in the shape of Circus Animal Cookies.
The marshmallows were very adorable.
Except they only made white ones.
They didn't do anything to make them taste like the cookies.
And the biggie…you could tell what animal the marshmallows were.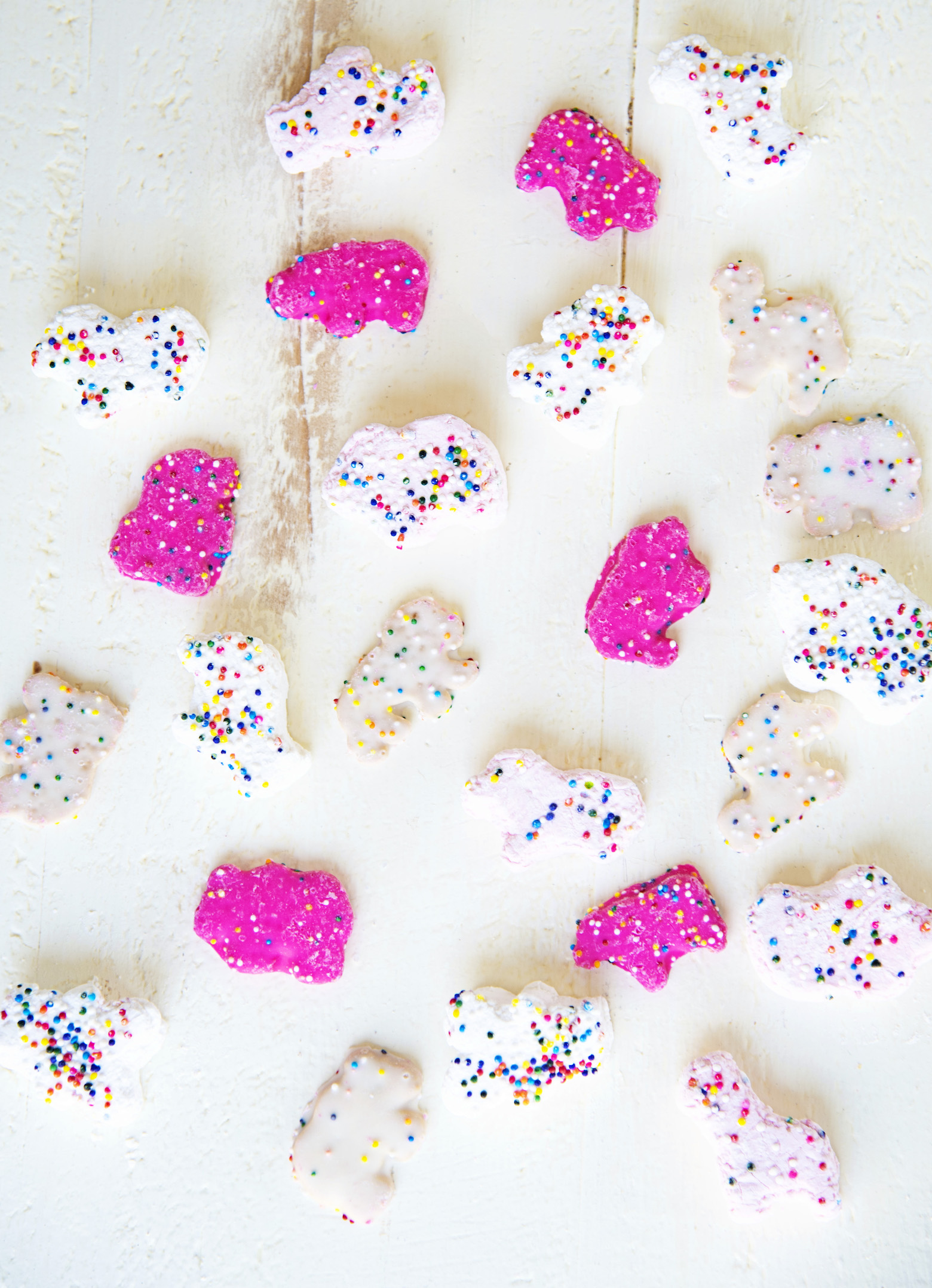 Now if you are a long time lover of Circus Animal Cookies then you know that one of the telltale signs of the cookie is that you can never full figure out just what animal the cookie is supposed to be.
Sure some of them you can kind of figure out but half the fun it to look at them and say "I think that's a hippo"?
They start animal shaped but once the yummy waxy coating goes on them and the Rainbow Nonpareils Sprinkles.
So I knew for sure I wanted to make my marshmallow shapes hard to figure out what animal they were. 🙂
Keeping it authentic.
There is a link to which cookie cutters I used in the recipe.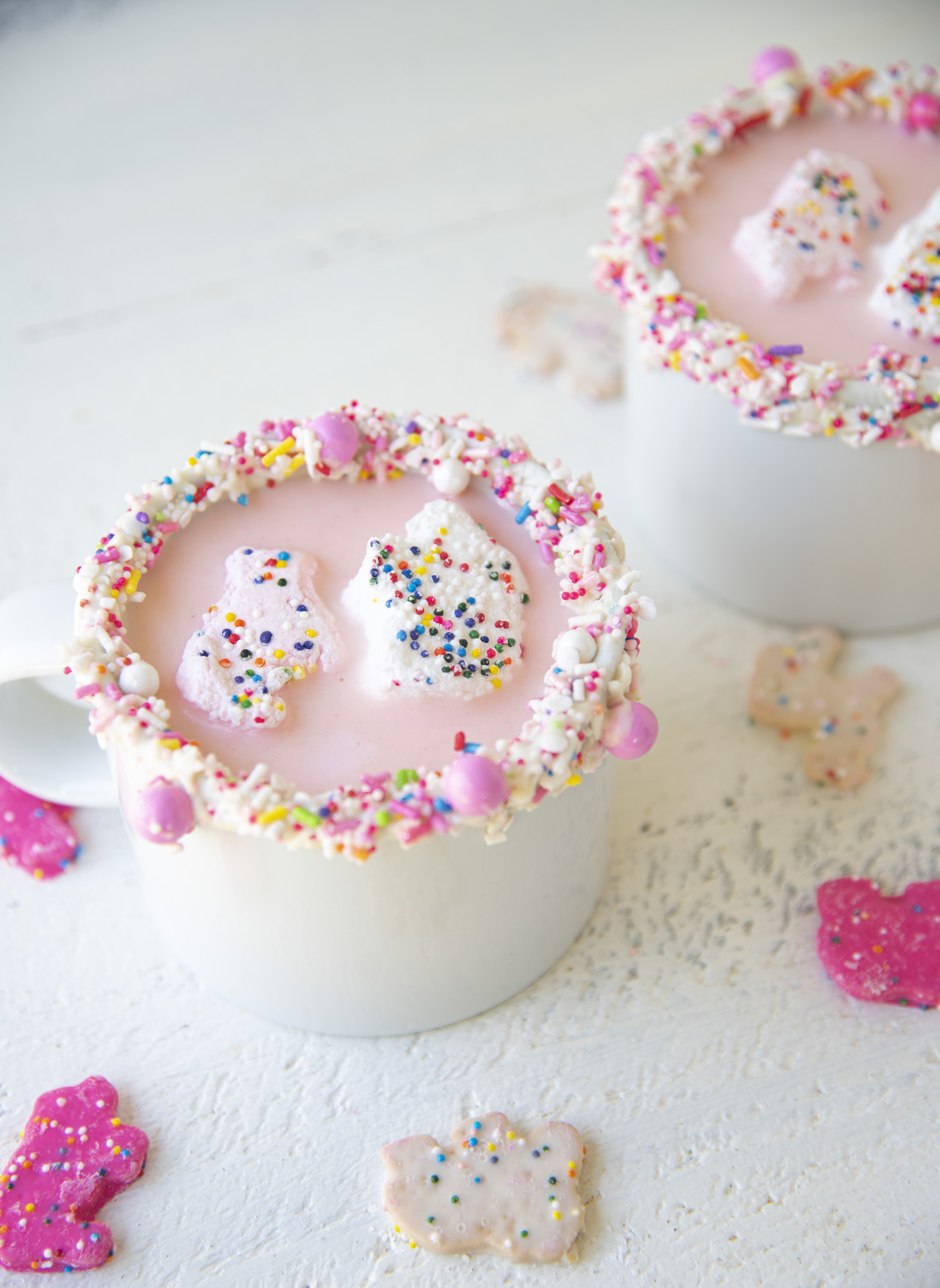 While the person who made their marshmallows just made them vanilla I wanted mine to have more of a cookie flavor.
And while these don't totally taste like Circus Animal Cookies they do have a little cookie taste.
I thought about finely crushing up some of the cookie pieces and still might the next time I make these and fold them into the marshmallow.
But for this recipe we use the Sweet Dough Bakery Emulsion to try and get a cookie flavor, which is linked in the recipe.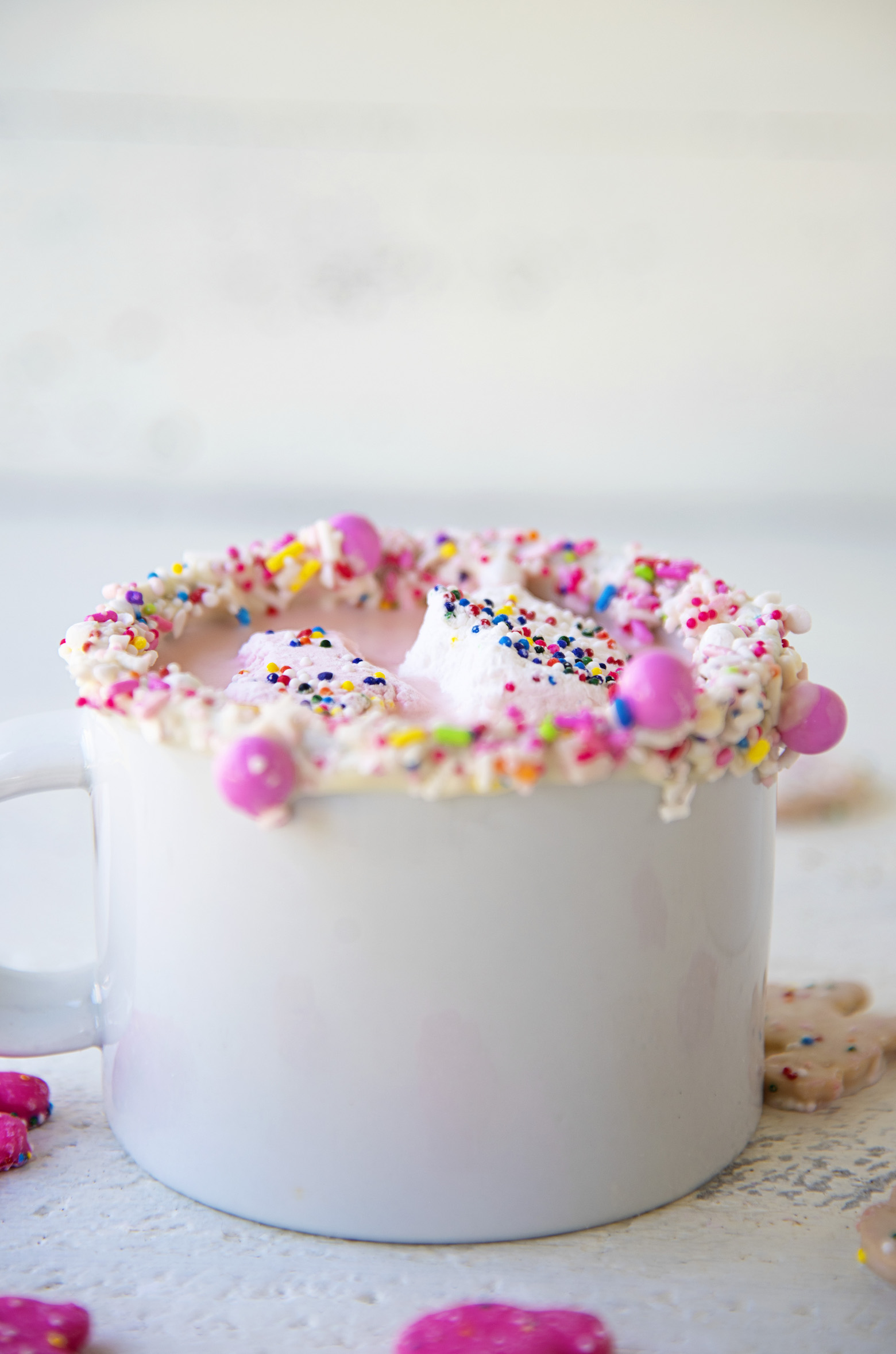 These Circus Animal Cookie Marshmallows were made to go with the hot chocolate that you see in the photos.
You are going to have to wait a day to get that recipe.
The hot chocolate does taste like cookies though.
And I'm sorry how can you not smile with these little animal shaped blobs?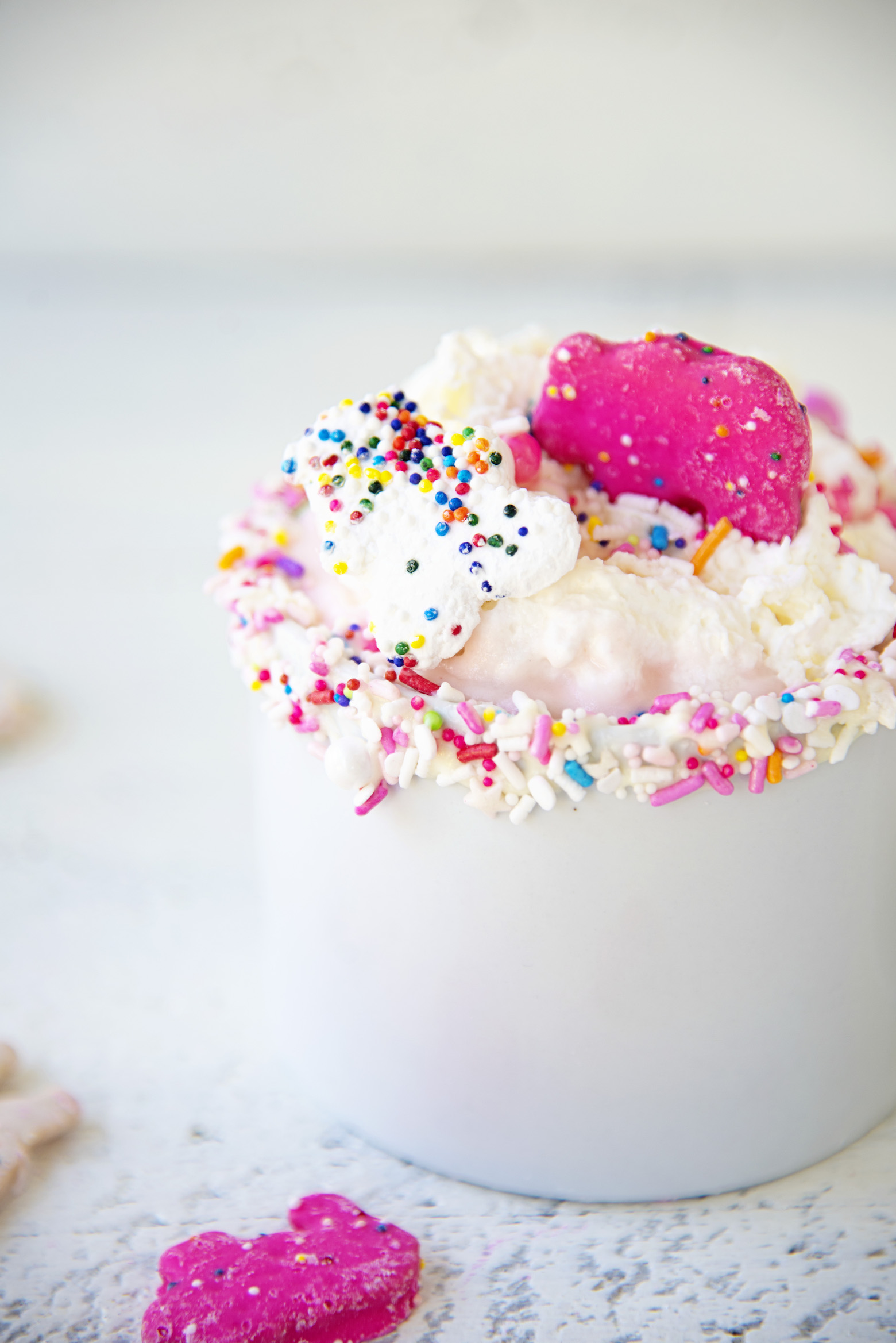 That's why I made them.
To cheer me up.
They did.
If you love Circus Animal Cookies know that there is a recipe in my cookbook using them.
So don't forget to order your copy. 😀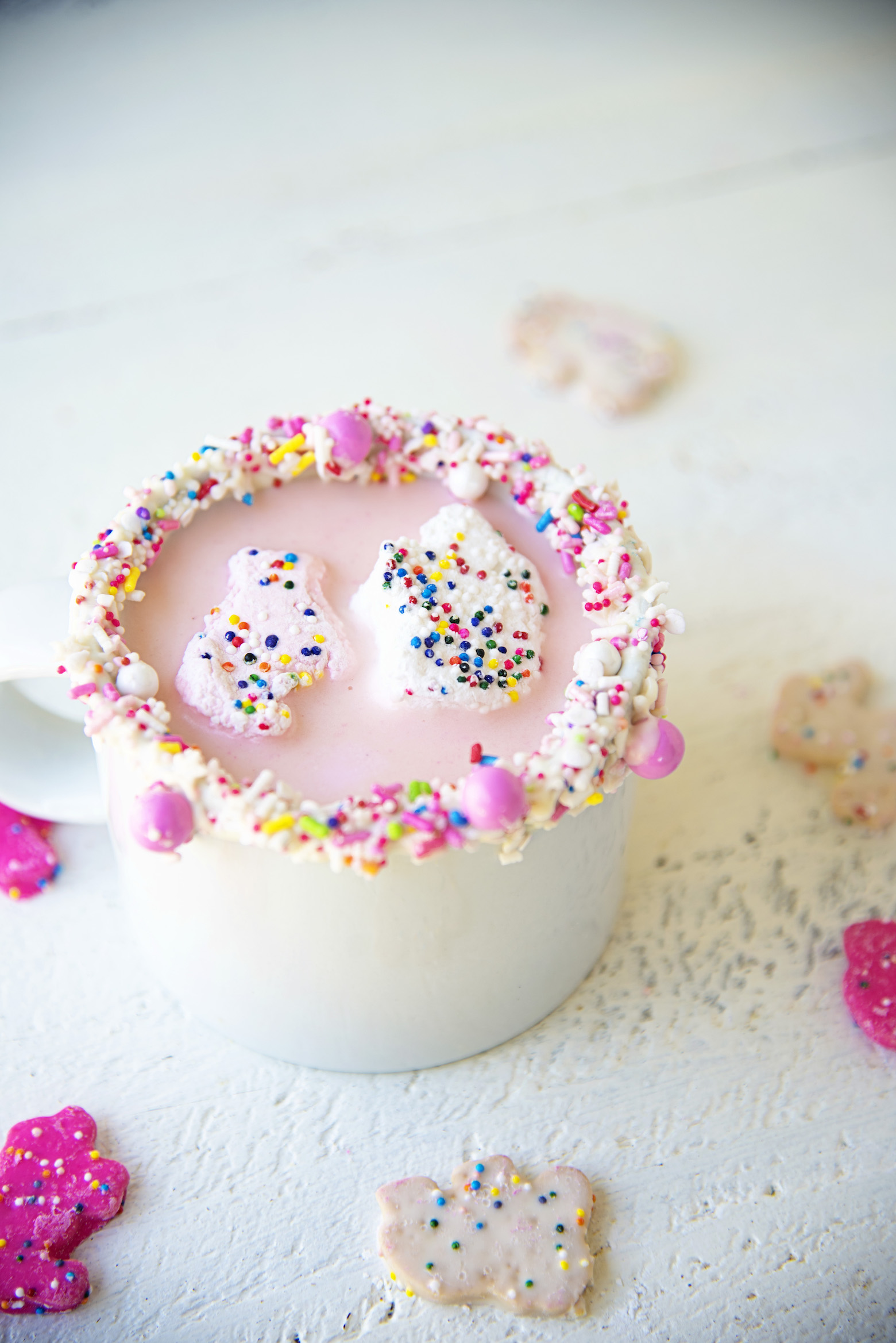 Want More Circus Animal Cookie Recipes?
Circus Animal Cookie Ice Cream
Yummy Circus Animal Cookie Cheesecake Cheeseball
Circus Animal Cookie Layer Cake
Fun Circus Animal Cookie Blondies
Peabody's 37th Birthday Circus Animal Cookie Cheesecake "Cupcakes"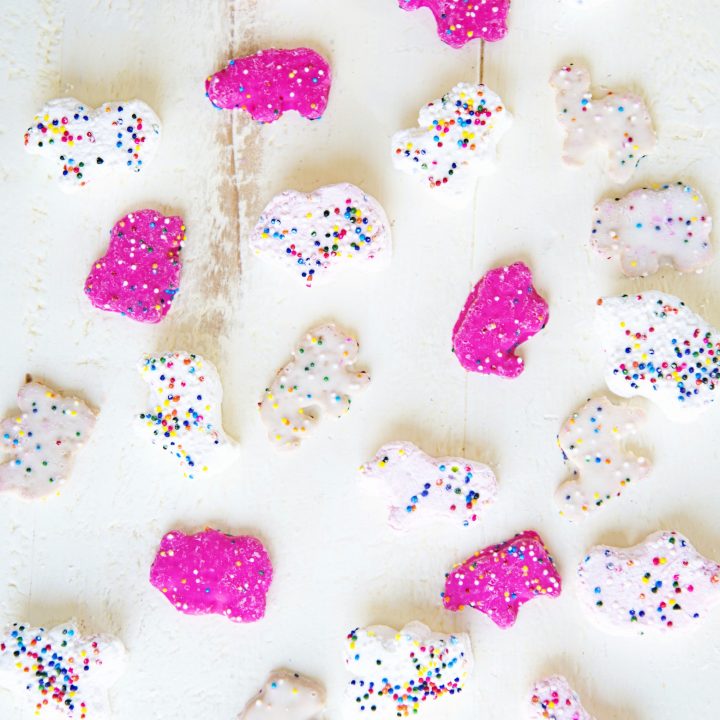 Circus Animal Cookie Marshmallows
Ingredients
To coat the pan and marshmallows:
2/3 cup cornstarch
2/3 cup powdered sugar
For the Marshmallows:
3 TBSP unflavored gelatin
1/3 cup water
2 cups granulated sugar
½ cup corn syrup
½ cup hot water
2 egg whites (optional but they really help with the texture)
½ tsp salt
1 tsp vanilla extract
A couple drops of pink food gel
Rainbow Nonpareils Sprinkles
Instructions
Spray TWO 8-x-8-inch pan with baking spray and coat with the cornstarch mixture.
Using a stand mixer bowl fitted with the whisk attachment, add the gelatin and pour the 1/3 cup water over it.
Make sure that all of the gelatin gets covered in the water. I like to add half the water then sprinkle the gelatin and then top with more water. Seems to work best for me.
Let it rest until you are ready to add the sugar syrup.
To make the sugar syrup place sugar, corn syrup, and hot water in a medium pot.
Heat the mixture until the sugar dissolves and then turn up the heat to medium-high to bring to a boil, then back down to about a rolling simmer.
Once boiling, get the temperature up to 250F, using a damp pastry brush to get any of the sugar crystals forming on the side of the pot.
While the sugar syrup is being made, beat the egg whites to a stiff peak in a separate bowl from the gelatin.
Set aside.
Bring hot sugar syrup to the mixer and with the mixer on medium-low SLOWLY add the hot sugar syrup, pouring it carefully in and even stream down the side of the mixer bowl to avoid splashing (aka burning yourself) and shocking the gelatin.
Slowly increase the mixer speed up to high and beat until the mixture has started to stiffen and has doubled in volume, about 5-7 minutes.
Add the egg whites (if using), salt, and the extracts.
Mix until light and fluffy, about another 3-5 minutes to have tripled in size from the original amount.
Remove have the amount of marshmallow from the bowl and spread the marshmallow into one of the prepared pans and spread evenly with a spatula. Sprinkle with Rainbow Nonpareils Sprinkles. Then lightly sprinkle with some cornstarch/powdered sugar mixture.
Let marshmallow dry for at least 4 hours (I usually do overnight).
Add pink food coloring gel into the remaining marshmallow and mix until the marshmallow is pink.
Spread the marshmallow into the other prepared pan and spread evenly with a spatula.
Sprinkle with Rainbow Nonpareils Sprinkles.
Then lightly sprinkle with some cornstarch/powdered sugar mixture.
Once marshmallows are set remove from pan and place on cutting board.
Dip your cookie cutters into a cornstarch/powdered sugar mixture and cut out the shapes of the animals.
Sprinkle more cornstarch/powdered sugar so that the sides are not sticky.
Dust off any extra cornstarch/powdered sugar.
Store in an airtight container for up to 2 weeks. If you did not use the egg whites they can last months.