This Snickerdoodle Hot Cocoa is a white chocolate based cocoa with snickerdoodle spice for a perfect cozy beverage.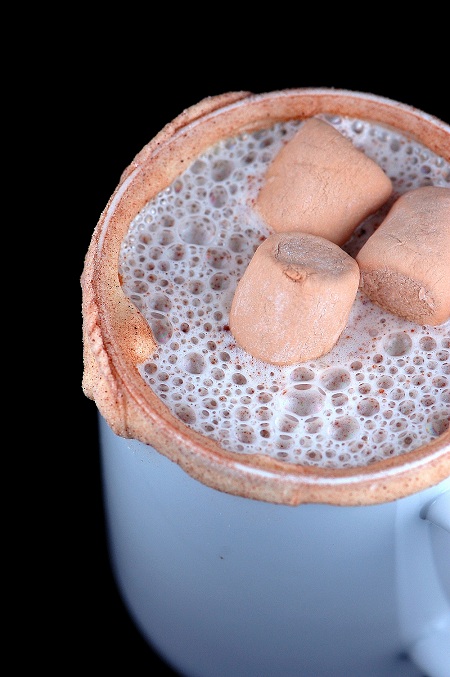 We are still having snow (it's falling as I type) which was supposed to be gone by now.
Everyone is at the point where they have taken to Twitter and Facebook to let us all know that they are tired of the snow and to complain over and over again.
I wrote that if we were in Ghostbusters 2 we would be dead from the slime being turned so negative…and then included a link to the average temperatures in Phoenix in hopes of them moving there. 😛
The dog and I of course still love it we aren't complaining in the least.
We were out in it this morning, it's colder than it has been so I have to take the blow dryer to her (which she hates).
I on the other had to rely on hot chocolate to warm me up.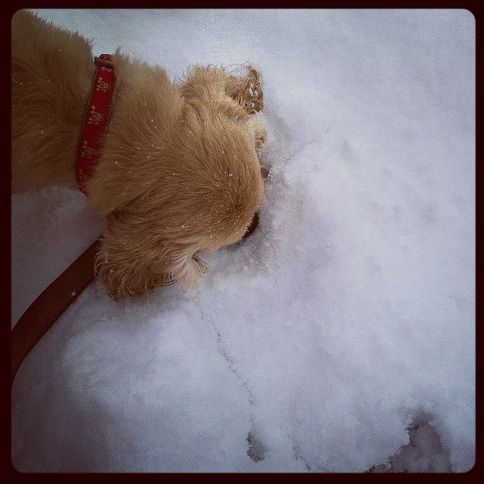 I got thinking yesterday that I want something other than chocolate and decided to try and make a Snickerdoodle Hot Cocoa.
Now, it's not actually cocoa as it uses vanilla chips instead of chocolate chips but it's warm and wonderful all the same.
The rim of cinnamon sugar adds a little something extra special as do the Cinnamon Bun Marshmallows (if you can't find them just use regular marshmallows).
I'm happy to say that it's kind of like a cookie in liquid form. Mmm.
You could always add a little spiced rum as well.
If you don't want your Snickerdoodle in liquid form you could always make the refund muffin. 🙂
It's a great day to buy my cookbook.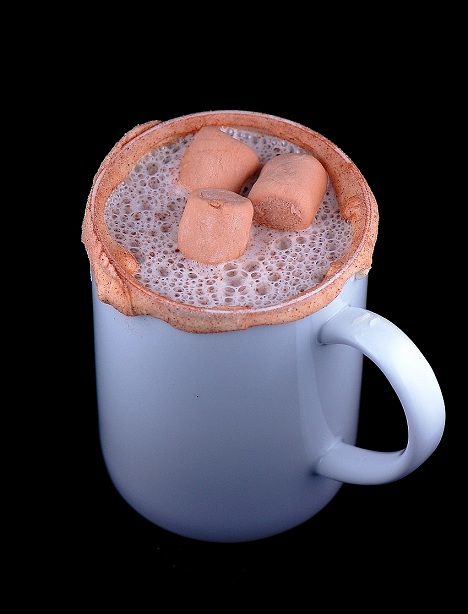 Want More Hot Chocolate Recipes?
Circus Animal Cookie Hot Chocolate
Spiked Gingerbread Hot Chocolate
Hot Fudge Sundae Hot Chocolate
Spiked Stroopwafel Hot Chocolate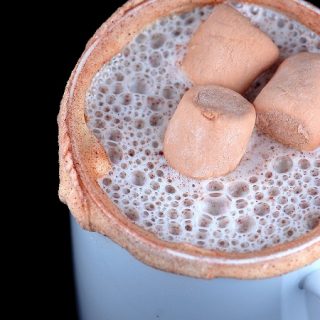 Snickerdoodle Hot Cocoa
Ingredients
For the Cup:
¼ cup vanilla chips
¼ cup cinnamon sugar mix
Sprinkle cinnamon sugar mix onto a plate.
For the Hot Cocoa:
1 cup vanilla chips (I used Guittard Choco-Au-Lait Chips)
1 ½ cups heavy cream
1 ½ cups milk
¼ tsp. cream of tartar (it's what helps a snickerdoodle have its flavor)
¼ tsp. ground cinnamon
Pinch of freshly ground nutmeg
Instructions
On a plate sprinkle the ¼ cup vanilla chips for the cups.
Heat in microwave until they melt (about a minute).
Dip cup rim into melted chips and then into the cinnamon sugar mix.
Let set up.
Combine the vanilla chips, cream, and milk in a heavy saucepan.
Heat up slowly, not going higher than low-medium.
Once the chips start to melt, add the cream of tartar and spices.
Continue to heat up until all chips are melted and you have a smooth consistency.
Pour into prepared cinnamon sugar rimmed cups.