Spiked Stroopwafel Hot Chocolate: Hot chocolate spiked with a delicious Stroopwafel flavored liqueur topped with marshmallows, whipped cream, and Stroopwafel cookies.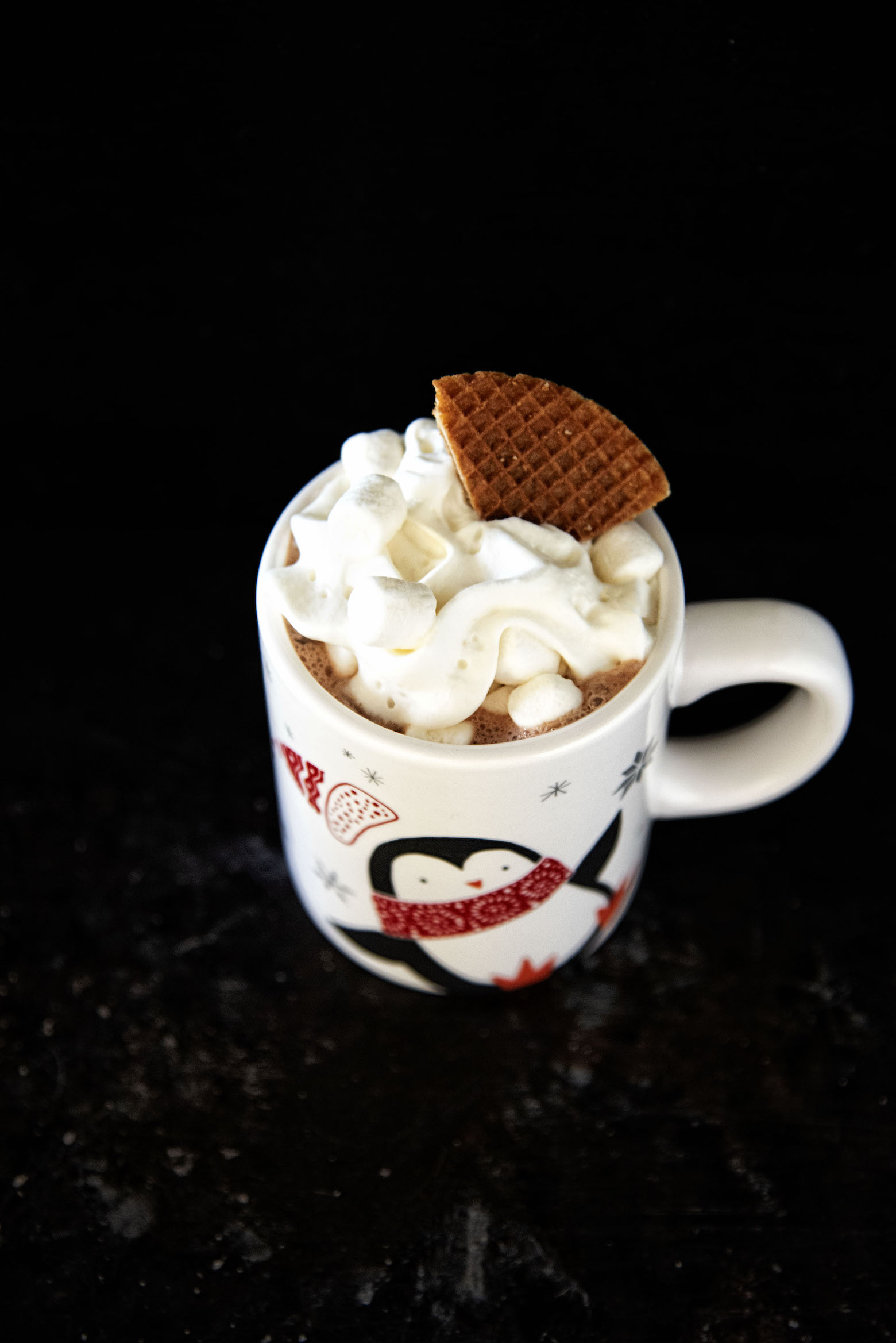 No Jell-O shots this week.
This week it's Spiked Stroopwafel Hot Chocolate.
I'm mixing up Tipsy Tuesday with a hot beverage and to remind you that #boozeontheshelf will be starting December 1st.
Not familiar with my Booze on the Shelf?
You can read about how to participate HERE.
I found this Van Meer's Stroopwafel Liqueur a few years ago and bought it for Booze on the Shelf.
But didn't end up using it that first year.
Not sure why because I'm now addicted to the stuff.
They make a lot of yummy flavors including the Lemon Cheesecake one I used in my Jell-O shots.
Now if you have never had a Stroopwafel you need to order some ASAP.
I have the full size ones in the photos but I often buy the minis.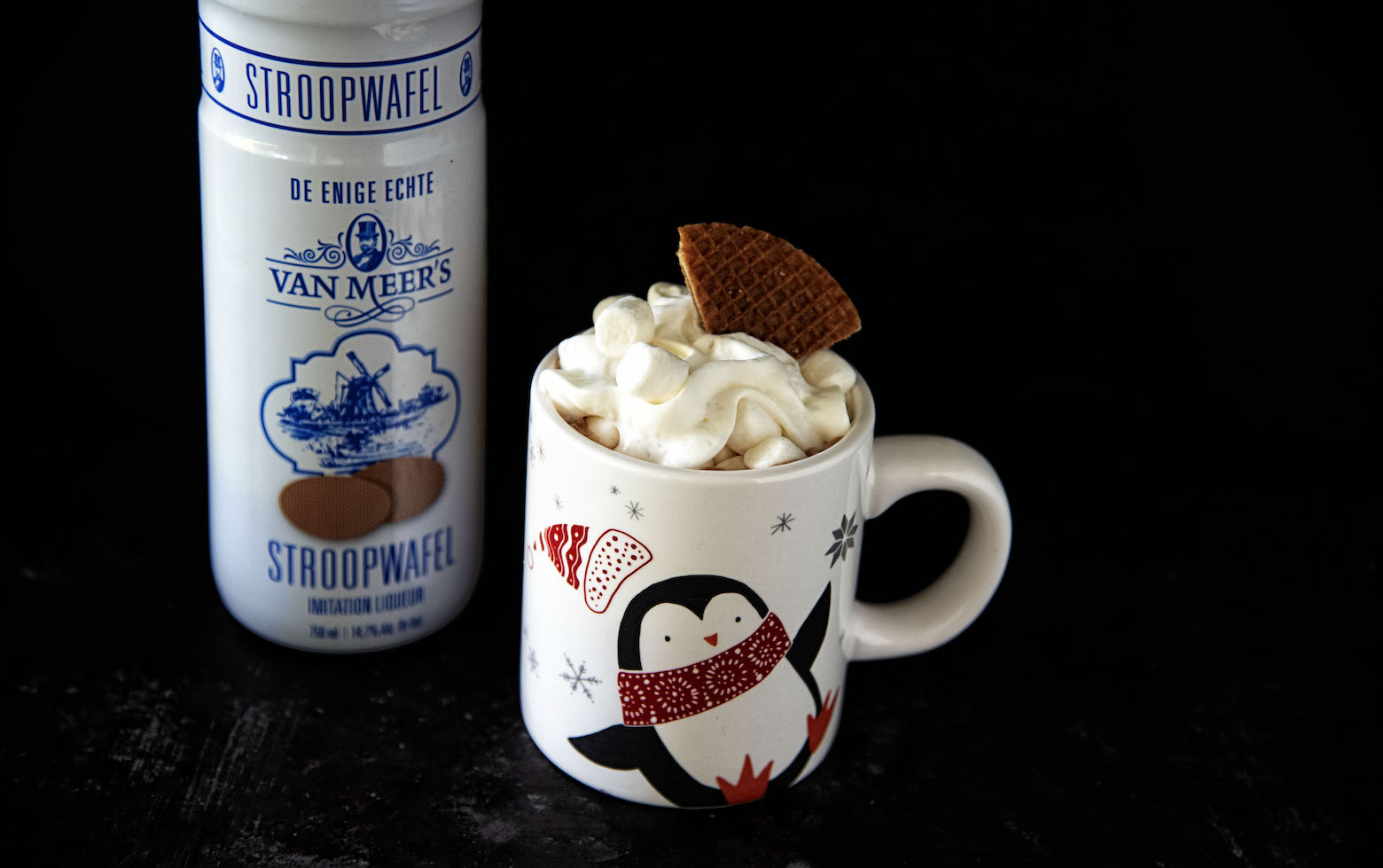 If you are lazy (which I get) you can just use your favorite cocoa mix and just add the Stroopwafel liqueur to it.
Definitely won't narc on you. 🙂
But homemade cocoa is really good.
I use milk chocolate in mine but I have a sweet tooth.
Feel free to use semisweet or even dark chocolate if that is more your thing.
Last but not least…it's a great time to order my cookbook. 😀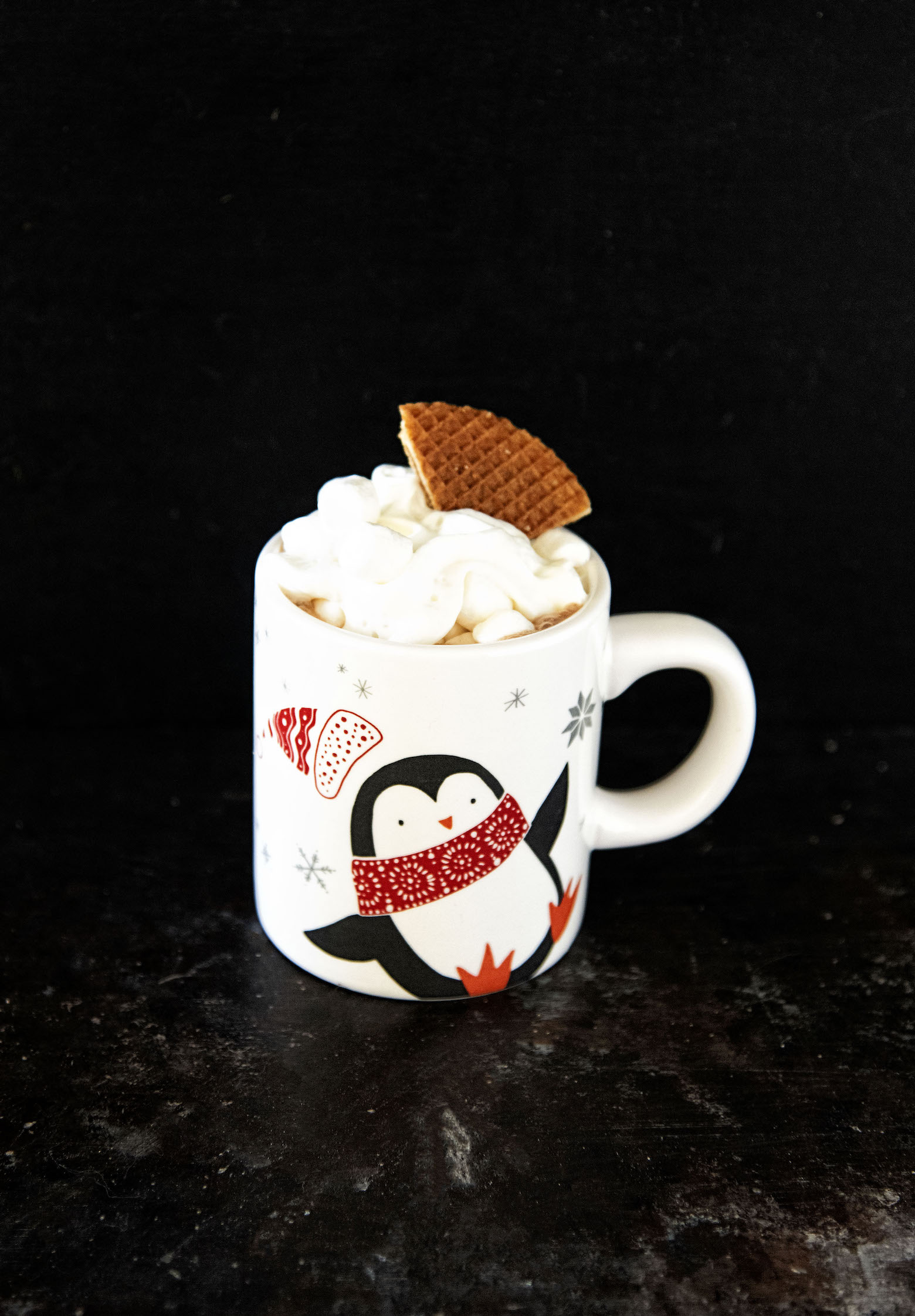 Want More Hot Chocolate Recipes?
Circus Animal Cookie Hot Chocolate
Hot Fudge Sundae Hot Chocolate
Spiked Gingerbread Hot Chocolate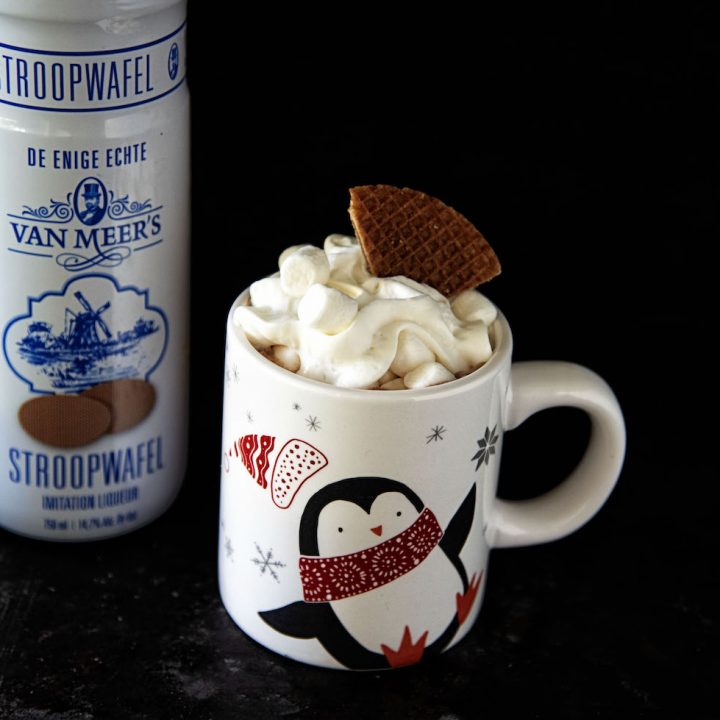 Spiked Stroopwafel Hot Chocolate
Yield:
3 cups of hot chocolate
Ingredients
1/4 cup cocoa powder
1/3 cup granulated sugar
pinch of salt
3 cups whole milk
1 1/2 cups cream or half and half
8 ounces milk chocolate, chopped (you can also use semisweet or dark depending on your preference)
1 tsp. vanilla extract
3 shots Stroopwafel liqueur
whipped cream (optional)
marshmallows (optional)
Stroopwafel cookie pieces (optional)
Instructions
In a large bowl, mix together the cocoa powder, sugar, and salt.

Heat a large saucepan over medium heat and add the milk and cream.

Bring it to a simmer, stirring every few minutes.

Add 2 to 3 tablespoons of the hot milk to the cocoa and sugar, mixing thoroughly to create a paste.

Once the entire thing is wet, use a spatula to add it to the milk and turn the heat down to low.

Whisk continuously until smooth (do not let it boil), then whisk in the chopped chocolate and vanilla extract.

Add the Stroopwafel liqueur.

Top with whipped cream, marshmallows, and Stroopwafel cookies.