Spiked Gingerbread Hot Chocolate: Hot chocolate spiked with a delicious gingerbread flavored liqueur topped with marshmallow bits, chocolate whipped cream, and gingerbread cookies.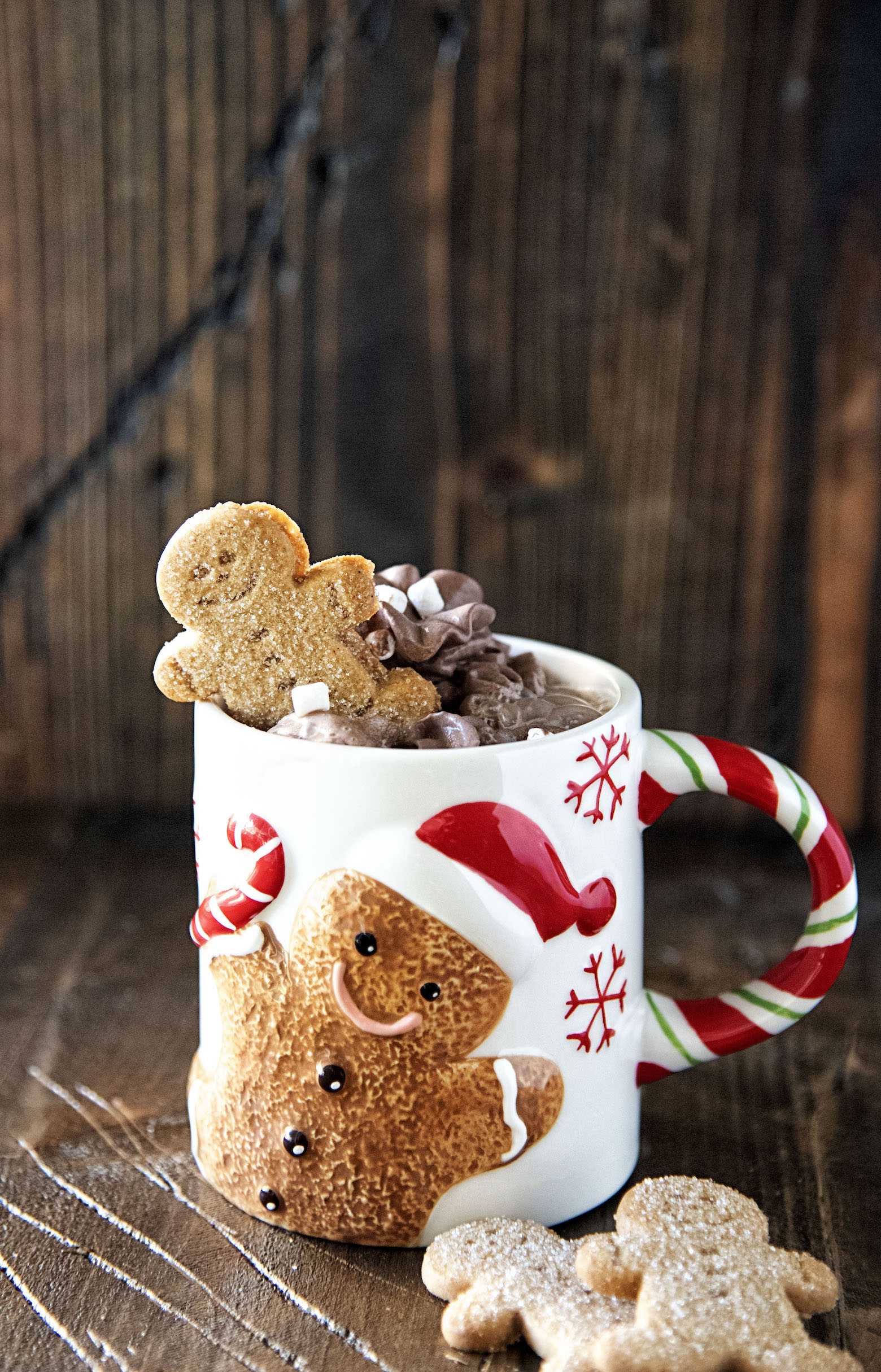 Gingerbread men are my favorite type of Christmas decor.
I'm specific about my gingerbread men though.
Just like in real life…I don't like my gingerbread man too skinny.
I like me a fat and happy gingerbread man. 🙂
And I like me some gingerbread treats as well.
Especially in my hot chocolate.
Over the years companies come out with holiday flavors.
Sadly Kahlua doesn't make their Gingerbread Kahlua anymore…it was really good.
This year I bought Mr. Stacks Gingerbread Liqueur and that's what I used in this cocoa.
I'm on the search however of Southern Comfort Gingerbread which I hear is pretty tasty.
You can use whatever whipped cream you want but I used the Hershey's Whipped Cream (in a can) that I found at my Winco.
I also went with Mallow-Bits instead of actual marshmallows.
I wanted the gingerbread marshmallows but looks like they didn't make them this year.
Those inquiring about where the mug is from, it's Sur la Table, but it's years old and they don't carry them anymore. They should.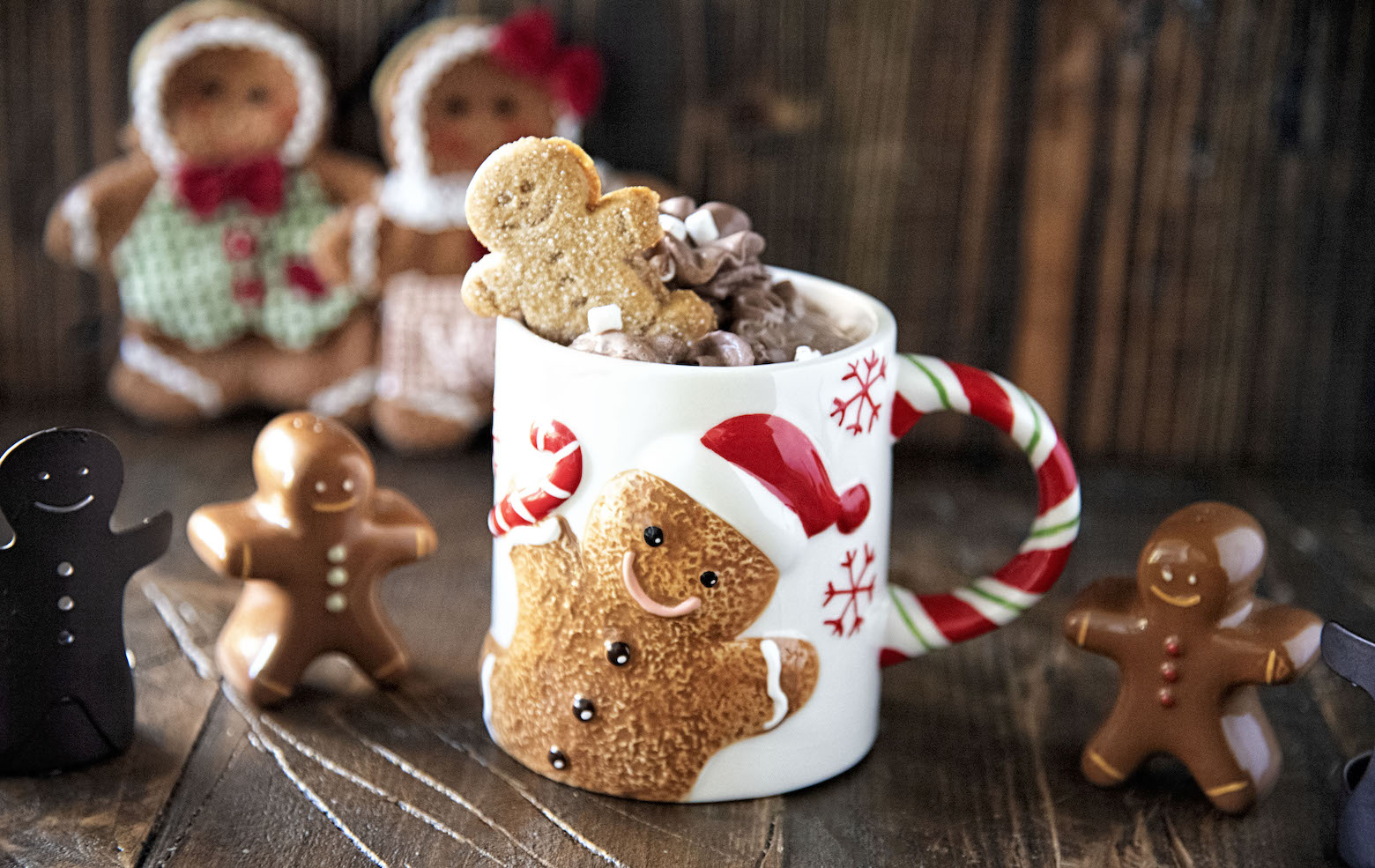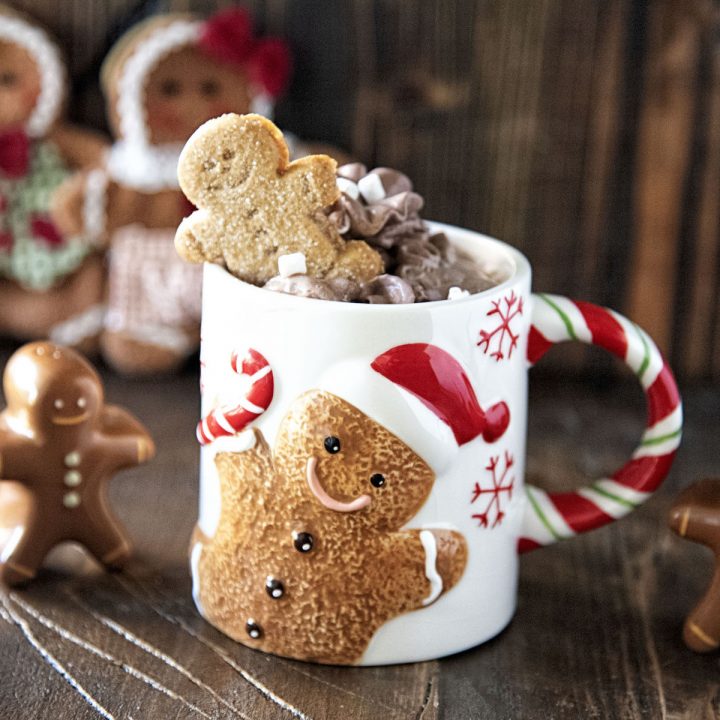 Spiked Gingerbread Hot Chocolate
Yield:
2 really big mugs or 4 smaller ones
Ingredients
1/4 cup cocoa powder
1/3 cup granulated sugar
pinch of salt
3 cups whole milk
1 1/2 cups heavy cream or half and half
8 ounces milk chocolate, chopped (you can also use semisweet or dark depending on your preference)
1 tsp. vanilla extract
3 shots gingerbread liqueur (I used Mr. Stacks gingerbread Liqueur
chocolate whipped cream (optional)
marshmallow bits (optional)
gingerbread cookies (optional)
Instructions
In a large bowl, mix together the cocoa powder, sugar, and salt.
Heat a large saucepan over medium heat and add the milk and cream.
Bring it to a simmer, stirring every few minutes.
Add 2 to 3 tablespoons of the hot milk to the cocoa and sugar, mixing thoroughly to create a paste.
Once the entire thing is wet, use a spatula to add it to the milk and turn the heat down to low.
Whisk continuously until smooth (do not let it boil), then whisk in the chopped chocolate and vanilla extract.
Add the gingerbread liqueur.
Top with chocolate whipped cream, marshmallows, and gingerbread cookies.