This Cheese Tortellini Zucchini Corn Soup made with fresh cheese tortellini, chicken-less chicken broth with onions, zucchini, squash, corn, and tomatoes.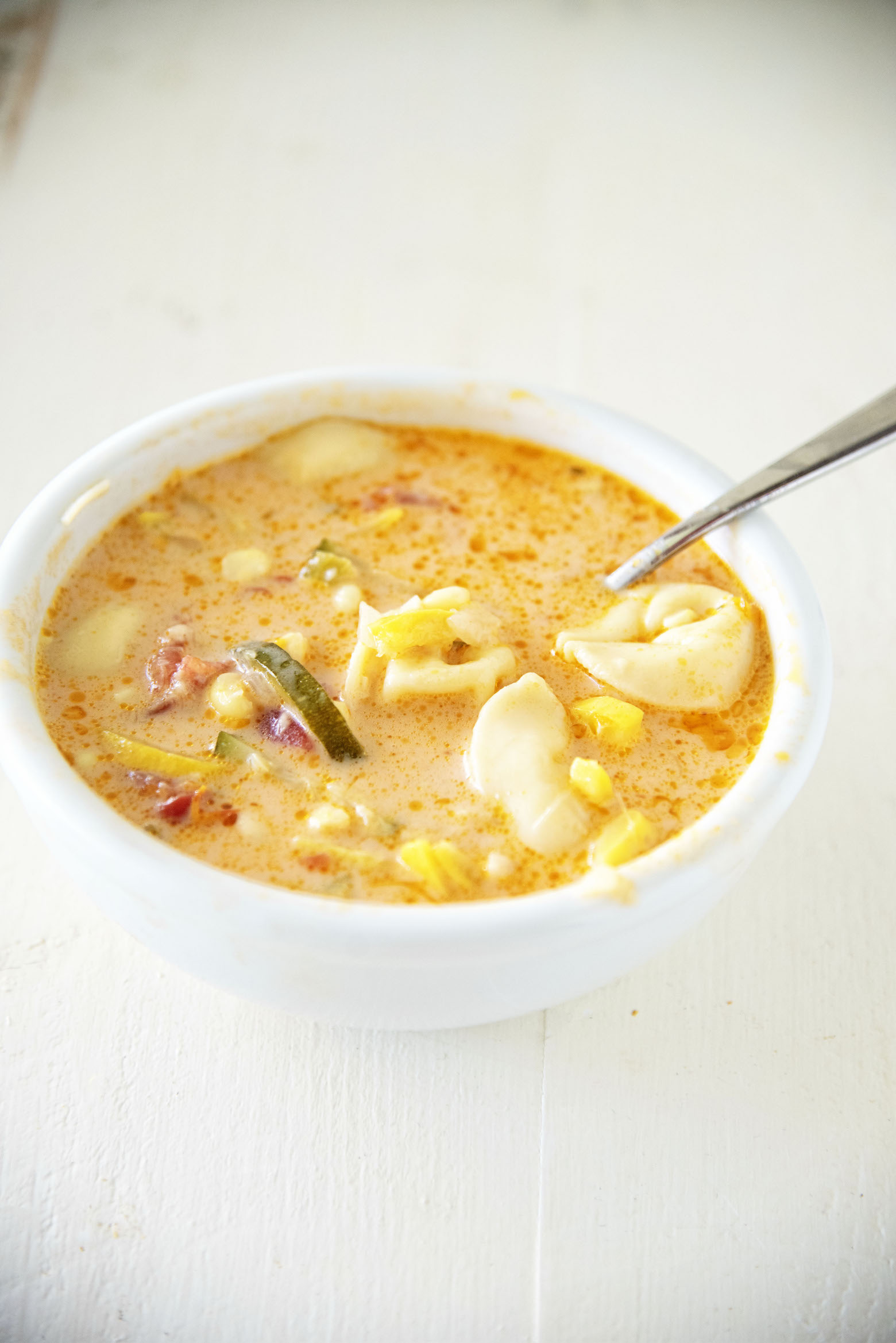 The other day someone had posted a photo of hamburger meat that someone stuck a sticker of a cow on there.
And it said something along the lines of this is My name is Chloe I didn't want to die but your personal choice made me die.
There were lots of people chiming in and some made comments they did not need to make.
It got ugly like it often does.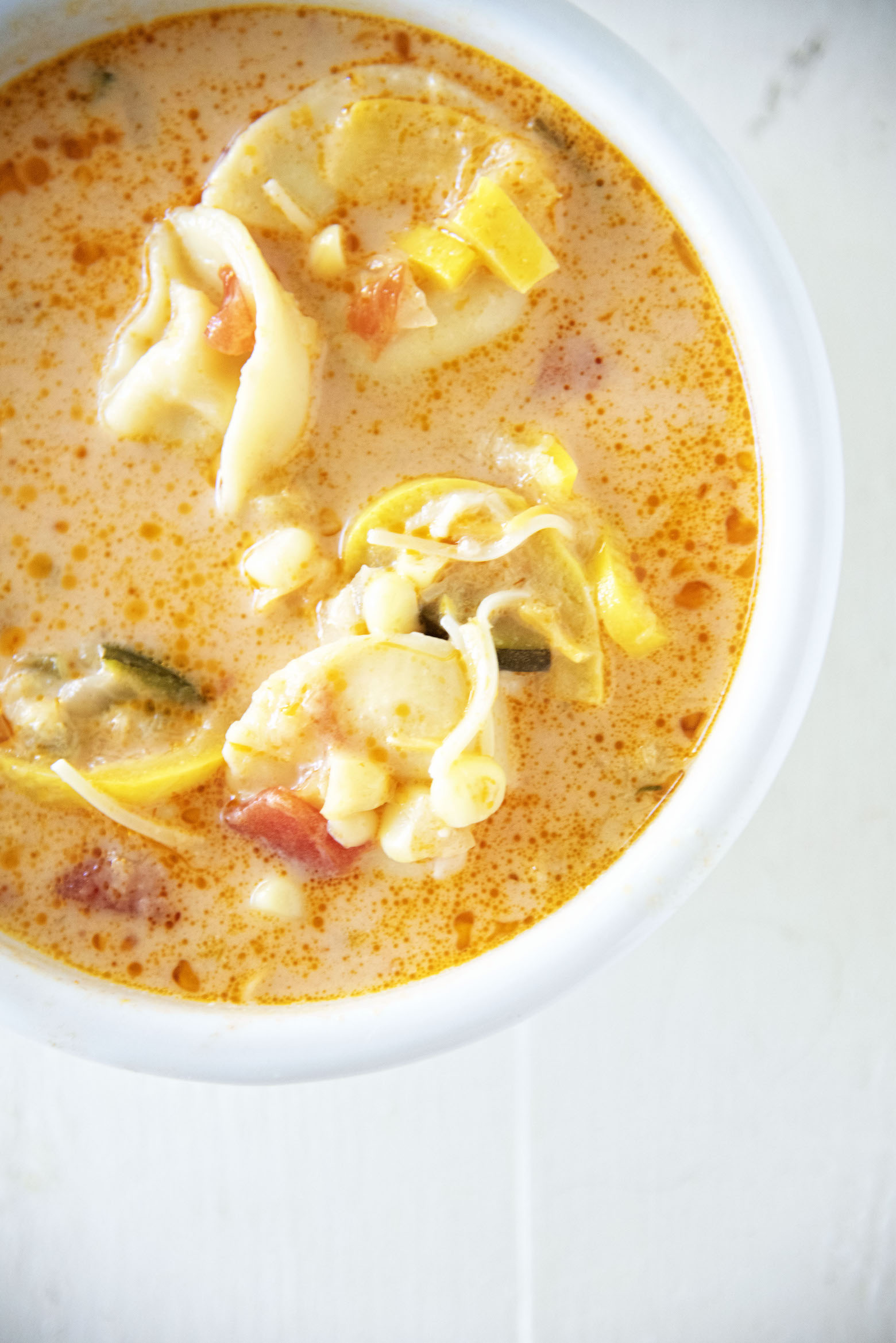 Because when you do stuff like that it usually creates the opposite effect of what you want.
I don't eat meat anymore.
Neither does my husband.
For him it started for health reasons but then moved to ethical.
Our neighbors down the way have three pet pigs.
On sunny days you see them lying in the sun or tromping along smiling away.
Yes, the pig smiles.
One of their pigs looks just like Wilbur from Charlotte's Web.
He prances just like him and every time I see him "chin up, chin up" runs through my head.
I think of him a lot.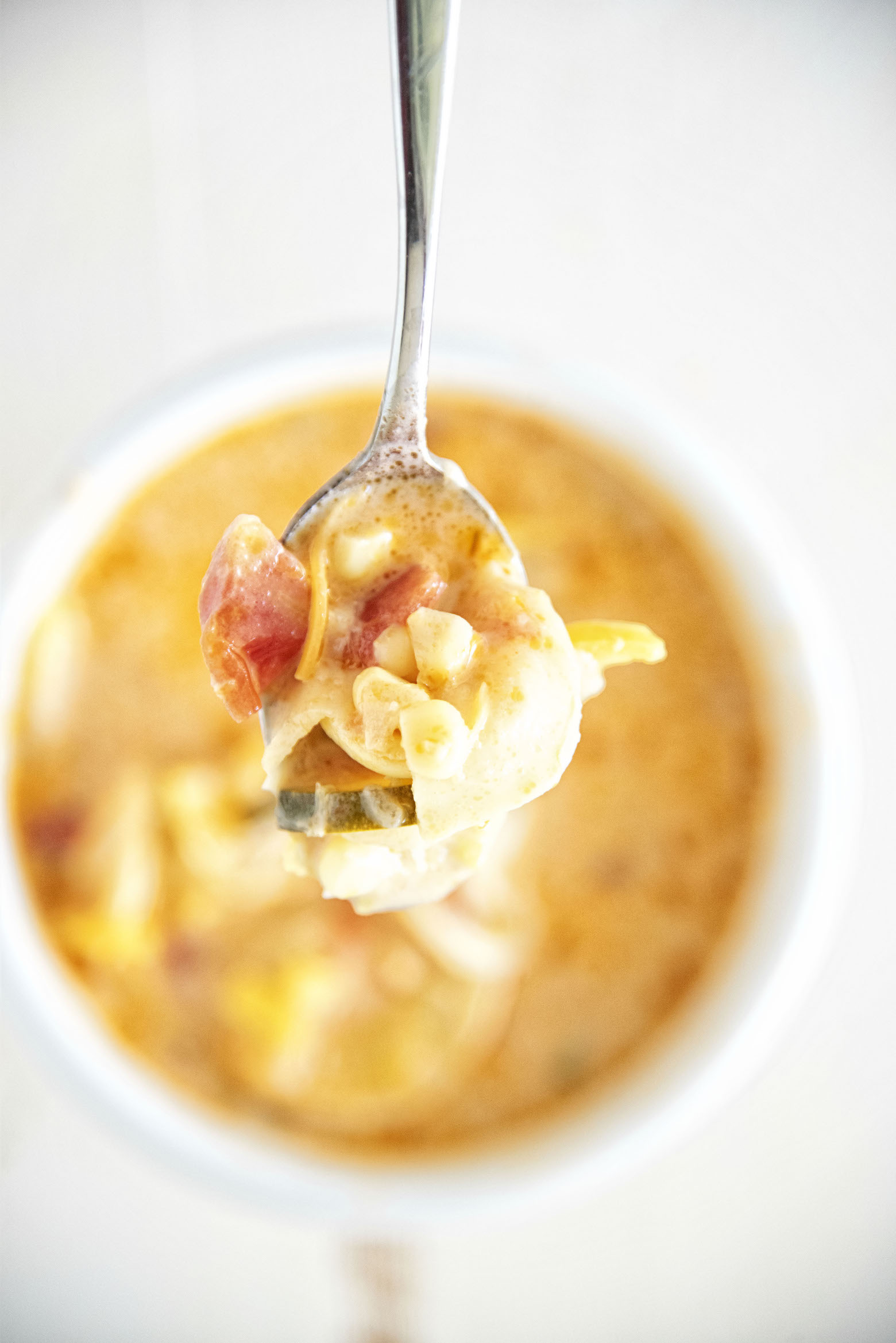 But we would never say anything to anyone about their food choices.
I didn't remove recipes off this blog that have meat in them.
We don't even bring it up unless we are out to eat with someone and we will suggest a place that has decent Vegetarian options.
I don't get upset if you eat meat in front of me.
What is interesting and what I do mind is when they will take a fork and shove it in my face and say mmm smell, you know you want it kind of thing.
Then I want to punch you.
I don't stick a carrot in your face and do that to you. 😛
Plus I still cook meat from time to time.
Not for me, but for the dogs.
Interestingly enough we have had quite a few of our friends start doing Meatless Mondays because of us and that does make me smile.
We even have ones that tried Beyond Meat at either Del Taco or Carl's Jr and are hooked on it.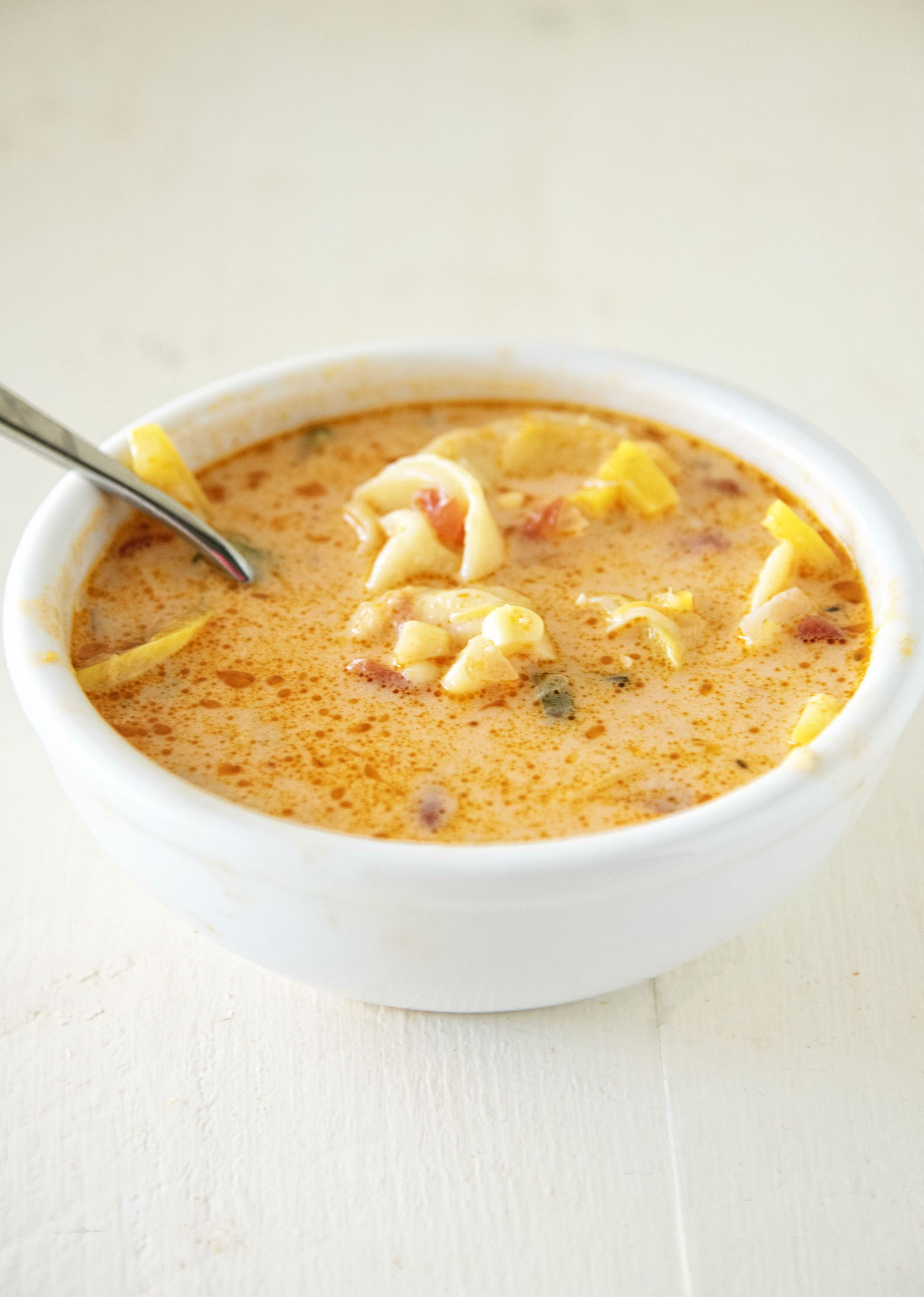 This soup is one of my go to throw together meals.
We are coming into summer where we will be overrun with zucchini and corn in my area.
Not that I'm complaining, but you can only eat so much zucchini bread you, have to use it in other things.
This Cheese Tortellini Zucchini Corn Soup will be perfect for using up your extra zucchini.
P.S. It's a great day to buy my cookbook.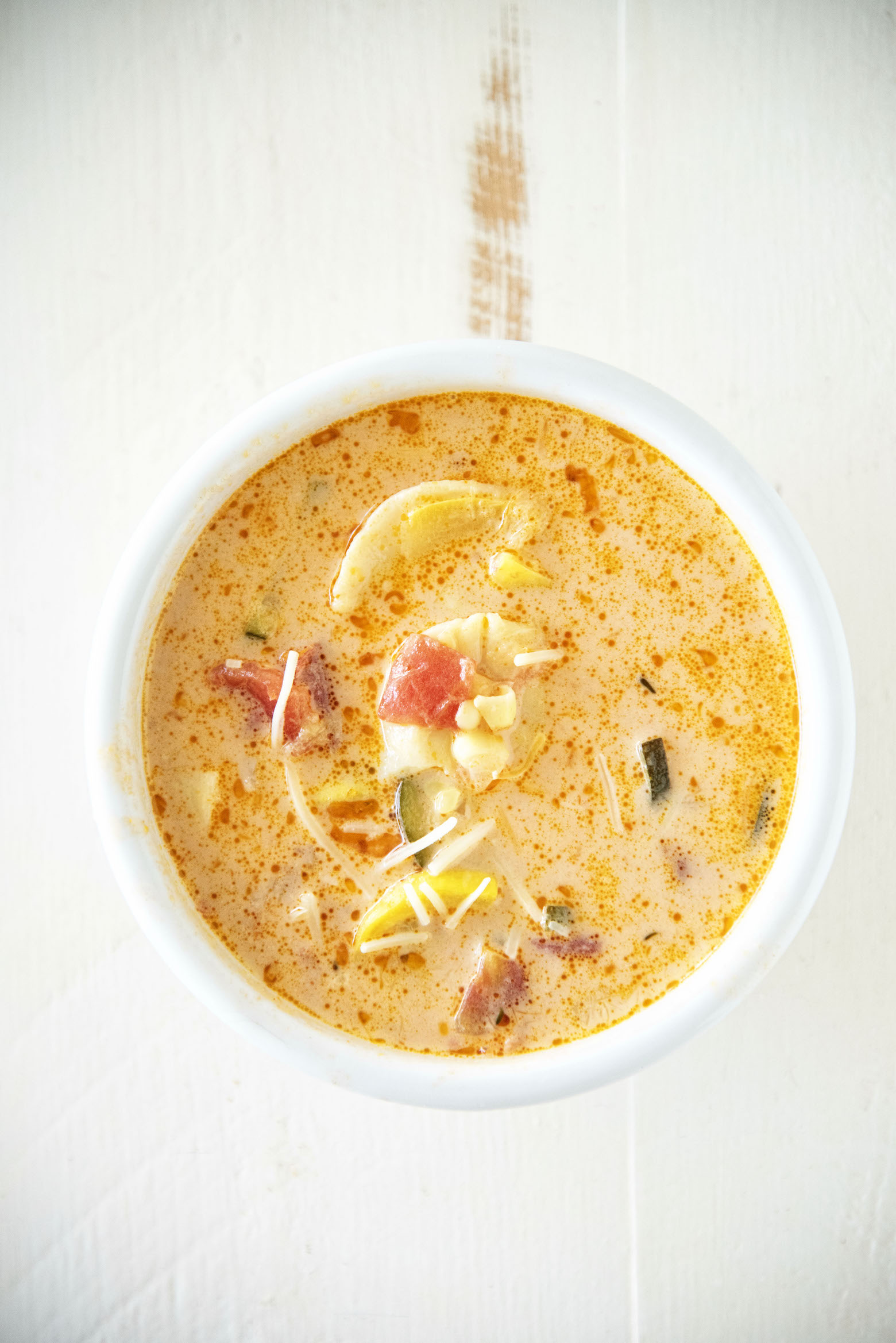 Wane more recipes like this? Try these:
Dill Pickle Cheddar Cheese Soup
Vegetarian Vegetable No-Beef Soup
Roasted Garlic Chili White Bean Soup
Smoked Bacon Corn Cheese Chowder
Cheese Tortellini Zucchini Corn Soup
Instructions
In a stock pot add the ghee and onions.
Cook the veggies over medium heat until the onions become translucent, about 5-6 minutes.
Add the squash, zucchini, and corn and cook for about three minutes.
Add the garlic and cook another minute.
Add the chicken-less stock and canned tomatoes and bring to a boil, once you have reached a boil, reduce heat to a simmer and let simmer for about 20 minutes.
Add the cheese tortellini and bring back to a boil. Cook for 5 minutes.
Add the heavy cream and Parmesan cheese, simmer until the soup is evenly warmed.
Add salt and pepper to taste.