This Vegetarian Vegetable No-Beef Soup is a hearty soup full of vegetables all in a no-beef broth and tomato juice to keep it vegetarian.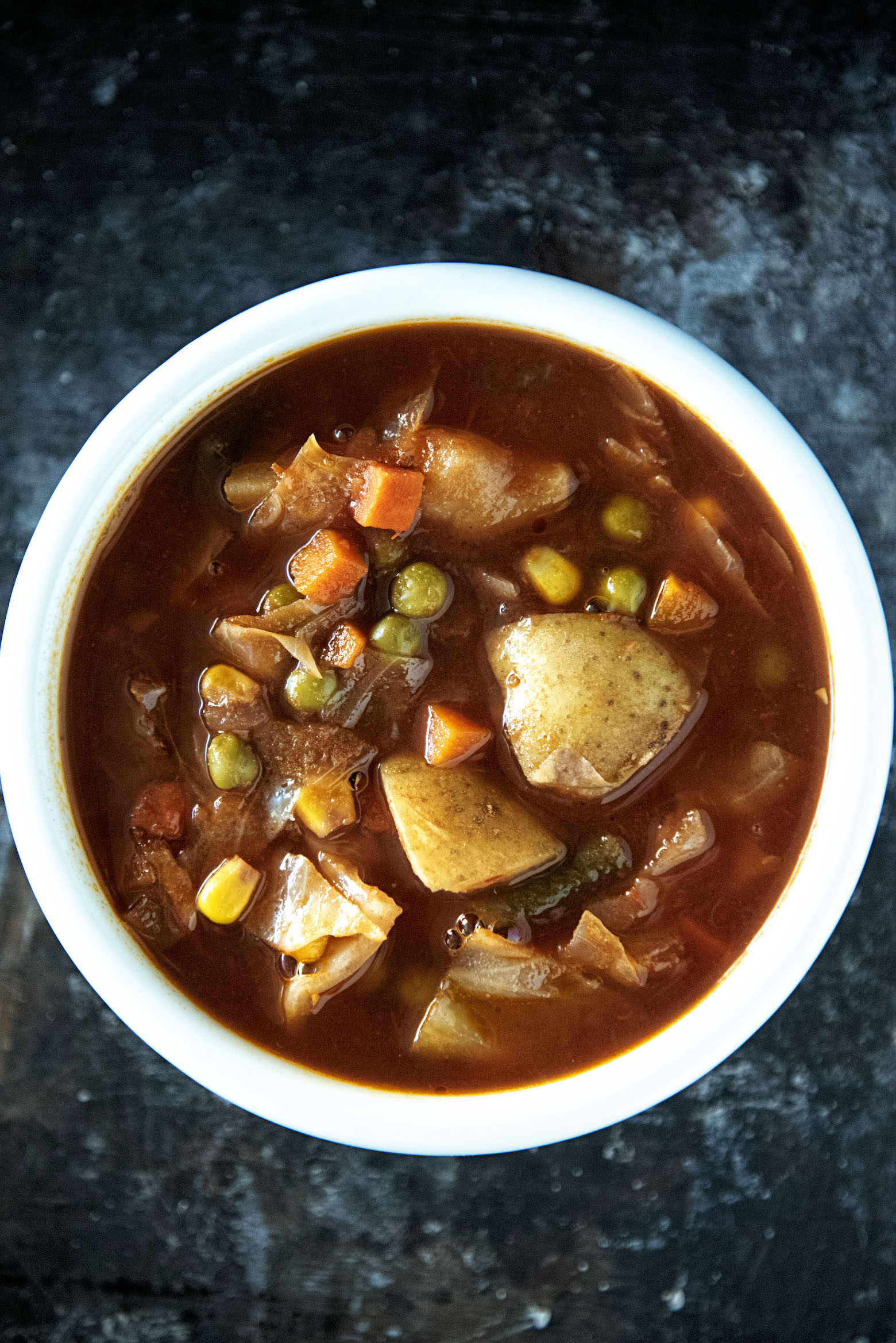 Love me some soup.
I eat it three to four times a week in the winter months for sure.
So when we turned vegetarian I didn't get to have many of my favorite soups.
Most of which were almost vegetarian minus the broth.
My husband and I used to eat our Vegetable Hamburger Soup often and I had yet to try and convert it to vegetarian.
Until today.
Enter Vegetarian Vegetable No-Beef Soup.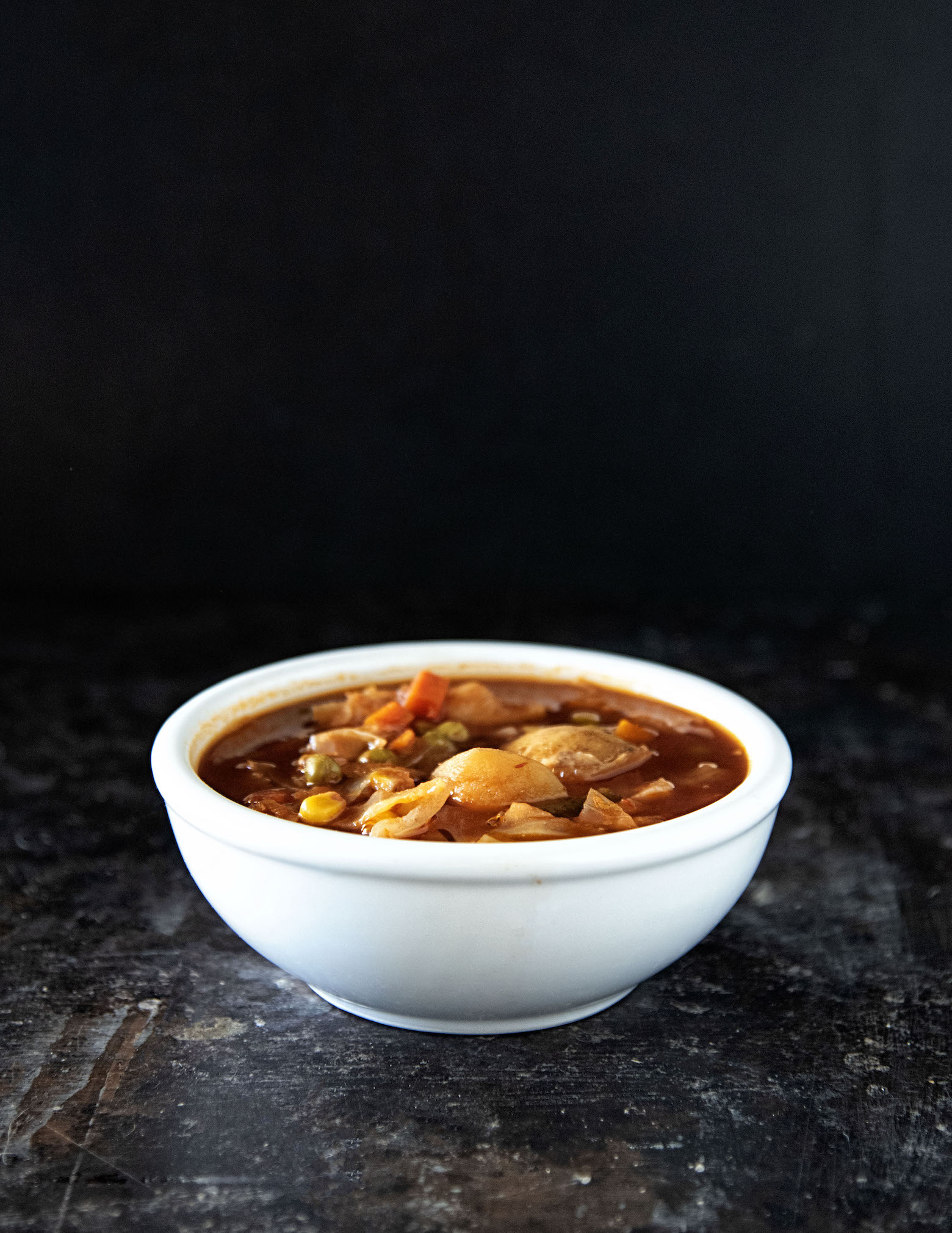 I thought about adding a meatless ground burger substitute but reality was it was never the hamburger that I liked in the former soup, it was the veggies.
I can say with quite certainty that this soup definitely hits the spot and I don't miss the beef.
And it's a good thing I like my vegetables since Canada just came out with a new food pyramid that has 1/2 each meal being fruit and veggies.
I'll just ignore their suggestion of less sugar. 🙂
Hopefully you are getting more veggies in your day…this soup is surely one way to make sure that happens.
P.S. It's a great day to buy my cookbook.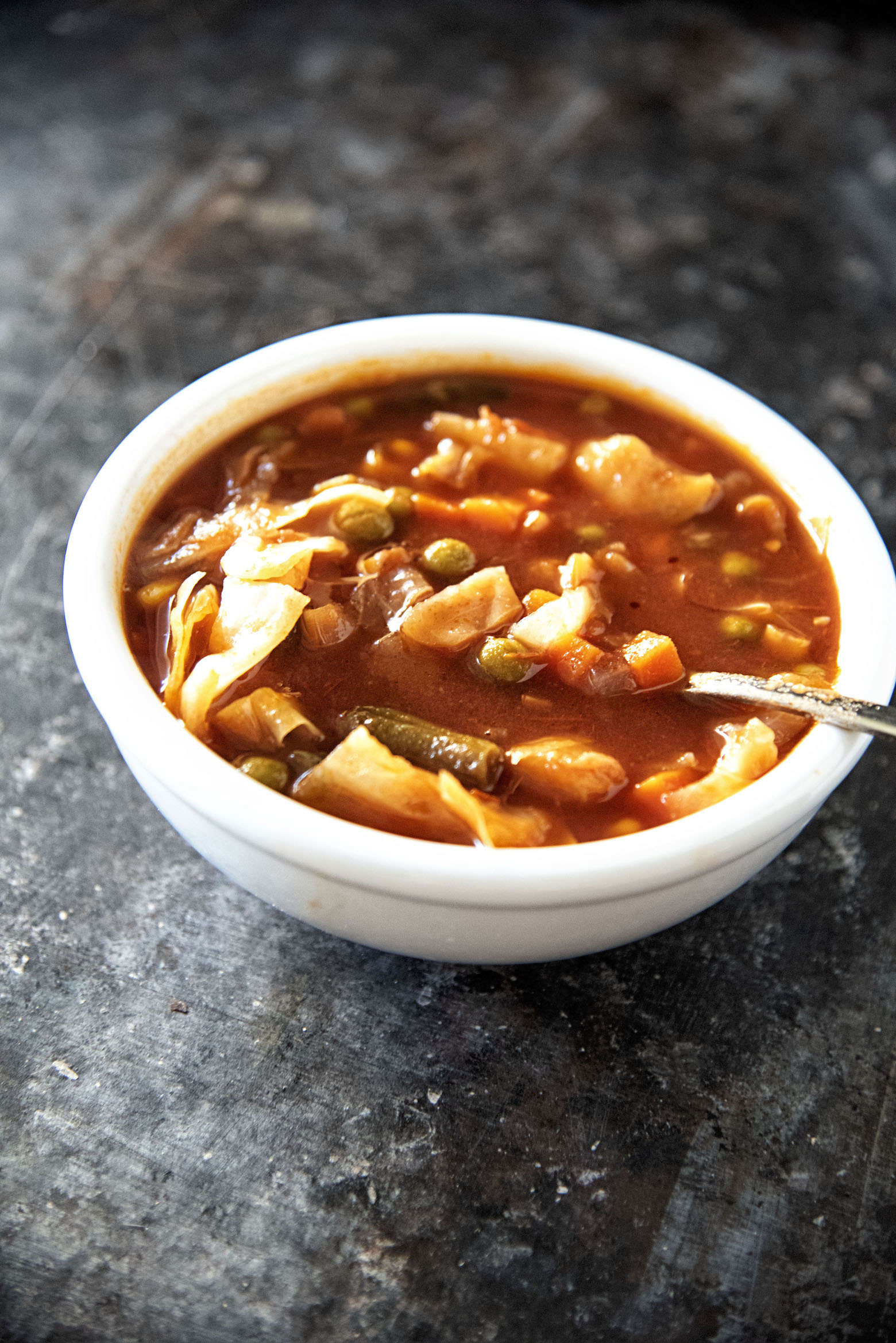 Want More Soup Recipes?
Roasted Garlic Chili White Bean Soup
Dill Pickle Cheddar Cheese Soup
Caramelized Onion Potato Ale Soup
Easy Italian Broccoli Cheese Soup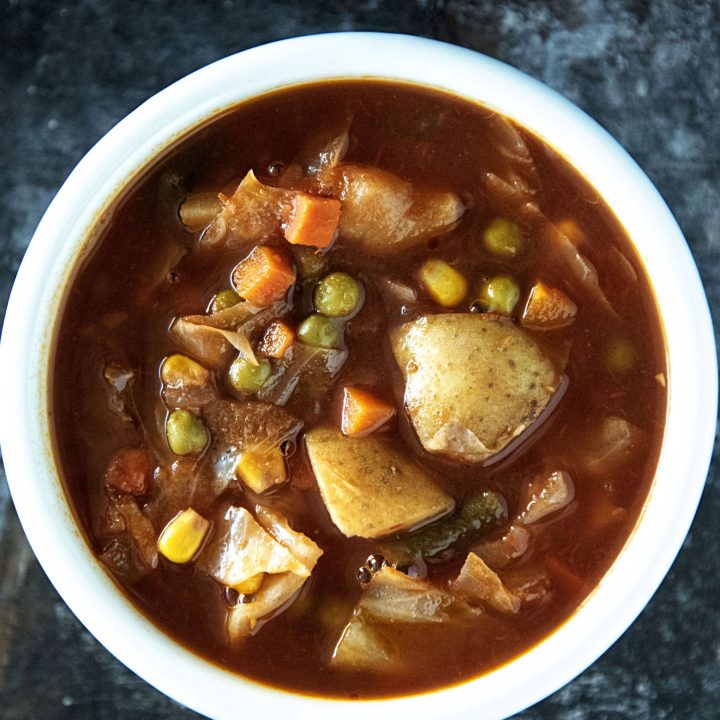 Vegetarian Vegetable No-Beef Soup
Ingredients
2 TBSP olive oil
1 cup sweet onion, small dice
3/4 cup celery, small dice
1 TBSP minced garlic
2 cups small potato, quartered
1 cup carrots, peeled, small dice
2 cups green cabbage, cut in thin strips
1 cup frozen corn
1 cup green beans, small chop
1 cup red wine
1 (28 oz) can diced tomatoes, including juice
1 (15 oz) can tomato sauce
salt and pepper to taste
Instructions
Place olive oil in a large dutch oven or soup pot.
Add the onions and celery to the pot and cook the onions until translucent.
Add the garlic, potatoes, carrots, cabbage, corn, and green beans.
Add the no-beef broth, red wine, diced tomatoes and juice, and tomato sauce.
Bring to a boil.
Once at a boil, reduce heat to a simmer.
Let simmer for 45 minutes, stirring about every 10 minutes.
Salt and pepper to taste.