This Strawberry Lemonade Layer Cake is light and fluffy lemonade cake frosted with strawberry Swiss meringue buttercream.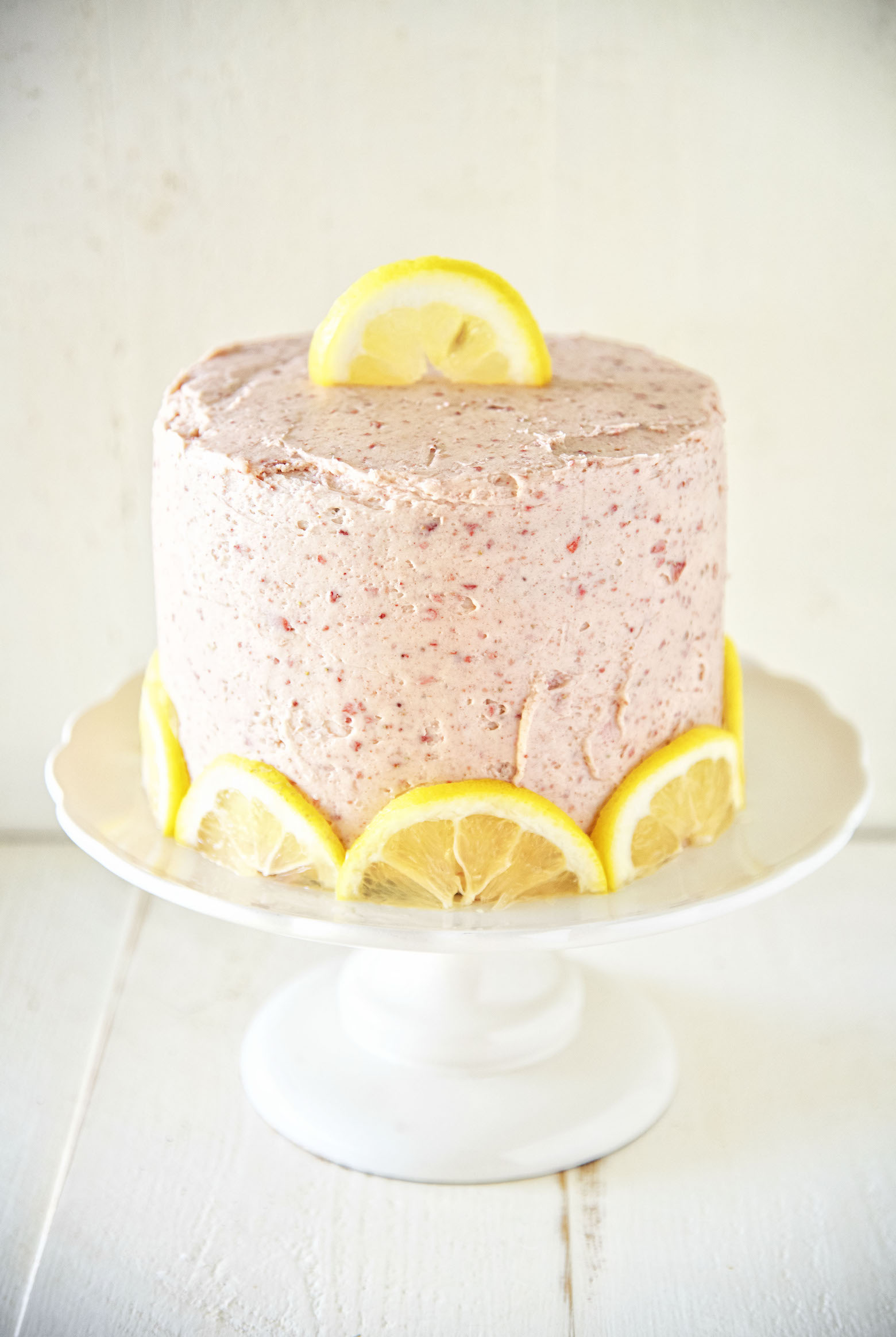 This week my town's Farmer's Market starts back up.
Growing up we didn't have Farmer's Markets.
Phoenix is hot.
And miserable.
And green things die there.
If they had one it probably would have consisted of dried chilies or some citrus.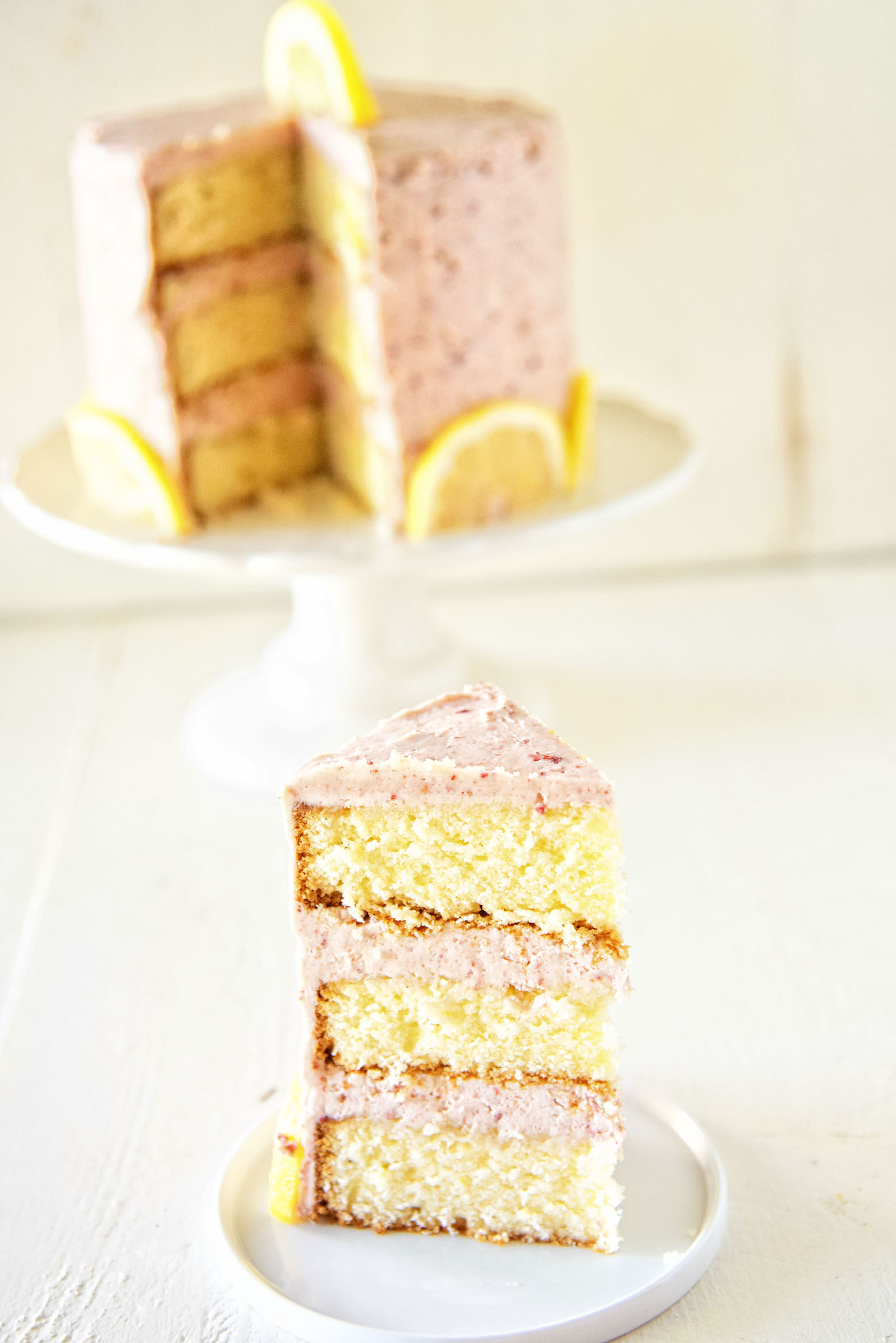 Oh sure stuff grows there but I never realized what a difference there was until I moved to Washington state.
Strawberries were actually red inside.
Usually the ones we got in AZ were red on the outside and mostly white on the inside.
Zucchini grows to be super duper large.
And lesson learned never tell a PNW gardener you will take whatever zucchini they want to give you.
Because you will get about 100 a week on your doorstep.
If I said that living in AZ I would get about 3…and pretty small ones at that.
All the produce was simply that much better.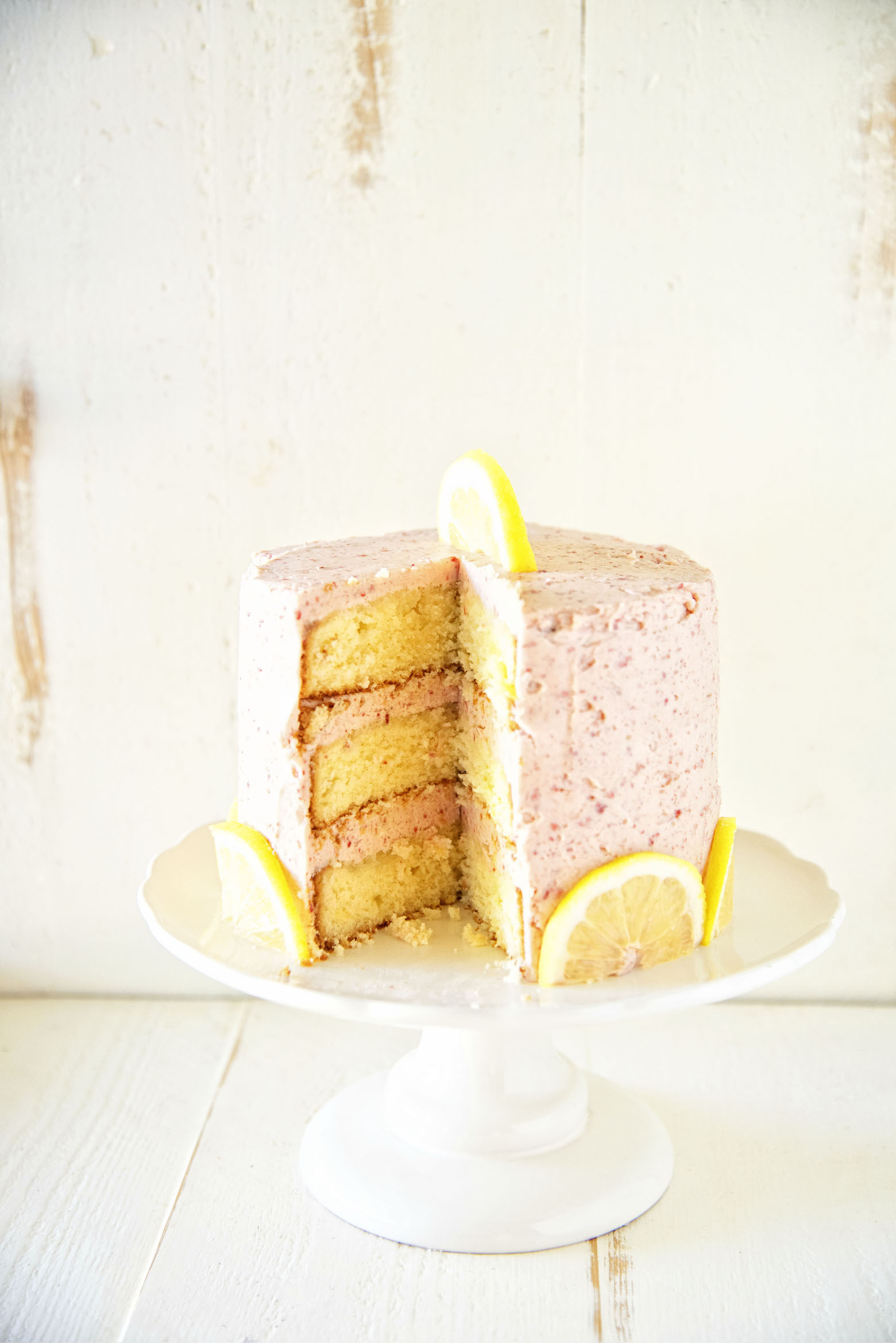 While I do love local fresh produce and I'm excited that it will be available soon, I don't like to bake with it.
Unless it's like a cobbler or pie.
But inside cakes and always frostings I love the freeze dried fruits.
If you haven't converted yet…you need to.
I once again used freeze dried strawberries in the Swiss Meringue Buttercream.
The cake itself does not have super lemonade flavor, which is why you brush it with the thawed frozen lemonade concentrate.
Don't skip that step.
P.S. It's a great day to buy my cookbook Holy Sweet!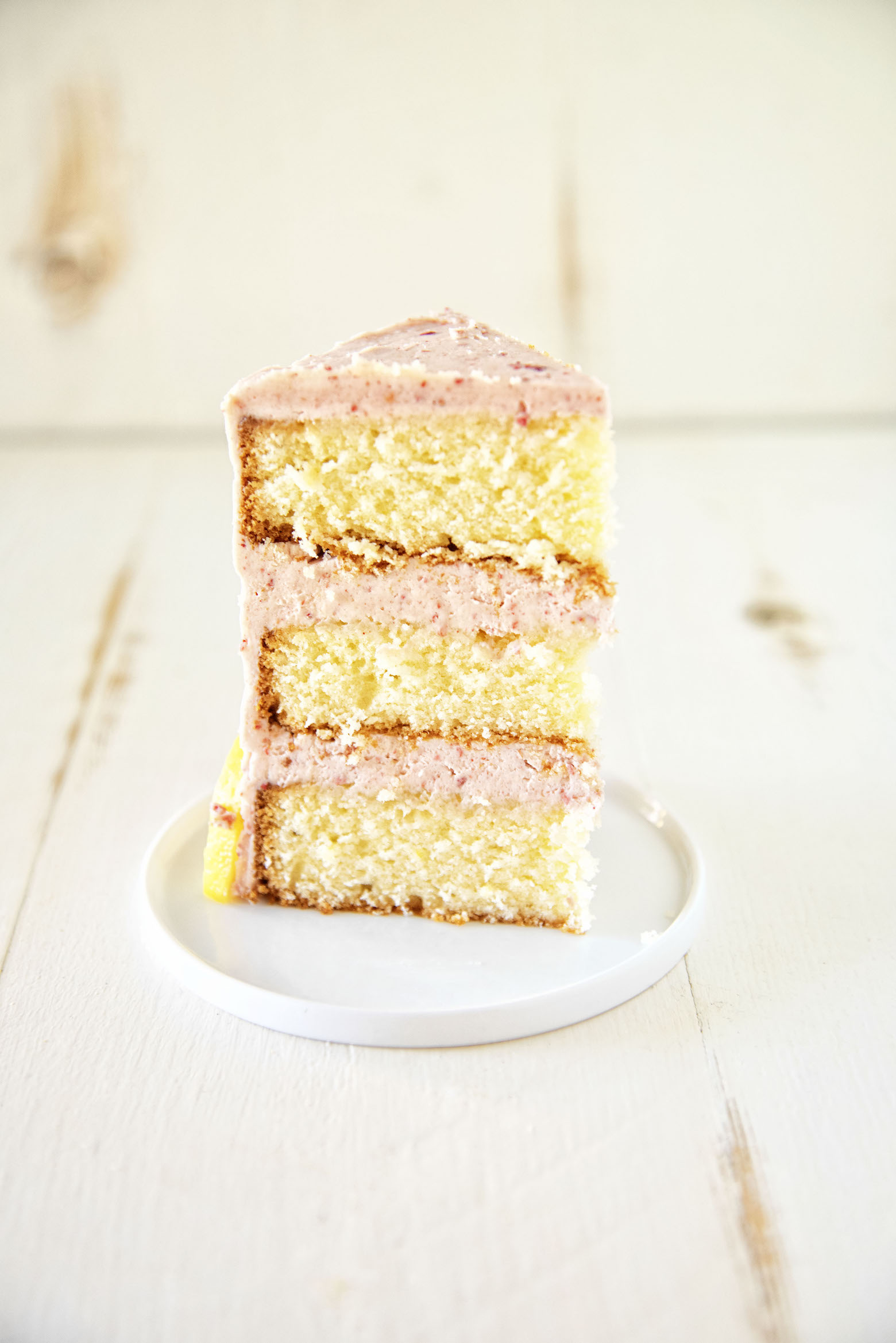 Want more recipes like this? Try these:
Sweet Corn and Raspberry Layer Cake
Strawberry Shortcake Layer Cake
Lemon Blueberry Poppy Seed Layer Cake
Strawberry Lemonade Glazed Cupcakes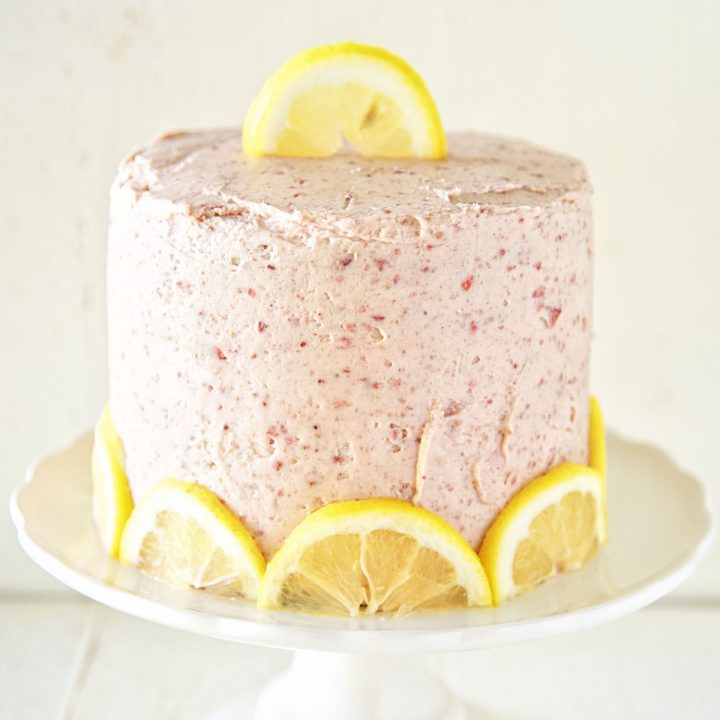 Strawberry Lemonade Layer Cake
Ingredients
For the cake:
½ cup plus 1 TBSP unsalted butter, at room temperature
1 1/2 cups granulated sugar
3 large eggs
1/3 cup vegetable oil
1/4 cup thawed lemonade concentrate
1/3 cup buttermilk
zest of one lemon
2 cups cake flour
1 ½ tsp. baking powder
½ tsp. salt
To Brush on:
1/2 cup thawed lemonade concentrate
For the Strawberry Swiss Meringue Buttercream:
3/4 cup egg whites
1 1/2 cup granulated sugar
2 (4 sticks) cups unsalted butter, cubed and at room temperature
pinch of salt
Instructions
Preheat oven to 350F.
Spray two 8-inch cake pans or three 6-inch with generous amount of baking spray.
Using a stand mixer with a paddle attachment cream together the butter and sugar until light and fluffy, about 3 minutes.
Scrape down the sides and bottom of the bowl and beat for another minute.
Add the eggs one at a time, scraping down the bowl after every addition.
Add the thawed lemonade concentrate, buttermilk, zest, and oil on slow.
Increase speed when the liquid is incorporated into the batter.
Beat on medium high for about 5 minutes until the batter becomes very light in color.
Scrape down the bowl.
With the mixer on low, add the flour, baking powder, and salt.
Mix until fully combined.
Divide the batter evenly between the pans.
Bake for 30-35 minutes or until a knife inserted comes out clean.
If baking the 6-inch rounds it should be about the same baking time maybe a little more due thickness.
Remove from oven and cool on a wire rack.
For the frosting:
Place the egg whites and sugar in the metal bowl of a stand mixer and set over a small pot of simmering water (the bowl should not touch the water).
Heat, stirring occasionally, until mixture is 160F or hot to the touch.
Transfer bowl to stand mixer and beat on high speed with a whisk attachment to medium stiff peaks, about 8 minutes.
Reduce mixer speed to medium low and add butter a tablespoon at a time, letting it incorporate into the meringue for few moments before adding more.
Add the freeze dried strawberry powder and salt and beat on high for 1-2 minutes until smooth and creamy.
To assemble cake:
Set one cake layer on turntable cake stand.
Brush layer with thawed lemonade concentrate.
Top with 3/4 cup frosting and spread out frosting to the edge.
Top with a second cake layer.
Brush that layer with lemonade concentrate.
Top with 3/4 cup frosting and spread out frosting to the edge.
Place the last layer on top.
Brush layer with thawed lemonade concentrate.
Use an offset spatula to frost cake with buttercream.
If desired, first make a thin coat to seal in crumbs and chill for 30 minutes.
Cover completely with another layer of frosting.
Add some fresh cut lemons for decor if desired.
Notes
For this recipe I used 6-inch pans. THESE are the ones I use.