This Vegetarian Roasted Garlic Chile White Bean Soup is made with white beans and made extra special with roasted garlic, chili peppers, and spices.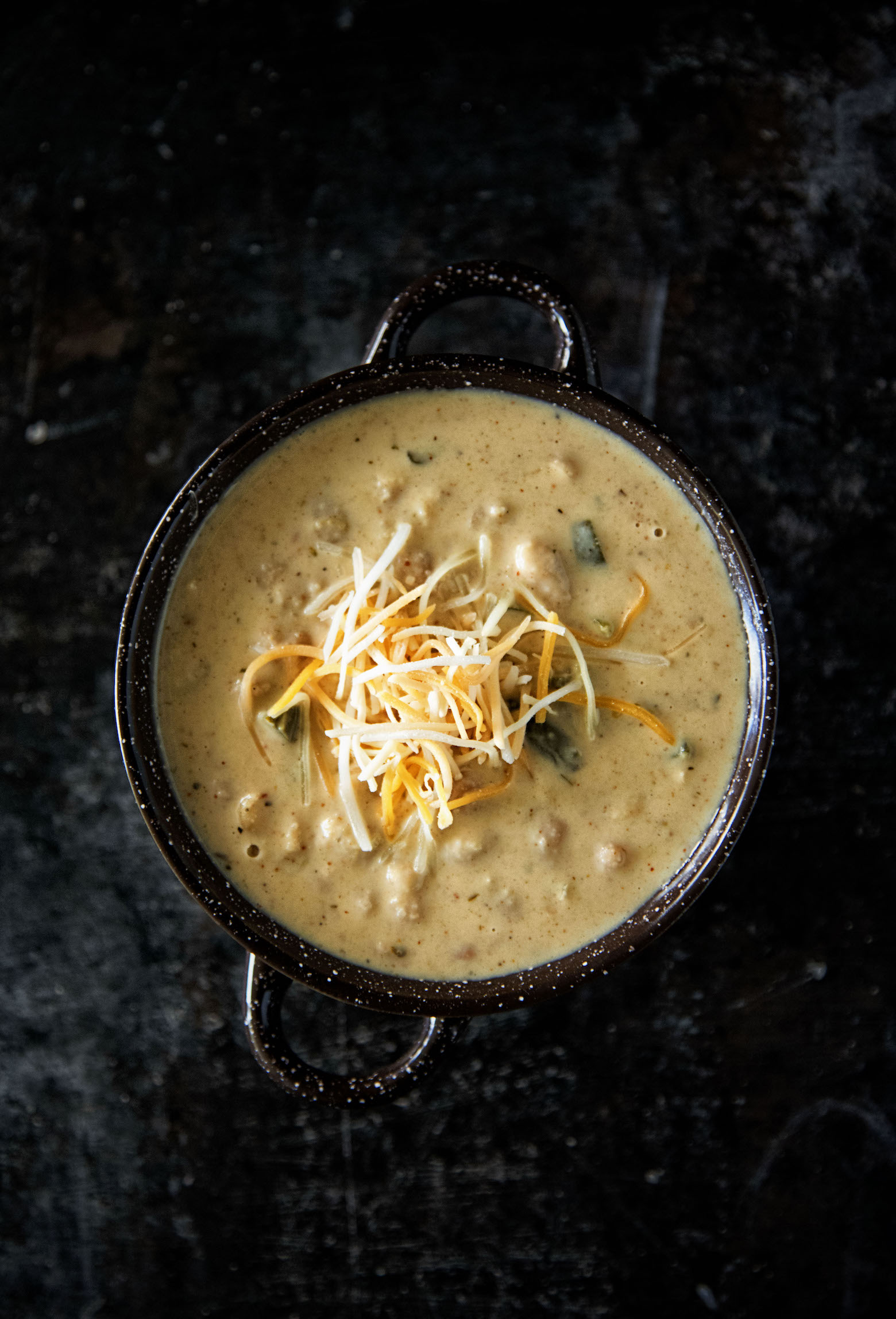 Throughout my life while living in Arizona, I met Senator John McCain on four separate occasions.
Three were on purpose due to being at the state capital for teacher stuff and the state of education were the topics.
I often did not agree with McCain on education funding (and other things) but I was always a fan of the man himself.
The fourth time I ran into him we talked about soup.
A Roasted Poblano Chicken Chowder to be exact.
You may be wondering why on Earth the subject of soup came up.
It's because I had a giant pile of chilies that a fellow teacher had brought for me.
They were very fragrant, especially when in an elevator, and so he asked what I planned to do with them.
With his recent passings I thought about that conversation a few times over the weeks.
Since we don't eat meat anymore I wanted to sort of make a soup in honor of the senator but in a vegetarian way.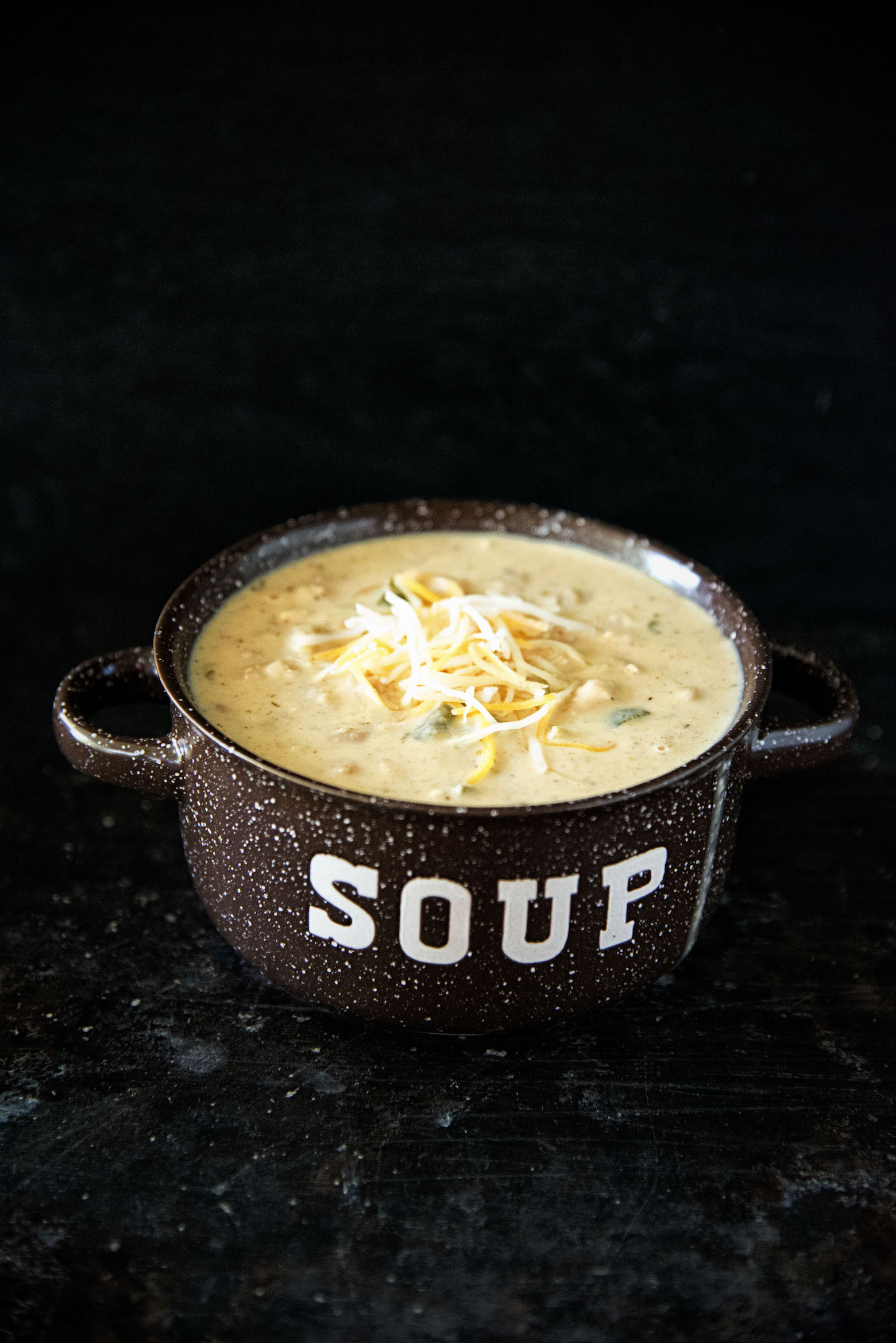 I've made variations of this Vegetarian Roasted Garlic Chile White Bean Soup over the years and it's always better the next day.
So keep that in mind when making this that it's best to sit for 24 hours for all the flavors to develop.
I traditionally use Anaheim and Poblano chilis for this but my grocery store didn't have Anaheim's so I used Hatch.
When you first make this soup it will not seem that spicy.
That is why you let is sit for 24 hours.
The heat will come through but not in a knock you over the head kind of way.
If you really want some meat you could add chicken or turkey to this.
If you do that I would use one less can of beans.
It's a great day to order my cookbook.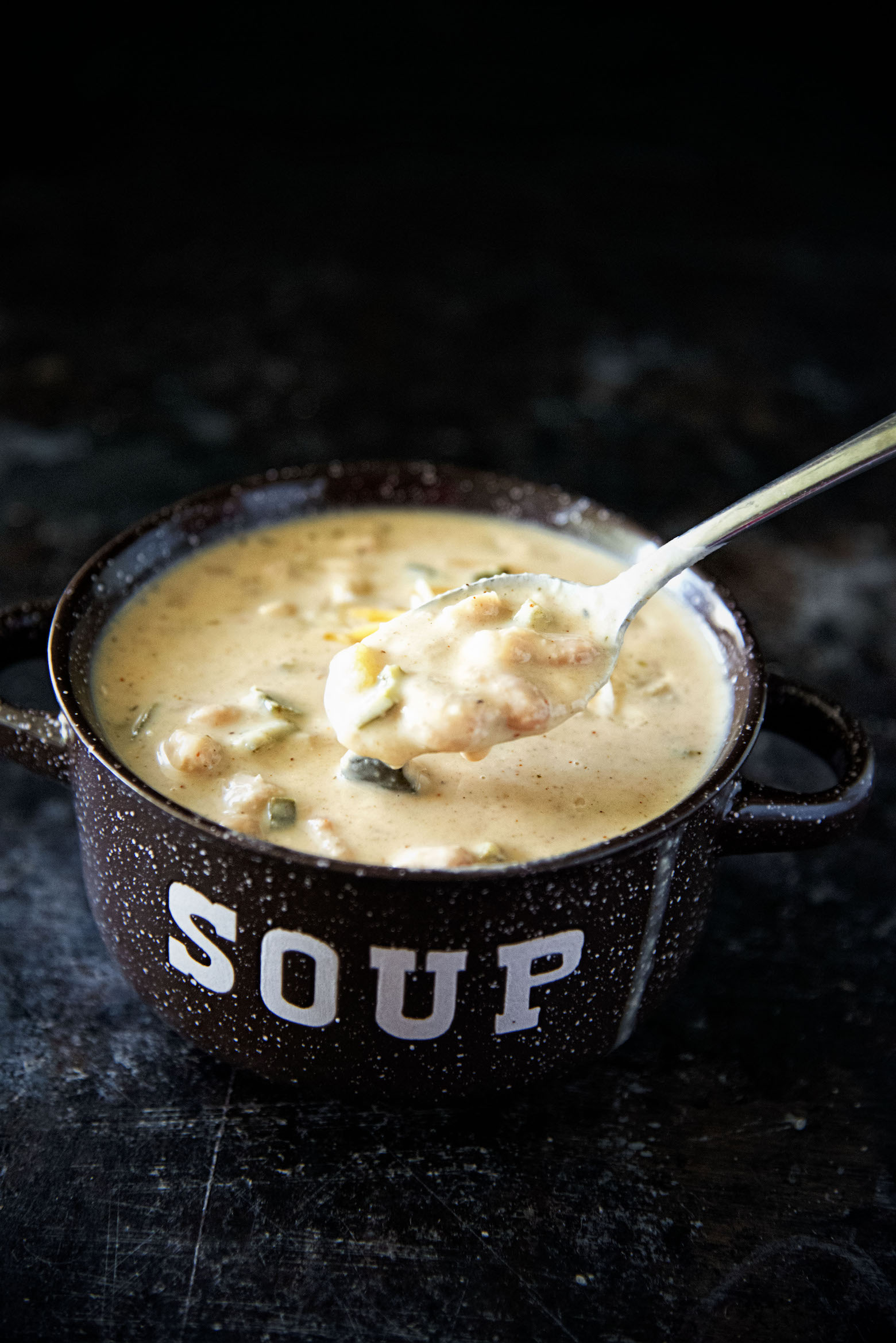 Want More Soup Recipes?
Dill Pickle Cheddar Cheese Soup
Caramelized Onion Potato Ale Soup
Vegetarian Vegetable No-Beef Soup
German Caramelized Onion Ale Soup
Vegetarian Roasted Garlic Chile White Bean Soup
Ingredients
2  large bulbs garlic
3 TBSP olive oil, divided
1 cup onion, chopped
2 Anaheim peppers (I had to use Hatch chilies this time due to availability), halved and seeded
2 Poblano peppers, halved and seeded
1/2 tsp. salt
1/4 tsp fresh ground black pepper
2 tsp. chili powder
1 tsp. dried oregano (preferable Mexican oregano)
2 tsp. cumin
1/2 tsp. ground coriander
1/4 tsp. cayenne pepper
1/3 cup all-purpose flour
5 cups vegetable broth or no chicken-chicken base
5 cans (15-ounces each) Great Northern or navy beans, rinsed and drained
1/2 cup heavy cream
juice of one lime
Instructions
Preheat the oven to 425 degrees F.
Toss onions and chilis in 1 TBSP olive oil.
Place on one end of a baking sheet.
Cut off the tip of the garlic bulbs, wrap in foil and place it cut-side up on the baking sheet.
Drizzle the sliced end with a tablespoon of olive oil.
Bring the edges of the foil up to wrap completely.
Roast in the oven for 20 minutes.
Separate the chilis from the onions.
Let chilis cool.Once chilies are cool, try to remove the skins. If they won't come off it's fine.
Dice the cooled chilies. Set aside.
In a blender add the onion, roasted garlic (squeeze out the garlic out of the skin and discard the bulb), and one cup vegetable broth.
Add one can of beans to the mixture and one more cup of broth.
Blend until smooth.
Pour mixture into a large pot.
Stir in the chili powder, cumin, oregano, coriander, cayenne, and flour.
Cook, stirring constantly, for 1 minute.
Add remaining 3 cups of the broth and stir to combine.
Stir in the remaining beans, chili's, cream, and lime juice and cook until heated through.
Add additional salt and pepper to taste.