These Vanilla Bean Caramel Thumbprint Cookies are filled with a homemade vanilla bean caramel sauce. Not your average thumbprint cookie.
I know it's the holiday season when I make my Rodelle cookie for their Cookies with Rodelle by the Dozen event they have each year.
It's not a sponsored post, we just do it for fun…you know how we used to do blogging.
The first year there were only 12 of us.
Rodelle did not have that many ambassadors, in fact, I was their second ever.
But it goes to show you how much I like their product if I have been with them for that long. 🙂
However, the number of Rodelle ambassadors have grown immensely over the years and so has the event.
Traditionally I tend to make cookies using their cocoa powder but this year I was really craving vanilla bean caramels.
Decided that needed to be in a cookie.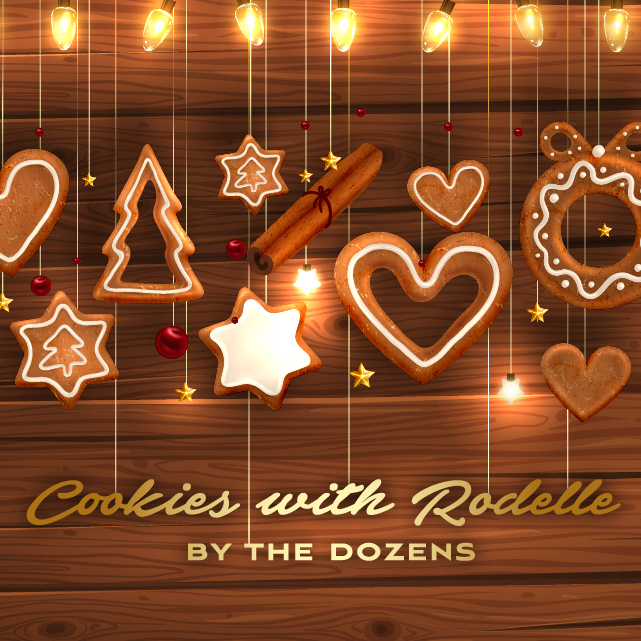 While I really love a classic thumbprint cookie…I don't tend to stick to the classics on this blog.
So I made these Vanilla Bean Caramel Thumbprint Cookies.
The base of the cookie is essentially shortbread.
You can take the time to make them perfectly round if you want.
But once you smash your thumb or tsp. in there they tend to break a little on the sides.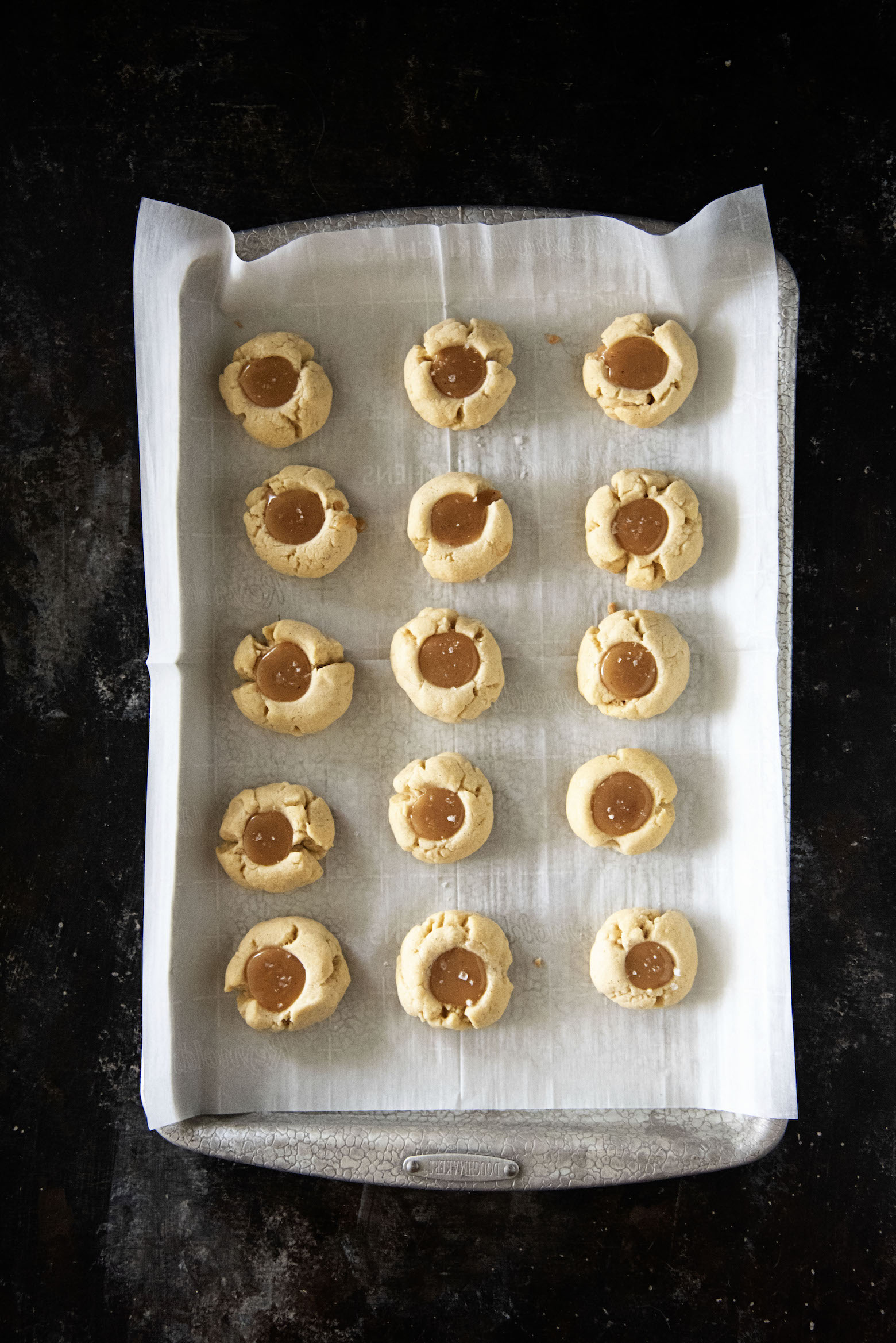 If they break too much piece them together as you do want to be able to hold the caramel in there.
They just don't have to be perfect. 🙂
The vanilla bean caramel is what makes these.
These cookies use Rodelle vanilla, vanilla beans, and their vanilla bean paste.
So very vanilla.
And so very yummy.
I did add some sea salt flakes to the top of some of them but you don't have to.
P.S. It's a great day to buy my cookbook.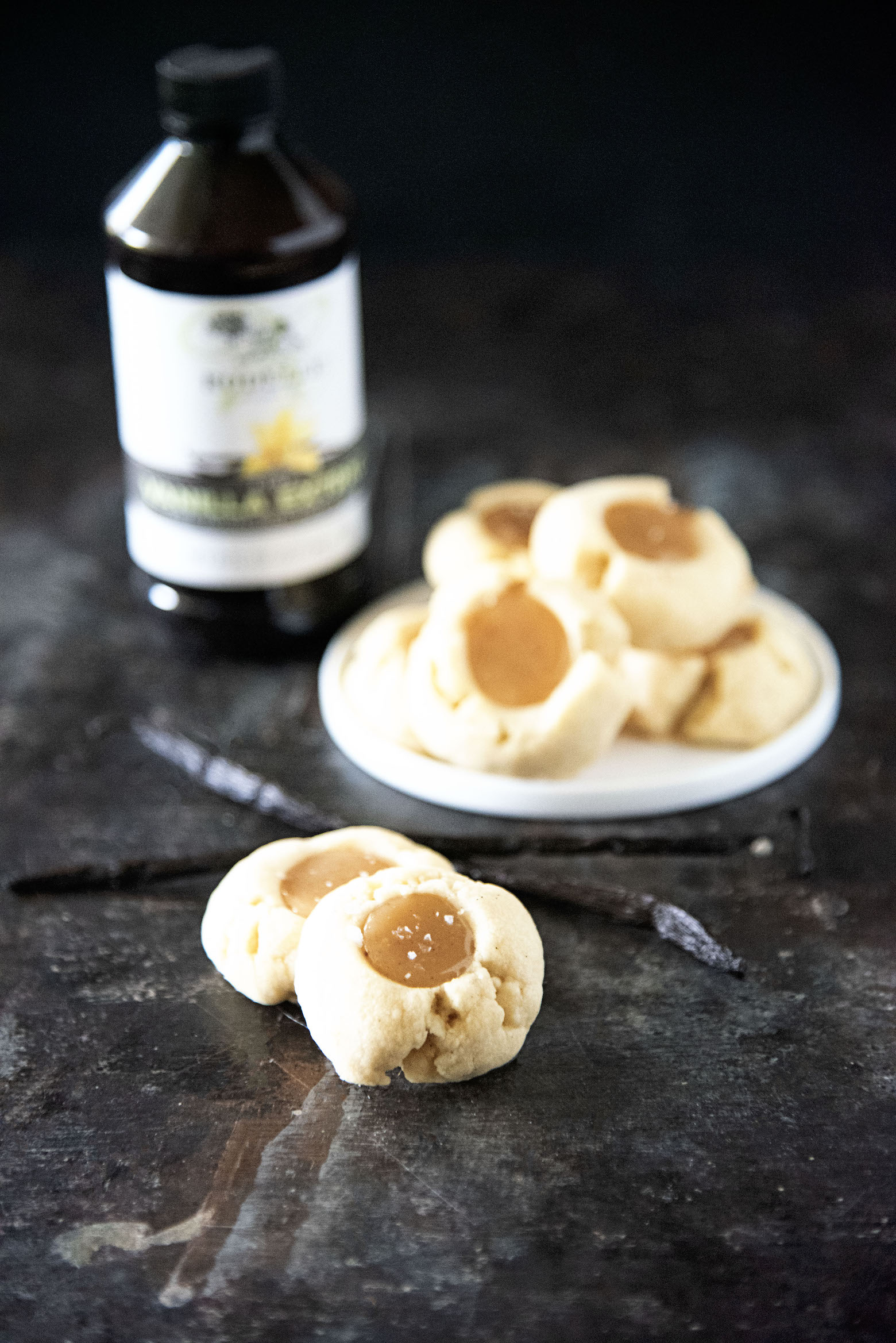 Want more Thumbprint Cookie Ideas?
Dulce de Leche- Cashew Thumbprints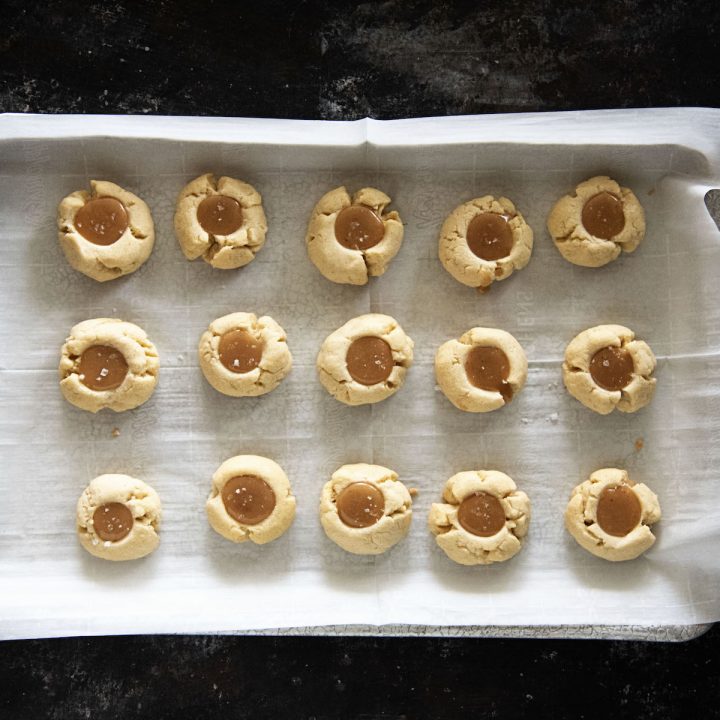 Vanilla Bean Caramel Thumbprint Cookies
Yield:
2 1/2 dozen cookies
Ingredients
For the Vanilla Bean Cookie:
1 cup unsalted butter, at room temperature
1 cup powdered sugar
1 tsp. vanilla extract (I used Rodelle)
1 vanilla bean, seeds removed, pod discarded (I used Rodelle)
2 1/4 cups all purpose flour
For the Vanilla Bean Caramel Filling:
1/2 cup heavy cream
2 TBSP unsalted butter
1/4 tsp. salt
3/4 cup granulated sugar
2 TBSP light corn syrup
2 TBSP water
1 tsp. vanilla bean paste (I used Rodelle)
sea salt (optional)
Instructions
For the cookies:
Preheat oven to 350F.
Line two baking sheets with parchment paper.
Using a stand mixer with a paddle attachment cream together the butter and powdered sugar.
Add in the vanilla and vanilla bean seeds and mix until fully combined.
Add the flour and mix until it forms a dough.
Shape dough into 1-inch balls.

Transfer cookies to the prepared baking sheets, spacing cookies 2-inches apart.

Using a 1-tsp measure, or your thumb, make an indentation in each cookie.

Bake cookies, one sheet at a time, until the edges are set, 14-16 minutes.

I like to at this time repress my thumb or tsp measure to make the indentation really big in the cookie when the cookies come out of the oven.

Transfer the cookies to a cooling rack.

For the Caramel Filling:

In a 2-cup glass measuring cup, add the heavy cream, butter and salt.
Microwave in 30 second pulses until melted and steaming. Set aside.
In a 2-quart saucepan (seriously, don't use a smaller one-it boils up), add the sugar, corn syrup and water.
Turn the heat to high, and cook without stirring until it reaches between 290-295 degrees.
Turn the heat off.
Slowly stream in the heavy cream mixture, and whisk gently.
Turn the heat back to high, and cook without stirring until it reaches 250 degrees.
Turn off the heat, and add the vanilla bean paste.
Whisk gently to combine.
Spoon caramel into the thumbprint holes in the cookies.
Top with sea salt if desired.
Let set a room temperature for 1 hour while caramel sets up.