This Vegetarian Spinach Mushroom Quiche filled with gruyere cheese, spinach, and sautéed mushrooms. A tasty way to get your veggies in.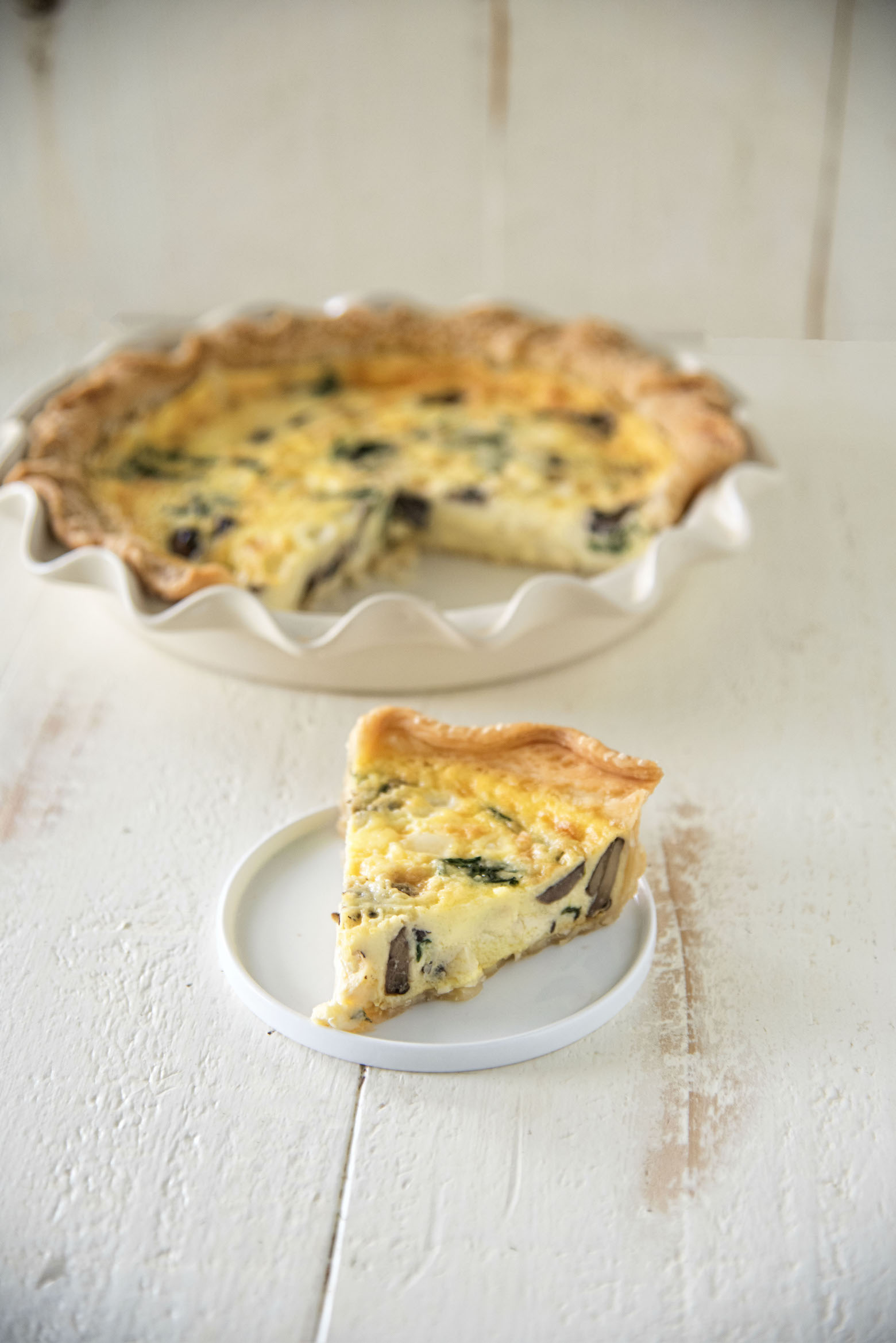 I think quiche is the best year round but it's really great at the holidays.
Number one because almost everyone likes quiche.
Almost.
It's easy to make.
And can be made ahead of time!
Which is key to me.
I make sure to have a few flavors of quiche when my parents come to town.
Quiche can be eaten as breakfast, lunch, or dinner.
Or even a hearty snack.
Also a great way to sneak veggies into a dish.
As I did with this Vegetarian Spinach Mushroom Quiche.
This time the veggies are spinach and mushrooms.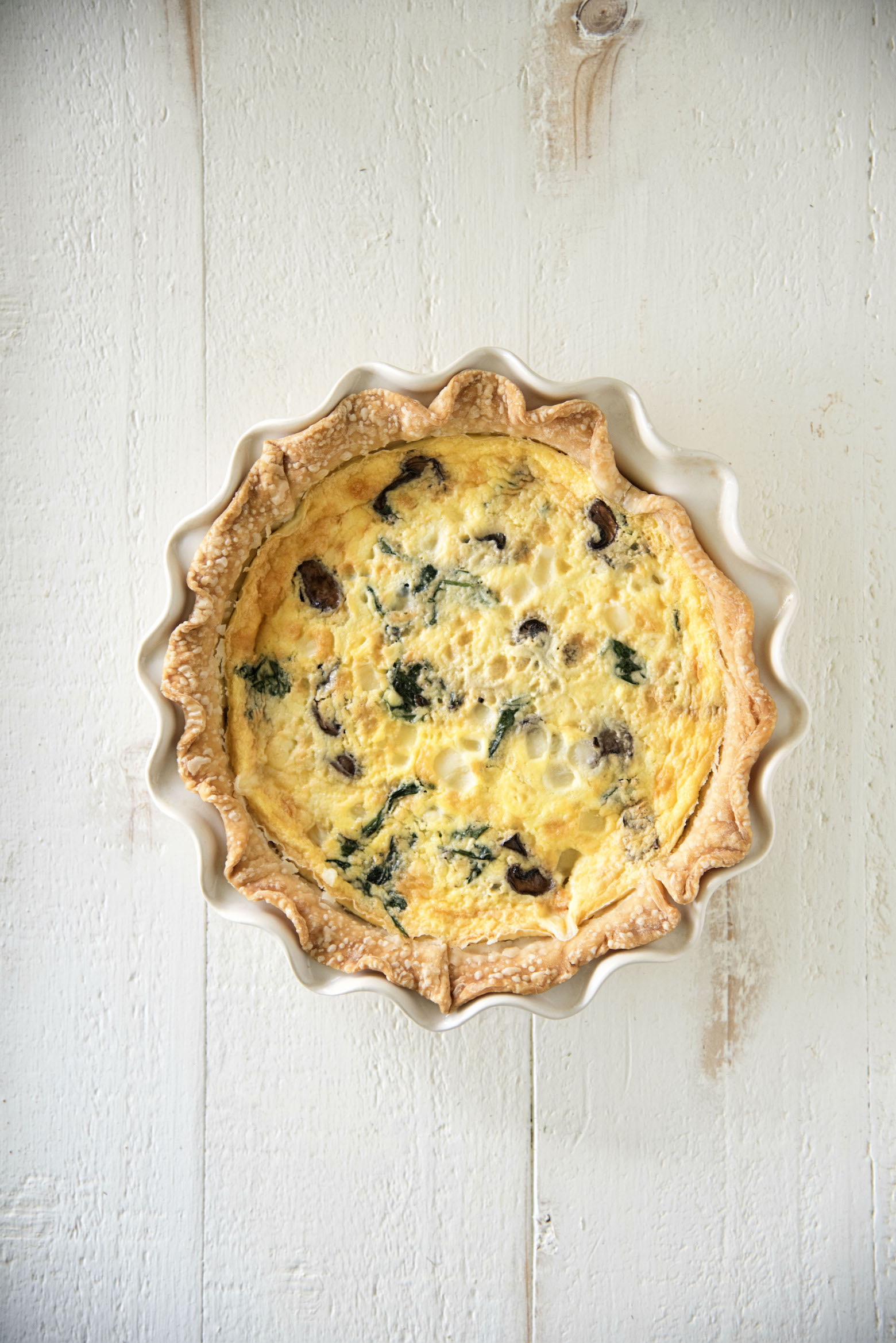 You can always add more or less depending on your tastes.
I used a Gruyere cheese but Swiss cheese or a gouda would be yummy as well.
For bigger crowds, this recipe can be doubled no problem.
Looking for a good pie pan?
I love this one.
Emile Henry stuff is on the pricier side but I LOVE every piece I own from them.
I also have this pan which is nice too and a little less money.
That's the pan in the photos.
Hope you had a lovely holiday and get ready…less than a month and it's Christmas!
P.S. It's a great day to buy my cookbook Holy Sweet!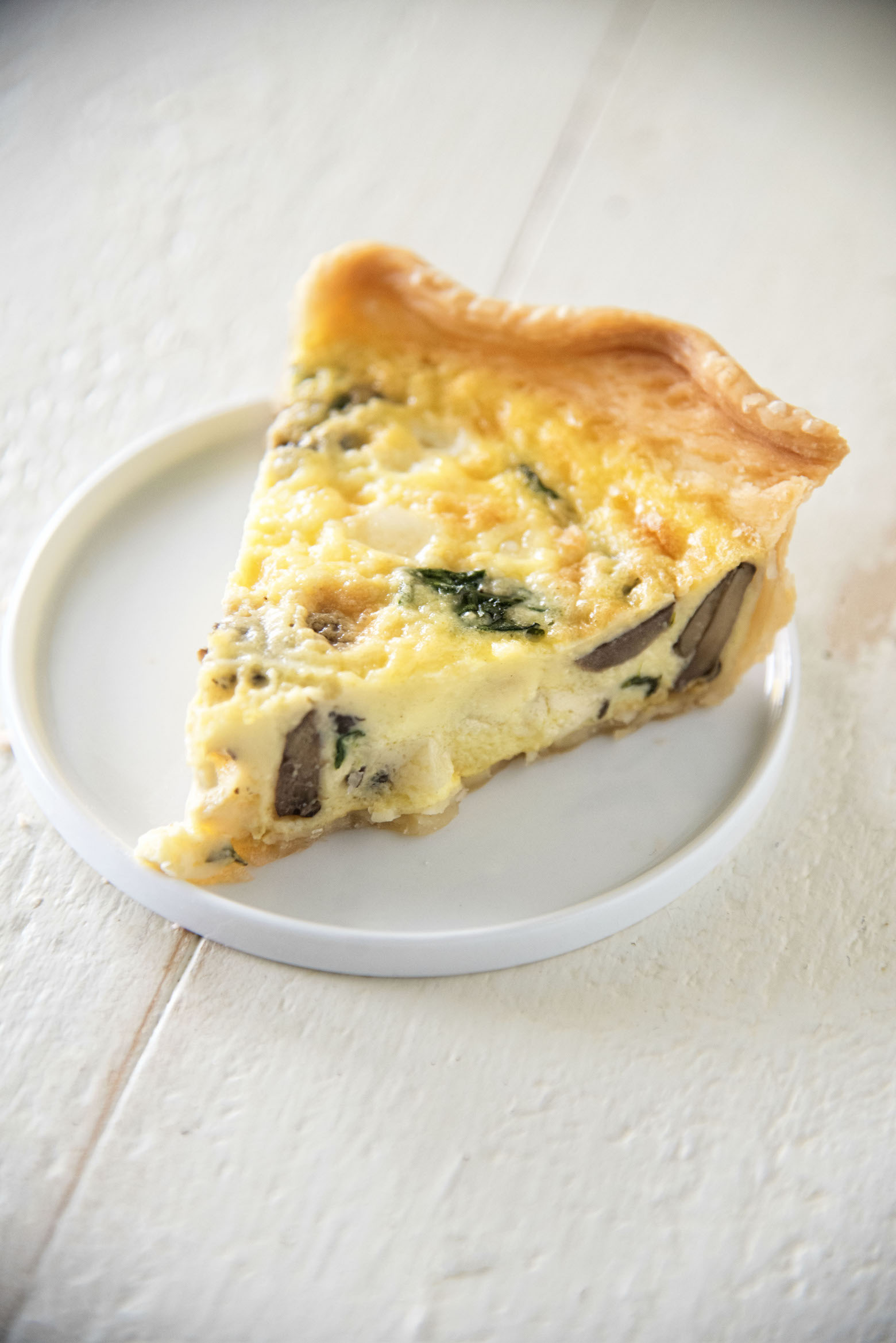 Want More Quiche Recipes?
Roasted Broccoli Cheddar Quiche
Pimento Cheese and Cornbread Quiche
Gruyere Aged Smoked Gouda Caramelized Onion Quiche
Pear Walnut Oregon Blue Cheese Quiche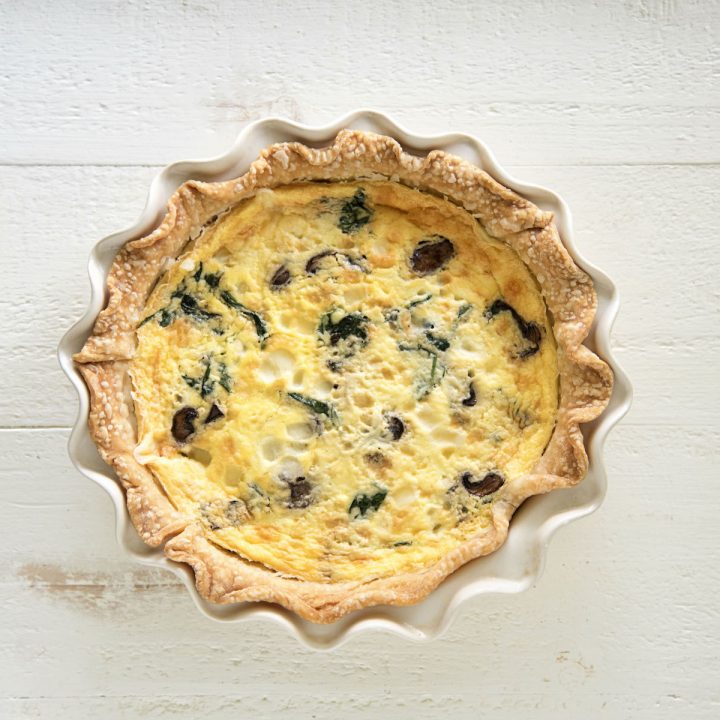 Vegetarian Spinach Mushroom Quiche
Ingredients
Pie crust for one 9-inch pie (homemade or store bought)
3 large eggs
2 large egg yolks
1 1/2 cups cream
1/4 tsp. salt
Pinch freshly grated nutmeg
1/2 cup mushrooms
1 TBSP olive oil
1/2 cup fresh spinach
1/2 cup Gruyere cheese, diced
1 TBSP dijon mustard
Instructions
For the quiche:
Preheat the oven to 375 degrees F.
Line the pie crust with parchment paper and fill with pie weights or dried beans.
Bake until the crust is set, 12 to 14 minutes.
Remove the paper and weights and bake until golden brown, 8 to 10 minutes.
Remove from the oven and cool on a wire rack.
Leave the oven on.
Using a medium saute pan add 1 TBSP olive oil and add the mushrooms.
Cook the mushrooms for 5 minutes.
Then add the spinach and cook until the spinach has wilted.
Arrange half the mushrooms, spinach, and cheese on bottom of pie crust.
In a large bowl, beat the eggs, yolks, and cream.
Whisk until fully combined.
Add the salt and nutmeg and whisk to combine.
Pour into the prepared crust.
Add the remaining mushrooms, cheese, and spinach.
Place in oven and bake until the custard is golden, puffed, and set yet still slightly wiggly in the center, 30 to 35 minutes