This Hot Fudge Sundae Hot Chocolate is an over the top hot chocolate made with melted vanilla ice cream and hot fudge sauce.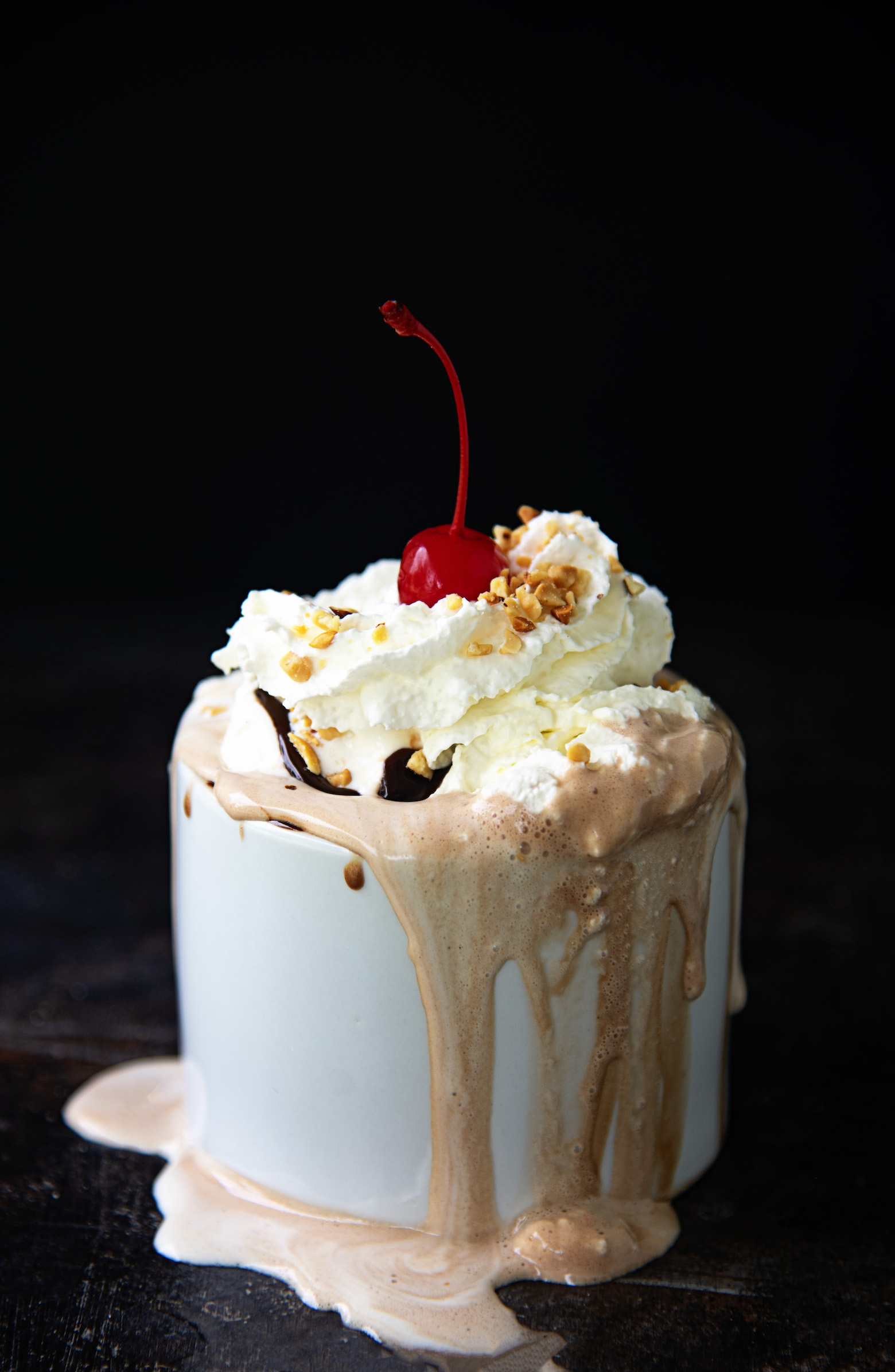 The very first time I talked with my editor and her boss about doing my cookbook they asked me if I had a name for the book.
I did not.
Since they came to me I wasn't sitting around with a cookbook proposal in my hand or anything.
I commented couldn't I just call it Sweet ReciPEAs?
One of the guys on the call could not make the connection between my name PEAbody and ReciPEAs.
And so we decided that would be a no go because people might just think my publisher has a dreadful editor.
Thinking it was a typo.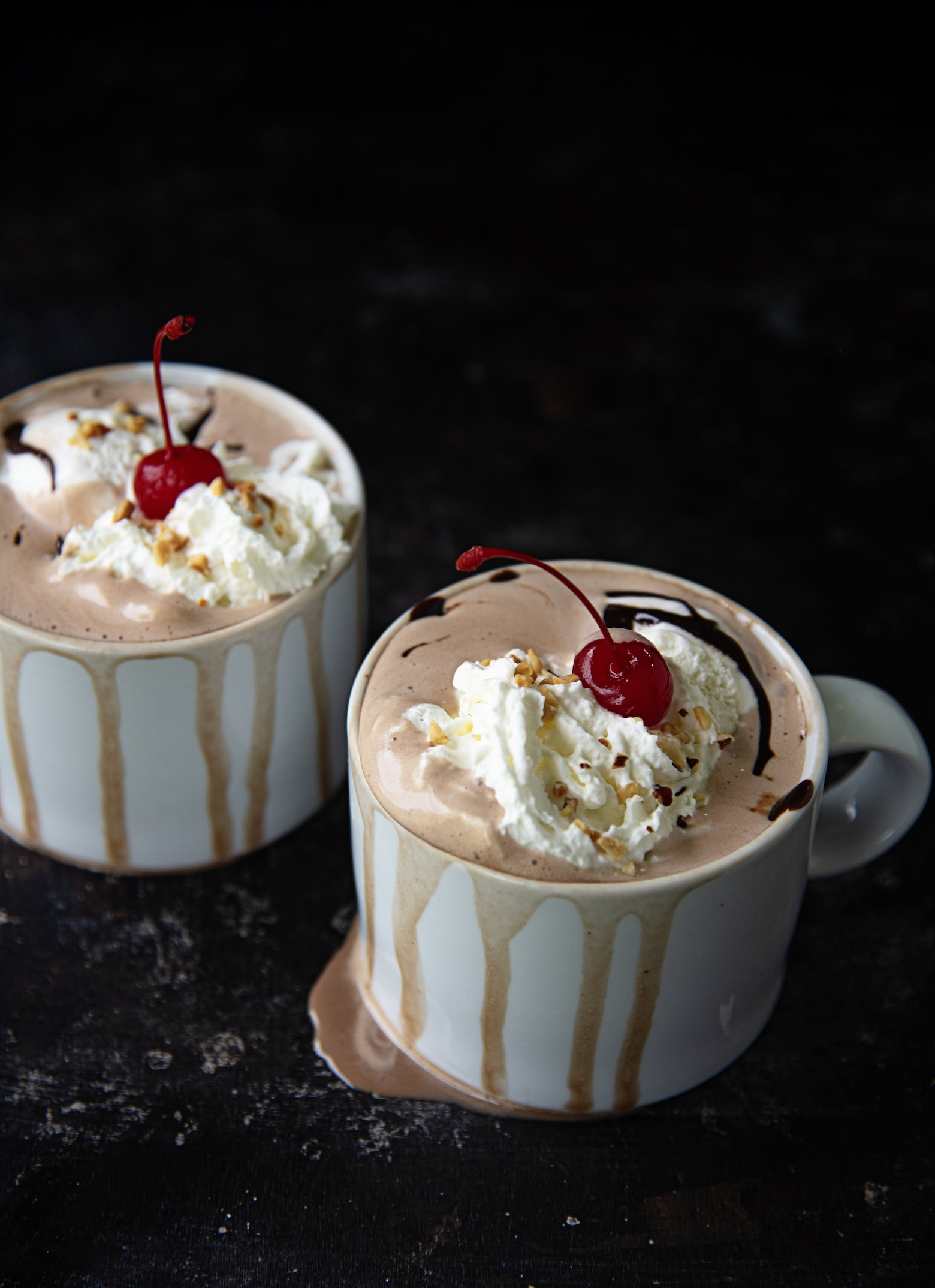 However, everyone loved my tagline.
If you ever just Google Sweet ReciPEAs for no apparent reason you will see my tagline.
I'll save you the Google time for those that don't know my tagline is: Evil Treats from a Nice Person.
We really tried to figure out how to use it in the title.
Sadly we did not.
It just didn't work.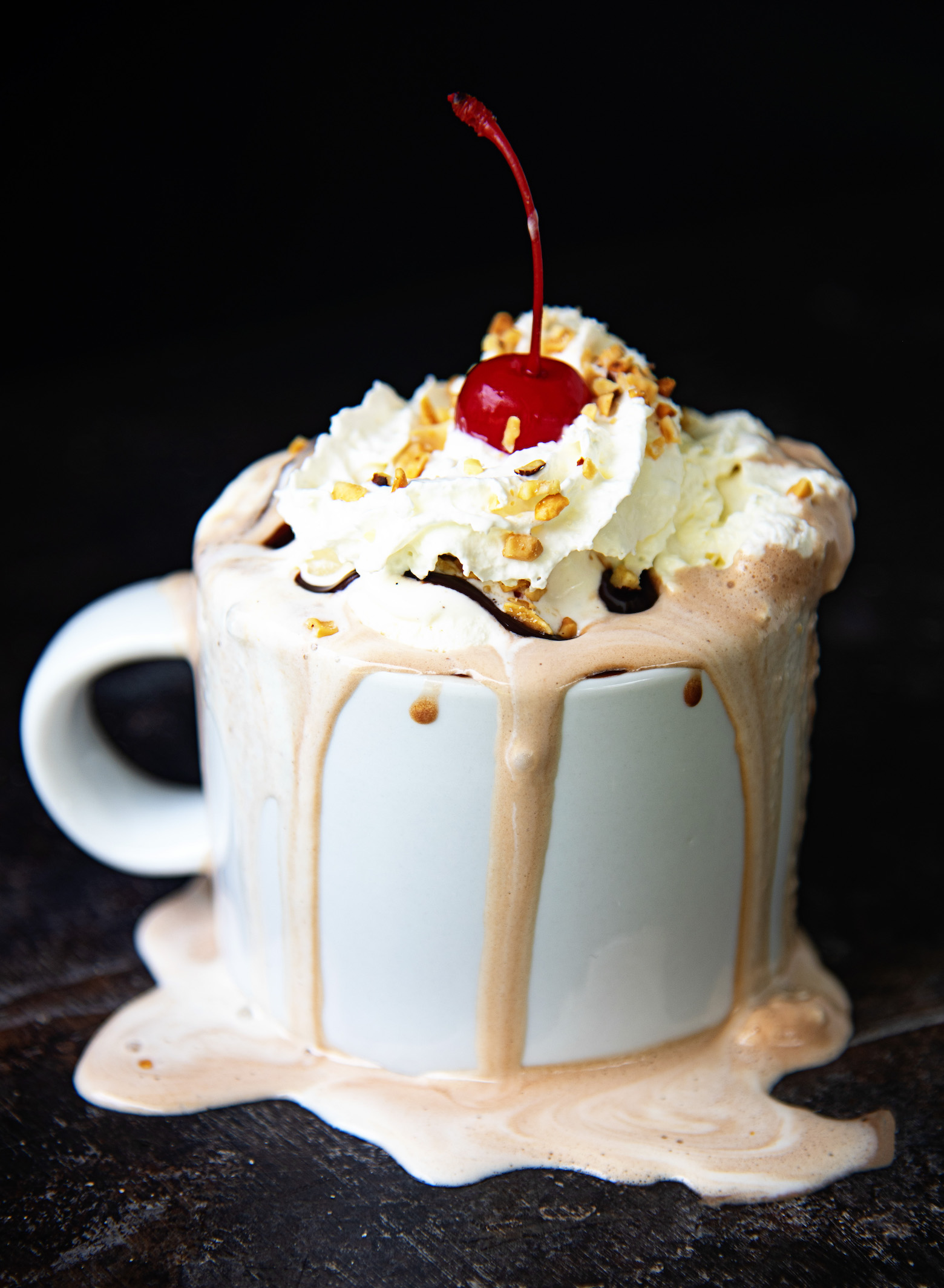 There was no title for several months and then when I looked on Amazon there was my book….with the name Holy Sweet!
I didn't remember this even being an option when we were discussing it.
All I could think of was a church cookbook…Holy Sweet…Baking with Jesus.
Saving souls one sweet roll at a time. 😀
Or something along those lines.
I emailed my editor and was like…is that the name? I'm not sure I like that.
She wrote back that was just what they had because they needed a title and we can easily change it no problem.
Then asked me what I wanted it changed to.
Again, I had no idea.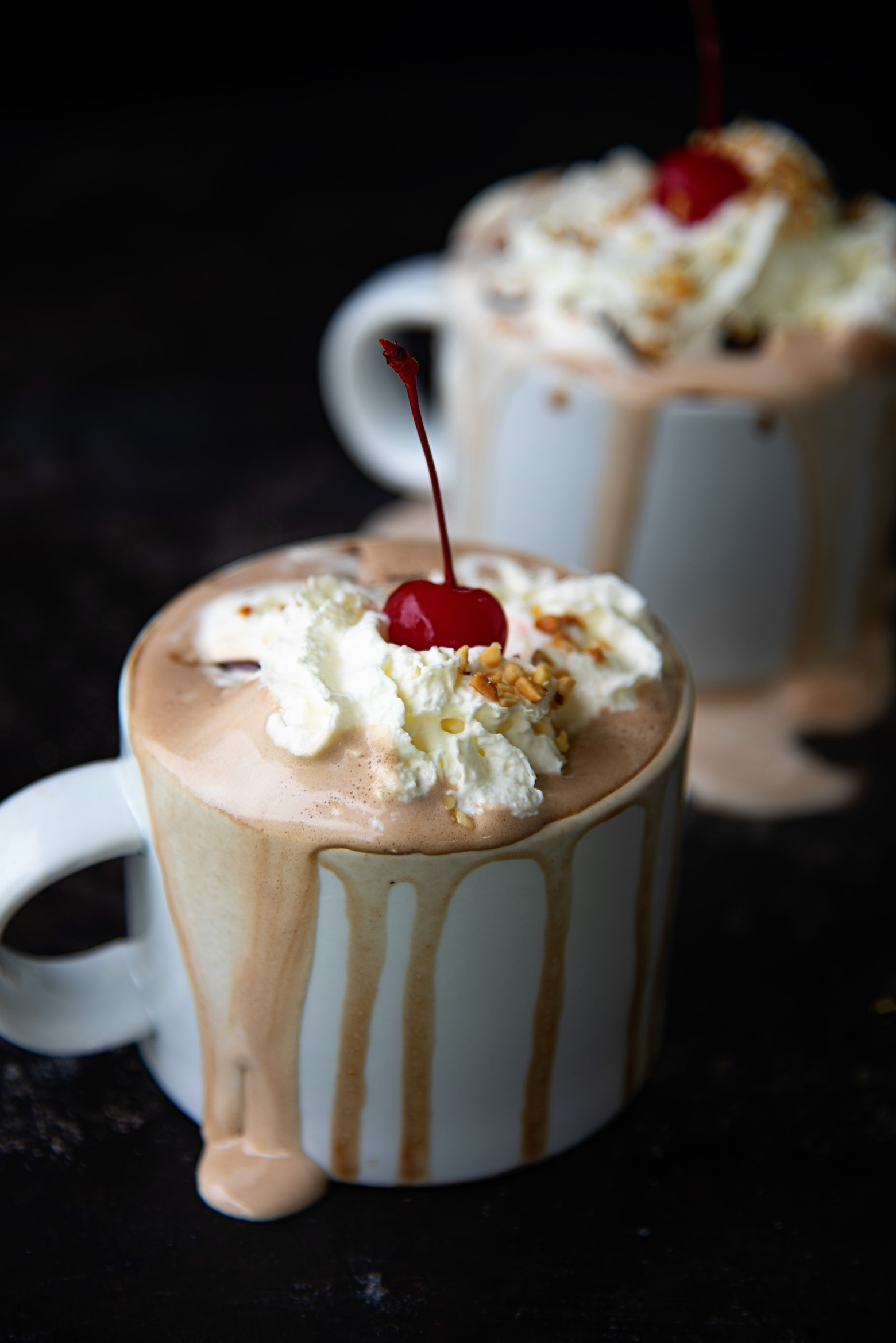 I finally just asked how the name was even chosen?
Apparently when those who were testing some of the recipes from my blog the response from many was holy sh!t that's good.
It's also why there is an exclamation mark at the end of the title.
I have had many a person respond that way and so I was like you know what…let's keep it.
There has also never been a cookbook called that.
You would surprised how many cookbooks have the same names.
So when you go to look it up it can lead people to another cookbook that might not be yours.
Plus the hashtag #holysweet! wasn't really used by anyone.
All stuff you have to think about and I never did before.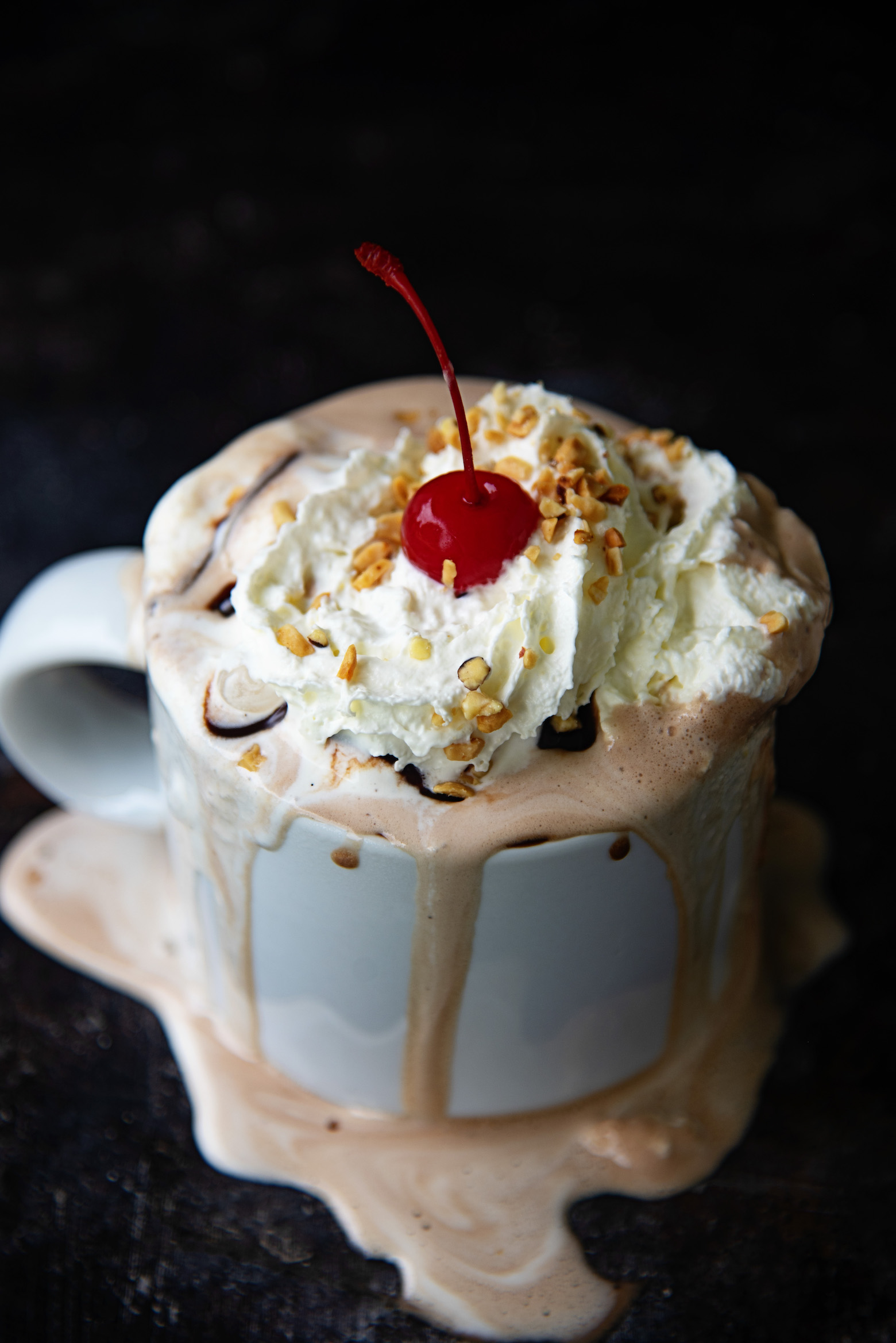 I fully admit I'm evil for making this.
I looked to see if anyone had made Hot Fudge Sundae Hot Chocolate before and one site had.
But they didn't use ice cream in the actual hot chocolate.
And that was just wrong to me.
They also used a light half and half. Look at this thing.
What part about Hot Fudge Sundae Hot Chocolate says use lower fat dairy to you?
NONE.
This was meant to be an over the top hot chocolate.
Which by the way is amazing.
And it's how I want my hot chocolate made from now on.
Seriously, insanely good.
Oh and now that you know why my cookbook has the name it does it's a great day to buy my cookbook.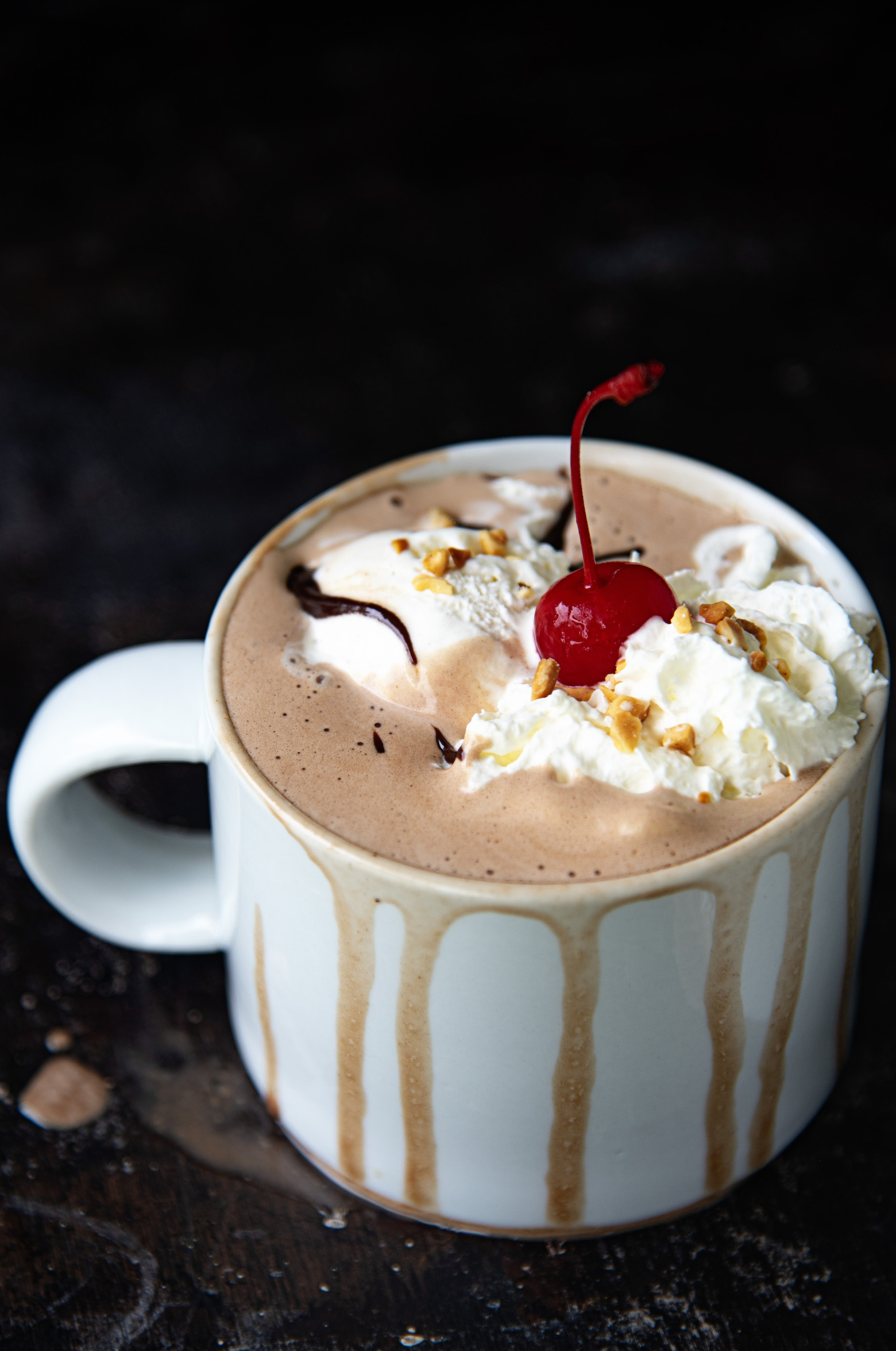 Want More Hot Chocolate Recipes?
Circus Animal Cookie Hot Chocolate
Spiked Stroopwafel Hot Chocolate
Spiked Gingerbread Hot Chocolate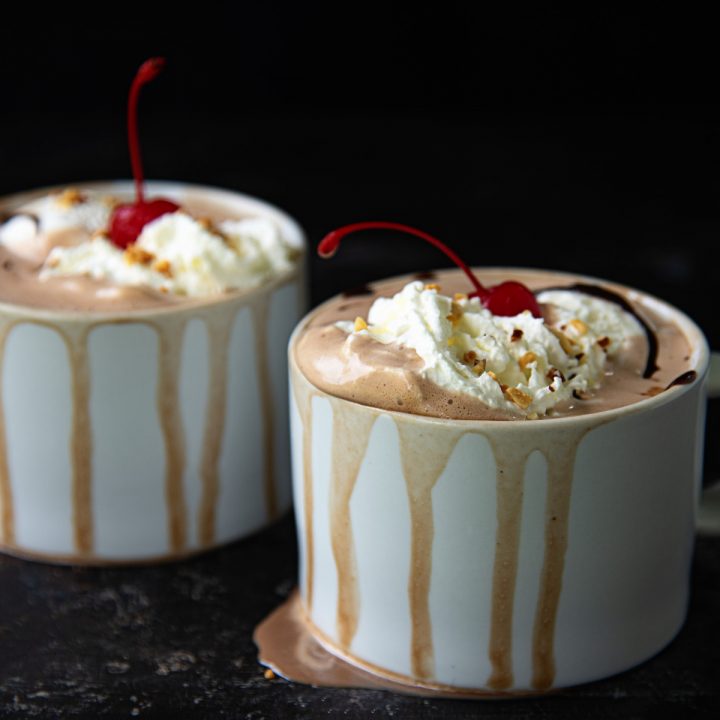 Hot Fudge Sundae Hot Chocolate
Ingredients
For the Hot Chocolate:
1 cup vanilla ice cream
1 cup milk
3/4 cup heavy cream
1 cup hot fudge ice cream topping
pinch of salt
To Garnish:
whipped cream
1 cup vanilla ice cream
hot fudge sauce
chopped nuts
maraschino cherries
Instructions
For the Hot Chocolate:
Combine the vanilla ice cream, milk, heavy cream, hot fudge topping and salt in 2-quart saucepan.
Cook over medium heat, stirring constantly, about 10 minutes or until mixture just comes to a boil.
Remove from heat.
Divide hot chocolate among two mugs.
Add 1/2 cup ice cream to each mug.
Top with whipped cream, drizzle with warm hot fudge, and nuts.
Top with maraschino cherry.