Cream Cheese Dill Pickle Dip: Dill pickle lovers will devour this dip made with cream cheese, sour cream, lots of dill pickles, pickle juice, and spices. Great for parties.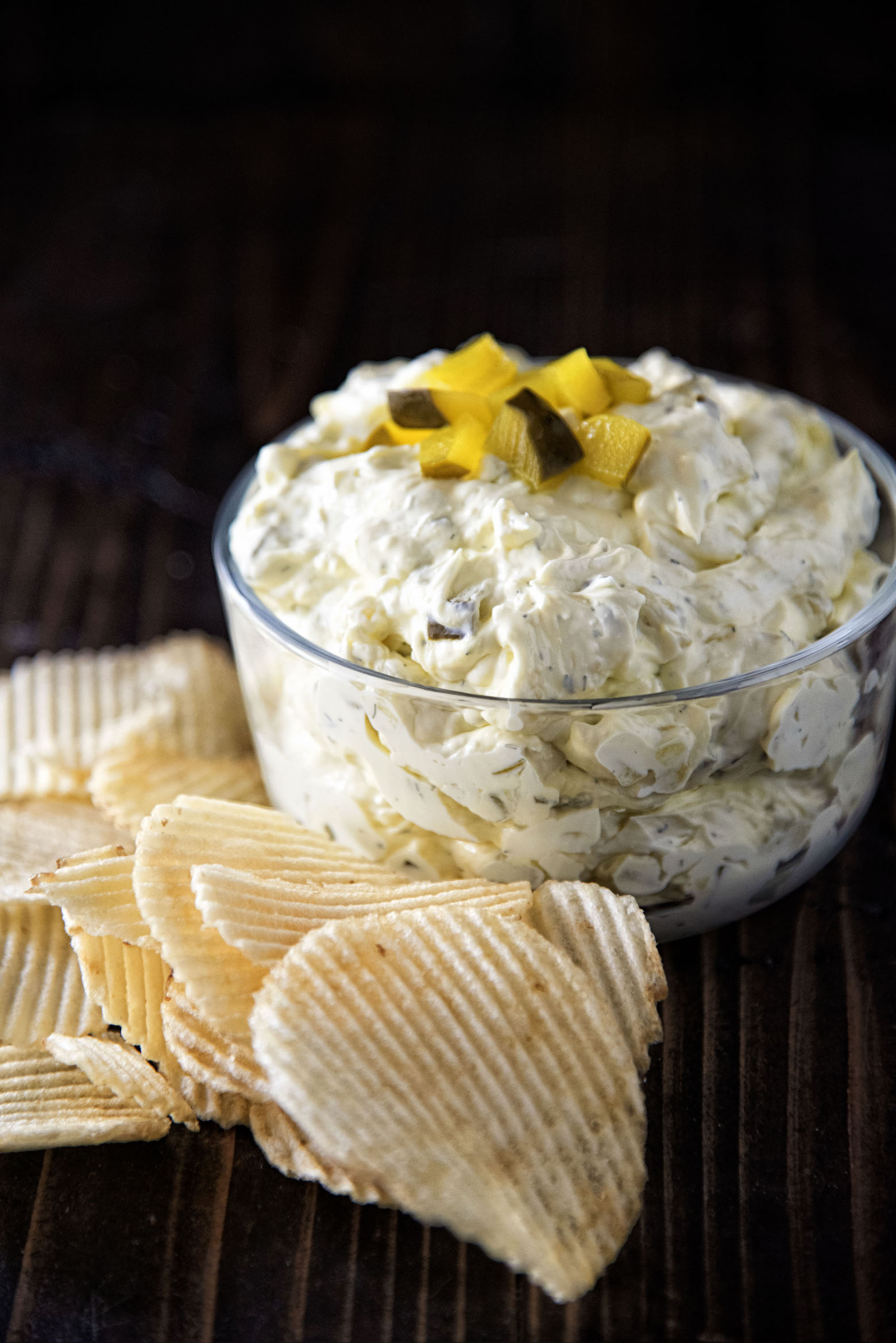 When getting ready for bed on Wednesday night I did what you aren't supposed to do…go on the Internet. 🙂
But one last scroll through Instagram wouldn't hurt.
Or would it.
What I saw got me fired up and pretty pissed off to be honest.
It was a picture of a woman wearing a sweatshirt for a company called Revolve.
And that sweatshirt read: Being Fat isn't Beautiful It's an Excuse (there should have been a comma but the shirt didn't have one).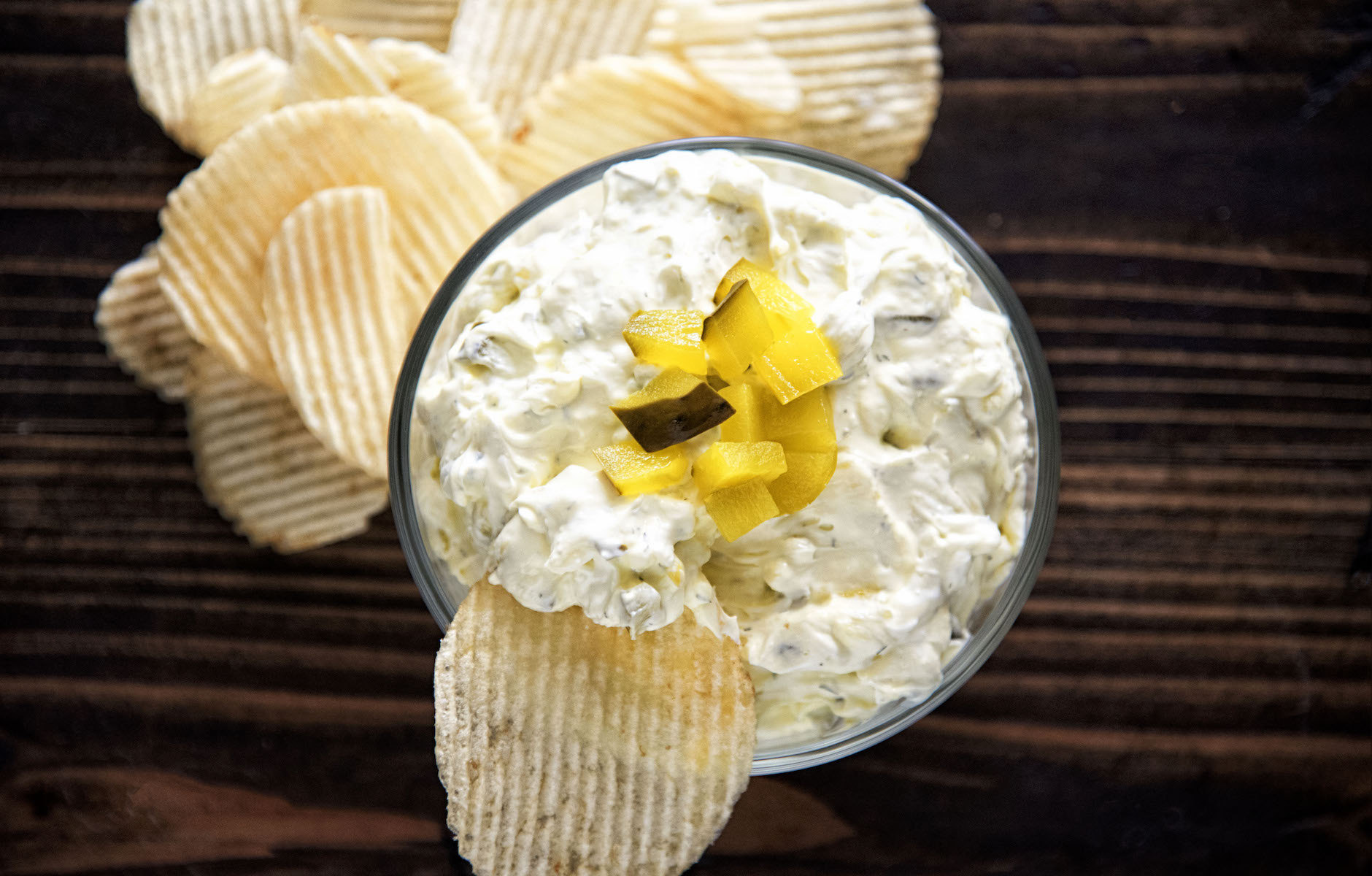 I reposted it on my own IG and was happy to see that it angered others and not just me.
Revolve since having the item up has since taken it down and released a statement that honestly, to me, only made it worse.
That the sweatshirt was part of a larger collection and taken out of context.
I'm not sure what context could be applied to Being Fat isn't Beautiful It's an Excuse unless the back of the shirt said…is what assholes say.
And honestly we have enough fat phobic people in the world that someone probably is upset they aren't selling that sweatshirt any more because they wanted to buy it.
The statistic sill exists that more women would want to lose 10 years off their life than be fat.
Which with most of the ways we go about trying to lose weight you probably are shaving 10 years off your life. 🙁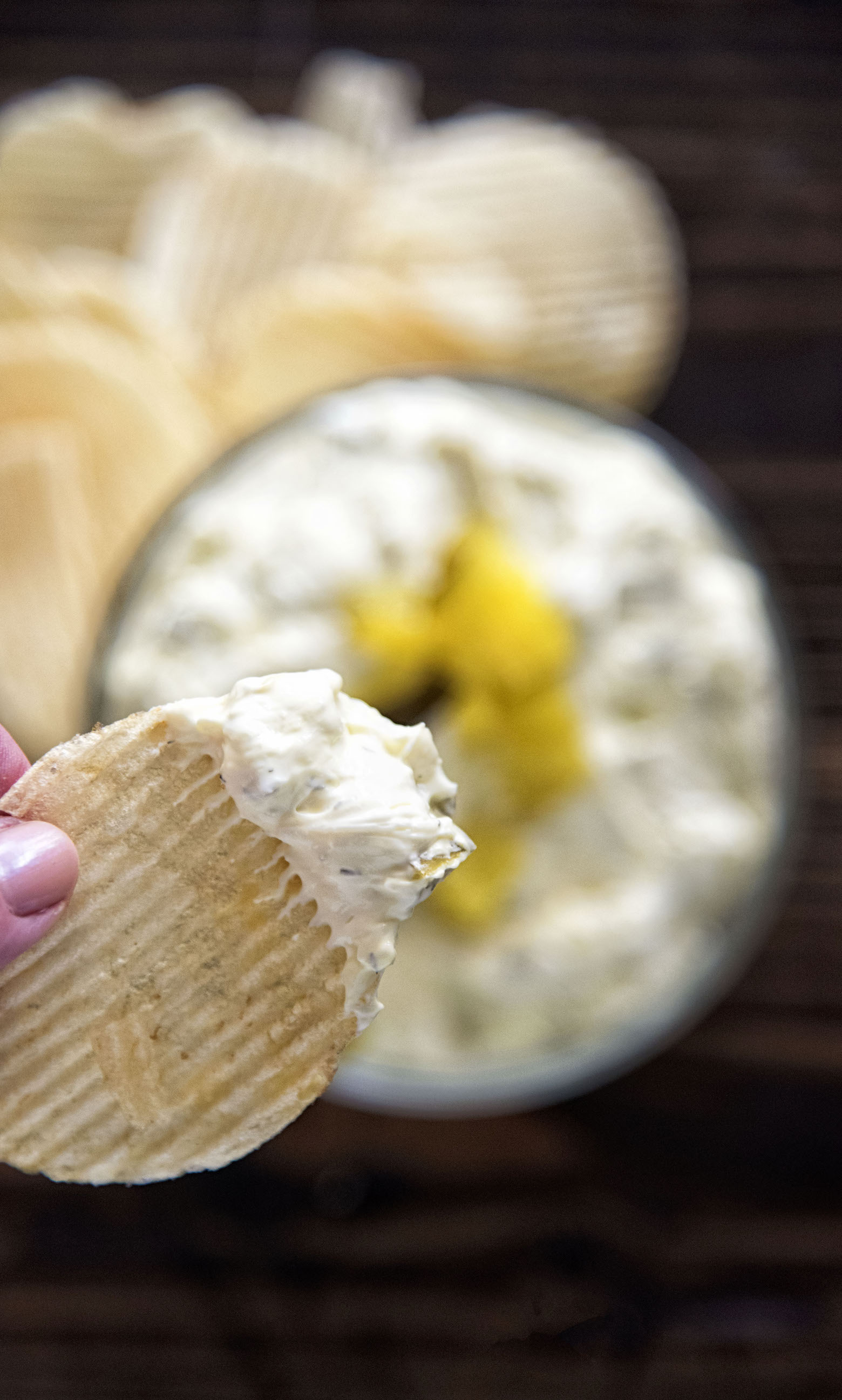 Telling you are fat and that's why your life sucks is a 60 Billion dollar industry.
They are going to keep on telling you that as long as you keep on buying it.
I watch my friends each year over and over go through the same diets….just recycled.
They do Whole 30.
Then Paleo.
Drink shakes that people promote on Facebook.
You know the ones where your friends show the same 6 people's success story.
Then when you ask they say I'll PM you.
Weight Watchers.
And now Keto.
Keto is what my husband and I did years ago.
I stopped well before him because I didn't feel good on the diet after a few months.
Turned out the hubs should have stopped too.
And he did.
When it gave him a heart attack.
Genuinely think about all the time you spend thinking about what you weigh…and spent on dieting.
Imagine all the kick ass things you could accomplish if you weren't focused on dieting and worrying about the size of your jeans.
This Cream Cheese Dill Pickle Dip isn't diet friendly…all though it probably is keto friendly ironically.
Now, I usually make this dip with vegan cream cheese and sour cream but I realize most people aren't doing that so the recipe is written for the average person.
I've seen tons of variations of this dip and I'm just adding mine to the ring.
My husband loves dill pickles and so it only made sense to make him a dill pickle dip.
Even though it's tasty with crackers and chips.
It's super tasty spread on bread and put under the broiler for a few minutes.
Last but not least…it's a great time to order my cookbook. 😀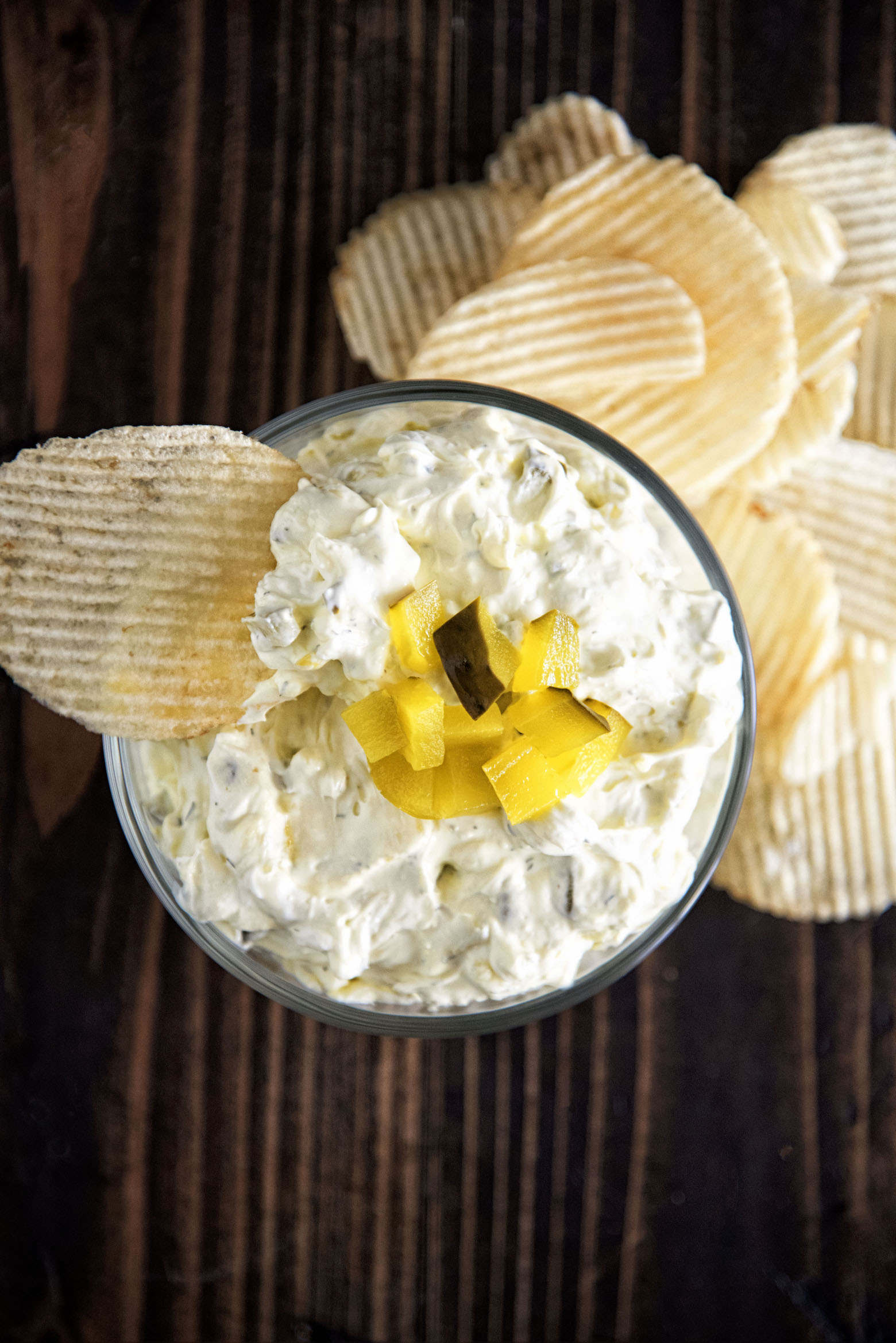 Want more recipes like this? Try these:
Caramelized Onion, Bacon, and Gruyere Dip
Cheddar Hard Cider Cheese Spread
Blue Cheese Spread with Onion-Pear Jam
Bacon Cheddar Ale Cheese Spread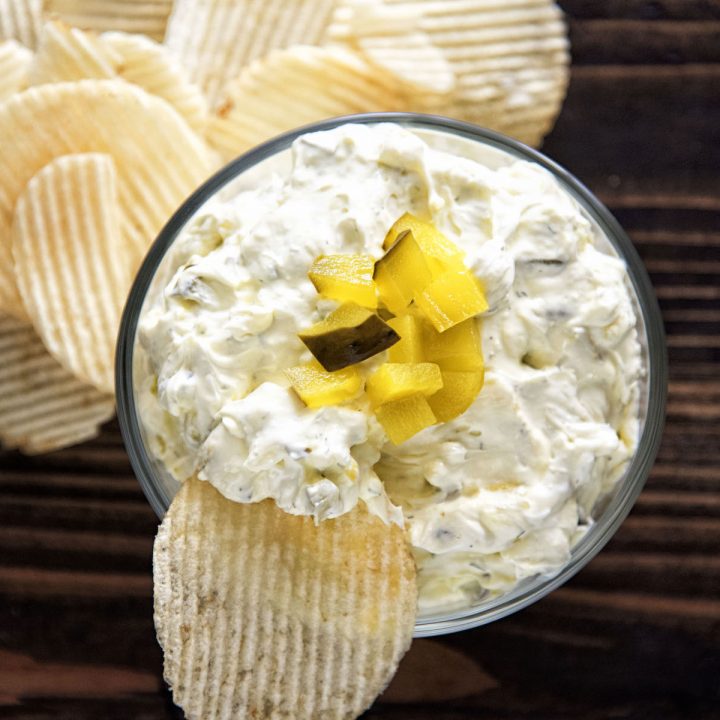 Cream Cheese Dill Pickle Dip
Ingredients
16 oz. cream cheese, at room temperature
4 oz. full fat sour cream
2 cups dill pickles, diced
3/4 cup pickle juice
2 tsp. dill
1 tsp. onion powder
1 tsp. garlic powder
1/2 tsp. salt
Instructions
Using a stand mixer with the paddle attachment, beat together the cream cheese and sour cream until nice and smooth.
Add in the spices and salt and mix until incorporated.
Remove from mixer and fold in the dill pickle pieces.
Add the pickle juice 1/4 a cup at a time. If you want a thicker dip do less juice. If you want a thinner dip add more juice than the 3/4 a cup.
Cover and leave in fridge for at least 4 hours...overnight is the best. You want the flavors to really sink into the dip.