This Hot Shrimp Scampi Dip is one your guest will be asking the recipe for each time you serve it. Great as a dip or on pasta.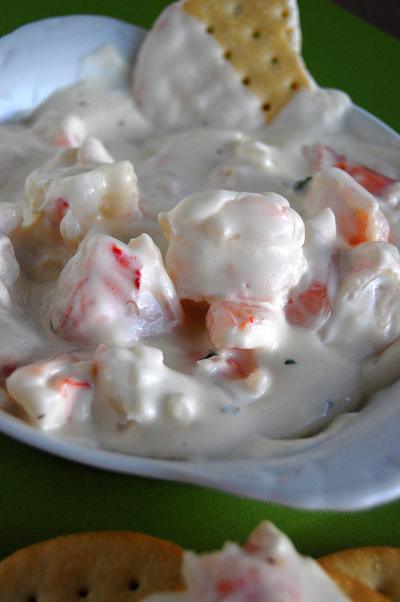 I'm not sure if my mom is weird (well actually I know she is) but growing up every holiday came with the full meal but she always made appetizers as well.
I am learning that most people don't do this.
My guess is it started because us kids would get hungry smelling the food cooking and then annoy the crap out of my mom asking when we would be eating.
Enter appetizers.
It's smart if you think about it…the food smells really good if you are cooking it right. 🙂
So everyone is hungry and sometimes you aren't moving quickly as the hungry peeps would like (my mom always tells us 20 minutes…that turns into 2 hours).
It's a tradition that has just carried over to me and so I am always on the lookout for new appetizers and dips to serve.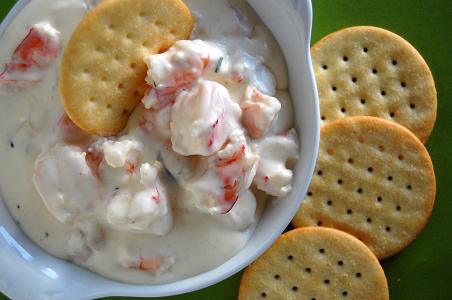 The first time I served this I came back to check on it after 15 minutes and it was completely gone.
This Hot Shrimp Scampi Dip gets requested A LOT around these parts.
It's a shrimp dip but I have tried it with crab as well and have had equal success.
And the one time I did have leftovers because I made a huge batch we served it with pasta and that turned out to be a fantastic idea!
So am I weird?
Do you serve appetizers before your big holiday meal?
If so what kinds of things do you serve?
And last but not least it's a great day to buy my cookbook.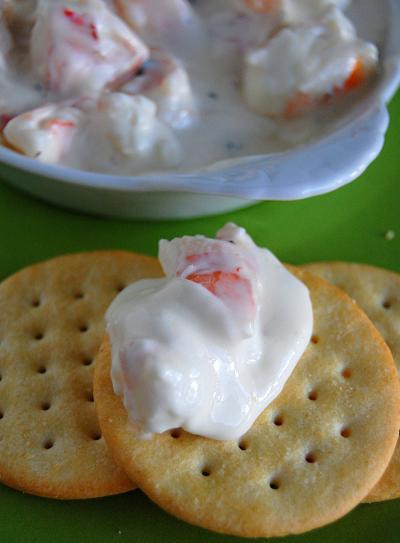 Want More Dip Recipes?
Blue Cheese Spread with Onion-Pear Jam
Bacon Cheddar Ale Cheese Spread
Caramelized Onion, Bacon, and Gruyere Dip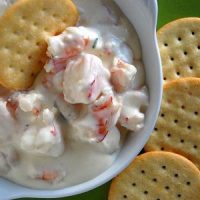 Hot Shrimp Scampi Dip
Ingredients
1 pound deveined, peeled raw shrimp
4 TBSP unsalted butter
1/3 cup minced shallots
3 TBSP minced garlic
3 TBSP dry white wine
1/8 cup chopped fresh basil
¼ cup chopped green onions or chives
2/3 cup half-and-half
8 ounces cream cheese
4 ounces Fontina or White Cheddar Cheese, grated
½ cup freshly grated Parmesan cheese
1 tsp chile flakes
2 tsp dried thyme
¼ cup fresh lemon juice
¼ tsp salt
pepper to taste
Instructions
Chop the shrimp.
Heat 3 TBSP of the butter in a saute pan to bubbling.
Add the shallots and saute to soften, about 3 minutes.
Add the garlic and saute 2 minutes.
Add the shrimp and saute, stirring, until pink and firm, about 4 minutes.
Add the white wine and simmer for 2 to 3 minutes to loosen all of the pan juices.
Set aside.
Combine the basil and green onion in a bowl.
Heat the half-and-half in a saucepan over medium heat until hot, but not boiling.
Whisk in the cream cheese in chunks until well blended.
Add the Fontina cheese and ¼ cup of the Parmesan cheese by handfuls, whisking until thoroughly melted.
Add the chili flakes, thyme, half of the green onion mixture and all of the cooked shrimp mixture.
Whisk to blend and simmer gently for 2 to 3 minutes.
Remove from heat and whisk in the lemon juice, salt and pepper.
Transfer the mixture to a ½ quart serving/baking dish.
The dish can be completed through this stage and refrigerated for up to 24 hours.
Preheat oven to 400F.
Sprinkle the top with the remaining Parmesan cheese and drizzle with remaining TBSP of melted butter.
Bake for 18 to 20 minutes, until browned and bubbling.
Served sprinkle with remaining green onion mixture.
This also goes really well on top of pasta.
Just skip the pouring into a baking dish and toss with some prepared pasta. Yum.