These Pumpkin Peanut Butter Pretzel Twist Dog Treats are grain free treats made with oat flour, organic pumpkin, peanut butter powder, and an egg.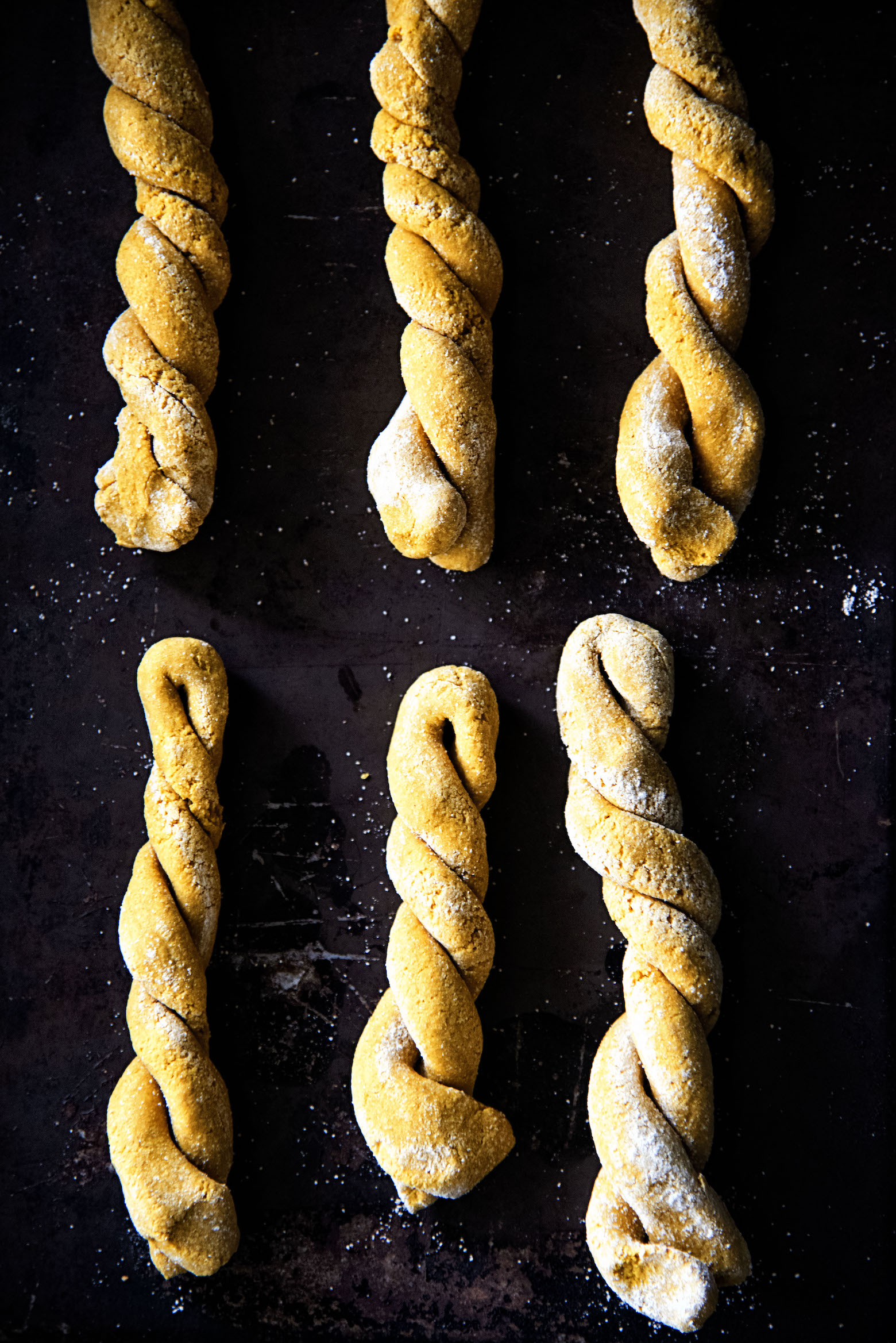 As mentioned all week on this blog, last weekend we had a 9th birthday party for our dog Daisy.
We had a party in the backyard and invited her spaniel friends.
Due to our fundraising efforts with Old Dog Haven and the walk we do every year we also won a food truck for dogs…for two hours. 
It's pictured below and it's too cute for words.
I mean, seriously, how cute is that truck?
Well, not only did the dogs get treats while there but doggie bags to take home.
So all week my spoiled dogs were even more spoiled than they usually are.
One of the treats they really loved were these pumpkin soft pretzels that based on the smell also had peanut butter in them.
They ate all the treats,
Which is amazing, given that usually one of the dogs is picky about a certain treat.
I've been buying and making softer and softer treats.
As we do have older dogs or dogs from neglected situations where they don't have many teeth anymore.
Or in the case of some of our dogs, no teeth at all.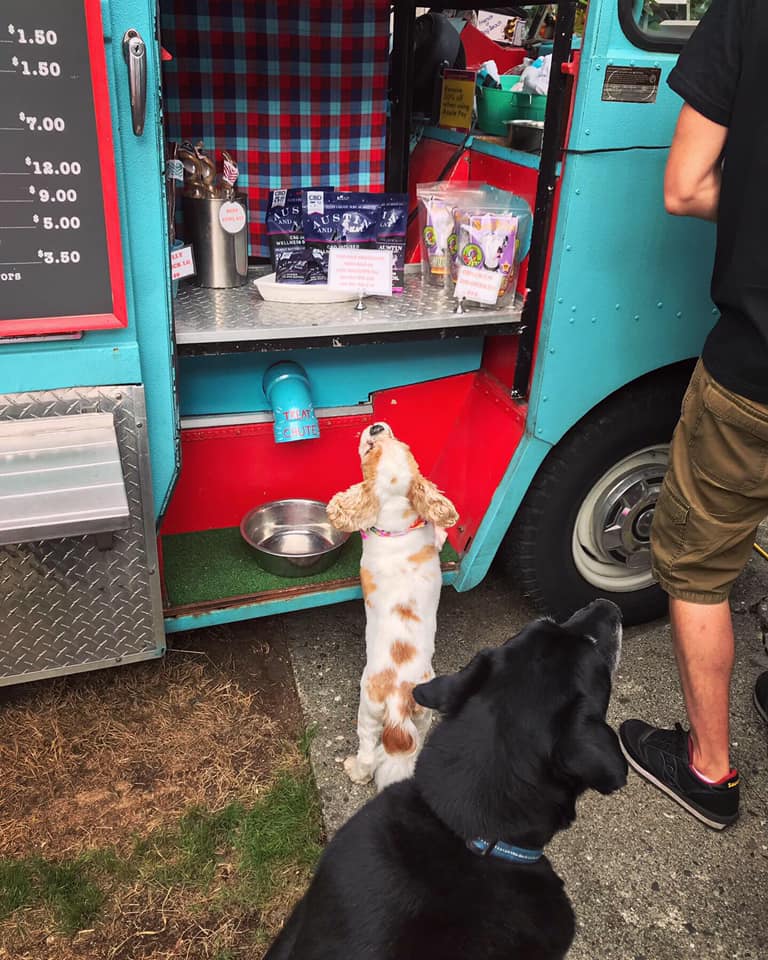 So I made the dogs these Pumpkin Peanut Butter Pretzel Twist Dog Treats.
I used organic pumpkin because my dogs eat better than me.
True story.
Replaced peanut butter with powdered peanut butter because all the fat isn't good for the dogs with sensitive stomachs. 
Also because I think you get far more peanut butter flavor when you use the powder over actual peanut butter.
Used oat flour because I like it the best out of the alternative flours.
I'm honestly not that against using wheat flour for the dogs but some of my dogs don't tolerate grain so it's best just for us to skip it.
You can form these into pretzel shapes but these are dogs and the treats were gone in less than a day.
That happens with seven dogs.
Yes, we have seven now. 😀
Really, after three dogs the chaos level is about the same no matter how many you add to the mix.
So going to the extra step of forming them into pretzels seems like wasted effort since the dogs don't care about the shape.
Only the humans seem to care about the shape.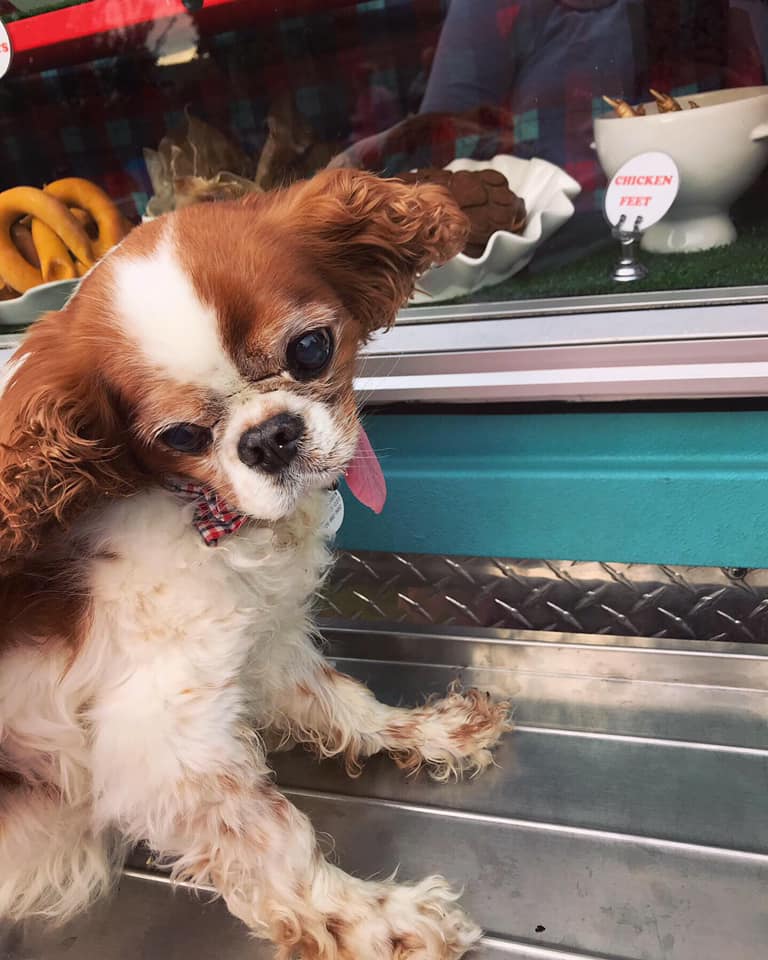 I am happy to say that these were a big success.
A really big success.
Which means now I will have to make more.
And while they like my treats the dogs however expect an awesome birthday party with a treat truck each time now.
And they are going to be sadly mistaken. 🙂
If your human loves treats too they should buy my cookbook Holy Sweet!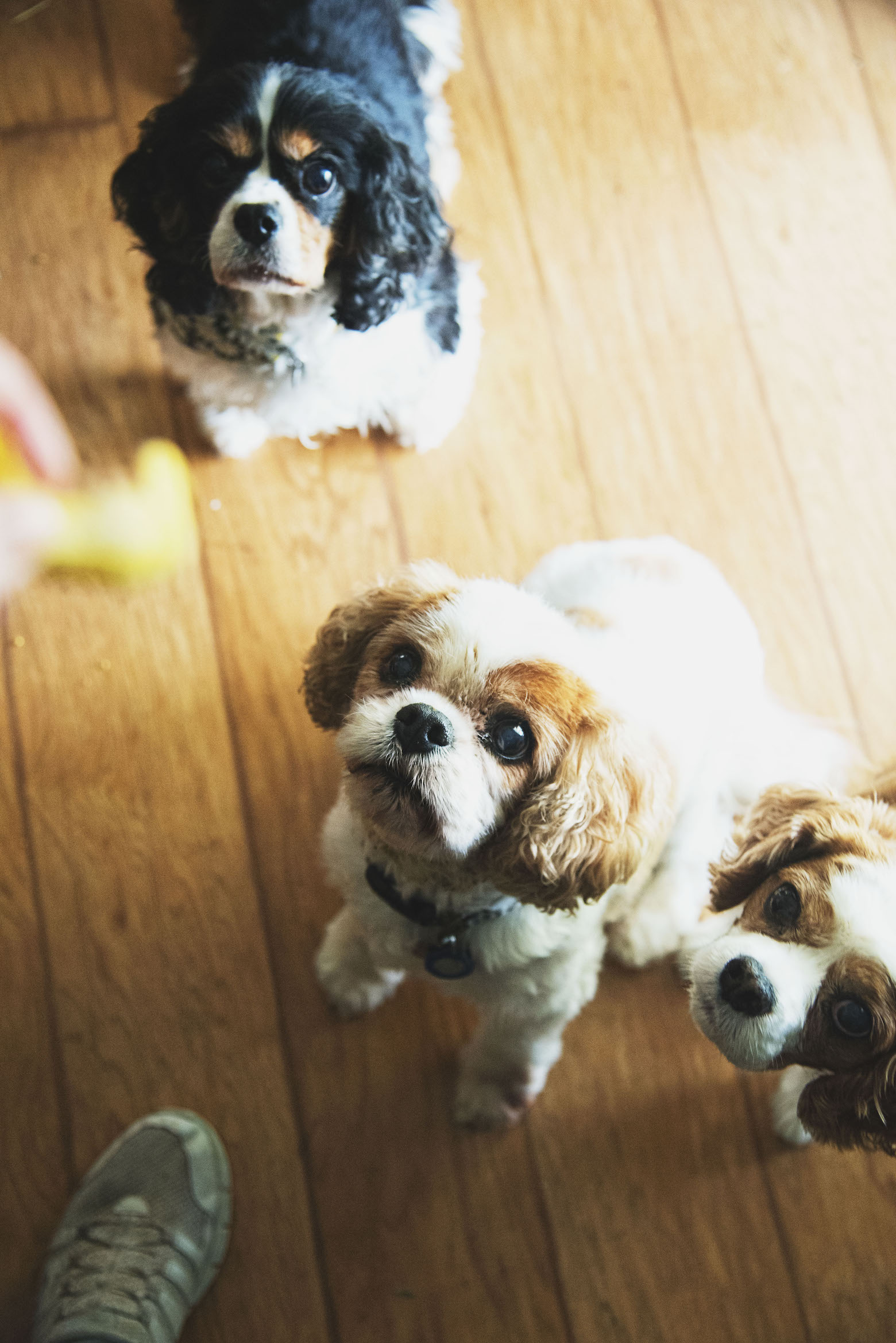 Want more dog treats?
Buckwheat Coconut Oil Dog Treats
Peanut Butter and Oatmeal Dog Treats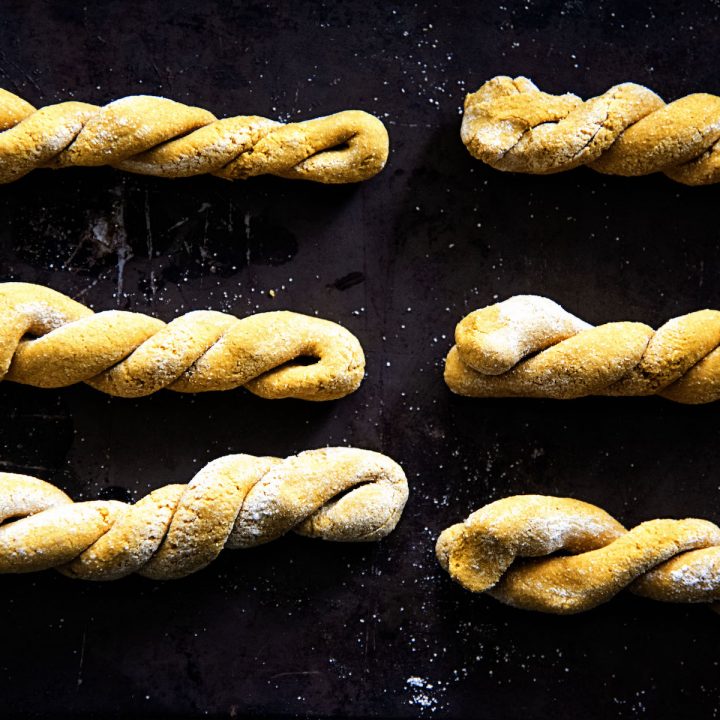 Pumpkin Peanut Butter Pretzel Twist Dog Treats
Ingredients
2 cups oat flour

1/4 cup powdered peanut butter (like PB2)

1 1/4 cups organic pumpkin puree

1 large egg
Instructions
Preheat oven to 350F.
Mix all the ingredients together either by hand or using a stand mixer.
Divide into 6 equal pieces.
Sprinkle some oat flour onto a flat surface.
Roll into a thin log shape.
Form a U shape and then twist starting from the top to the bottom.
Place on an un-greased baking sheet and bake for 25 minutes.
Remove from oven and let cool.