My Mom's Cheeseball is what I grew up with filled with Kraft Roka Blue and Kraft Old English Cheddar that will keep guest coming back.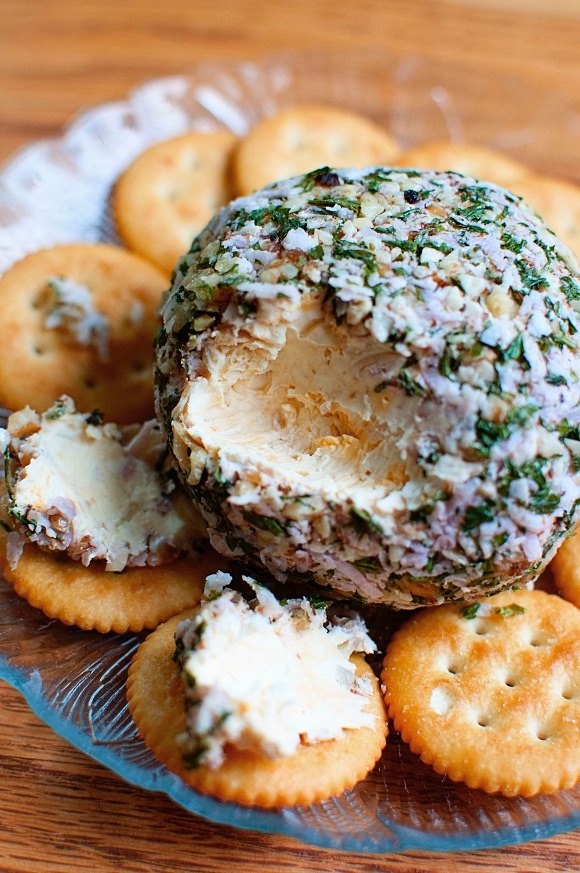 I stayed up until 5 am with my husband on the couch.
He was sick.
Me, the dog, and him all stayed downstairs as the flu took over his body.
I got a whole 3 hours sleep.
Then woke up to collect my dogs urine sample to take to the vet, fork over $$$ to get test on that urine.
Wednesday, the last day of the year?
Root canal consult.
Why yes I would say you are jealous of my life. 😀
This week is pretty representative of 2014 and to say that I am ready for 2014 to be over is putting it mildly.
I'm not a fan of New Year's Eve in general especially now that I'm older.
Normally we don't go out because we play in a hockey tournament on New Year's Day and want to be functioning for that, however this year we didn't have the money to do that so our excuse for not partying is gone. 🙂
But we are definitely staying in.
We are going to sit around and eat cheese and crackers and probably watch all 6 Star Wars movies in our pajamas with the dog.
Then getting up the next day and watching the Winter Classic.
Again, I know…jealous of my life.
My husband was introduced to my mom's cheeseball when we were there at Thanksgiving and has become rather obsessed with it.
It's got some unusual ingredients that you would not think went together and yet they do.
In fact this used to be the cheeseball we catered with…and people ate it up!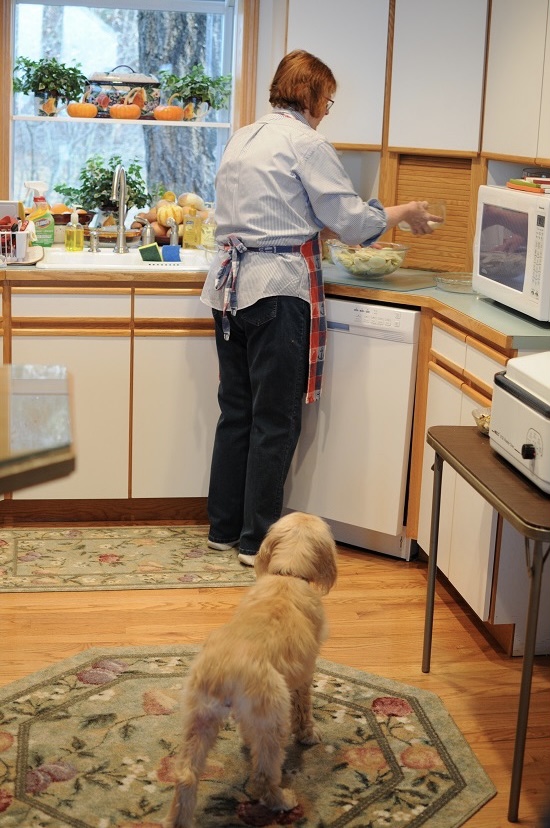 Kraft Roka Blue can sometimes be a challenge to find (my mom finds hers at Walmart) as they only sell it 6 months out of the year.
So my mom suggests stocking up on it when you can.
As do I.
You can usually find the Old English Cheddar pretty easy.
If you can't find the blue you can substitute another 3 oz cream cheese with 2 oz. blue cheese blended together.
That being said not a holiday goes by without my mom rolling out this cheeseball.
I can't think of a Thanksgiving, Christmas, New Years, Easter that does not start with an appetizer of this cheeseball out.
What about you?
What are your New Year's Eve plans?
Something fun or are you old fuddy-duddies like us?
By the way, it's a great day to buy my cookbook !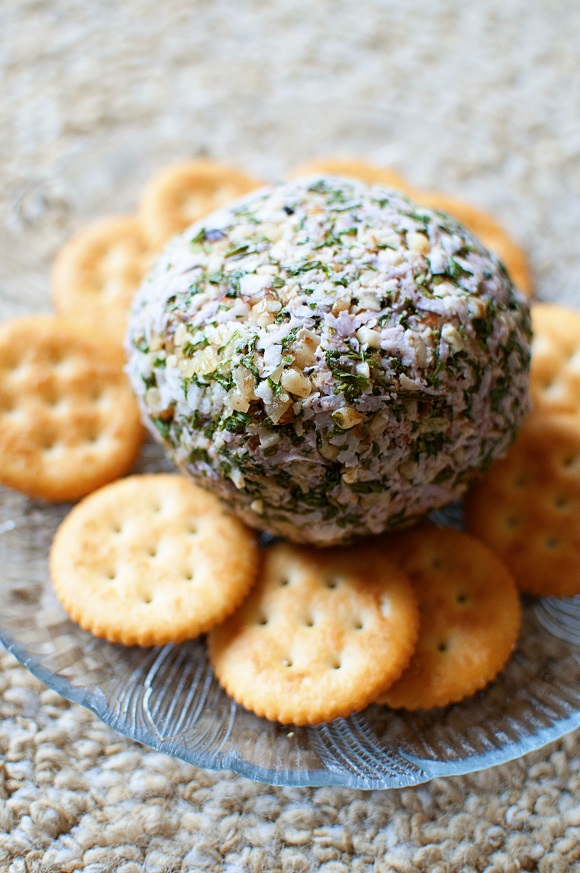 Want More Appetizer Ideas?
Bacon Caesar Salad Deviled Eggs
Caramelized Onion, Bacon, and Gruyere Dip
Honey Mustard Pretzel Deviled Eggs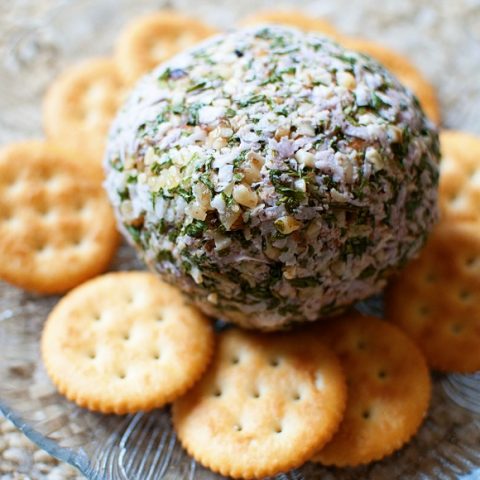 My Mom's Cheeseball
Ingredients
For the ball:
1 (8oz.) cream cheese, at room temperature
1 jar (5oz) Kraft Old English Cheese Spread
1 jar (5oz) Kraft Roka Blue Cheese Spread
2 TBSP unsalted butter, at room temperature
1 tsp. Worcestershire sauce
¼ cup minced fresh onion
1/3 cup shredded sweetened coconut flakes (yes, sweetened)
To roll the ball in:
1/2 cup dried parsley flakes
1/2 cup chopped walnuts
1/2 cup shredded sweetened coconut flakes
Instructions
To make the ball:
Using a stand mixer, food processor, or with your hands mix together all the ingredients. I like to use the food processor the best as I think it blends the onion and coconut the best so you don't have chunks. My mom prefers the old school method of mixing by hand (meaning literally with your hands to squish it all together).
Form into one large ball or two equal sized smaller balls.
To roll the ball:
Mix the three ingredients together. If you are making one larger ball you can probably use less topping. I usually make the two smaller which needs more topping.
Roll the ball/s into the mixture.
Put on a plate and cover with plastic wrap.
Let it chill and set in fridge for at least one hour.
Serve with crackers. My mom likes Ritz the best with these.