For this Honey Pear Jam Walnut Swirl Bread, I combined honey, pear nutmeg jam, and walnuts to create a filling that packs flavors of autumn.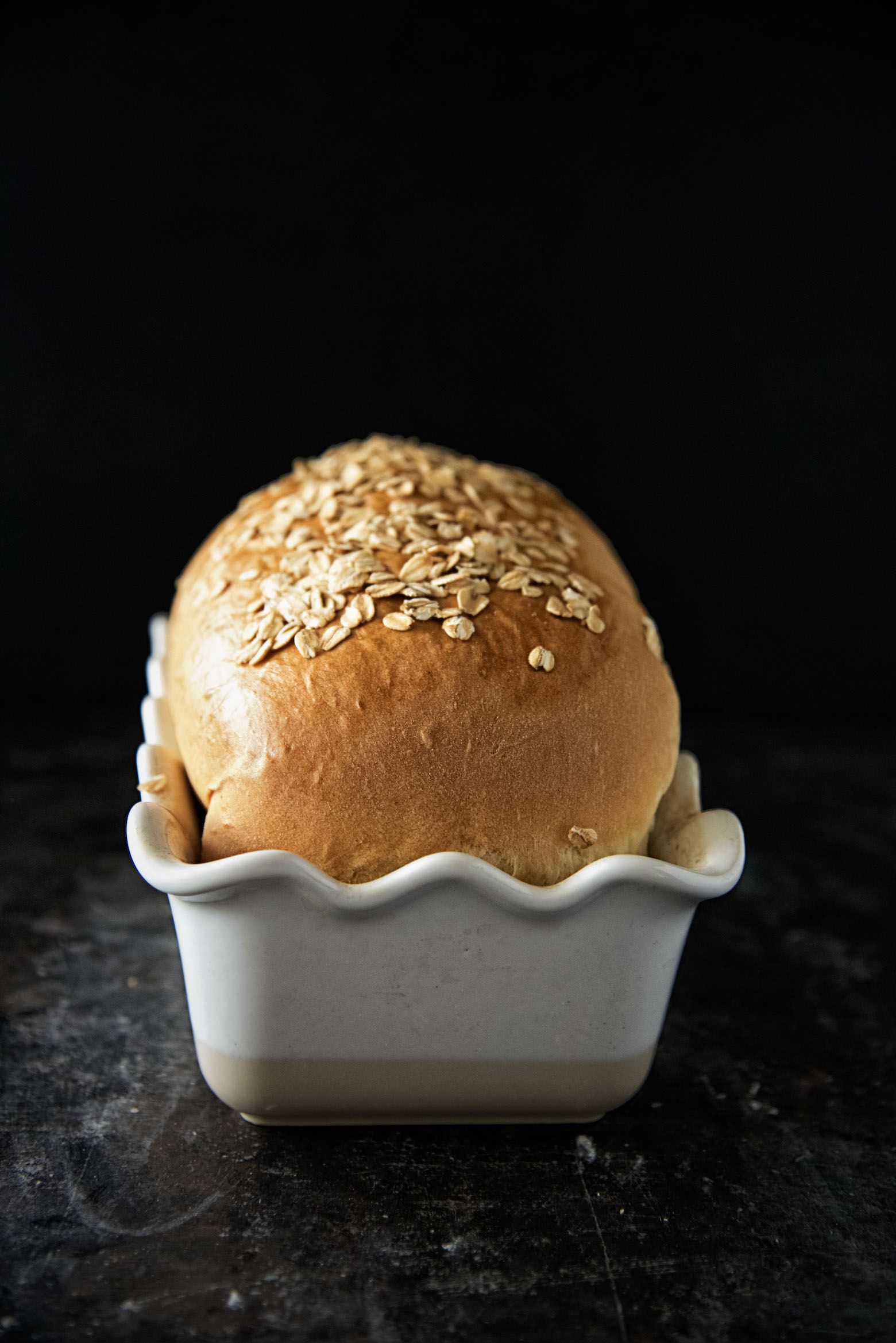 If I was on The Great British Bake Off with this bread, Paul would yell at me that there was no swirl in my Honey Pear Jam Walnut Swirl Bread.
I didn't roll out this loaf thin enough.
Ironically the loaf I gave away (this makes two loaves) had a really perfect swirl.
But thought it rude to ask for it back just so I could take photos of it. 😛
Tastes good all the same.
This recipe is adapted from one of the cookbooks I had been waiting to release, The Bread Collection.
I've only made the one recipe from it so far, but I can tell this book has a lot of recipes that I'll be making.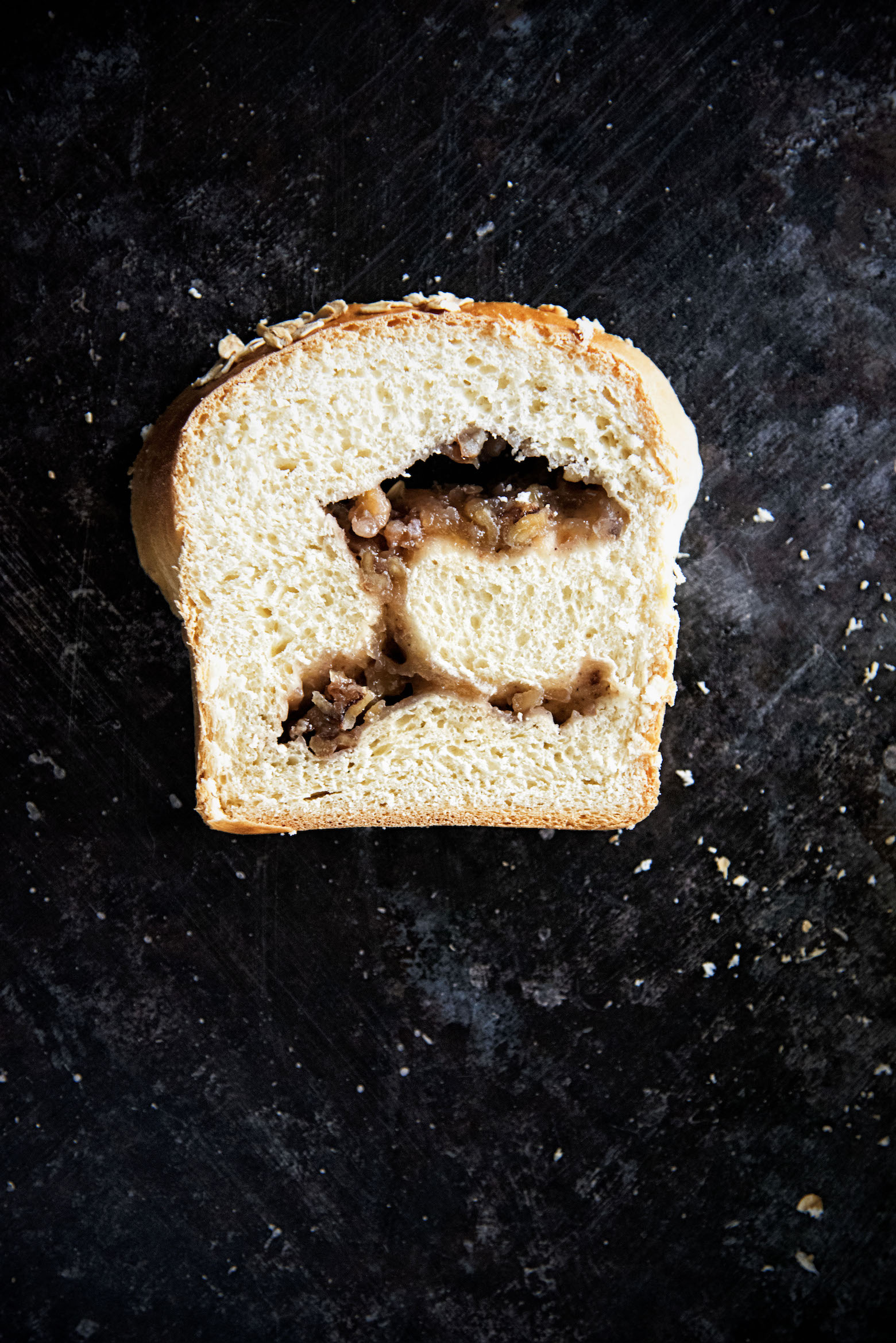 The original recipe does not have walnuts but I felt they needed it.
I used my mom's Pear Nutmeg Jam in the recipe but you can find pear jam or preserves at the store usually.
If not, there is always Amazon.
This is a pretty simple bread to make.
The original recipe does not call for browned butter but I felt it complimented the flavors used in the bread.
You can use plain unsalted butter if you don't want to go to the trouble of browning the butter, but I highly suggest you do brown the butter.
If you are one of those that stays away with baking with yeast I suggest you give this bread a try.
Last but not least…it's a great time to order my cookbook. 😀
Want More Bread Recipes?
Orange Blossom Chocolate Challah Bread
Oatmeal Chocolate Chip Cookie Babka
Brown Sugar Spiral Banana Bread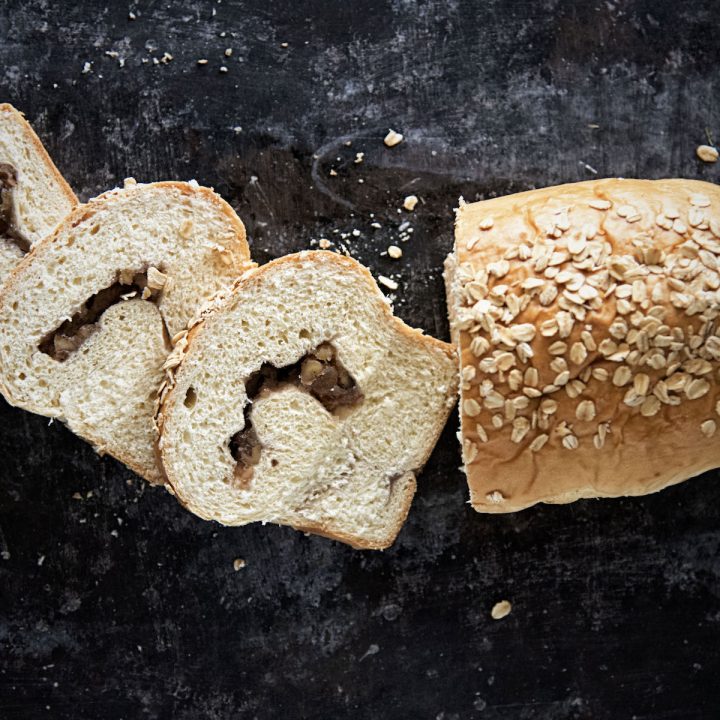 Honey Pear Jam Walnut Swirl Bread
Ingredients
For the Dough:
2 cups warm whole milk (105° to 110°F)
1 TBSP plus 1 teaspoon active dry yeast (I used Red Star Yeast)
2 large eggs
6 TBSP unsalted butter, browned
¼ cup honey
1 TBSP kosher salt
1 TBSP lemon juice
7 to 7½ cups bread flour, divided
For the Filling:
½ cup honey
1 (11.5-ounce) jar pear jam (I used my mom's Pear Nutmeg Jam)
2 TBSP cornstarch
1 cup chopped walnuts
For the Topping:
1 large egg white, lightly beaten
¾ cup old-fashioned oats
Instructions
For dough:
In the bowl of a stand mixer fitted with the paddle attachment, combine warm milk and yeast.
Let stand until mixture is foamy, about 5 minutes.
Add 1 cup bread flour and 1/4 cup honey and mix.
Let sit another 5 minutes.Bubbles should form a little.
Add eggs, browned butter, salt, and lemon juice; beat at medium speed until combined.
Gradually add 2 cups bread flour, beating until smooth.
Slowly beat in 4 cups bread flour until a soft dough forms. (If dough is too sticky, add remaining ½ cup bread flour.)
Turn out dough onto a heavily floured surface, and knead until smooth and elastic, 4 to 5 minutes, sprinkling work surface with more flour as needed.Spray a large bowl with cooking spray.
Place dough in bowl, turning to grease top.
Cover and let rise in a warm, draft-free place (75°F) until doubled in size, about 2 hours.
For filling:
In a medium saucepan, bring honey, pear jam, and cornstarch to a boil over medium heat.
Cook for 1 minute, stirring constantly.Remove from heat, and let cool for 30 minutes.
Forming the bread:
Spray 2 (9×5-inch) loaf pans with cooking spray.
Divide dough in half.
On a lightly floured surface, roll each half into an 18×9-inch rectangle.
Spread half of filling onto one rectangle, leaving a ½-inch border.
Sprinkle half the walnuts on top of the jam mixture.
Starting at one short side, roll up dough, jelly-roll style, and press edge to seal.
Place roll, seam side down, in prepared pan.
Repeat with remaining dough and filling.
Cover and let rise in a warm, draft-free place (75°F) until doubled in size, about 45 minutes.
Preheat oven to 350°F.
For topping:
Brush tops of dough with egg white, and sprinkle with oats.
Bake for 45 to 50 minutes, covering with foil 30 minutes into baking to prevent excess browning, if necessary. Let cool on a wire rack.