This Fireball Glazed Fresh Apple Cake is a moist spice cake filled with shredded fresh apples all topped with a Fireball Whiskey Glaze that just screams fall baking.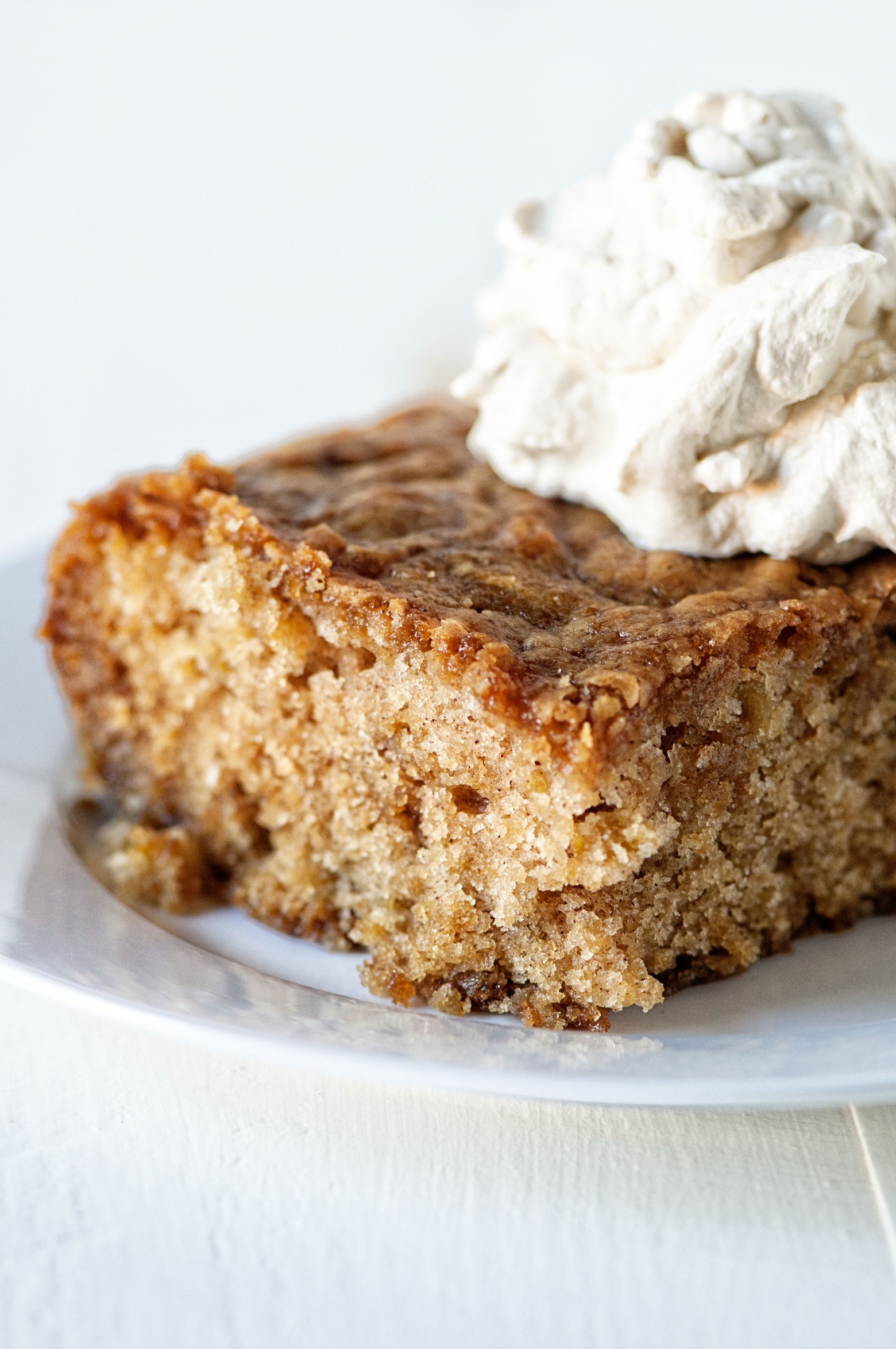 Pinterest is both a blessing and a curse.
For quite a few reasons.
I mean it's a curse because I spend way too much time on there.
But a blessing because I can find so much good stuff on there!
For food bloggers it is a blessing because it brings traffic.
But a curse because we have had to try and style our food in a way that will get someone to click through.
Only problem is that quite often the ugliest desserts taste the best.
Bread pudding is one of my all-time favorite desserts yet it's not that pretty.
Regular puddings don't look that great…now you have to layer it in mason jars to get a click through. 🙂
Nowadays you need a layer cake perfectly frosted with drips of fudge and French macaroons piled on top of it.
Which I'm sure it looks tasty but at the end of the day I much prefer simple and tasty to elaborate and Pinterest fail. 😀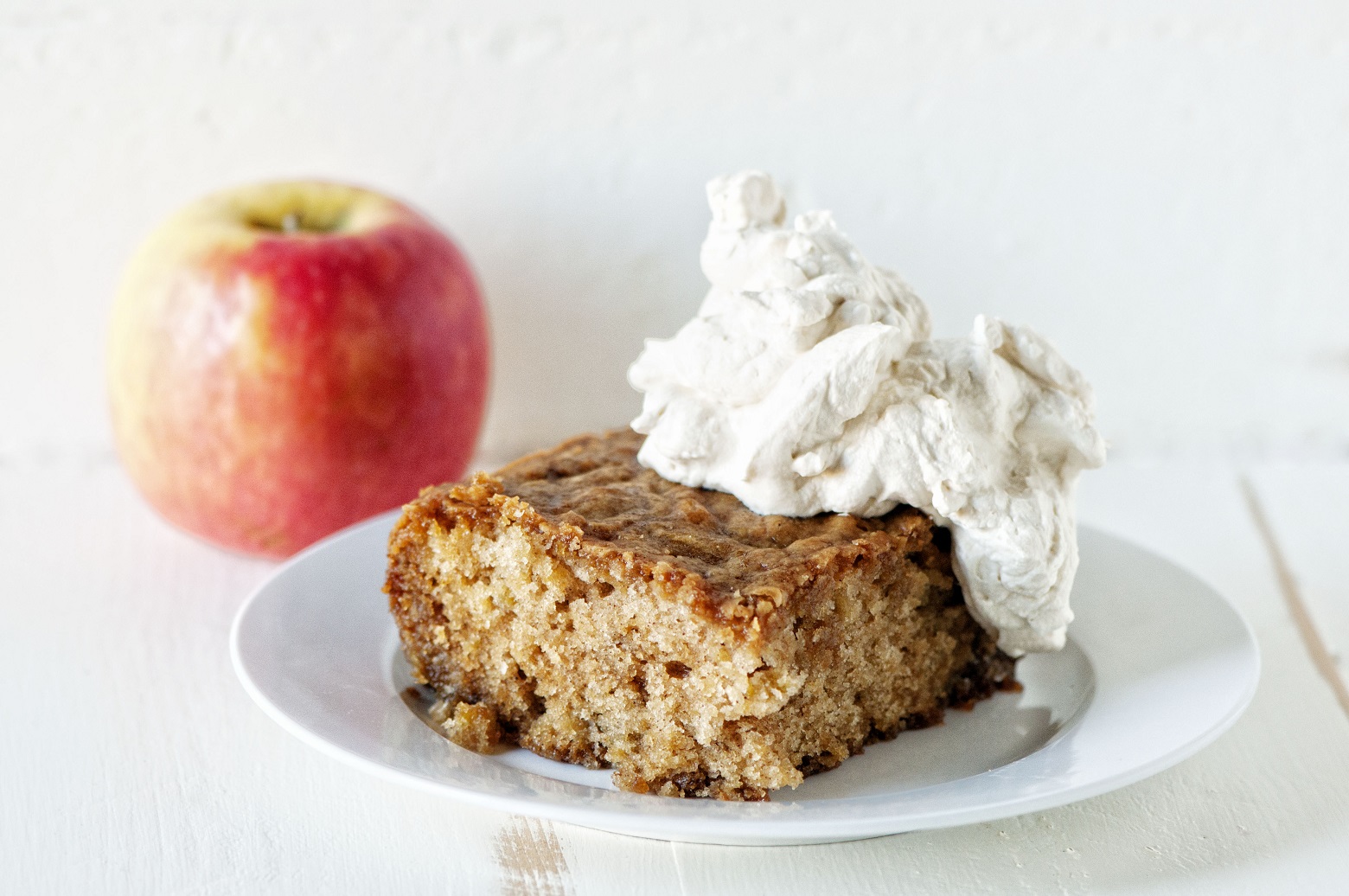 It seems to me that apple desserts turn out ugly.
I think it's because they are for the most part brown…and well brown food is hard to photograph.
While I wouldn't call this Fireball Glazed Fresh Apple Cake ugly it does look rather boring.
It's brown.
With brown glaze.
Even my whipped cream is brown.
Brown, on brown, on brown action (don't Google that I fear there is a movie with that title somewhere…and it's not safe for work).
As boring or plain as this cake looks, I must say that it turned out soooo good.
It's moist (I know people hate that word but it's the only way to describe food sometimes).
It has a nice kick with the Fireball Glaze.
If you are BTW not wanting Fireball you can just sub more heavy cream for the booze.
I'm not sure the cake with get the slightly hardened crust with the extra cream but I'm sure it will be tasty.
This cake calls for a 10-x-10-inch pan.
I use this size pan a lot.
I just like that size for some reason.
You can use a 9-x-13-inch pan but you will need to reduce the baking time by about 5-10 minutes.
If you want to make the Fireball whipped cream to go with it I just whipped up a cup of cream with 2 TBSP of brown sugar and 2 TBSP of Fireball.
Don't forget to get a copy of my cookbook.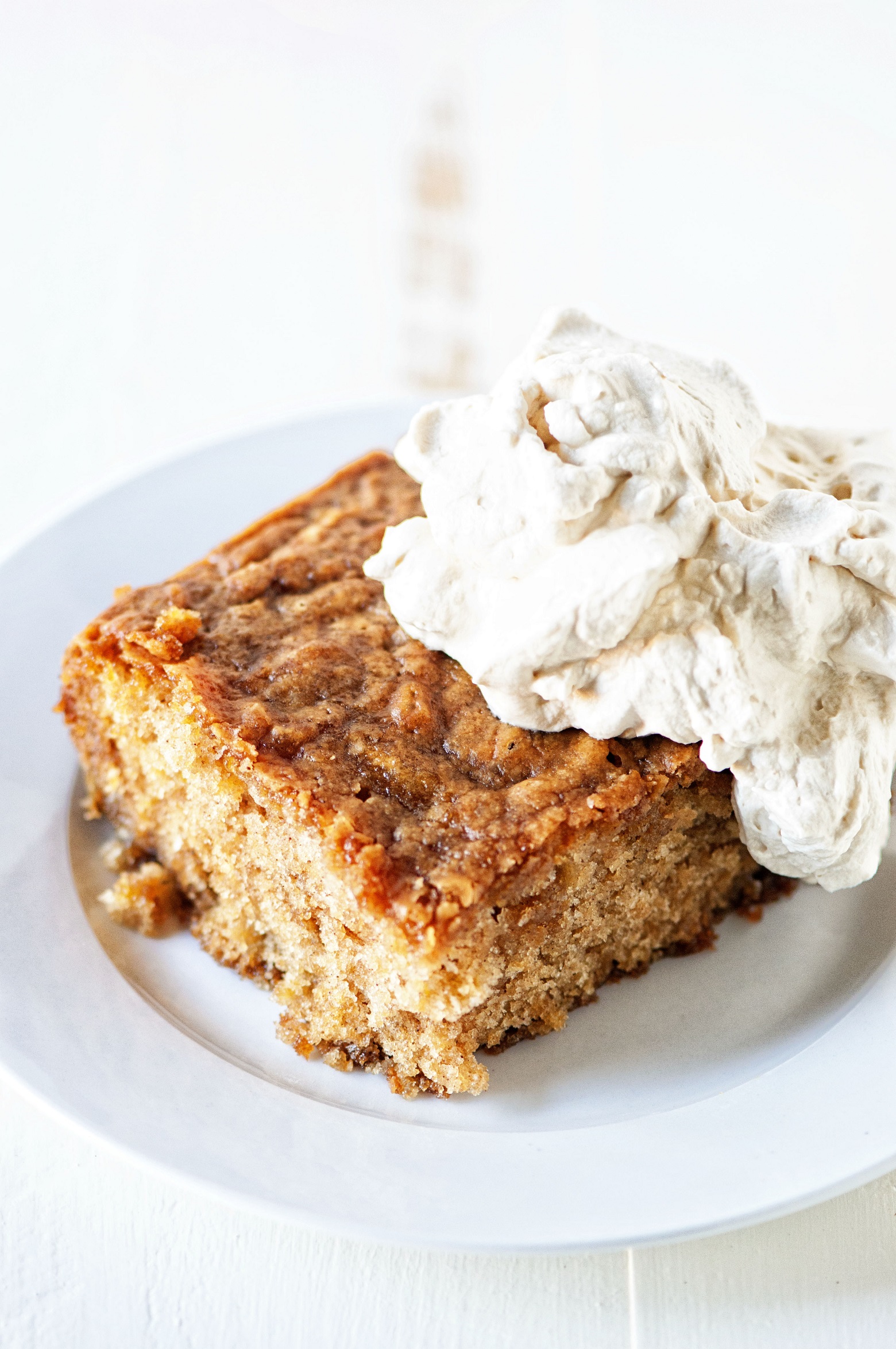 Want More Fireball Recipes?
Fireball Sour Cream Topped Brown Sugar Cheesecake
Rich Fireball Caramel Pecan Topped Chocolate Cinnamon Flourless Cake
Fireball Apple Cider Jell-O Shots
Yummy Fireball Glazed Cinnamon Sugar Babka
Want More Apple Recipes?
Cider Glazed Apple Fritter Muffins
Brown Sugar Apple Cinnamon Babka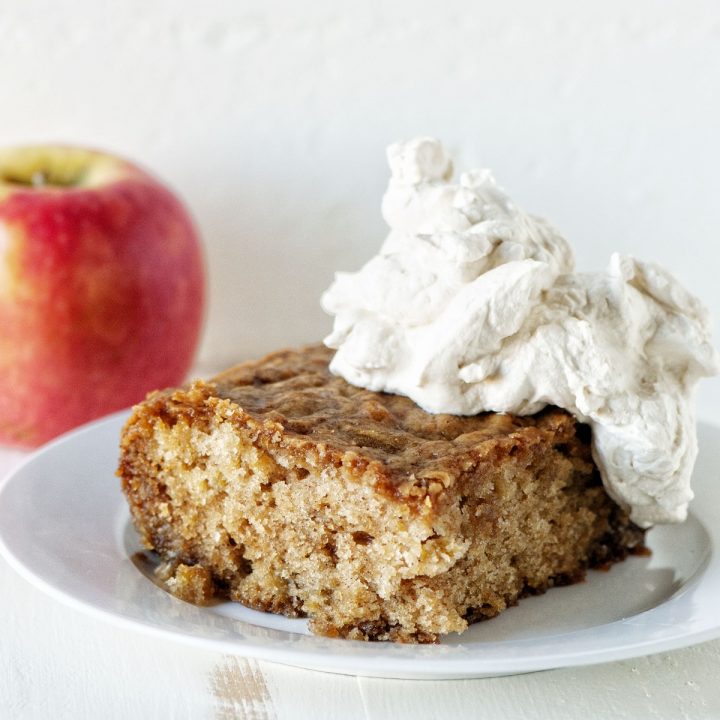 Fireball Glazed Fresh Apple Cake
Ingredients
For the Apple Cake: 
1 1/2 cups vegetable oil 
2 cups granulated sugar 
3 large eggs, at room temperature 
1 1/2 tsp. vanilla extract 
3 cups all-purpose flour 
1 tsp. salt 
1 tsp. baking soda 
½ tsp. freshly ground nutmeg 
1 tsp. ground cinnamon 3 Pink Lady Apples, peeled and shredded 
For the Fireball Glaze: 
4oz. unsalted butter 
1 cup brown sugar, firmly packed 
½ tsp. vanilla extract 
¼ cup Fireball Whiskey 
¼ cup heavy whipping cream
Instructions
For the cake:
Preheat oven to 325 ° F.
Beat the oil, sugar and eggs with electric mixer until the mixture becomes light and fluffy, and pale yellow in color.
Add in vanilla extract and beat another 30 seconds.
Add the flour, baking soda, salt, cinnamon, and nutmeg to the bowl.
With the mixer on low, mix until the ingredients just come together.
Add the shredded apples and continue mixing until the ingredients are fully incorporated.
Pour batter into 10-x-10-inch baking pan. If you don't have one use a 9-x-13-inch pan but your baking time will be decreased.
Bake at 325 degrees for 40-45 or until golden brown and a wooden skewer inserted comes out clean.
Let cool on a wire rack.
Wait until cool to glaze.
For the glaze:
In a medium saucepan bring the butter, brown sugar, vanilla extract, heavy cream, and Fireball to a rolling boil.
Poke holes in the cake using a wooden skewer. Not as many holes as say a poke cake but enough that it will soak into the cake.
Once boiling, pour over the cooled cake.
Let the cake cool again completely, the glaze will get a little crust to it…you want that.
I served mine with a Fireball infused whipped cream.