Fireball Caramel Pecan Topped Chocolate Cinnamon Flourless Cake: Dense and rich chocolate flourless cake with a hint of cinnamon all topped with a gooey Fireball spiked pecan caramel sauce.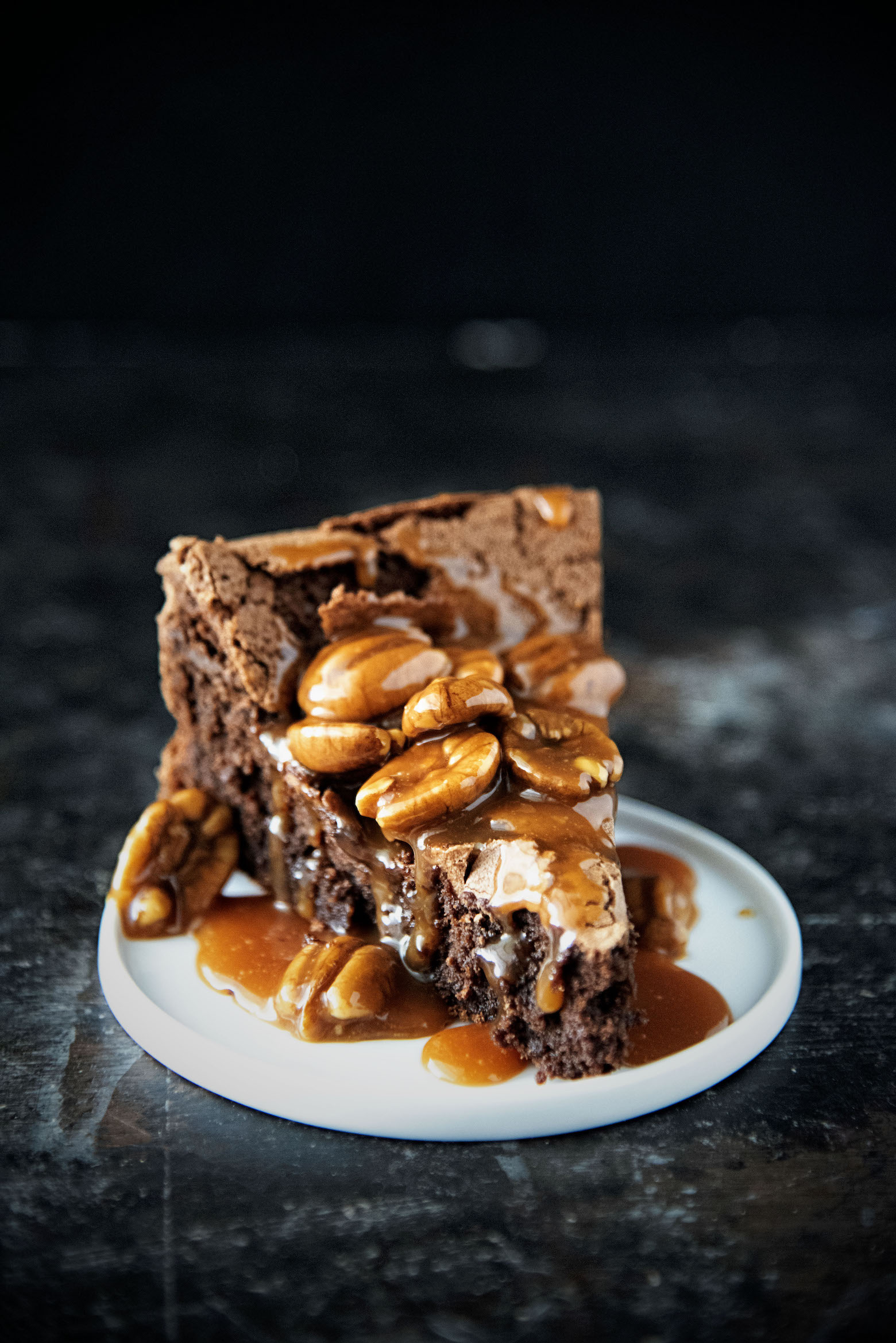 Valentine's day is in just a few days.
For most that means some type of chocolate dessert.
Both my hubby and I are not die hard chocolate fans.
We certainly appreciate from time to time but we really prefer other flavors over it.
I know. I know.
But one dessert we both love is Chocolate Flourless Cake.
Sometimes called Fallen Angel Cake.
Sometimes called a Chocolate Souffle Cake.
No matter what you call it…it's tasty.
It's not the most beautiful cake to look at.
Because it does puff up and then fall.
Which produces cracks.
But luckily whipped cream and ice cream were invented.
Or in this case Fireball Caramel Pecan Sauce.
I can guarantee no one will care what it looks like once this hits their mouths.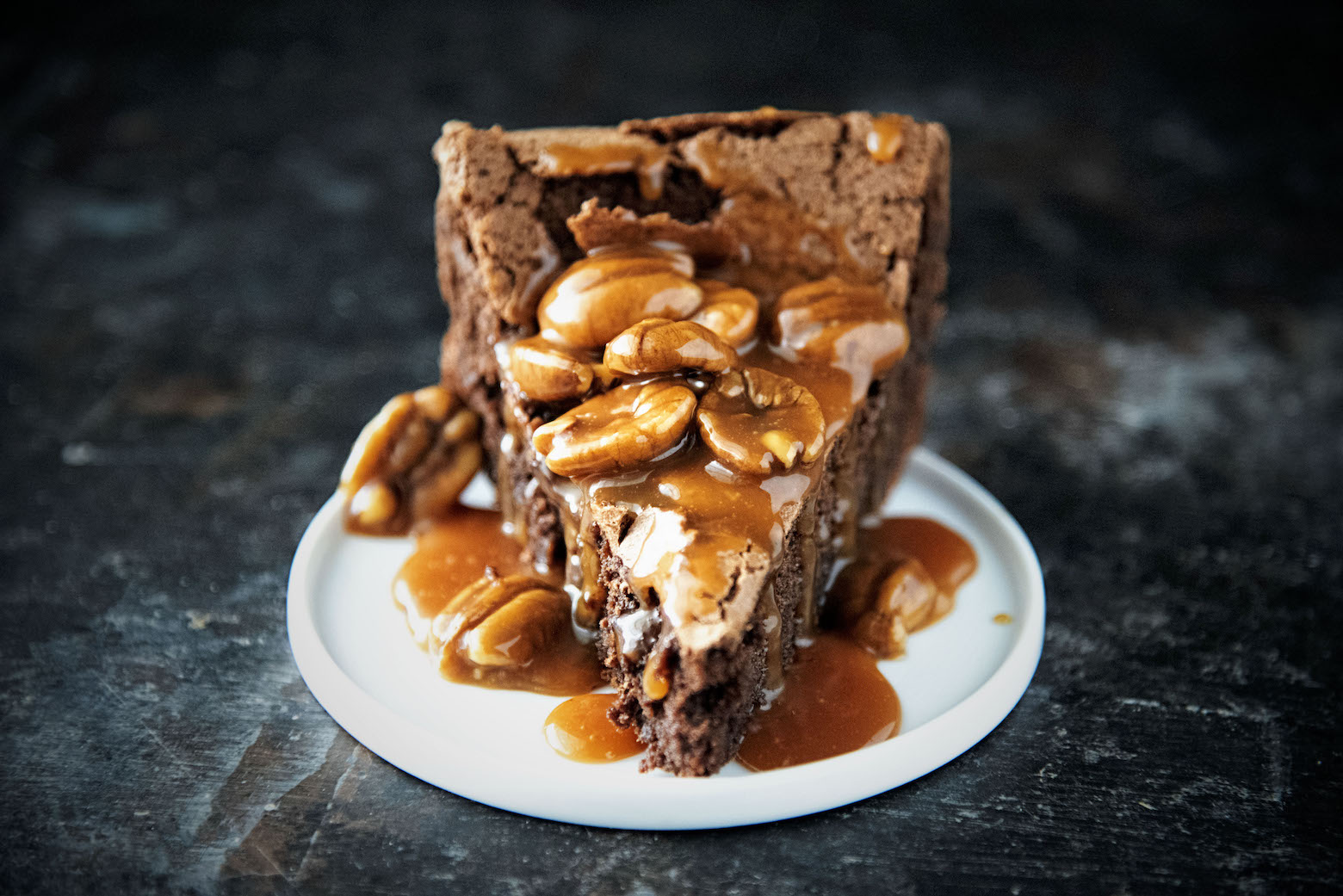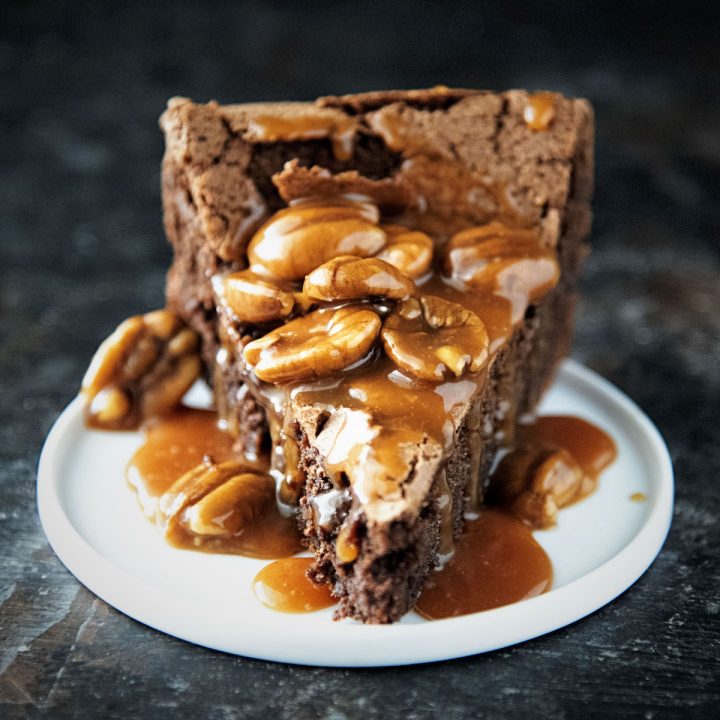 Fireball Caramel Pecan Topped Chocolate Cinnamon Flourless Cake
Ingredients
For the Cake:
1 lb. (16 oz) bittersweet chocolate, coarsely chopped
1 cup (2 sticks) unsalted butter
8 large eggs, separated
pinch salt
1 cup superfine sugar, + 2 TBSP for pan
1/2 tsp. ground cinnamon
2 TBSP Fireball Whiskey
1 tsp. vanilla
1/2 tsp. cream of tartar
For the Sauce:
1 cup granulated sugar
3 TBSP water
pinch of cream of tartar
1 cup pecan halves
3/4 cup heavy cream
pinch of salt
2 TBSP Fireball Whiskey
Instructions
For the cake:
Place oven rack on the middle shelf of oven.
Preheat to 350F.
In a small bowl mix together the 2 TBSP granulated sugar and 1/2 tsp. ground cinnamon.
Butter a 10" spring form pan and coat the bottom and sides with cinnamon sugar mixture.
Combine the chocolate and butter and heat uncovered in a microwave safe bowl for 4 minutes at medium power until chocolate is soft and shiny.
Remove from microwave and stir until completely combined. Set aside.
Beat the egg yolks and salt until blended.
Gradually add 1 cup sugar and beat with mixer for 4-6 minutes until mixture is pale yellow.
Whisk in Fireball and vanilla.
Gradually whisk the egg yolk mixture into the chocolate mixture.
In a large CLEAN bowl, beat the egg whites and cream of tartar with electric mixer at low speed until foamy.
Increase the mixer speed to medium high and continue beating until whites become opaque and form soft mounds in the bowl.
Stir one third of the beaten egg whites into the chocolate batter to lighten the batter.
Using a rubber spatula, gently fold in remaining egg whites just until blended.
Spoon the batter into prepared pan.
Bake for 25-35 minutes until cake appears puffy and firm.
The cake should be moist but not liquid in the center.
A skewer inserted into the cake should not come out clean but definitely have a little moist crumb.
Remove cake from oven and cool on wire rack for a few minutes.
It will fall, as it should.
Remove the sides of the pan.
For the Sauce:
In a large heavy sauce pan, combine the granulated sugar, water, and cream of tartar.
Cook, gently swirling the pan occasionally, over medium heat until sugar dissolves and starts to turn color.
Increase the heat to high and boil until syrup turns a deep amber color, About three minutes.
Immediately remove the pan from the heat and stir in the nuts, Then the cream and salt.
Use a long handled wooden spoon to carefully stir into cream, as the caramel has a tendency to hiss and splash as the cold cream hits it.
Place the pan over low heat and cook, stirring constantly, until the caramel seconds, 3 to 4 minutes.
Remove from the heat and stir in the Fireball whiskey.
Slice cake and top with the caramel sauce.