This Chocolate Chip Cookie Dough Cheesecake Cheeseball is a chocolate chip cookie lover and cheesecake lovers dream dessert.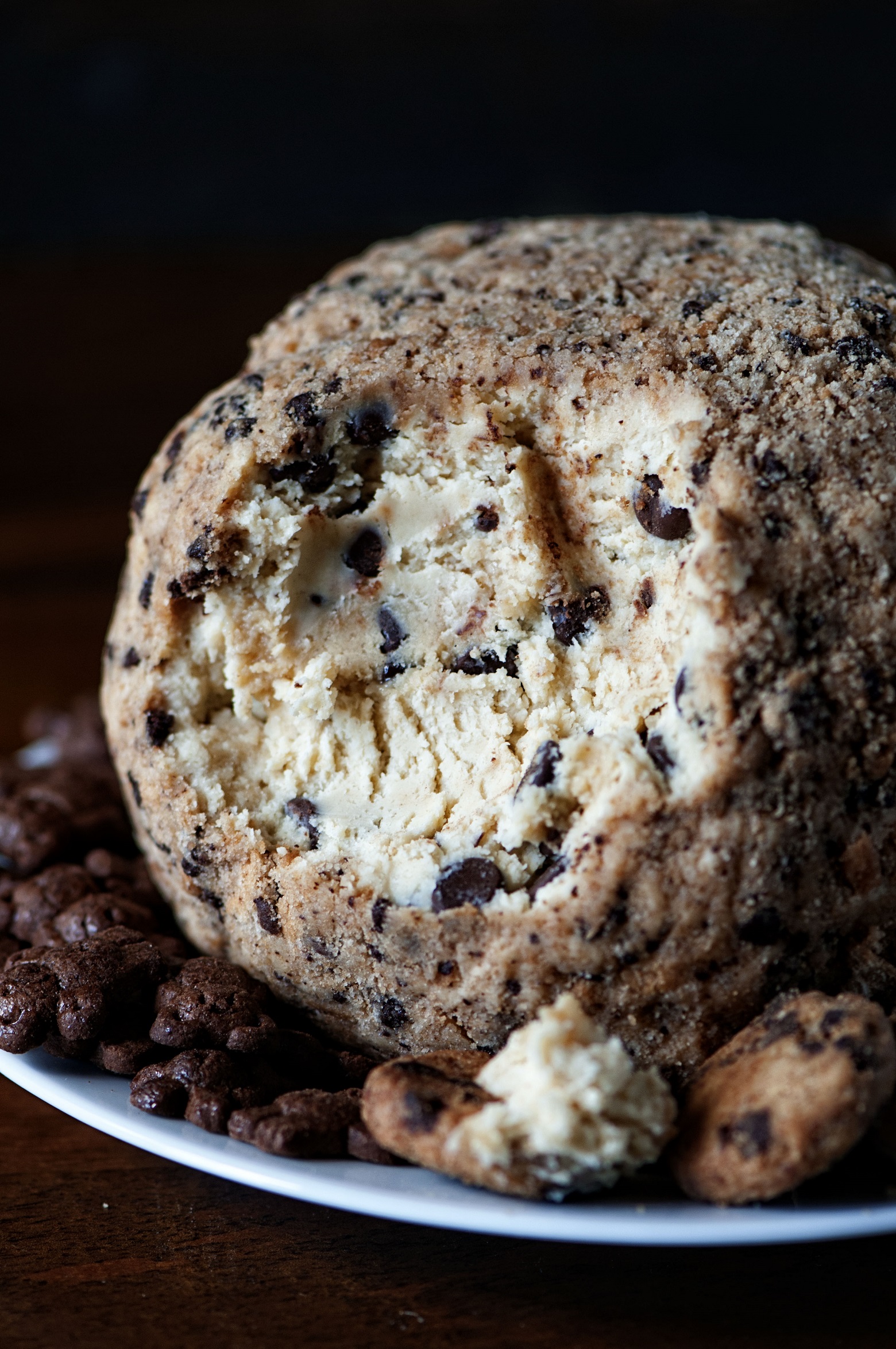 I'm throwing a dog birthday party.
It's actually my first.
Which if you think about how much I love my dogs it's kind of amazing.
Now, don't get me wrong we always celebrate our dog's birthdays but I've never gathered a group of people with the sole purpose of having a party for a dog.
Not just any dog, our Holly.
If you recall we are having early Christmas for her.
We have a bucket list and we are going down it.
Her birthday just happens to be Monday and so we figured why not have a party?
We refuse to just sit around and wait for her to pass.
Much of her bucket list will be featured here on the blog under furbaby Fridays as we have a lot of fun things planned.
I had to laugh that one of my friends asked me why on Earth I was throwing a party for a dog?
That the dog would have no idea that the party was for them or that it was even their birthday.
I just smiled.
To which she finally said "what"?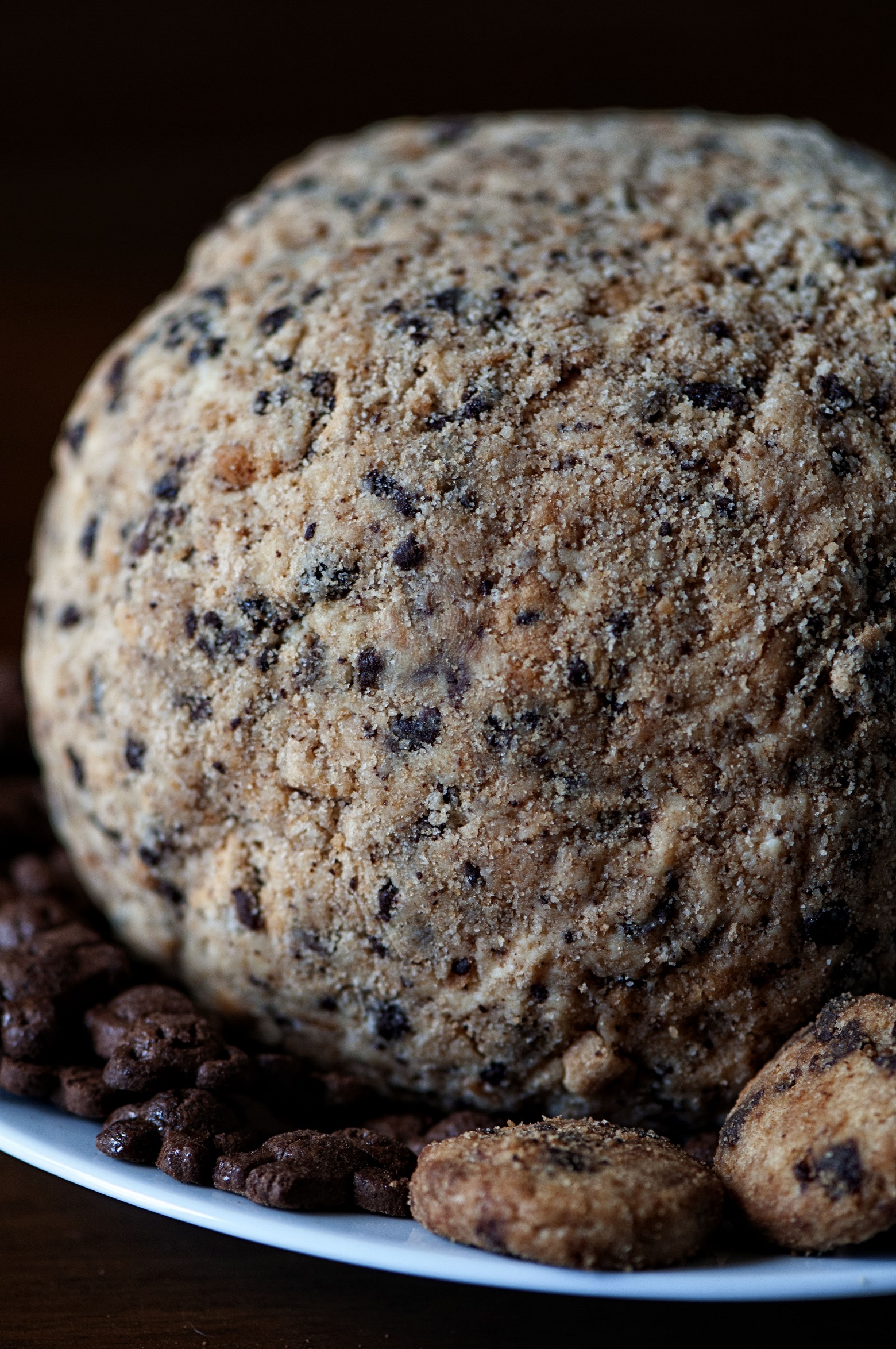 I said I went to your child's 1st, 2nd, and 3rd birthday party.
That I am more than sure that your child will grow up not remembering those birthdays.
He certainly won't care about the goodie bags you sent how with people or that his 2nd birthday was at a winery!!!
Sure, that was for the kid.
My dog will get some treats she doesn't normally get.
Same with your kid on his birthday.
My friends will gather and I'll get to see them, just like you on your kids birthday.
And neither of them will remember it.
But that's okay…because for that one day, it was fun for them, and made memories for the parents for a lifetime.
Since people are coming and not just dogs, I have to have some people treats as well.
The Cake Batter Cheesecake Cheeseball was such a hit last time that I decided to make another kind.
I had some cookie dough truffles still in the freezer from making the tarts, fudge, and milkshake bowls that gave me the idea for this Chocolate Chip Cookie Dough Cheesecake Cheeseball.
I just used Chips Ahoy but if you want to make your own chocolate chip cookies, go for it.
But I was trying not to turn on the oven. 🙂
P.S. It's a great day to order my cookbook.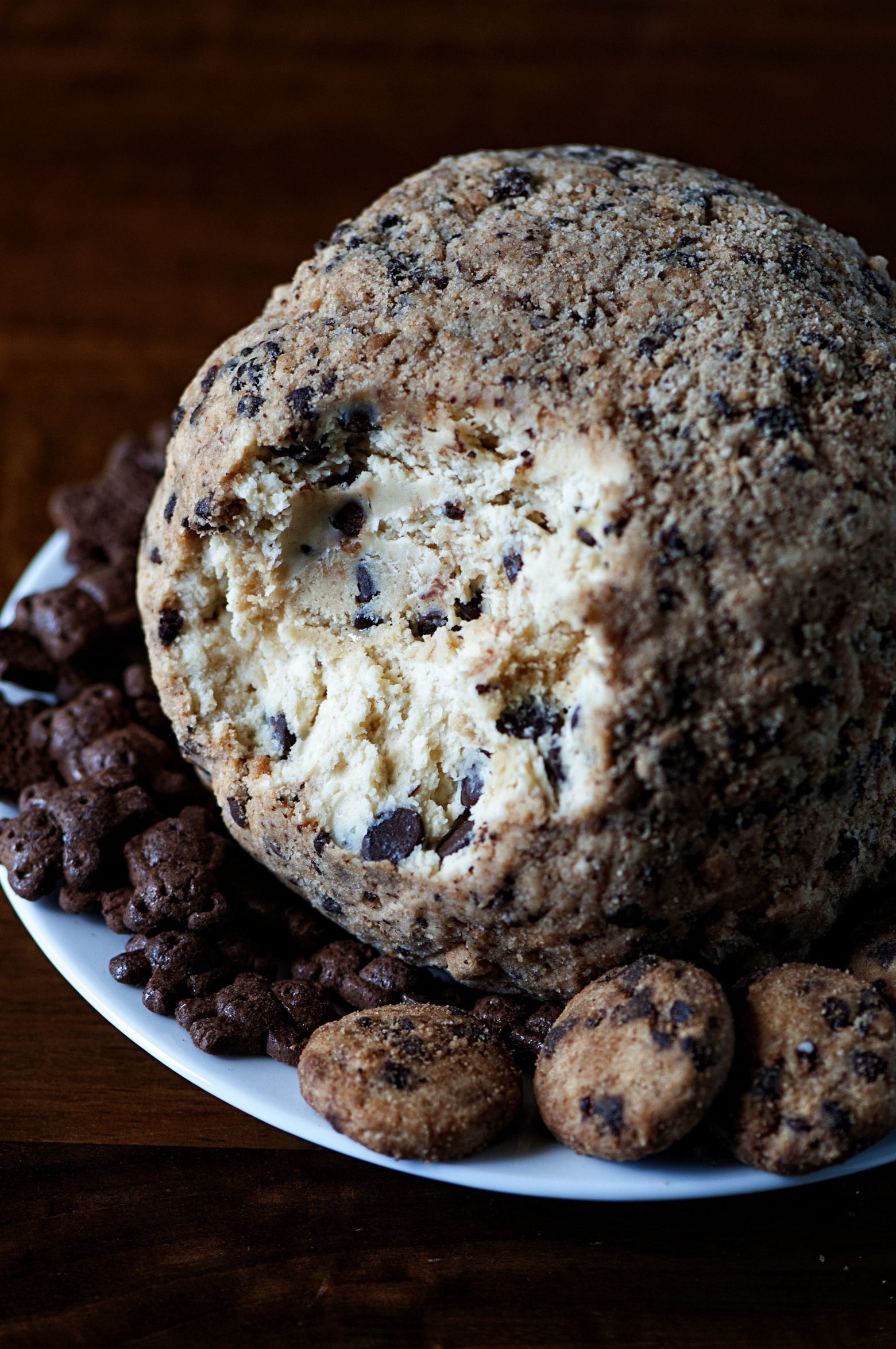 Want More Cheesecake Cheeseball Recipes?
Banana Split Cheesecake Cheeseball
Sugar Cookie Cheesecake Cheeseball
Gingerbread Cheesecake Cheeseball
Circus Animal Cookie Cheesecake Cheeseball
Cake Batter Cheesecake Cheeseball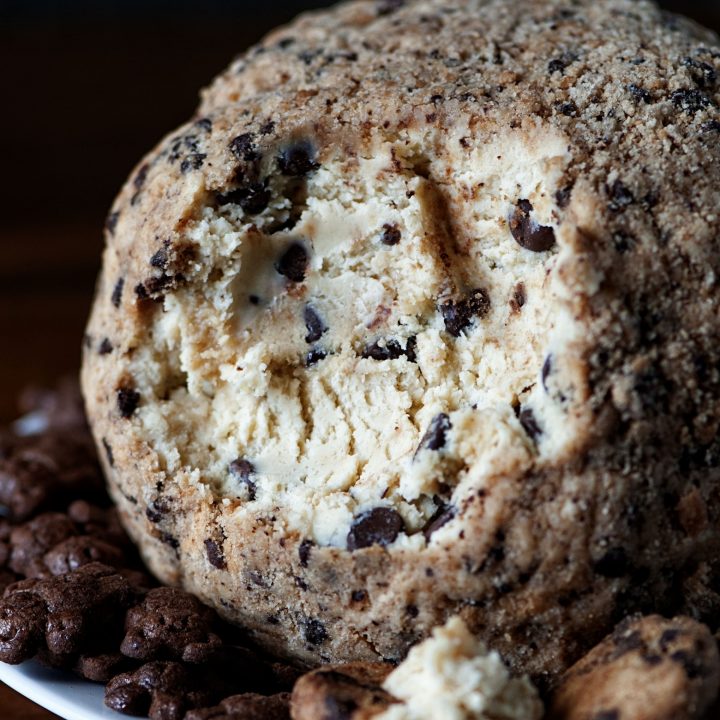 Chocolate Chip Cookie Dough Cheesecake Cheeseball
Ingredients
16 oz. cream cheese, at room temperature
1 cup unsalted butter, at room temperature
1 package (about 3 cups) chocolate chip cookie mix (I used Betty Crocker)
½ tsp. vanilla extract
1 ½ cups powdered sugar
1 cup milk chocolate chips (yes, the cookie mix has chocolate chips…I wanted more)
1 ½ cups crushed Chips Ahoy Cookies
Instructions
Using a stand mixer with a paddle attachment beat together the cream cheese and the butter until fully incorporated.
Add the cookie mix, sugar, and vanilla extract and beat until fully incorporated.
Add the chocolate chips and mix until combined.
With the mixer on low add the frozen cookie dough truffles.
Lay out a piece of plastic wrap and scoop the cream cheese mixture onto it.
Do your best to form a ball, then wrap up the ball in the plastic wrap.
Do an extra layer of plastic wrap to help it keep its shape.
Freeze for about 2 hours.
Take the ball out of the freezer and unwrap.
Place the crushed cookie pieces in a low shallow baking dish or jelly roll pan (I find a plate too small).
Roll the ball in the crushed cookie making sure you cover as much of it as you can.
Wrap the ball back up into some plastic wrap and place in the fridge.
If not serving that day, place back in the freezer and then take out an hour before serving to come up to room temperature.
Serve with assorted cookies.