These Cider Glazed Apple Fritter Muffins turn your favorite fritters into muffin form. And made even better with apple cider glaze.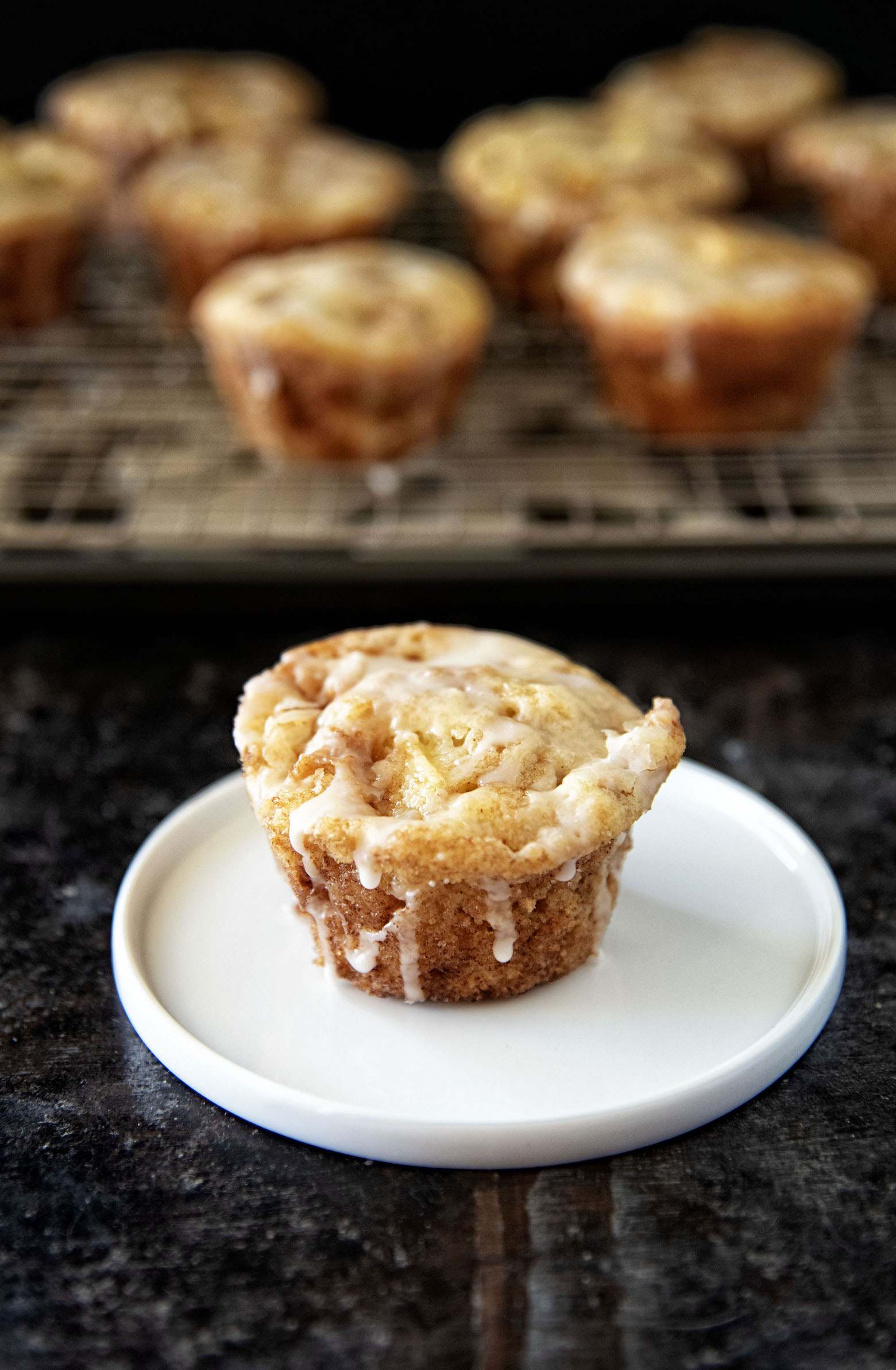 When you have been blogging as long as I have (almost 15 years now) that adds up to a lot of recipes.
A lot.
As a food blogger you have favorite recipes but you need to always be coming up with new recipes for the blog.
So you end up with a lot of recipes.
I have thousands of recipes on this blog so some days, well most days, I don't remember every recipes I put up.
Especially the 2005-2009 years. 🙂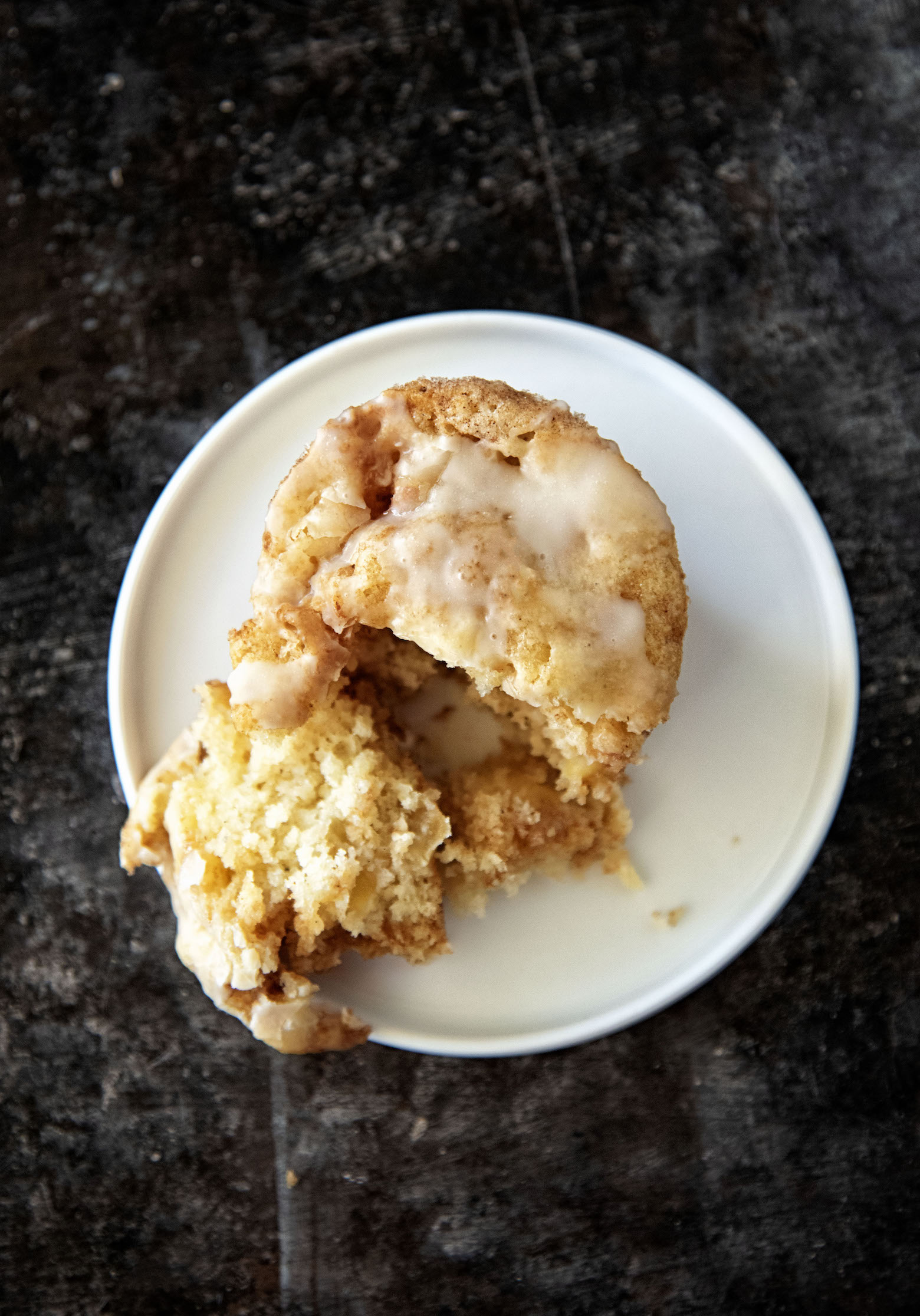 Obviously I remember some of the more popular recipes.
But if it was one of the ones that doesn't get pinned over and over I might not remember everything about it.
It's just because the ones that get pinned the most tend to have people ask the most questions.
Like how many servings it had.
People ask me that often.
I rarely put down serving sizes.
And that is because I have learned over the years that what I think is a one-inch ball of dough and what others think is a 1-inch ball are very different.
So I get 24 cookies and they get 27.
Or 16.
Any number but the one I got.
And then when they don't get EXACTLY 24 they email or comment or put on social media that this recipe said it would make 24 cookies and they got 22.
Most seem to get more upset that they didn't get the exact amount than the fact that I didn't list serving size.
So let's look at average serving sizes of some baked goods.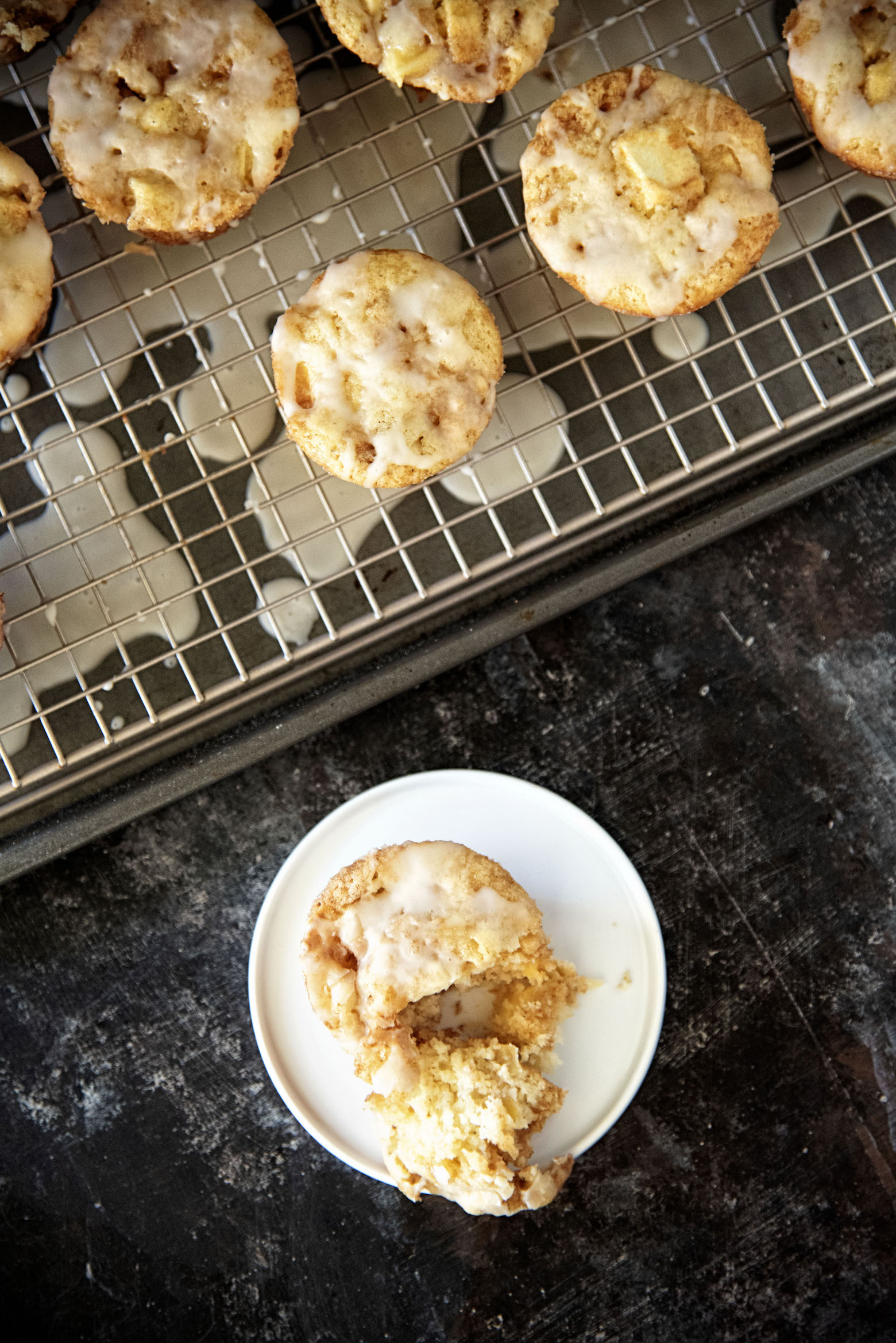 What are the Standard Serving Sizes for Round Cakes?
Now I'm not going to get into wedding cakes and stuff like that.
If you want that you can check out Wilton's Cake Serving Guide.
I'm sticking with the main three sizes of cake I make on this blog.
For a 6-inch cake if you were serving it after dinner or something like that is probably 8 slices.
Granted that is 8 very thin slices.
But if I'm sending the cake to my husband's office where more people need to get some…then I go thinner.
I seem to average around 6 when I cut the ones I make for just being at home.
And if you really love cake I would say 4 servings.
If you really, really love cake then it's 1 or 2 servings. 😛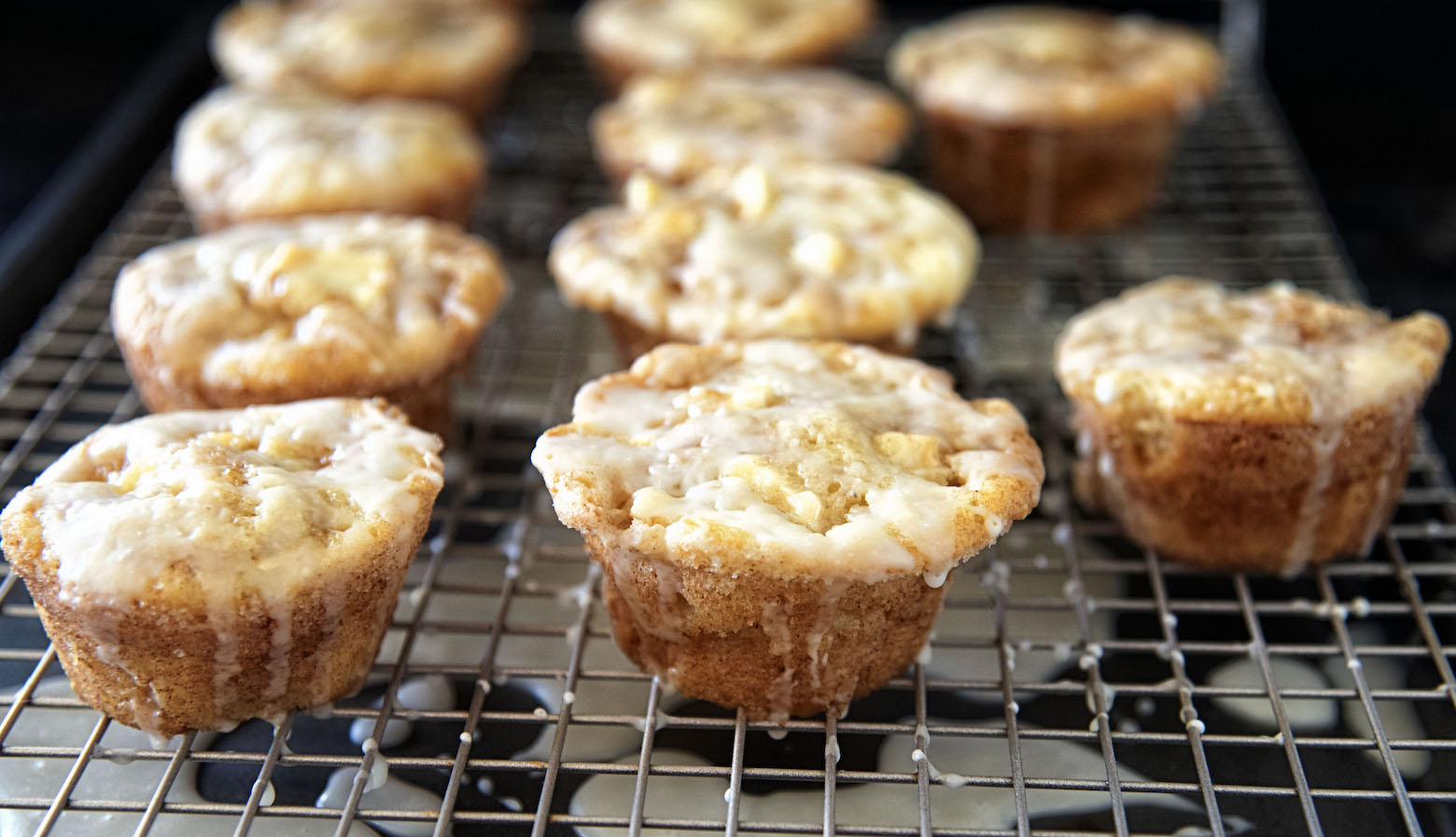 For an 8-inch cake and are cutting them thinner you can get about 14 pieces.
Those are not so thin that people will think you are chintzy and not thick enough that people tell you oh that's too much.
10 slices are more realistic for the cake.
And 8 slices are about standard in my house.
And by the way, if you have friends telling you are giving them too much cake…consider if you want to keep that person as a friend. 😀
Actually, keep them. More cake for you. 😛
For a 9-inch cake and again cutting pieces thinner because you are trying to save cake for yourself later after your guest leave then you will want to cut it into 18 servings.
10 slices is about what we get. 🙂
Now again these are just the three main sizes I use on the blog.
The more layers you have the smaller the piece you can have…in theory…though I don't practice the taller the cake the smaller the piece.
Most of us, unless you are Sheldon Cooper, are not pulling out a measuring tape when we bake.
So reality is your serving sizes will vary greatly.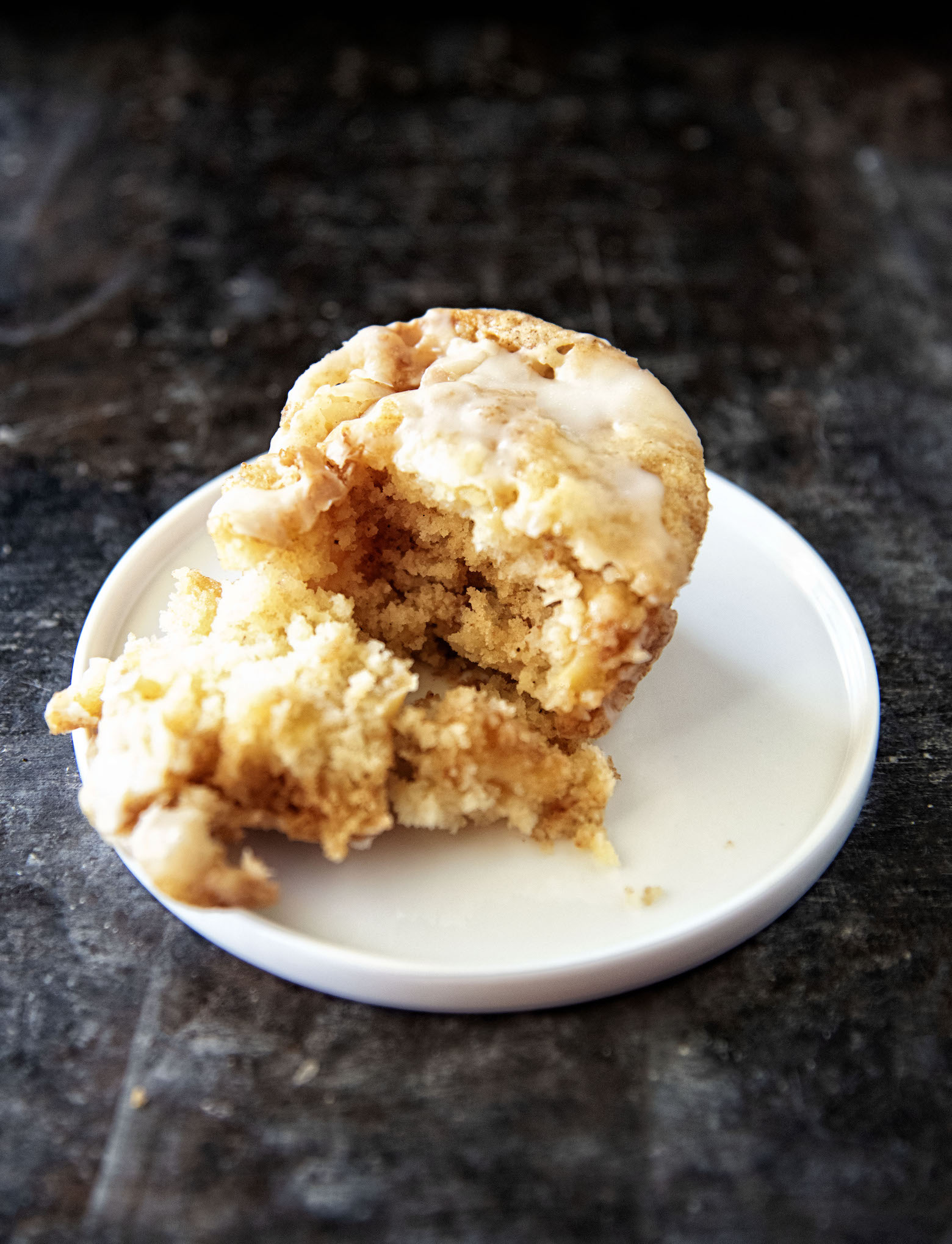 What are the Standard Serving Sizes for Cookies?
Cookies seem like they will be easy but they are not.
Especially roll out cookies.
Because that usually is a large batch but depends on what size cookie cutter you get.
If you use all the dough. Meaning you gathered up all the scraps over and over again until there wasn't an ounce of dough left.
I usually start using all the dough and then get tired of rolling out all the cookies and then realizing I have to decorate them all too…so I end up not using all the dough.
Drop cookies used to be hard because when you say 1-inch ball we learn that many people are math challenged.
But thanks to cookie scoops it has become easier.
A small scoop is what they call a #60 scoop meaning that is roughly how many cookies you should get out of one standard batch of cookie dough.
Small scoops have about 2 tsp. of dough…if you level the cookie off.
I find a lot of people do not level the cookie off.
The small scoop will get you about a 2-inch cookie when baked.
A medium scoop is what they call a #40 scoop meaning that is roughly how many cookies you should get out of one standard batch of cookie dough.
Medium scoop is about 1 1/2 TBSP and you will get about a 3-inch cookie when baked.
Most people use the medium scoop.
A large scoop is what they call a #20 scoop meaning that is roughly how many cookies you should get out of one standard batch of cookie dough.
Large scoop is about 3 TBSP and you get about a 4-inch cookie.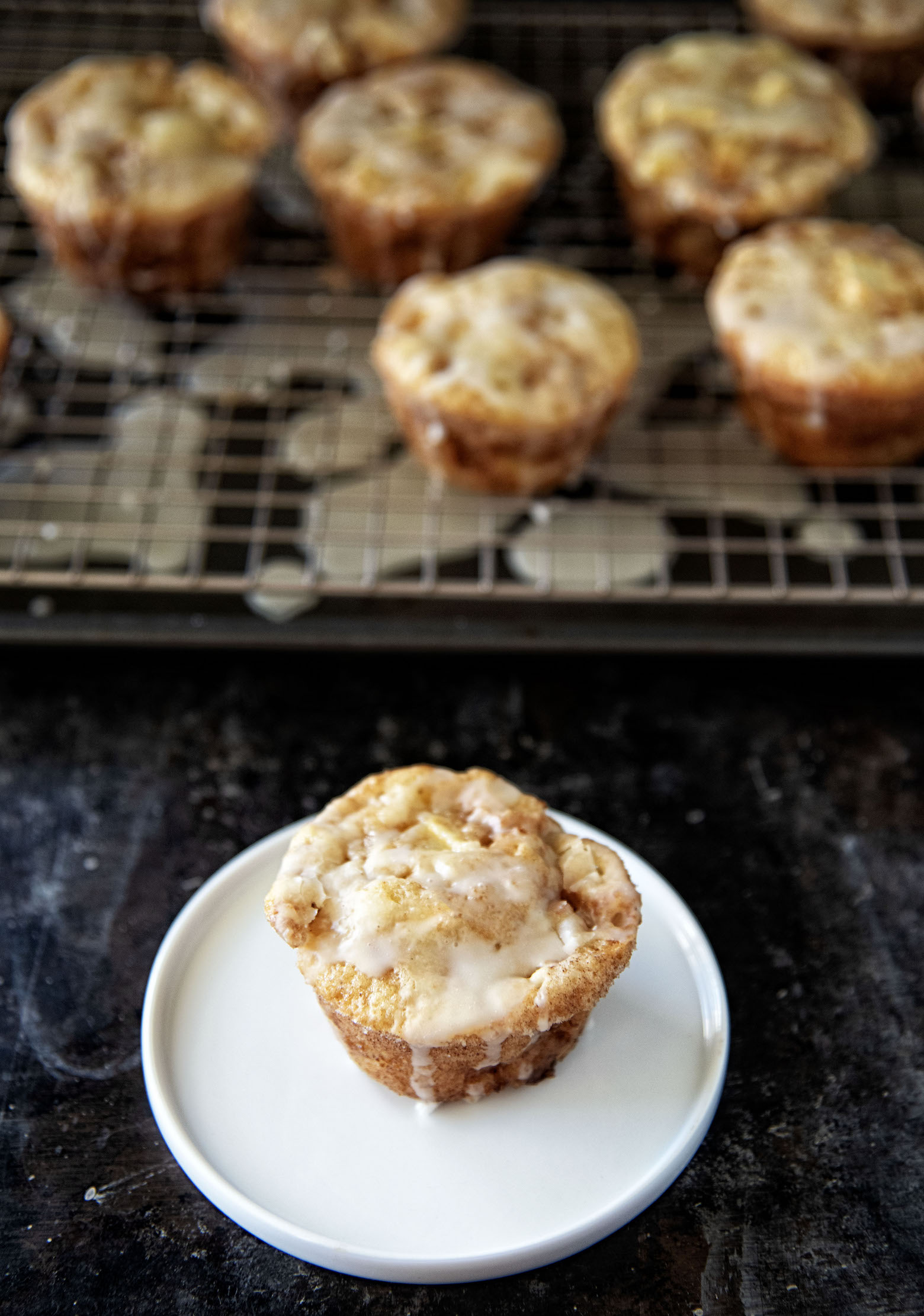 What are the Standard Serving Size for Muffins?
Which leaves us with muffins.
I won't discuss cupcakes but will say that most cupcake recipes make about 24 cupcakes.
But I made muffins so we will stick with that.
I find most muffin recipes make 12 muffins.
Some make 16.
Some 24.
Again the issue with this is when a recipe says 2/3 or 3/4 of the way full.
Because people treat that the same but 3/4 is larger than 2/3 so when you add that all up it will end up messing with your final total amount of muffins.
It also depends on what you have going in the muffin.
If it's fruit some pieces might be larger than the other and therefore fit in the muffin pan different the the next scoop.
Oh and speaking of scoops I tend to use the large scoop for making muffins.
So many factors.
Which is why bakeries weight everything.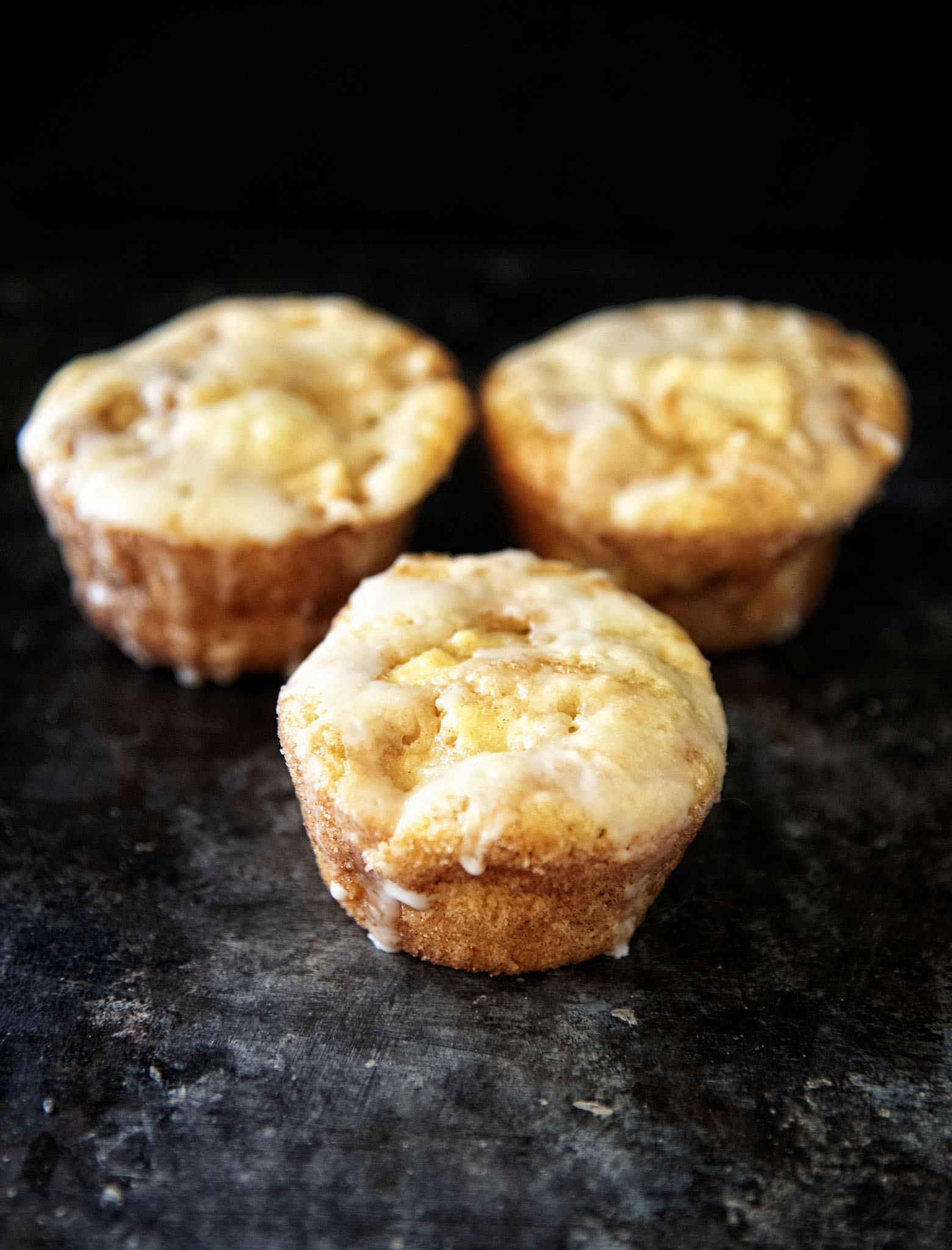 These Cider Glazed Apple Fritter Muffins are an adaptation of one of my most popular recipes of all time on here.
I really love how these turned out.
They are a soft crumb with apples studded through it.
But have a crunchy top.
And are all covered in apple cider glaze.
Oh and I got 17 Cider Glazed Apple Fritter Muffins out of this recipe.
Which means you will get somewhere between 8 and 24 of them. 😛
To see the layering technique see this post.
Last but not least…it's a great time to order my cookbook. 😀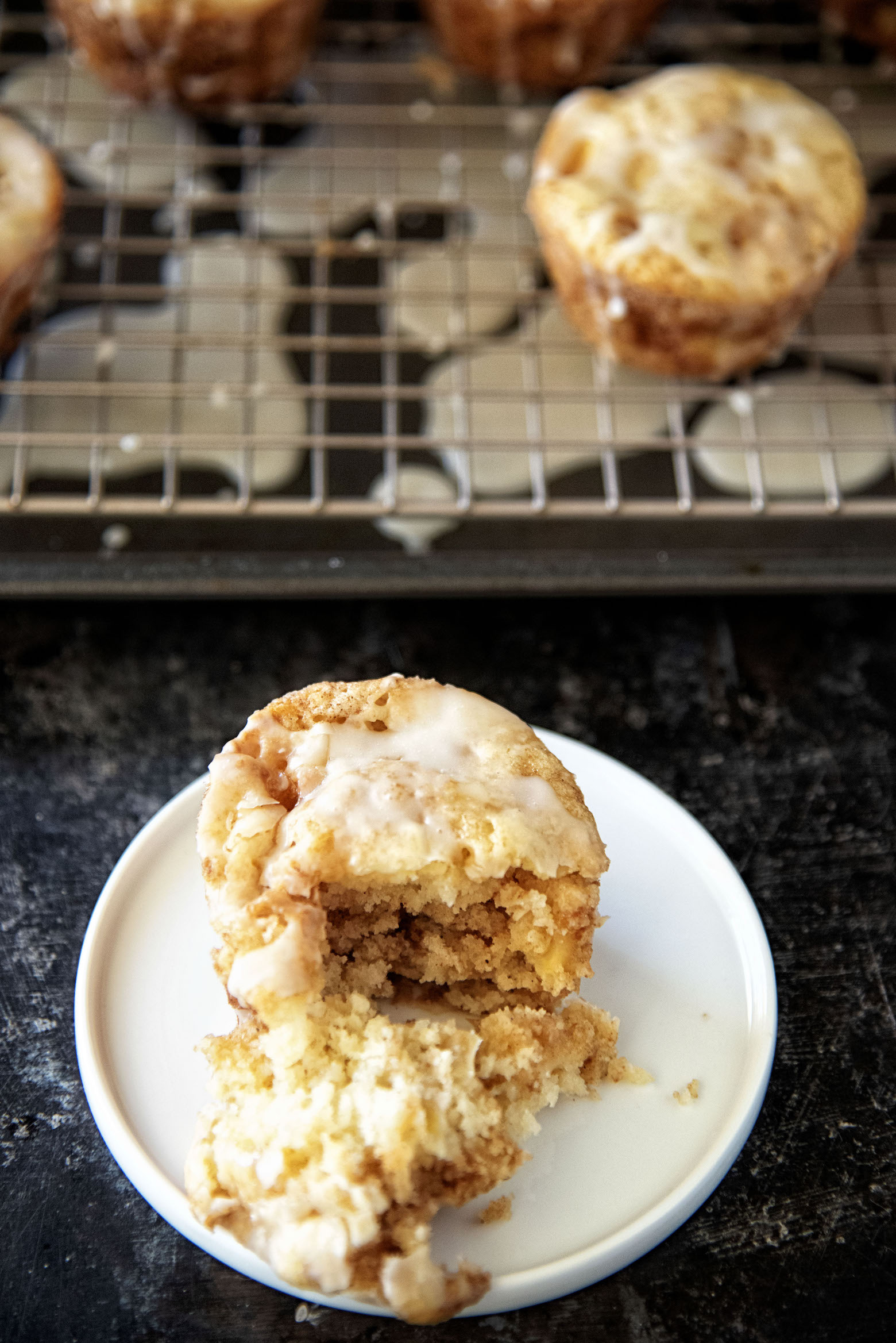 Want More Recipes? Try these:
Salted Caramel Apple Fritter Bread
Oatmeal Crumble Caramel Apple Pie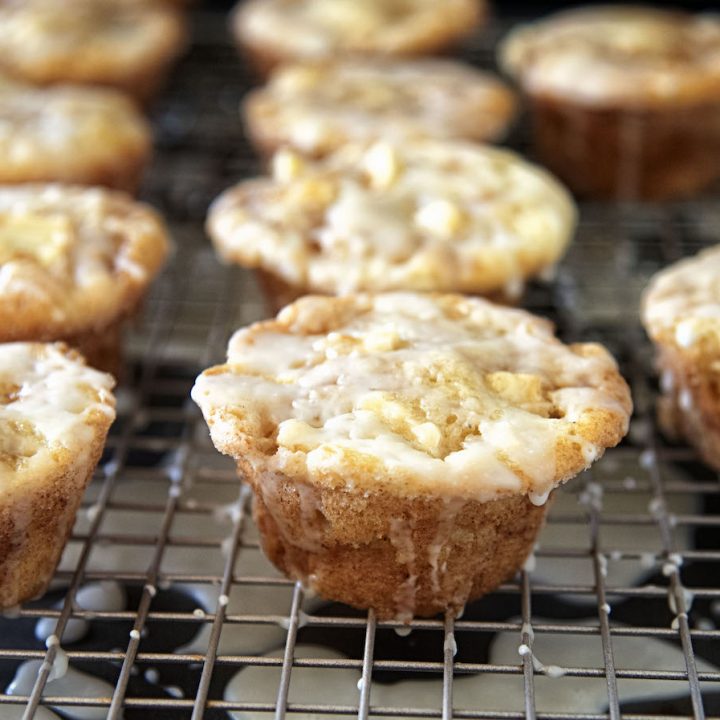 Cider Glazed Apple Fritter Muffins
Ingredients
For the Cinnamon Sugar:
1 cup granulated sugar
1 tsp. ground cinnamon
For the Muffins:
⅓ cup brown sugar, loosely packed
1 tsp. ground cinnamon
⅔ cup granulated sugar
½ cup unsalted butter, at room temperature
¼ tsp. salt
2 eggs
1½ tsp. vanilla extract (I used Rodelle)
1½ cups all-purpose flour
1¾ tsp. baking powder
½ cup whole milk
2 apples, peeled and chopped
Apple Cider Glaze:
3 TBSP apple cider (more if you want to thin)
½ cup of powdered sugar
Instructions
For the cinnamon sugar:
Mix ingredients together and set aside.
Preheat oven to 350F.
Use one 9x5-inch loaf pan and two muffin tins.
Leave the loaf alone.
Brush the muffin tins with melted butter and sprinkle about 1 tsp. cinnamon sugar trying to get the sides and bottom of the tin.
Set tins aside.
Mix brown sugar and cinnamon together in a bowl. Set aside.
Using a stand mixer with a paddle attachment cream together the butter and sugar until light and fluffy, about 3 minutes.
Add the eggs, one at a time, scraping down after each addition.
Then add the vanilla and beat for 30 seconds.
Incorporate flour, salt, and baking powder together in another bowl and add into creamed butter mixture and stir until blended.
Mix milk into batter and beat until smooth.
Pour half the batter into the non-baking spray loaf pan; add half the apples, and then half the brown sugar/cinnamon mixture.
Add the remaining batter over apple layer and top with remaining apples and then the remaining brown sugar/cinnamon mixture.
Using and ice cream scoop (or large spoon), scoop the batter into the prepared muffin tins. This helps with getting the brown sugar throughout the muffin and I find it works much better than just swirling with a knife.
Sprinkle about 1/2 tsp of cinnamon sugar on top of each muffin.
Bake in the preheated oven until a toothpick inserted in the center of the loaf comes out clean, approximately 22-24 minutes.
Let cool slightly before removing from muffin tin.
Place muffins on a rack with a baking sheet for glazing under it.
Let cool on rack for 15 minutes, then glaze.
For the glaze:
Whisk together the powdered sugar and apple cider together until smooth and there are no visible powdered sugar lumps.
Drizzle glaze on muffins.