Like Girl Scout Cookie Samoas? You will absolutely love this Samoas Mascarpone Filled Layer Cake! A whole box of Samoas in the filling!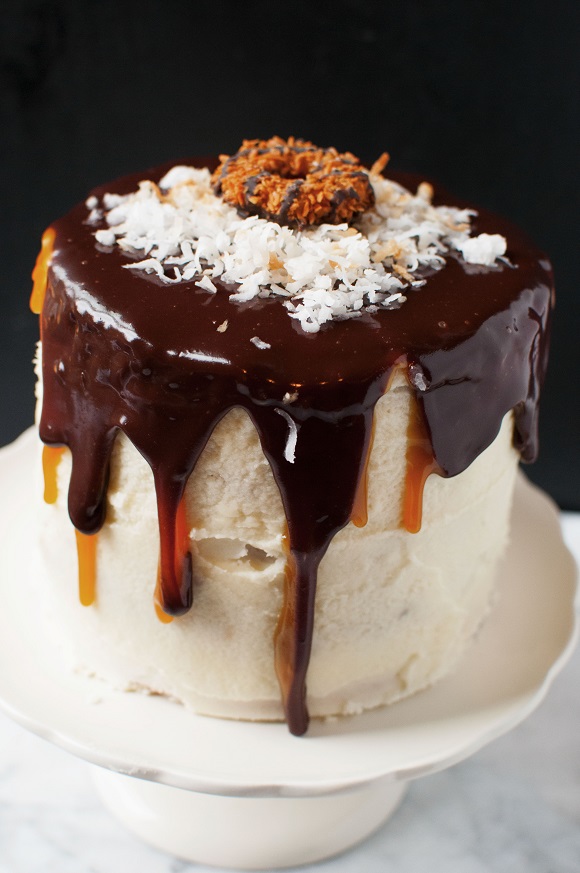 The Girl Scouts were an important part of my youth and so when I heard about the Western Washington Girl Scout Cookie Recipe Contest I decided I would enter, the 5 boxes of Samoas (they turn 40 this year) early didn't hurt either.
I started as a Brownie.
But will admit that I mostly just remember the snacks because a girl's mom in our troop worked for a well-known candy maker.
And so we got to try out all the new candies that would hit the market way before anyone else.
But Girl Scouts, that was a different story.
My elementary school was next a university (one I ended up going to for undergrad) and so my Girl Scout leader was a college student.
She was a Parks and Recreation major and was a Girl Scout herself and wanted to give back.
Up until that time I had only had moms as leaders, and while they were all nice as a 5th grader I thought that she was the bees knees.
I felt cool just being around her because she was in college!!!
She was also a great leader and a super lover of the outdoors.
In the summers she was a camp counselor at Shadow Rim Ranch (still there to this day) and so I of course signed up to go each year.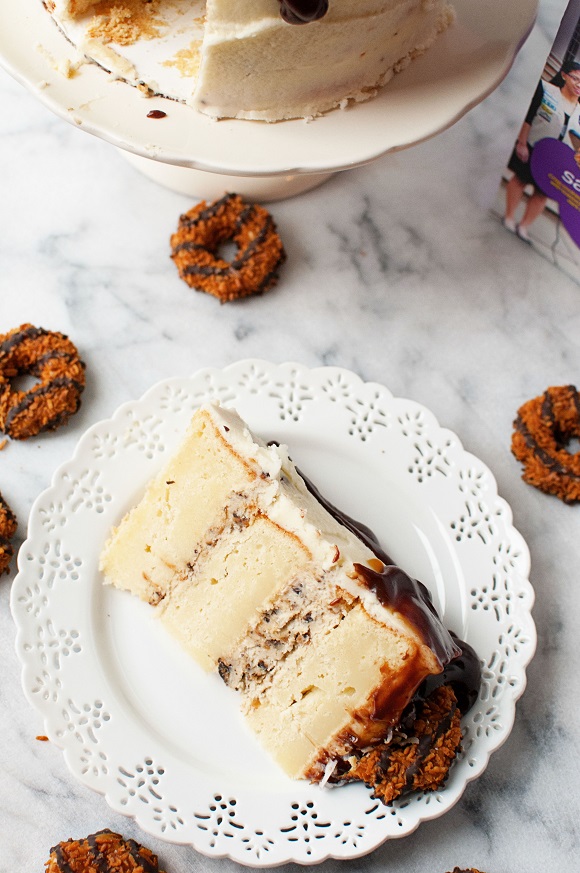 It was at Shadow Rim Ranch I learned that I'm pretty good at canoeing.
That I can't sing but I can memorize and I was the only one who knew all the songs by heart (still do).
I really hate spiders.
And I make a mean God's eye out of Popsicle sticks and yarn.
It's also where I fell in love with the forest.
Like real love.
I also became obsessed with fish hatcheries.
At the time right next to the camp was a fish hatchery and our daily hikes we would pass it.
I would also sneak out to go stare at it during free time…what a rebel I was, eh?
My leader caught on to my love of them.
She made arrangements for the forest ranger to spend time with me when I would go there in the summers.
I became so obsessed with them over the years at Shadow Rim Ranch.
So much that I went into college as a Forestry major, a Wildlife Management degree, specifically for fish hatcheries.
However, as fate would have it being a Forestry major and being allergic to almost every living plant doesn't work so well.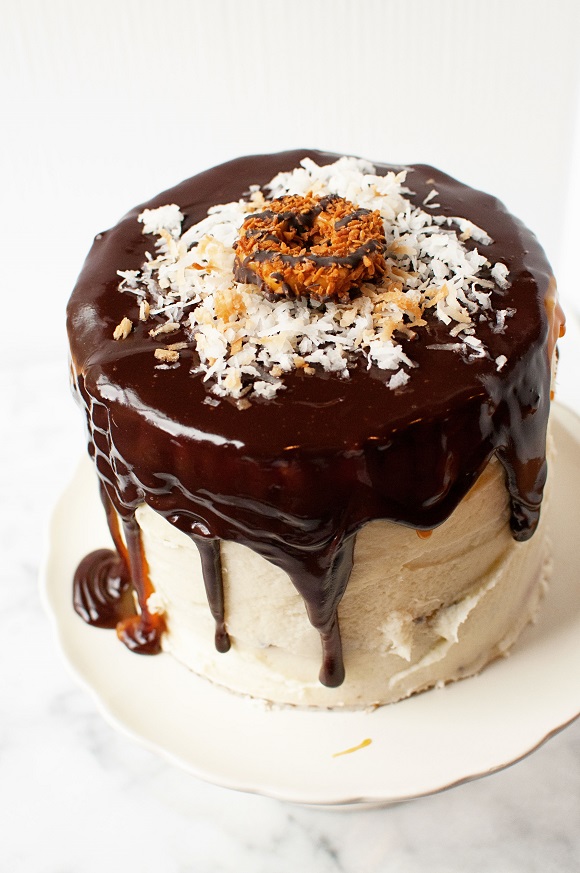 While I did not pursue a Forestry degree I still feel most at home in the forest, all be it these days now in a cabin where I can go back and use a toilet in. 😀
I think my positive experiences in the Girl Scouts helped shaped my love of nature.
It of course taught me many other lessons in life and I have the badges to prove it. 😀
So when it came time to pick a recipe to make for the contest I wanted something that was a challenge, something I could earn a badge for.
I'm not great at layer cakes as anyone who reads my blog knows.
I usually wimp out and just make cupcakes.
But I decided that with the Samoas turning 40 they deserved a show stopper!
I think I delivered!
Yes this Samoas Mascarpone Filled Layer Cake will take time but it's not hard.
If you make nothing else at least make the filling.
As I seriously considered just sitting there and eating the bowl of it.
For real.
If you are saying hey how do you already have cookies?
Well, I entered a contest and got some early.
When can you get cookies in Western Washington? February 27th-March 15th and here is the cookie locator  to help you in your quest to find cookies.
Which I'll be needing to hunt down since I got Samoas ahead of time I did not get any Thin Mints and boy do I need those.
Yes, need.
It's a great day to buy my cookbook Holy Sweet!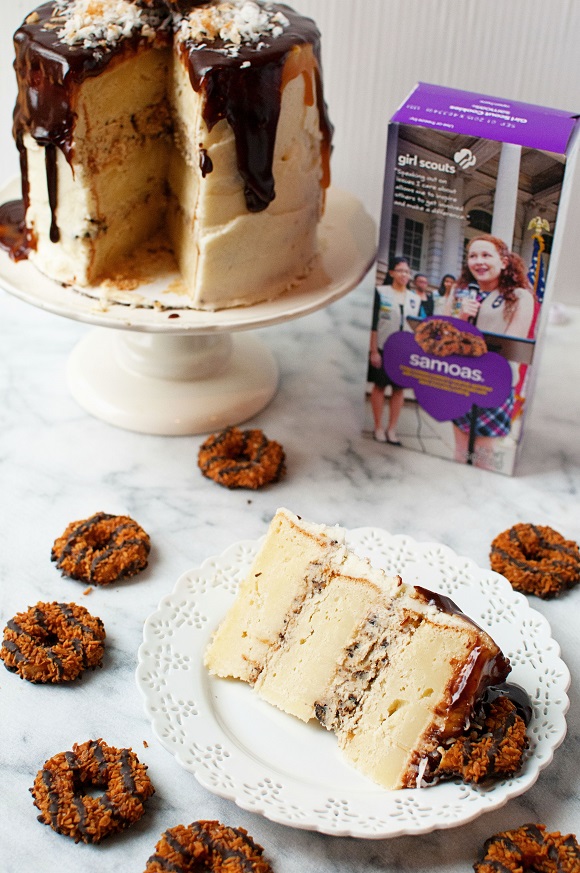 Want More Girl Scout Inspired Recipes?
Thin Mint Oreo Bailey's Irish Cream Milkshake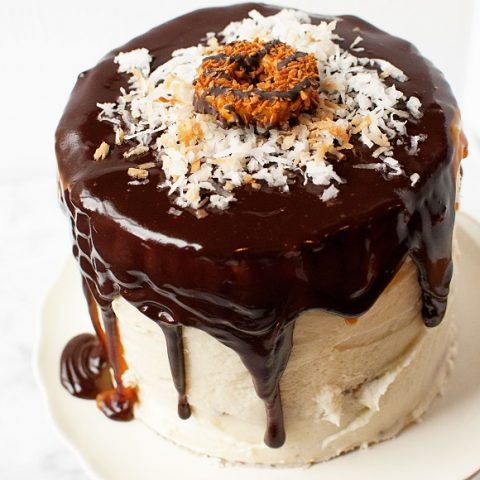 Samoas Mascarpone Filled Layer Cake
Ingredients
1 recipe butter cake (recipe follows)
1 recipe Samoas Mascarpone filling (recipe follows)
1 recipe coconut buttercream (recipe follows)
1 recipe ganache (recipe follows)
1 cup caramel sauce (store bought or homemade)
1 cup toasted sweetened coconut
For the Cake:
2 ¾ cups cake flour (I used King Arthur)
2 ½ tsp. baking powder
½ tsp. salt
¾ cup unsalted butter, at room temperature (I used Plugra)
¼ cup browned butter, cooled and refrigerated, brown bits strained out
1 ¾ cups granulated sugar (I used Imperial)
4 large eggs, at room temperature
2 tsp. vanilla extract (I used Rodelle)
1 tsp. butter baking emulsion
1 ½ cups whole milk (yes whole)
For the Mascarpone Samoas Filling:
1 ½ cups chilled heavy whipping cream
½ cup mascarpone cheese, at room temperature
1 box Samoas (20 cookies), smashed into pieces
1 tsp. vanilla extract
½ cup powdered sugar
Coconut Buttercream:
1 cup unsalted butter, at room temperature (I used Plugra)
Pinch of salt
1/3 cup coconut milk (the solid part on top that is super thick)
¼ cup heavy cream
3 cups powdered sugar
Chocolate Ganache:
½ cup mini semisweet chocolate chips
½ cup heavy cream
¼ cup corn syrup
Instructions
For the Cake:
Preheat oven to 350F.
Spray two 8 or 9 inch cake pans or I used three 4 ½ inch Springform pans (I like the look for photography reasons otherwise I would make a standard cake size) with nonstick baking spray and line the bottom of the pans with parchment circles. Don't skip the parchment as your cake will most likely stick to the bottom without out it…cakes are mean like that.
Using a stand mixer with a paddle attachment cream together the butters and sugar until light and fluffy, about 3 minutes.
Add the eggs one at a time and scrape down the mixer after each addition.
Beat in the vanilla and butter emulsion. If you don't have the butter emulsion just use all vanilla extract.
Mix the flour, baking soda, and salt in a medium bowl.
Add 1/3 of the flour mixture to the batter and mix on low until just incorporated.
Add half the milk to the batter and mix on low until just incorporated.
Add another 1/3 of the flour mixture.
Add the remaining milk and mix.
And finally add the last of the flour mixture. Mix until all the ingredients are fully combined.
Evenly divide the cake among the prepared pans spreading the batter with a spatula to make it smooth on top.
For 8 and 9-inch pans bake for about 25 minutes or until tops spring back when lightly touched in center and a wooden skewer comes out clean. For the smaller cake you will actually need more baking time because they are thicker. Mine baked for 33 minutes, but each oven will differ.
Let cakes cool for 10 minutes and then remove from pans.
Let cool completely once out of pans.
Wrap in plastic and chill for several hours or overnight. This helps the cake stay together when making the layer cake.
For the Samoas Mascarpone Filling:
Using a cold mixer bowl with the whisk attachment beat the heavy cream until soft peaks form.
Add the mascarpone, vanilla, and powdered sugar and beat until it forms stiff peaks.
Fold in the Samoas cookie pieces.
Put in a separate bowl and cover with plastic wrap. Refrigerate until ready to assemble cake.
For the Buttercream:
Using a stand mixer with a paddle attachment beat together the butter and coconut milk.
Add one cup of the powdered sugar on low at first (to avoid it flying everywhere).
Add the heavy cream and beat until combined.
Add the remaining powdered sugar and beat until fully combined.
If it's too thin add a little more powdered sugar. If too thick thin with heavy cream.
For the Ganache:
Place the chocolate chips and corn syrup in medium bowl.
In a small saucepan bring the cream to a boil.
Pour the cream over the chocolate chips and corn syrup.
Let sit for 5 minutes.
Whisk the cream into the chocolate, it should combine easily. Whisk until smooth and glossy.
For the Cake Assembly:
If you used 8 or 9-inch cake sizes, then split the cakes in half horizontally. If you make the smaller cakes just trim off any dome top to make the cake top flat for layering.
Spread the Samoas mascarpone filling between the layers. If making the 8 or 9-in cakes you will have thinner layers, if using the 4 ½ inch cake size you will have thick layers.
Place the cake in the fridge for an hour.
Frost with the coconut buttercream. You can do a crumb coat if you like. But you don't want super thick layers of frosting as this is being covered in caramel and chocolate.
Spoon the caramel on top to the edges so it drips down the sides.
Spoon the ganache on top of the caramel again to the edges so that it drips down the sides.
Add toasted coconut and an extra cookie (if you have any left) for garnish.