This Samoas Cookie Cheesecake has a brown butter shortbread crust, coconut cheesecake, caramel sauce, more coconut, and topped with chocolate.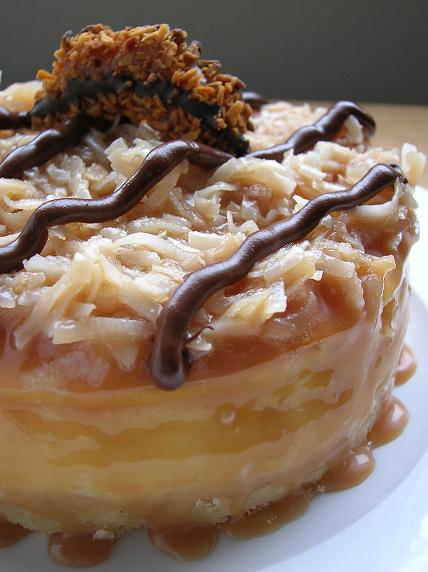 One of the entries that has come in for HHDD#10 Cheesecake used a Girl Scout Cookie crust…and it got me thinking.
Now, I would never use my Girl Scout cookies in that way simply because we don't have leftovers.
Just ask my super tight jeans.
But I was inspired to make a cheesecake that was like a Girl Scout cookie…a Samoas cookie to be exact.
I of course had to do the research by eating half the box.
Tough job, but someone has to do it.
I decided that a browned butter cookie base would be good.
The cheesecake part was pretty basic with a little coconut thrown in for good measure. 
I know they use toasted coconut, but confession time, I am horrible at toasting coconut…so it didn't get toasted.
So the topping was non-toasted (feel free to toast yours) coconut and caramel with a few racing stripes of chocolate.
HOWEVER, the hardest part about this Samoas Cookie Cheesecake was cutting it.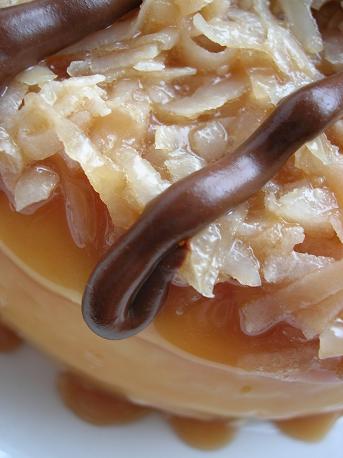 I could not get a pretty piece cut if my life depended on it (luckily no one was standing with a gun at that point… so I dodged a bullet on that one…bad pun I know).
I doesn't taste exactly like a Samoas but you definitely got what I was going for.
And speaking of cheesecake…don't forget to enter this round of HHDD.
I need your entries by March 17th! Thanks to all of you who have already entered, if what entries I have so far are any indication…voting will be very hard.
It's a great day to buy my cookbook Holy Sweet!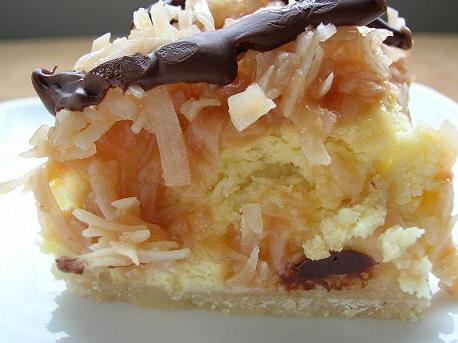 Want More Girl Scout Inspired Recipes?
Thin Mint Oreo Bailey's Irish Cream Milkshake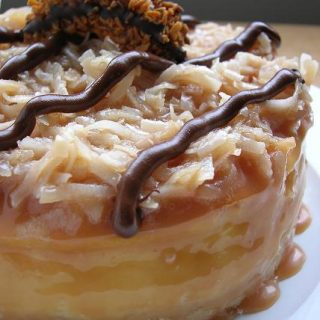 Samoas Cookie Cheesecake
Ingredients
For the Cookie Base:
You may want to double the cookie base for a thicker crust...I did, but I'm all about crust and some people aren't.
¾ cup all-purpose flour
¼ cup cornstarch
a pinch of salt
¼  cup unsalted butter, room temperature
¼  cup unsalted butter, for browning
¼  cup powdered sugar
1 tsp vanilla
For the Cheesecake:
2 1/2 lbs cream cheese
2 1/2 cups sugar
2 TB flour
5 eggs
2 tsp vanilla
1 cup sweetened coconut
For the Caramel:
1 ½ cups sugar
1/3  cup water
2/3 cup heavy cream
For the Chocolate:
6 ounces of semi-sweet chocolate chips
Instructions
For the Cookie Base:
To make the brown butter:
Cut ¼ cup of butter into pieces.
Heat butter in a heavy saucepan over medium heat.
Stir the butter or swirl the pan so the butter does not get burnt.
Remove from heat when butter turns light brown and gives off a nutty aroma. Set aside.
In a separate bowl, whisk the flour, cornstarch and salt together.
Cream the remaining ¼ cup butter(at room temp) until smooth and add the sugar, beating for about 2 minutes.
Beat in the vanilla extract and the brown butter.
Gently stir in the flour mixture just until incorporated.
Take cookie base and press down into a 10 inch springform pan that has already been buttered/floured and lined with parchment paper.
Bake at 350F for 10 minutes.
Set out to cool.
For the Cheesecake:
Cream the cheese until soft.
Add in the sugar and mix well.
Decrease the mixer speed to low and add the flour.
Add eggs in one at a time scraping bowl down to make sure that there are no lumps.
Stir in the vanilla.
The coconuts can be added now; it just get stirred in.
Pour batter into the pan.
Bake in a water bath at 350F for approx 1 ½ -2 hours.
Let cake sit at room temperature until cool, then chill overnight.
For the Caramel:
Pour the sugar into the center of a deep saucepan.
Carefully pour 1/3 cup water around the walls of the pan, trying not to splash any of the sugar onto the walls.
Do not stir; gently draw you finger twice through the center of the sugar, making a cross, to moisten it.
Over high heat, bring to a full boil and cook without stirring, swirling the pan occasionally to even out the color, until the mixture is medium caramel in color, 5 to 10 minutes.
Immediately turn off the heat and use a wooden spoon to slowly and carefully stir in the cream(it will bubble up and may splatter).
Allow caramel to cool for a few minutes then stir in 12 ounces of sweetened coconut(you can add more if you would like).
Stick in the fridge for 5-10 minutes.
For the Chocolate:
Melt in a metal bowl over simmering water. Once cooled put into a pastry bag.
To Assemble:
Once the cheesecake has chilled overnight.
Place some of the topping on the cheesecake and spread it around to cover the top.
It may be a little runny that is okay.
Pipe chocolate stripes onto the cheesecake, as many as you would like and chill for another hour.