This Samoas Cookie Bark has a butter cookie base and is topped with caramel, chocolate, and toasted coconut.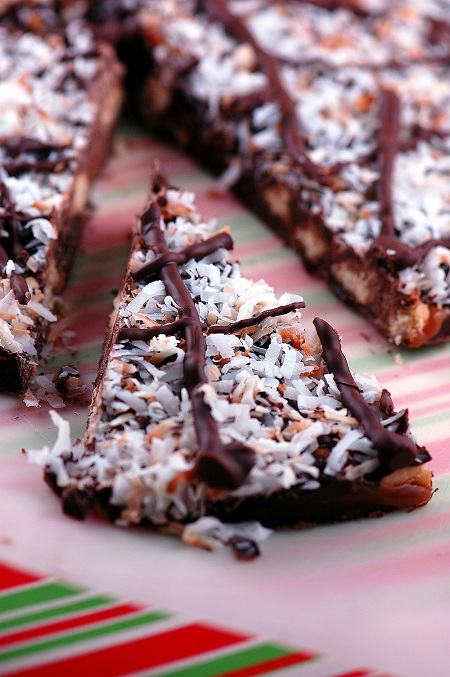 With just a few days left before the holidays I'm running around more than ever. Hopefully you aren't as chalked full as I am.
*Went to bed at 5am "last" night (but really this morning).
Why you ask? Excited for Santa?
Nope, gave my ex-husband a ride to the airport at 2:30am.
Yes, I am too nice.
So is he, he would have done it for me too.
Anyway I drank way too many energy drinks to stay awake…and well, they worked.
*Got to sleep for a few hours then up to meet a friend who is in from New York.
Haven't seen her in what seems like forever.
*Then working tonight until midnight.
*Friday is last minute errand running where I do not look forward to experiencing a Costco two days before Christmas.
Wish me luck.
*Crazy Cocker Spaniel went to the puppy spa earlier this week and one of her little fatty cyst got clipped.
She bled everywhere on the comforter Wednesday and so now I have a nice unexpected dry cleaner bill. Joy.
*I accomplished getting 11 holiday cards off. I'm so bad at it. And yet I love to get them. Sigh.
Speaking of that though, I wish my friends with kids would also put themselves in the photo as well.
I always open the card and see a kid and think who is this from?
And then have to read who it's from.
I need to go make sugar cookie dough now or else I won't have any for Christmas and my tradition of eating them Christmas morning goes out the door.
I did however find time to make this Samoas Cookie Bark that I saw on Bakers Royale and sadly it was as good as my waistline feared.
If you are a lover of the Girl Scout Samoas Cookie…make this!!!!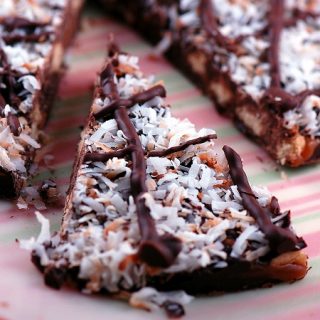 Samoas Cookie Bark
Ingredients
1 11.5oz semi-sweet chocolate
1 cup coarsely crushed shortbread (I went the Lorna Doone route)
1 cup sweetened coconut flakes
¾ cup caramel sauce (I used Fran's)
Instructions
Line 8-x-8-inch pan with parchment or wax paper with a one-inch overhang on each side.
Place coconut on a parchment lined bakesheet and bake at 350 degrees F for about 5 minutes or until coconut starts to brown.
Remove from oven and set aside to cool.
Place chocolate in double boiler or a heatproof bowl over simmering water and gently stir until chocolate is melted.
Portion out 2 tablespoons for topping.
Pour half of chocolate into prepared pan, and, using an offset icing spatula smooth out chocolate until an even layer is achieved.
Sprinkle coarsely crushed shortbread on top and gently press it into the chocolate.
Transfer pan to the freezer for 5 minutes or until chocolate becomes slightly hardened.
Remove pan from freezer and pour caramel sauce on top, then, using an offset icing spatula spread caramel until an even layer is achieved.
Transfer pan to the freezer for 5 minutes or until caramel becomes slightly hardened.
Remove pan from freezer and pour other half of chocolate on the caramel layer. To finish, sprinkle coconut on top and drizzle remaining 2 tablespoons of chocolate on top of coconut.
Transfer pan to refrigerator for about 5-10 or until bark is set.
Keep refrigerated until ready to serve.