These Samoas Lofthouse Cookie Bars have a layer of soft toasted coconut lofthouse cookie, then caramel, chocolate, and more coconut.
It's ask Peabody the wedding edition:
I've gotten quite a bit of email in my absence with many of them being about my upcoming wedding so I thought I would answer a few.
As well as give you an AMAZING recipe that encompasses two things I love: lofthouse sugar cookies and Samoas Girl Scout Cookies.
So here is the wedding 411 as asked by my readers:
Did you have the wedding yet?
Did you see photos on Instagram, FB, Twitter, and the blog?
If that answer is no…then no, no wedding yet. 🙂
Are you wearing a dress?
Nope.
Going naked. Ha!
No, of course I am wearing a dress.
A rather traditional one (think lots of lace) at that for a non-traditional wedding.
Though I am wearing yellow Vans for shoes…for real (I need to be comfy and wanted something I would wear again).
You really never met your matron of honor?
Nope.
And this time not kidding.
We have IM-ed, Text, Talked on Phone…but no meet in person.
Have tried a few times to meet in person with no luck.
I'll meet her the Wednesday before the wedding.
She's staying at my home.
We keep joking that I have a 50/50 chance of her killing me. 😛
But I'm optimistic.
We did however up my life insurance just in case.
Is the Crazy Cocker Spaniel or the rabbits in the wedding?
Crazy Cocker Spaniel is most definitely in the wedding.
She is very much family and when deciding where to have it we knew we wanted them to take dogs.
I know she will be a total pain all day but what else is new.
The rabbits on the other hand will be staying home and enjoying a day without much noise in the house.
While bunnies in a wedding would be cute they poop way too much. 😀
Do you have a wedding song?
Yes we do.
Can pretty much guarantee no one has ever had our song as a wedding song.
I won't say what it is until after but know that it comes from a Scooby Doo cartoon.
Any Bridezilla moments?
Sadly yes.
The groomsmen picked out the outfit based on what I sent them photos of but didn't READ any of what I sent them.
They picked MDP's outfit out without him there (we were at the beach with the kids for their birthday).
So I was a little like NO, NO, NO at them via angry text.
But it all worked out.
Minister or JOP?
Neither.
Defensemen.
Two of our defensemen from our team got ordained…as well as became Jedi Knights for the occasion (MDP proposed while Star Wars was on).
Almost all of the defensemen are in the wedding in some way…including the bride and groom of course. 😀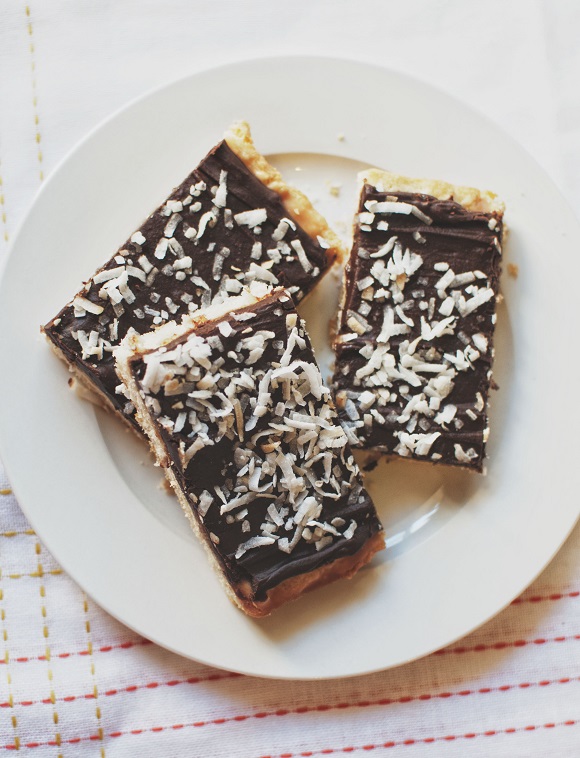 Over or under budget?
Amazingly right on.
Are you making all the desserts? What are you having?
Most.
With the exception of a few things that I am not good at making, yes, the day before is going to be a baking blitz here at my house.
I am making cake (homemade funfetti) and cupcakes to match.
Funfetti Oreo Rice Krispie Treats.
Confetti Cake Batter Cookies.
Sprinkled Donuts.
Cake Pops (so not made by me).
Sensing a theme?
Many, many sprinkles.
I'll probably throw in some brownies for good measure.
Are you nervous?
No, not at all. I have known MDP for almost 10 years now.
We know each other very well, the good and the bad.
As far as the wedding I know things will go wrong but that's life.
We will just roll with it.
Physically getting married is all I am worried about.
After that is done then whatever.
What kind of flowers are you having?
Don't know.
The non-control freak that I am showed some pictures to the florist and said do what you will.
Alright that's it for now.
If you are that curious I would just make sure to follow me on Instagram.
That's probably where the most photo action will be happening.
On to these Samoas Lofthouse Cookie Bars.
These are sooo yummy.
A layer of soft lofthouse cookie bars that have toasted coconut in them.
Then a layer of caramel.
A layer of chocolate.
And then a little more coconut.
Totally make my mouth and tummy happy.
It's a great day to buy my cookbook Holy Sweet!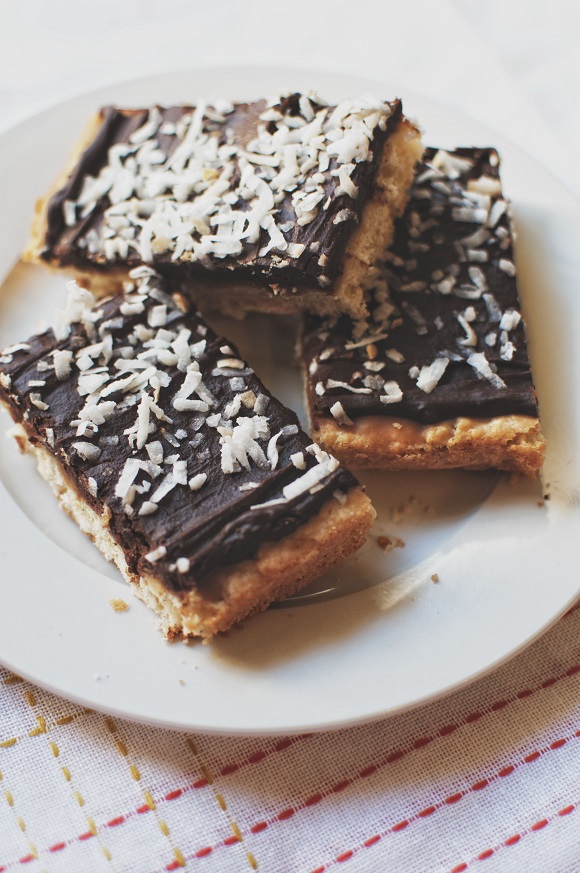 Want More Girl Scout Inspired Recipes?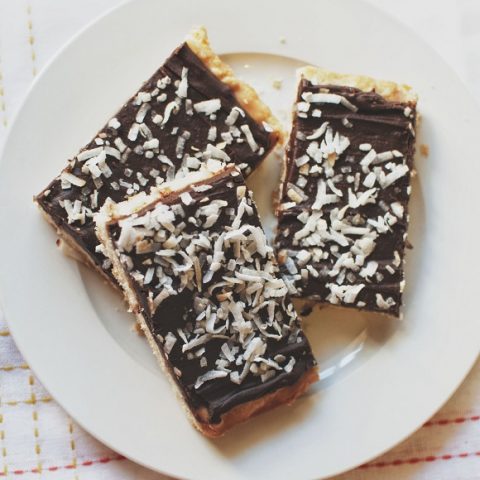 Samoas Lofthouse Cookie Bars
Ingredients
1 batch Lofthouse batter (recipe follows)
1 batch chocolate glaze (recipe follows)
½-1 cup toasted coconut (for top)
For the Lofthouse Cookie Bars:
1 1/2 cups granulated sugar (I used Imperial)
1 cup unsalted butter, at room temperature (I used Plugra)
8 oz. cream cheese, at room temperature
1 large egg
2 tsp. vanilla extract (I used Rodelle)
2 1/2 cups flour (I used King Arthur)
1 tsp. baking powder
1/2 tsp. baking soda
1 cup toasted sweetened coconut
For the Chocolate Glaze:
12 ounces semisweet chocolate chips
8 TBSP unsalted butter
Instructions
Preheat oven to 350°
Line a jelly roll pan (15x10x1) with aluminum foil and spray lightly with cooking spray.
Using your stand mixer with the paddle attachment, cream together the butter, cream cheese and sugar.
Add in egg and vanilla and mix until incorporated.
With mixer on low, add in your dry ingredients: flour, baking powder and baking soda and mix until just combined.
Fold toasted coconut into the batter.
Press dough evenly into your prepared pan. (dough will be sticky)
Bake for 20 minutes until edges begin to golden.
Remove from oven and let cool for 10 minutes.
Pour the caramel over the bars.
Let the caramel set up before you start to make the chocolate glaze. You can put it in the fridge to help it set up quicker.
For the chocolate glaze:
Place chocolate chips in a small stainless steel bowl over a pot of hot(not boiling)water.
Melt the butter in a small saucepan, and skim off the white foam that rises to the top.
When chocolate is just melted, stir in the clarified butter (discard the white solids left behind). Set aside until chocolate is 86F.
Pour the chocolate over the caramel portion of the bars.
While the chocolate is still warm, sprinkle the coconut over the chocolate part.