Lover of Strawberry Nesquik? Then this grown up Spiked Chocolate Strawberry Nesquik Cocoa is the ultimate way to enjoy it.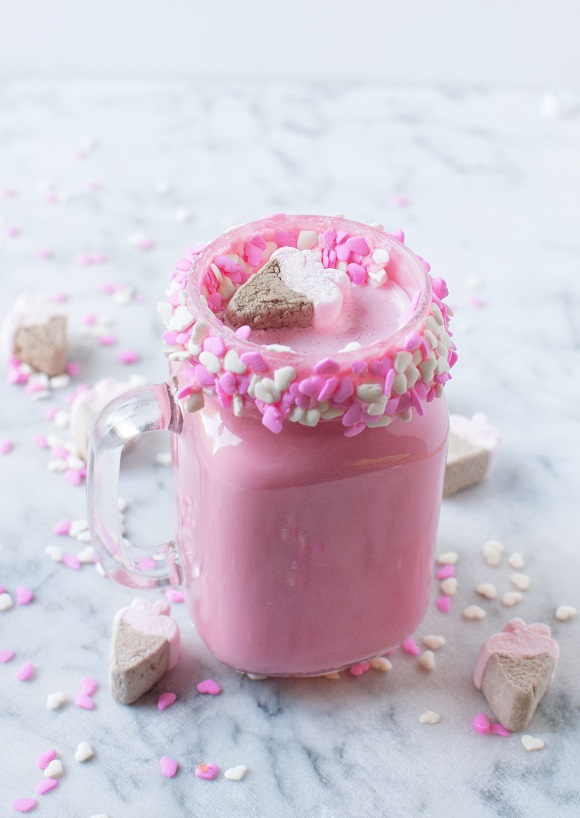 So I know what you are thinking…Spiked Chocolate Strawberry Nesquik Cocoa?
For Tipsy Tuesday?
Sure, why not.
After all they make a liqueur in the flavor so this was screaming to be made!
I had forgotten I even bought the liqueur quite some time ago while at Total Wine (the Disneyland of Booze) until this weekend.
Also, I had bought the new Jet Puff Chocolate Strawberry Marshmallows and was trying to figure out what baked good to put them into.
When it hit me that these should be used in cocoa.
Then I figured why not use Strawberry Nesquik instead, it's my husband's favorite, heck his birthday cake one year was even that flavor!
I thought about doing a mix of the strawberry and just regular chocolate cocoa but with Valentine's Day being just around the corner I went all pink because, well, pink is happy.
If you are a strawberry milk fan at all you will enjoy this week's contribution to Tipsy Tuesday, Spiked Chocolate Strawberry Nesquik Cocoa.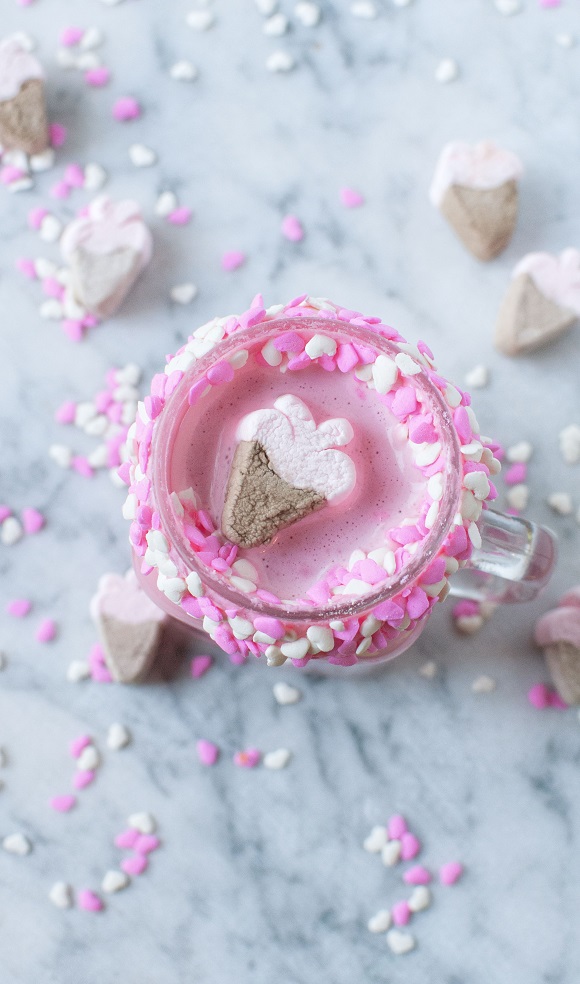 Now if you are rolling your eyes and saying boo to Valentine's Day I give you an alternative!
For years when I was single I was not in favor of celebrating Valentine's Day for obvious reasons.
I lived in Arizona at the time and it just happens that Arizona became a state on February 14th (turns out Oregon too but let's focus on AZ for this post)!
So anytime I was not dating someone (or married like now) I celebrated Arizona Statehood Day and I think you should too!
How do you celebrate Arizona Statehood Day if not living in AZ?
Well you could start off in a dry heat sauna to get the full effect of what it's like to sweat there in the summer.
Chase down the ice cream man but before you eat the ice cream get your blow dryer and turn it on the ice cream while you try and eat it.
Lay your electric blanket on the floor, let it heat up on high for a while…then walk across it barefoot.
It won't be nearly as hot as walking barefoot to the mailbox but it will give you an idea.
And of course you can make cookies!
I used to make the kids in my class Arizona shaped cookies every year…State of Arizona Tin Cookie Cutter 2.5″ if you want your own!
Whatever you choose to do just don't mope about not having someone.
If you don't have a Valentine this year, you will…just give it time.
Go out and celebrate the fact that you don't have to go to the cookie jar to realize someone ate the last of the cookies you had been looking forward to eating all day.
You can watch whatever you want on TV and not get stuck watching the History Channel.
You don't have to shave.
And you don't have to say "these old shoes? I've had them forever".
The list goes on. 🙂
Single or not…make this…just don't accidently put it in your kids sippy cup.
Last but not least…it's a great time to order my cookbook. 😀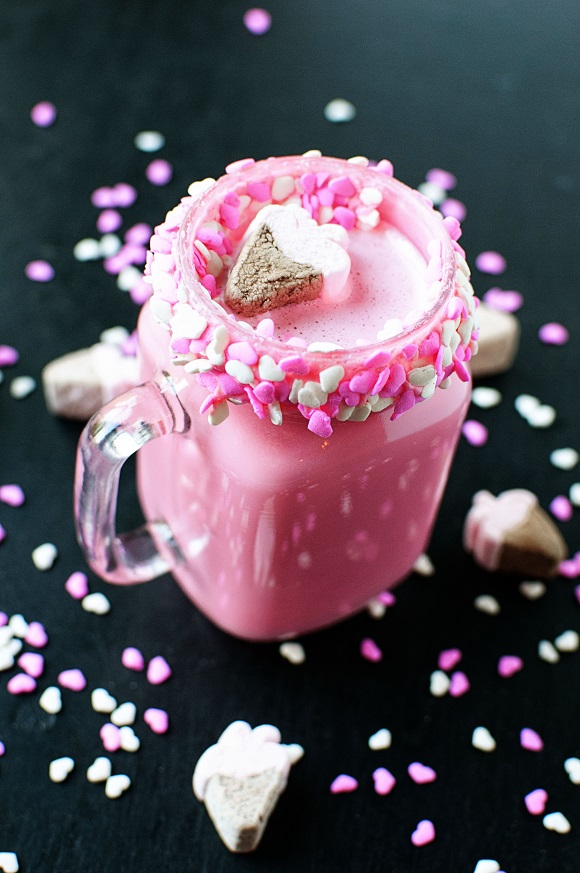 Want More Recipes Using Strawberry Nesquik?
Strawberry Milk Malted No Bake Cheesecake
Yummy Strawberry Malted Milk Cupcakes
Strawberry Oreo Cookie Valentine Bark
Valentine Vanilla Heart Pound Cake with Strawberry Milk Glaze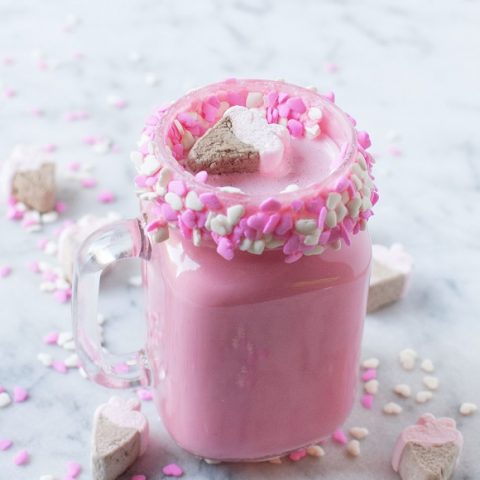 Spiked Chocolate Strawberry Nesquik Cocoa
Ingredients
5 heaping TBSP Nestle Strawberry Nesquik (powdered)
2 cups whole milk
1/4   cup white chocolate liqueur
1/4 cup Adult Strawberry Milk liqueur
3 TBSP crème de cocoa liqueur
Instructions
Heat milk in a medium saucepan and whisk in the Strawberry Quik.
Heat until you reach desired temperature.
Remove from heat and add the liqueurs.
To be festive like I did you can melt some white chocolate and add a touch of pink food coloring.
Dip a glass into the chocolate so that it gets around the rim of the glass or cup you are using.
Dip into sprinkles or heart shaped candies.
Serve drink in the festive cup.
Makes two drinks.