These Thin Mint Blondies have Thin Mint cookies both in the blondie batter and on top of the blondies as well.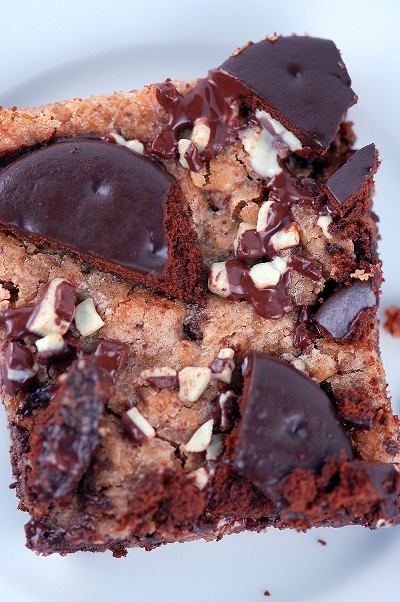 I've decided that my ex-husband and I are going to end up like Rita Wilson and Richard Gere in the movie Runaway Bride.
I have that pictured in my head as the type of friendship after marriage we will be having.
Speaking of the picky eater he did something so incredibly selfless and amazing there are not words.
Can't tell you what that is, yes, you can hate me, but I can tell you it speaks volumes about his character.
I did a rough estimate of my taxes (since I am STILL waiting on one of my W2's) and cried a little (well maybe a lot).
Grrrr… IRS and taxes.
But then I passed a fire station and a police station on the way to a public park on a paved road on Saturday morning and was like oh yeah, taxes.
Crazy Cocker Spaniel turns 12 next week, I am gearing up for it.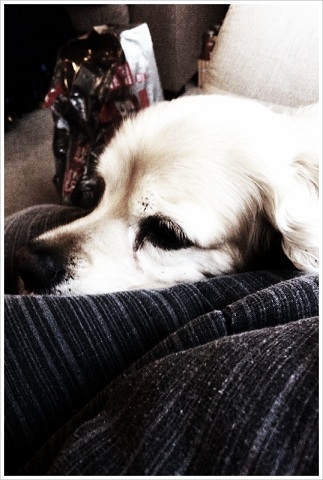 Which means absolutely nothing as I don't actually know how to celebrate that.
I guess just make a lot of bacon.
So thankful that she is not a kid where I am expected to throw these ridiculous birthday parties.
Girl Scouts are out in full force in my area.
I had a plan.
It was a good plan to only buy a few boxes.
But everywhere I went this weekend there they were staring up at me with their little eyes (the Brownies are the worst with the sad eyes).
So I have a few more boxes than planned on and so do the troops.
I mostly bought Thin Mints because well I love them.
Though I miss the old Thin Mints from my day as a Girl Scout when they were not a chocolate, but just white mint cookie inside.
Anyone old like me remember that?
Some people are purist and don't want you to mess with the cookies, just eat them.
But I usually like to dedicate one box each year to baking something with.
I decided to make Thin Mint Blondies instead of brownies because you could see the cookies better.
Plus there are already a lot of Thin Mint Brownie recipes already out there in the blog world. 🙂
Enjoy your week!
It's a great day to buy my cookbook Holy Sweet!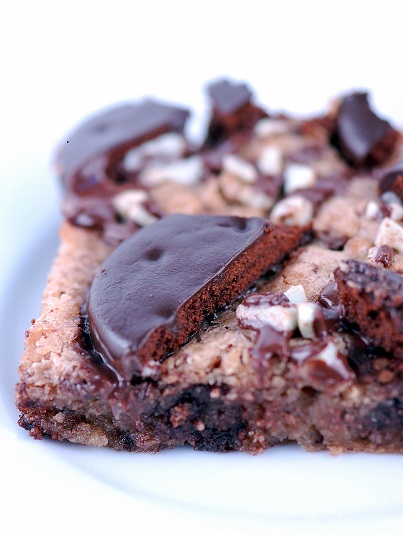 Want More Girl Scout Inspired Recipes?
Thin Mint Oreo Bailey's Irish Cream Milkshake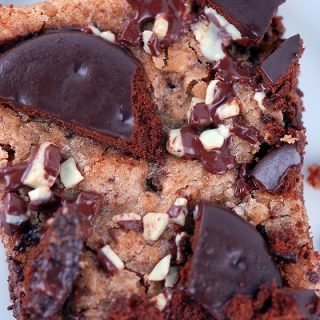 Thin Mint Blondies
Ingredients
8 ounce unsalted butter (2 sticks), at room temperature
1 cup 1/3 brown sugar, loosely packed
2/3 cup granulated sugar
2 large eggs
1 teaspoon vanilla
Pinch salt
2 cups all-purpose flour
1 sleeve Thin Mint Cookies, cut in half
½ cup Andes Mint Baking Chips (I find mine at Target)
Topping:
1/3 cup Andes Mint Baking Chips
1 sleeve Thin Mint Cookies (minus a few to the stomach of Peabody), cut in half
Instructions
Spray a 9-x-13-inch pan with baking spray. Set aside.
Using a stand mixer with the paddle attachment, cream together butter and sugars on medium-high speed for three minutes.
Add in vanilla and eggs (one at a time) and beat for 30 seconds, scraping down the bowl after each addition.
Add salt and flour and mix on low until fully incorporated.
Fold in ½ mint chips and one sleeve of cookies.
Spread into prepared pan. It's going to be thick and you may have to press down on it with wet hands.
Bake at 350°F 20-25 minutes, or until set in the middle.
The minute the come out of oven, sprinkle the chips evenly across the blondies and let stand for one minute to melt a little.
Then add cookie pieces, pressing down slightly into the blondies to stay more put. Let cool on a rack.
Serving size depends on how big you cut them. When I cut them I got two…I kid. Kind of.