"Then the Grinch thought of something he hadn't before! What if Christmas, he thought, doesn't come from a store. What if Christmas…perhaps…means a little bit more!"
Christmas is hard when you are low on funds (we are big time this year), which is why I am such a proponent of having Christmas traditions that don't cost a ton. I grew up in a family with a lot of little traditions that for the most part I do every year. Here are my family's holiday traditions:
Every year my mom makes the same set of holiday cookies: date pinwheel, Russian tea cakes (also known as Mexican wedding cookies), frosted sugar cookies, jam thumbprints, sugar cookies rolled in red and green sprinkles, candy cane cookies (though after we moved out she stopped those), orange cranberry, and each year she tries a new cookie…that's actually how the orange cranberry came into the permanent rotation. We have fudge every year as well. I don't make the same cookies every year since you know the blog…but always frosted sugar cookies and Russian tea cakes.
Christmas Eve we eat pizza (since so much cooking the next day). We have had to be creative over the years when we were at places that didn't have pizza, one year having English Muffin pizza that had Ragu, American cheese slices and black olives…but hey, it's tradition. Nowadays we usually make our own though I am obsessed with Pizza Huts Hawaiian Luau pizza with cheddar crust and BBQ sauce instead of pizza sauce. We get to open one gift which is always pj's to wear to bed that night. And every year we play the card game King's Corners. We always forget how to play because we only play it Christmas Eve. This year I made sure to look on line and print off directions so that we can play it without figuring it out as we go along.
Christmas morning when we were younger and were more enthusiastic than my parents to get out of bed and see what Santa brought, the tradition started that you were not allowed to wake up mom and dad until 7 am but you could open in and all things in the stockings. And my family does stockings well. I have become a lot like my mom where the teens stockings are so stuffed that I have to put stuff near the stocking because I can't get it all to fit. 🙂 Once my parents got up my mom would make cocoa and I would get a mini candy cane in mine with 300 marshmallows (give or take) and two frosted sugar cookies. And we would sit and open gifts, one person at a time. Then my mom would make breakfast as we played with the gifts we got. Then clean up would start and my mom would cook a full Christmas dinner. The woman is truly amazing.
When you establish traditions the years where money is super tight it can still feel like Christmas because you are doing all the things that make it feel like Christmas.
Cookie exchanges will be starting up soon now that Thanksgiving is just a few days away! Here's an idea that is easy and very festive…Chocolate Peppermint Shortbread. So far believe it or not I'm going to none. Not because I wasn't invited just because the ones I was invited to I already have something going on that day. 🙁 What about you? What are some of your holiday traditions?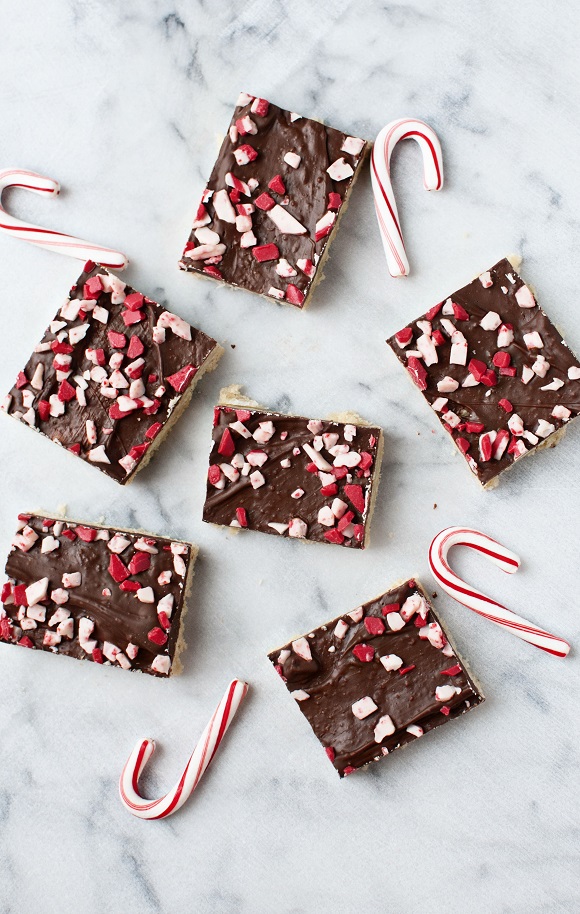 Chocolate Peppermint Shortbread 
2 cups all-purpose flour
1/4 tsp. salt
1 cup unsalted butter, at room temperature (I used Plugra)
1 cup granulated sugar (I used Imperial)
1 tsp. vanilla extract (I used Rodelle)
1 large egg yolk
1 ½ cups milk chocolate chips
½ cup Andes Peppermint Crunch Baking Chips or crushed candy cane pieces
Preheat oven to 350°F.
Spray 13 x 9 x 2-inch baking pan with nonstick cooking spray.
Put a long piece of parchment paper in the bottom of the pan pushing it into corners and letting the parchment extend up the two short sides of the pan and overhang slightly on both ends. Spray sheet with nonstick cooking spray.
In a medium bowl, whisk together flour and salt; set aside.
In the bowl of a stand mixer fitter with the paddle attachment, cream together butter and sugar until light and fluffy, about 3 minutes.
Scrape down the sides of the bowl and bottom with a rubber spatula as needed.
Beat in vanilla, then egg yolk.
Gradually add flour mixture, beating on low speed until just moistened yet still crumbly…don't worry it comes together as it bakes just fine.
Using moistened fingers, pat mixture evenly into prepared pan and pierce all over with a fork.
Bake until crust is light brown and slightly puffed and edges begin to come away from sides of pan, about 25 to 30 minutes.
Remove the pan from the oven and scatter the milk chocolate chips over the crust.
Return the pan to the oven for 1 minute. Remove the pan again and, using a knife, spread the chocolate evenly over the crust.
Sprinkle evenly with chopped peppermint candies.
Cool on wire rack for 1 hour or until white chocolate is set.
Remove bars from pan using parchment handles and transfer to cutting board.
Cut into rectangles or squares.
Adapted from Bon Appetit  Magazine December 2009