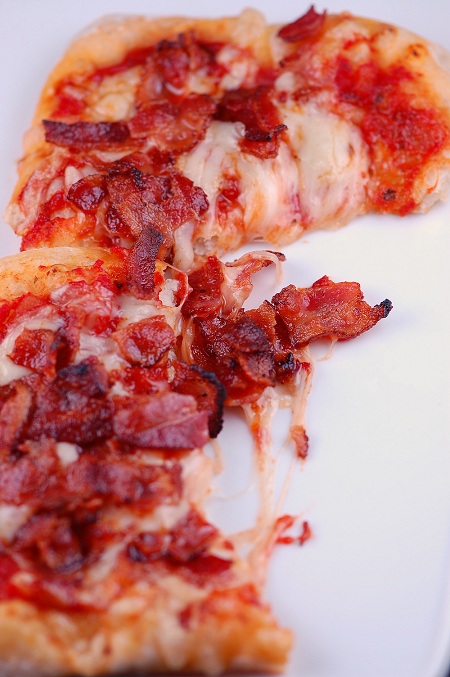 Did you know that Za is a real word. It's slang for pizza. I have learned this thanks to playing Words with Friends. I have learned a lot of words that I didn't know exists. When I was super sick and on bed rest this last month I was kind of bored out of my mind so my friends suggested the time suck that is Words with Friends. Lucky for me I am fresh off of studying pages of vocabulary words for all of my teacher certification tests (which I passed all of those by the way…even the grammar section) has helped. As has playing a few of my friends who have highly impressive vocabulary skills. I steal their words a lot and use it against other people. I am evil like that. 😛
I am not a huge pizza girl. I don't crave it like some people do but I don't usually turn it down. But since I am supposed to stay away from dairy and tomatoes, it's not the best food for me. But when I was asked to take a look at a cookbook all about pizza I thought, well pizza technically is baking (at least the dough part). But what really sealed the deal for me is that it's written by a monk. I love me some monks. They make some killer beer, and my guess is this guy was probably pretty darn good with pizza. He is. Or at least his crust and sauce is. Fr. Dominic Garramone is a Benedictine priest of Saint Bede Abbey in Peru, IL. He holds a B.A. in Communications Arts from Saint Mary's University in Minnesota, and an M.A. and an M.T.S. from Saint Meinrad School of Theology in Indiana. Known as "Papa Dom" to his students, he is chaplain and drama director for Saint Bede Academy, a co-ed college prep high school. Each summer he directs a theatre program for grade school students. Fr. Dominic is an avid rubberstamp artist and herb gardener, and writes regularly for National Stampagraphic and Potpourri From Herbal Acres. Got to love that he is a teacher as well.
This was my second go of doing pizza in the apartment oven. I have had a take and bake that I didn't have the great of success with so to be honest I wasn't expecting much. But I must say that this crust turned out really nice. It was crispy and chewy and really good. Good job Papa Dom. I went with a little bit of sauce and some gruyere cheese and a whole mess of bacon. But you can top with whatever you like.
Papa Dom has other bread books that after having this I think I will be picking up. And of course I must mention that I got this book for free but no other compensation. It was my choice to highlight it. I just can't pass up a book by a happy, well fed looking, bread baking monk. 😀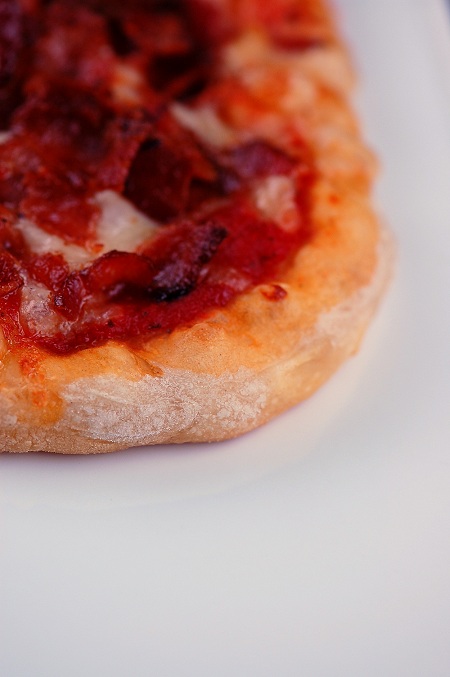 Italian Style Pizza Crust
1 package active dry yeast (2 ¼ tsp.)
1 ¾ cups room temperature water
1 ½ tsp. salt
3 ¾ to 4 ¼ cups all-purpose flour
Olive oil
Place warm water in a medium sized bowl and sprinkle yeast over. Whisk and let stand for about 5 minutes.
Stir in salt until dissolved. About 1 cup at a time, add 3 ½ cups of flour, mixing thoroughly each time until flour is completely incorporated.
Turn dough out onto a lightly floured board and knead for 3 minutes. Dust your palms with lightly with the remaining flour as needed to keep the dough manageable.
Let the dough rest on the countertop, covered with a clean, dry towel, for 5 minutes, then knead for a another 3 minutes.
Using a bench knife or scraper, scoop the dough and place in to a clean bowl that has been oiled. Lightly oil the dough as well. Place in bowl and cover with plastic wrap.
Let rise in a cool place for 2 hours before use, or in the refrigerator for several hours.
Recipe from Thursday Night Pizza by Father Dominic Garramone, O.S.B.
As for the rest of the pizza I used his 8 minute Pizza Sauce, but since this is a baking blog you will just have to get the book. I gave you the baking portion recipe. 🙂
I topped mine with gruyere cheese and lots of crispy bacon.
Roll dough out to 12" to 14" inch crust with a thick outer edge. Spread the sauce. Then add cheese. Then add toppings.  If you have a pizza peel use it. I don't so I used a lightly oiled baking sheet. Bake at 500F (though I did 475) for 10-12 minutes.