These Shortbread Roll Out Sugar Cookies are the perfect roll out cookie. Buttery shortbread that you don't have to chill before rolling out.
I originally wasn't going to post today.
There was a large group of bloggers who were going to show support to Sandy Hook Elementary and the town of Newtown Connecticut and not post today.
Well they were going to post that they weren't going to post…which is a post in itself if you think about it.
I thought long and hard about whether to post or not.
I'm quite sure you all could have gone a day without this Shortbread Roll-Out Sugar Cookie recipe but that isn't the point.
While there are simply no words to express about the tragedy that occurred on 12/14 (perhaps that's why it's best to just not blog) I feel for me personally that I must appreciate that fact that I am still here.
My family is still here.
And it thankfully did not happen in my community.
Therefore to go on with my daily life including running a blog.
That doesn't mean I don't think about it.
As a former elementary school teacher I could not help but think of the faces of my students all this weekend and I could not even fathom how those teachers handled all of that.
Or even the first responders who had to go in and see all of that.
I can only hope for peace and serenity to come to them and their families.
There was a lot of family activity this weekend.
Lots of piling on the couch and watching movies as we covered ourselves in a river of blankets.
Big family meals this weekend.
Lots of giggling.
And of course with Christmas being next week and me having certain traditions we frosted sugar cookies.
Not just any sugar cookies though…shortbread style sugar cookies.
These babies just melt in your mouth.
The good news is they taste amazing.
The bad news is given all that butter they sometimes meet an early demise as my soon to be step kiddos learned as she chopped her gingerbread man in half. Oops.
Or my husbands stepson having a shattered cookie (which the dog appreciated).
So you need to make large size cookies with these that don't have a lot of limbs.
The mittens were a good choice as were the trees…the gingerbread men had far too many accidents (there were several arms and legs gone before I even got to the frosting portion of cookie making).
I should have just done round ones for ornaments as well.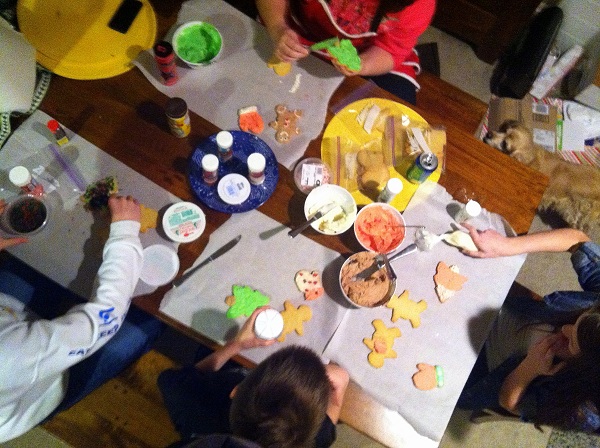 We had a lot of fun and spent hours frosting which we couldn't believe the time when we looked up and were done.
As expected I have a few cookies thanks to my hubby's stepson that have more sprinkles than cookie 😀
But I remember those days all too well (as does my mom) and I just don't think it's Christmas without a cookie with every sprinkle put out on top of it.
I have meticulous ones that my stepdaughter worked hard on.
Her pink mitten (down at the bottom of the first photo) is my favorite of the cookies.
And her twin brother spent almost 2 hours working on three cookies.
They all really worked hard on them.
Which I love but now I don't want to eat any of them (which I guess my jeans appreciate).
I on the other hand got a ton of cookies done and didn't spend nearly as much time so I don't care if I eat mine. 😛
So be sure today to send loving and peaceful thoughts to Newtown.
Send those same thoughts to your loved ones as well.
Spend time with the people you love.
Appreciate your life…and go live it.
P.S. It's a great day to buy my cookbook Holy Sweet!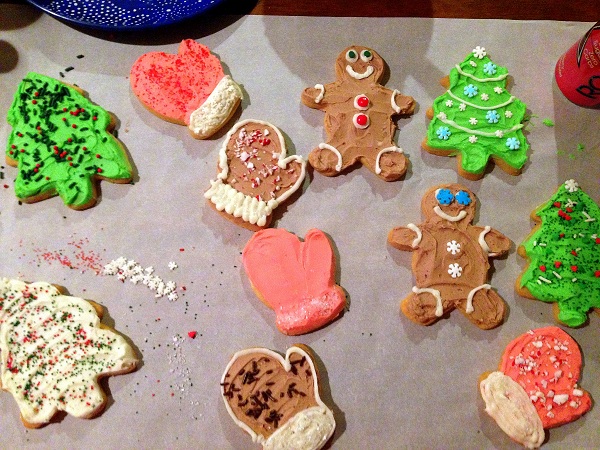 Want More Holiday Cookie Ideas?
Mini Chocolate Gingerbread Men Sandwich Cookies
Shortbread Roll Out Sugar Cookies
White Chocolate Topped Gingerbread Cookies
Vanilla Bean Caramel Thumbprint Cookies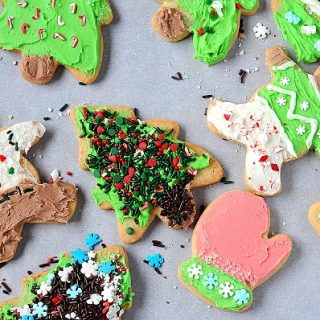 Shortbread Roll Out Sugar Cookies
Ingredients
For the Cookies:
2 cups unsalted butter (Plugra!), at room temperature
1 1/2 cups powdered sugar
2 tsp. vanilla extract
4 cups all-purpose flour
2 tsp. baking powder
Pinch of salt
For the Frosting:
1 cup unsalted butter
1 tsp. vanilla extract (if you can find the clear kind that would be best to keep the white frosting white)
7-8 cups powdered sugar
About ½ cup of milk (will depend on the consistency you want)
Instructions
For the Cookies:
Using a stand mixer fitted with a paddle attachment, beat the butter and sugar on medium-high speed until fluffy, about 3 minutes.
Add the vanilla and salt and beat for another 30 seconds.
In a separate bowl, sift together the flour and baking powder. Add the flour mixture slowly to the butter mixture, stirring on low speed.
Stop beating as soon as the flour mixture is completely incorporated (overbeating will produce a tough cookie).
Form the dough into a ball, cover in plastic wrap and refrigerate for 30 minutes before rolling it out.
When ready, preheat oven to 350 degrees F. On a flat, smooth surface, roll the chilled dough out to 1/4 inch thickness (don't add extra flour learn how to do that here) . Cut out the cookies with chosen cookie cutter(s).
Use a spatula to transfer the cookies to a greased baking sheet.
Bake the cookies for 10 to 12 minutes, until light brown around the edges.
Cool the cookies for 10 minutes on the baking sheet, then remove with a spatula and cool completely on racks before icing.
For the Frosting:
Cream together the butter and two cups of powdered sugar.
Add vanilla.
Continue to add powdered sugar 1 cup at a time.
When it starts to get to thick begin to add the milk.
Keep adding powdered sugar until you reach desired consistency.
Add food coloring to get festive.
To make a chocolate version simply add ½ cup melted good quality milk chocolate (I used Lindt) and ¼ cup unsweetened cocoa powder. We used that on the "gingerbread" men and we literally fought over them. You may hurt someone over these…the jail time will be worth it. 😛