These Refrigerator Date Pinwheel Cookies have a brown sugar cookie base filled with date walnut filling and are perfect for your cookie tray.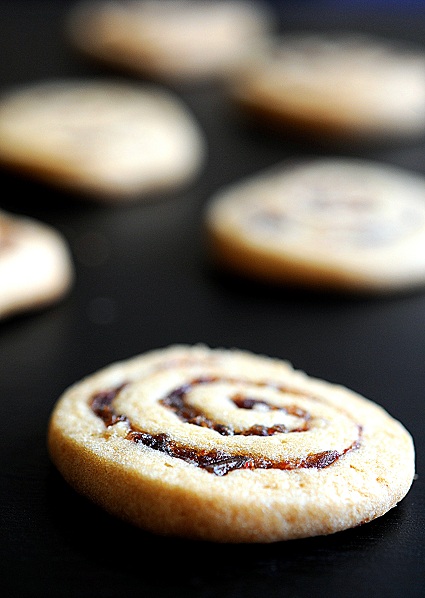 I'm not sure as you get older if you become wiser, I like to think of it as you get more moments of clarity if you will.
Back in my 20's when my aunt asked me if I would like my grandmother's china I was like um no, I have nowhere to put it.
And now of course I find myself sad that I said that.
The same goes for recipes.
My mother would always ask me if I wanted the recipe to anything or to learn how to do make something and I would always say no.
Because either I didn't really like the food item or I just figured we would do it at another date and time.
Now that I am 40 I am realizing that another date and time isn't really a good strategy anymore (not that it was really ever).
I realized I should sink in all that my mom has to offer in the recipe department.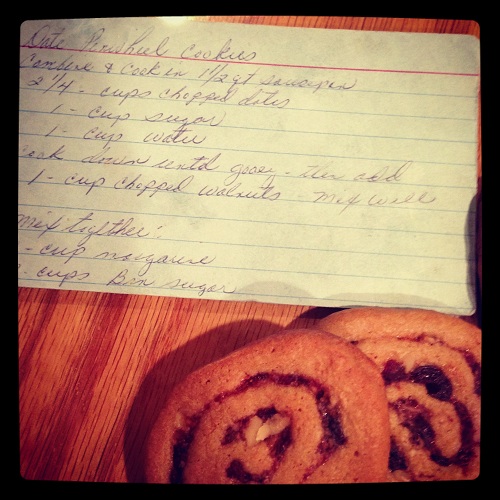 One of those things I didn't really like when I was younger but love now are Refrigerator Date Pinwheel Cookies.
We had them every year at Christmas (and Christmas only) that I could ever remember.
I always turned my nose up at them.
They were just this brown cookie with fruit in them…ewww (says 10 year old me).
Now it's a different story.
Funny thing is I equate the holidays with seeing them.
These cookies and Russian Tea Cookies are the holidays to me.
I refuse to make Russian Tea Cakes as I will sit and eat the ENTIRE batch of those…hiding them from any one and lashing out at anyone that comes near them.
So this year I decided I best learn the recipe of the cookie that is on every Christmas cookie tray cookie at my mom's.
So I did.
They aren't much to look at brown on brown and as my mother puts it they have a mind of their own when it comes to what shape they want to make.
But like I said before it's not the Holidays without them.
Start gathering this info now.
Get treasured recipes from your family members even if you don't like that recipe…because as they pass you are the keepers of the lifeline to those family treasures.
Plus you get to spend time with the family member who will teach you that recipe…and time is the greatest gift of all.
P.S. It's National Cookie Day…so get baking!
And as always it's a great day to order my cookbook.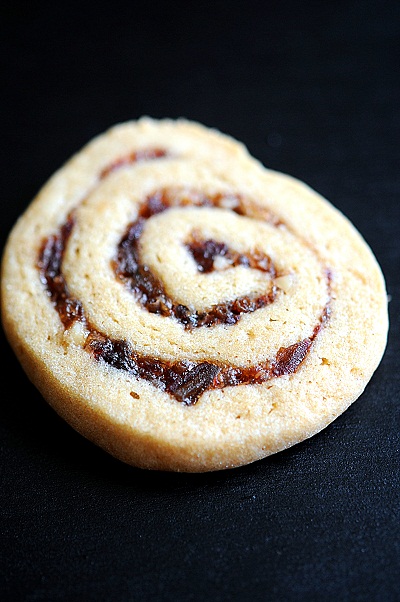 Want More Holiday Cookies?
Mini Chocolate Gingerbread Men Sandwich Cookies
Shortbread Roll Out Sugar Cookies
Cranberry Orange Pistachio Cookies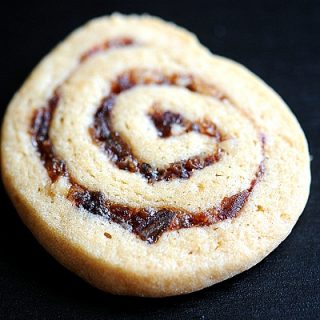 Refrigerator Date Pinwheel Cookies
Ingredients
For the Date Filling:
2 1/4 cups chopped pitted dates
1 cup white sugar
1 cup water
1 cup chopped walnuts
For the Cookie Dough:
1 cup shortening
2 cups brown sugar
3 eggs, well beaten
4 cups all-purpose white flour
1/2 tsp. salt
1/2 tsp. baking soda
Instructions
For the Filling:
Place dates, water and sugar in a large saucepan.
Bring to a boil.
Reduce heat; simmer, uncovered, until dates are tender and liquid is almost evaporated.
Stir in walnuts; cool completely.
For the Cookie Dough:
In a large bowl (I used my stand mixer(, cream together the butter and the sugars until light and fluffy, 5-7 minutes.
Beat in eggs, one at a time.
In mixing bowl, whisk together the flour and baking soda; gradually beat into creamed mixture.
Divide dough into 3 portions; shape each into a disk.
Cover and refrigerate 1 hour or until firm enough to roll.
Roll each dough portion between 2 sheets of waxed paper into a 12x10-in. rectangle. If you don't use the waxed paper it gets super sticky. You don't want to add extra flour to these so you use waxed paper.
Refrigerate 30 minutes.
Remove waxed paper from the dough.
Spread 1/3 of the filling over each rectangle to within 1/2 in. of edges.
Roll up tightly jelly-roll style log, starting with a long side. Wrap securely. Refrigerate until firm.
Preheat oven to 350F.
Unwrap and cut dough crosswise into 1/3-in. slices.
Place 2 in. apart on greased baking sheets.
Bake 10-12 minutes or until set. Remove from pans to wire racks to cool.