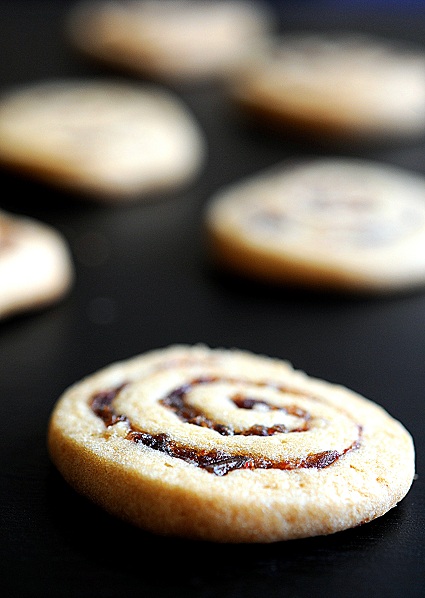 I'm not sure as you get older if you become wiser…I like to think of it as you get more moments of clarity if you will. Back in my 20's when my aunt asked me if I would like my grandmother's china I was like um no, I have nowhere to put it. And now of course I find myself sad that I said that.
The same goes for recipes. My mother would always ask me if I wanted the recipe to anything or to learn how to do make something and I would always say no because either I didn't really like the food item or I just figured we would do it at another date and time. Now that I am 40 I am realizing that another date and time isn't really a good strategy anymore (not that it was really ever) and that I should sink in all that my mom has to offer in the recipe department.
One of those things I didn't really like when I was younger but love now are Date Pinwheel Cookies. We had them every year at Christmas (and Christmas only) that I could ever remember. I always turned my nose up at them. They were just this brown cookie with fruit in them…ewww (says the 10 year old). Now it's a different story. Funny thing is I equate the holidays with seeing them. Those and Russian Tea Cookies (which I know how to make but refuse as I do sit and eat the ENTIRE batch of those…hiding them from any one and lashing out at anyone that comes near them). So this year I decided I best learn the recipe of the on every Christmas cookie tray cookie. So I did. They aren't much to look at brown on brown and as my mother puts it they have a mind of their own when it comes to what shape they want to make. But like I said before it's not the Holidays without them.
Start gathering this info now. Get treasured recipes from your family members even if you don't like that recipe…because as they pass you are the keepers of the lifeline to those family treasures. Plus you get to spend time with the family member who will teach you that recipe…and time is the greatest gift of all.
P.S. It's National Cookie Day…so get baking!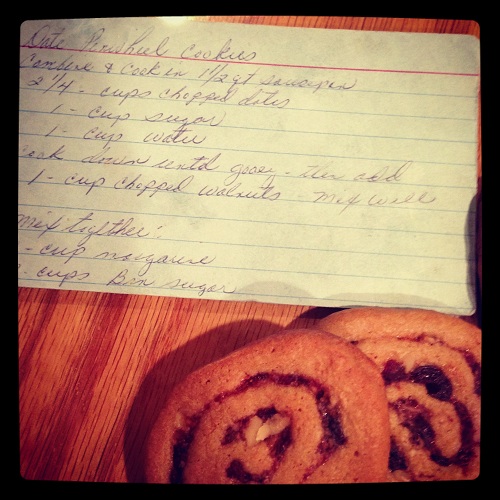 REFRIGERATOR DATE PINWHEELS
2 1/4 cups chopped pitted dates
1 cup white sugar
1 cup water
1 cup chopped walnuts
1 cup shortening
2 cups brown sugar
3 eggs, well beaten
4 cups all-purpose white flour
1/2 tsp. salt
1/2 tsp. baking soda
Combine dates, sugar, and water. Bring to a boil, reduce heat and cook slowly until thickened, stirring frequently.
Cool mixture and add nuts. Cover and set aside
While date mixture is cooling, cream shortening, add brown sugar, then eggs and beat together.
Combine dry ingredients, add gradually and mix well. Divide dough into 2 parts and roll out separately. Spread with date filling, roll up as jelly roll.
Chill overnight, cut with sharp knife about 1/4-inch thick.
Bake at 400° until lightly browned.
Pretty sure this comes from my mom's 1950's Betty Crocker Cookbook