These Traditional Jam Thumbprint Cookies are the classic cookie rolled in crushed walnuts and filled with raspberry jam.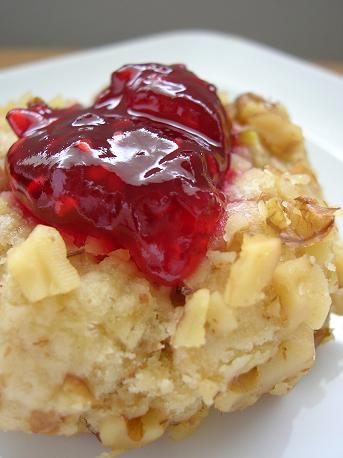 Anyone who knows me would call me non-traditional or unconventional….my high school voted me most likely to be odd (and most humorous senior female).
One exception being Christmas.
If I am visiting my parents or they are visiting us for Christmas, I must have the Christmas of my childhood.
The same exact dinner every time (with no deviation-I get cranky).
Same cookies.
The same way we open gifts…and so on.
Ironically when they aren't here I make very non-traditional filet mignon stuffed with crab and garlic mashed potatoes.
I only make frosted sugar cookies….although we do follow all the other traditions.
If you are sitting there saying, your poor husband doesn't get any of his traditions….yeah…he doesn't have any.
For any holiday (kind of freaked me out to be honest).
So every year my mom makes the same Christmas cookies but adds one that she hasn't made before just for variety.
Every year she has frosted sugar cookies, date-nut pinwheels (which no one eats but her), russian tea cakes, red and green butter cookies with sprinkles, and Traditional Jam Thumbprint Cookies.
Everyone of these coming from the Betty Crocker cookbook….the one printed in 1950.
Come to find out 90% of everything I ate as a kid came from this book.
I of course did not realize this until I bought a reprint of the original a few years back.
It makes sense since my grandmother was not a good cook, I guess she had to learn somewhere.
P.S. It's a great day to buy my cookbook. 
Want more Thumbprint Cookie Ideas?
Dulce de Leche- Cashew Thumbprints
Vanilla Bean Caramel Thumbprint Cookies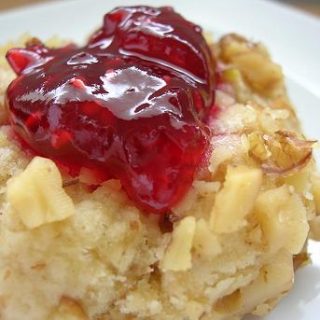 Traditional Jam Thumbprint Cookies
Ingredients
1/2 cup butter
1/4 cup brown sugar
1 egg, seperated
1/2 tsp vanilla
1 cup all-purpose flour
1/4 tsp salt
3/4 cup nuts(I used walnuts), chopped
Instructions
Preheat oven to 375F
Mix together the butter, sugar, vanilla and egg yolk.
Stir in flour and salt.
Roll into 1″ balls.
Dip in slightly beaten egg whites.
Roll in finely chopped nuts.
Place about 1″ apart on ungreased baking sheet.
Bake 5 minutes.
Remove from oven.
Quickly press thumb gently on top of each cookie(if you are wimpey use the back of a melon baller).
Return to oven and bake 8 minutes longer.
Cool.
Place in thumbprints a bit of jelly(I used homemade raspberry).
Feel free to add whatever to your thumbprint.
Ganache, icing, chopped up fruit…etc.