These Vanilla Bean Holiday Sprinkle Twinkies have festive sprinkles and are filled with Vanilla Bean Cake Batter Mascarpone Filling.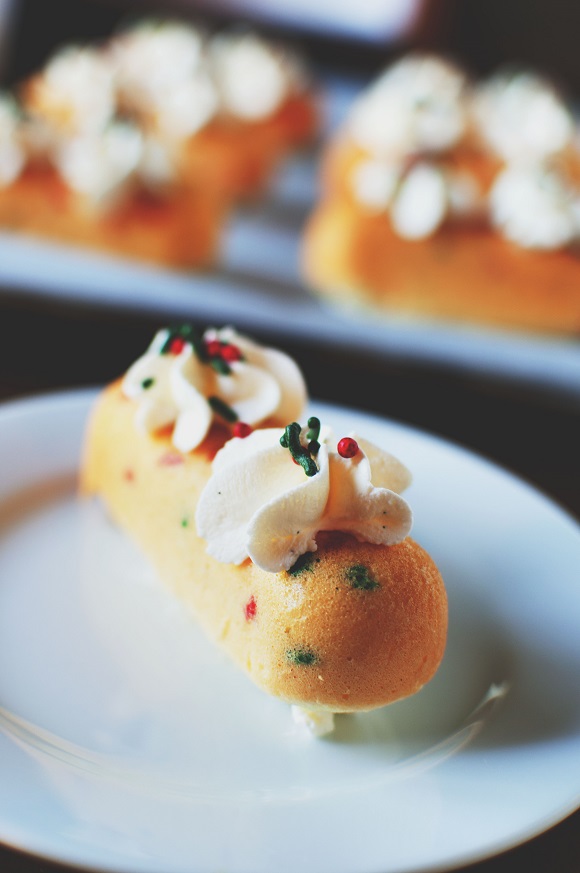 My mother does Christmas well…sometimes a little too well.
Growing up my mom had just a touch of OCD in which we still mock her today for cleaning the blinds weekly with Q-Tips.
Each one of my toys had its place…literally there was a tape outline (not unlike a dead person's chalk outline) of where the toy was to go back to.
I also still mock her about that.
So it's no wonder that my mom likes things to look a certain way at Christmas.
When we were little kids we were not allowed to open gifts until my mom brushed our hair and what not so that we would look good.
Later on as a teen and an adult I rebelled against her making sure to look as un-photogenic as possible. 😀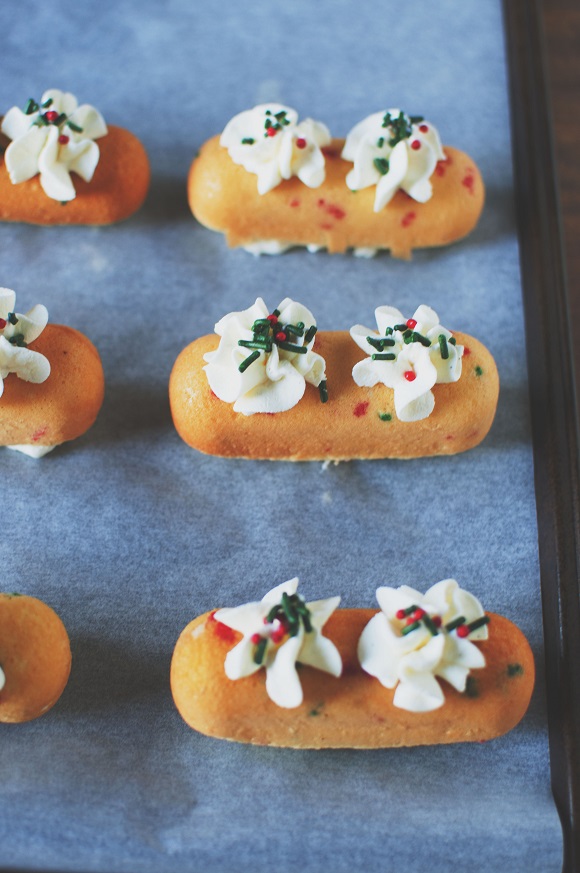 Growing up our tree was covered with ornaments that we made as kids and nothing matched (this is the kind of tree I have with a miss-mash of ornaments).
But as we grew up and moved out my mother finally got to have the tree of her dreams.
Now she still has some sentimental ornaments but overall the tree had a very finished look.
For several years my mom would have this cascading ribbon down the tree….with wrapping paper to match.
So of course me being the weird one in the family and never missing an opportunity to mess with my mother when she handed me wrapping paper to wrap my gifts in (to match the tree), I went in a different direction.
I would flip the paper over and draw things like snowmen killing elves with rivers of blood flowing down.
And my poor mother would like them way in the back and cover them up with the pretty packages.
Yes, amazingly she loves me. 😛
We switch gears now that Thanksgiving has ended and the mad rush to Christmas begins.
Remember to not take things so serious and that if it isn't perfect it will still be alright.
To start the festive baking off I made these Vanilla Bean Holiday Sprinkle Twinkies.
My husband saw the pan on TV one day and was like how fun would it be to make our own Twinkies.
So I bought the pan.
They are fun but if you don't want to buy one you can use a muffin pan.
And will need to adjust the time and amount you get.
But if you want the pan you can get the Twinkie pan here.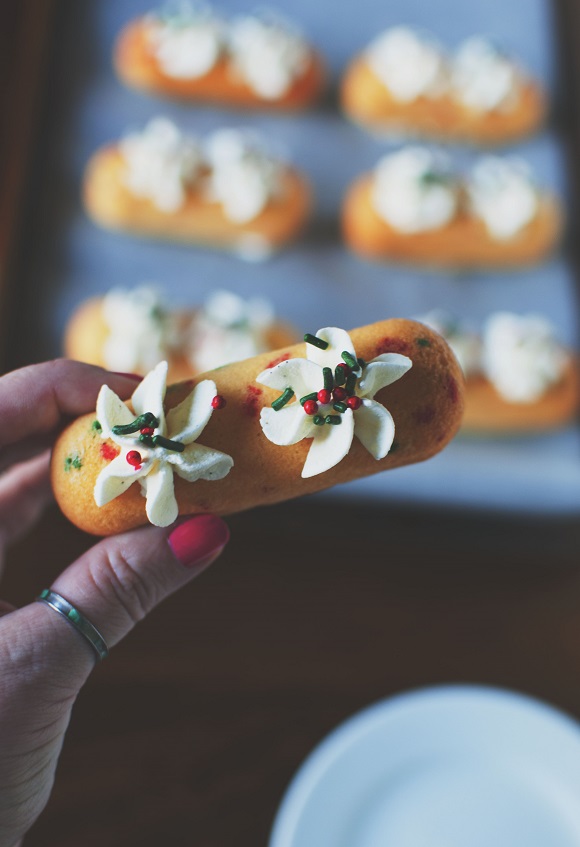 Want More Recipes with Sprinkles?
Sugar Cookie Cheesecake Cheeseball
Eggnog Shortbread Sprinkle Cookies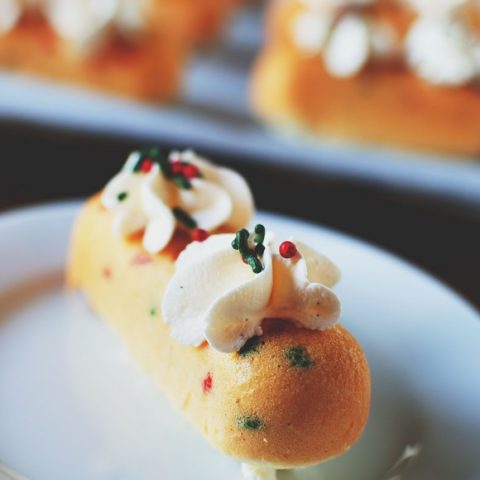 Vanilla Bean Holiday Sprinkle Twinkies
Ingredients
For the Cakes:
½ cup sifted cake flour
½ tsp. baking powder
1/8 tsp. salt
3 eggs, separated
¼ tsp. cream of tartar
1/2 tsp. vanilla bean paste (I used Rodelle)
¼ cup granulated sugar
1/3 cup holiday colored sprinkles
For the Vanilla Bean Cake Batter Mascarpone Filling:
4 TBSP unsalted butter, at room temperature
4 TBSP Mascarpone cheese
2 cups powdered sugar
½ tsp. vanilla bean paste
6 TBSP heavy cream
3 TBSP white cake mix (dry)
Instructions
For the Cakes:
Preheat oven to 375F.
Spray pan with baking spray. If you don't have a Twinkie pan you can use a muffin pan.
In small bowl whisk together the flour, baking powder and salt.
Using a stand mixer with the whisk attachment whip egg whites until foamy. Add cream of tarter and whip until stiff peaks form but not dry. Move whipped egg whites to a different bowl.
Clean and dry the bowl and put the paddle attachment on this time.
Beat the egg yolks and sugar together until they become pale in color and double in volume, about 3 minutes.
Add the vanilla bean paste and beat another 30 seconds.
Add 1/3 of the egg whites into the egg yolk mixture to "lighten" the batter.
Add the flour mixture and fold until no flour is visible.
Fold in the remaining egg whites and sprinkles.
Fill the prepared pan ¾ of the way up with batter (I used a piping bag to make it easier). Smooth the tops with a spoon.
Bake 6-8 minutes or until the top is lightly browned and the center springs back when touched.
Cool in pan for 5 minutes. Run a small spatula around the edges to loosen.
Remove from pan and let cool completely before filling.
In a stand mixer with the paddle attachment beat the butter, Mascarpone cheese, vanilla bean paste, and cake batter until smooth.
Add sugar ½ cup at a time until fully incorporated, thinning with heavy cream as you need it.
Using a # 230 Bismarck Metal Tippipe filling into the bottom of the twinkie in three spots.
You can pipe more filling on top with a star tip and add more sprinkles if you like.
Makes 10-12 depending on how much you put in the tins.