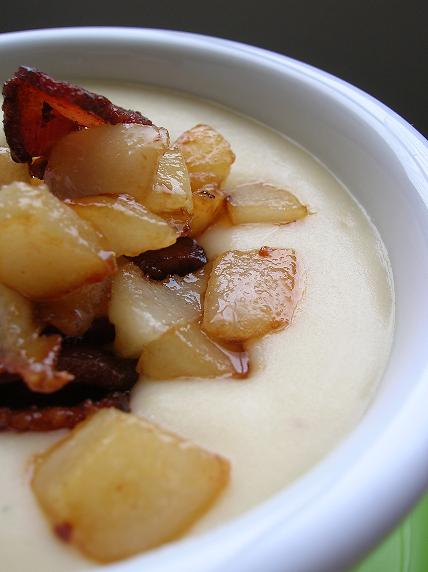 If you read my blog on a semi-regular basis you know that it is mostly baking with a sprinkle of soup and few things here and there. So when Tami over at Running with Tweezers decided to have a soup challenge I was super excited and I knew exactly what soup to make. It is my favorite of favorites. One I created for my friend L who loves all things blue cheese. This soup is thick and velvety with a nice touch of blue cheese and a hint of garlic….and even better it is topped with bacon. It's best not to figure out how many calories is in this baby…I'm not sure there are enough hours in the day to work it off.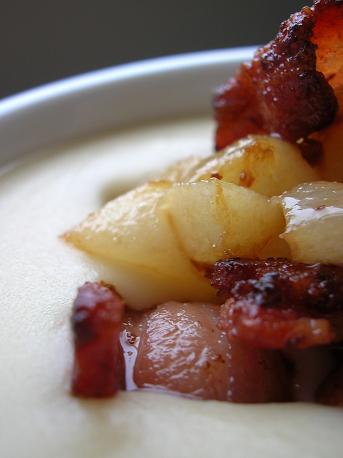 This is my go to soup for just about every occasion. If you have eaten dinner at my house, chances are you have had this soup at least once. I say at least because pretty much anyone who has had it, asks for me to make it again. The soup itself is wonderful but the garnish is what puts it over the top. The sauted pears play nicely with the blue cheese and the bacon, well…is bacon.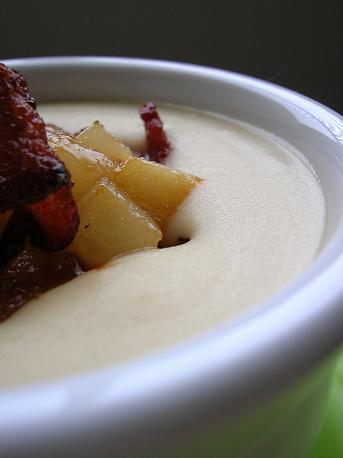 Roasted Onion and Goronzola Soup
3 TBSP butter
2 large onions, large diced
2 small baking potatoes, peeled and diced
1 tsp garlic, minced
3 cups chicken stock
1 cup heavy cream
4 1/2 oz Gorgonozla, crumbled
salt and pepper to taste
1 TBSP butter
1 TBSP sugar
2 medium pears, peeled, sliced into 1/2 inch wedges
4 oz bacon, fried and crumbled
Melt 3 TBSP of butter over medium heat.
Add onions and garlic, cook until onions are slightly wilted.
Add potatoes, stir to coat with butter. Cook 5 minutes.
Add stock and bring to a boil. Reduce heat and simmer until potatoes are soft(about 30 minutes). Allow to cool slightly.
Puree soup in food processor.
Add cream and gently reheat soup.
Stir in cheese and adjust seasoning. If too thick, thin with stock.
Heat 1 TBSP butter over medium high heat.
Add pears and sprinkle with sugar. Saute until slightly caramelized.
Garnish soup with pears and bacon.