These Coconut Mocha Tiramisu Cupcakes have layers of coconut and espresso cake batter and are topped with a mascarpone frosting.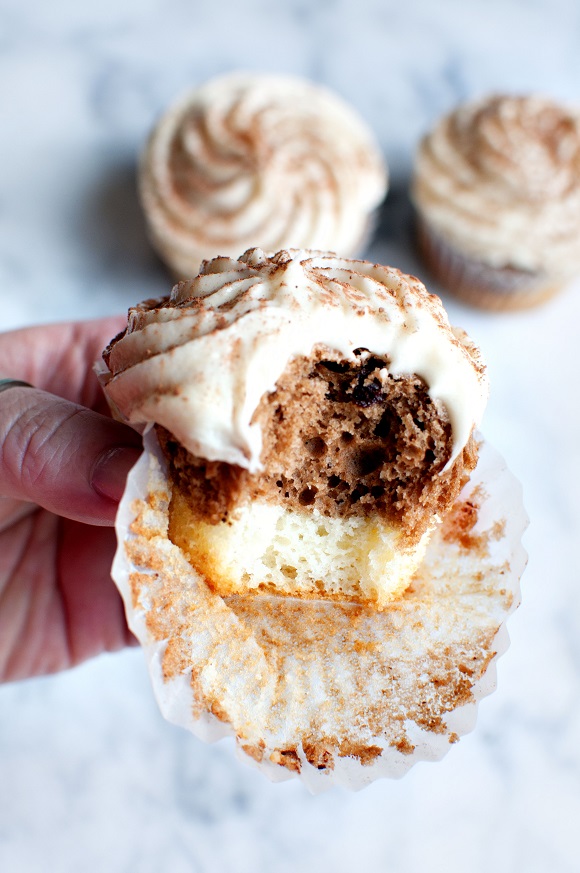 I have a few food blogger crushes I will fully admit; one of those is Jessica of How Sweet It Is.
Sometimes I wonder if we were separated at birth (and my mom didn't bother to tell me).
But then realize she is WAY younger than me and I would have noticed my mom being pregnant for like and extra 15-17 years or so (I don't actually know how old she is but I'm thinking mid-ish 20's).
Though my mom did wear a lot of baggy clothing…hmmmm. 😀
We share a love of bacon, sprinkles, Funfetti (that's how I found her blog), and bourbon.
Outside of food we both have an addiction to make up and beauty products but Jessica actually uses hers as where I hoard mine as if I am going to later on open a beauty product museum.
She was one of the few "popular" blogs I actually like (I don't seem to like what others do).
Jessica is a genuine person who even while in the midst of being pregnant and on a book tour was nice enough to reach out to me to see about my health.
She came out with a book, Seriously Delish: 150 Recipes for People Who Totally Love Food. She's coming to Seattle next week.
I'm pretty excited.
When her tour first came out it didn't list Seattle and I was a sad panda.
But then she told me I am coming to Seattle and I might have squealed loud enough to make the dog look up with a WTF look on her face.
Her book is a good representation of her.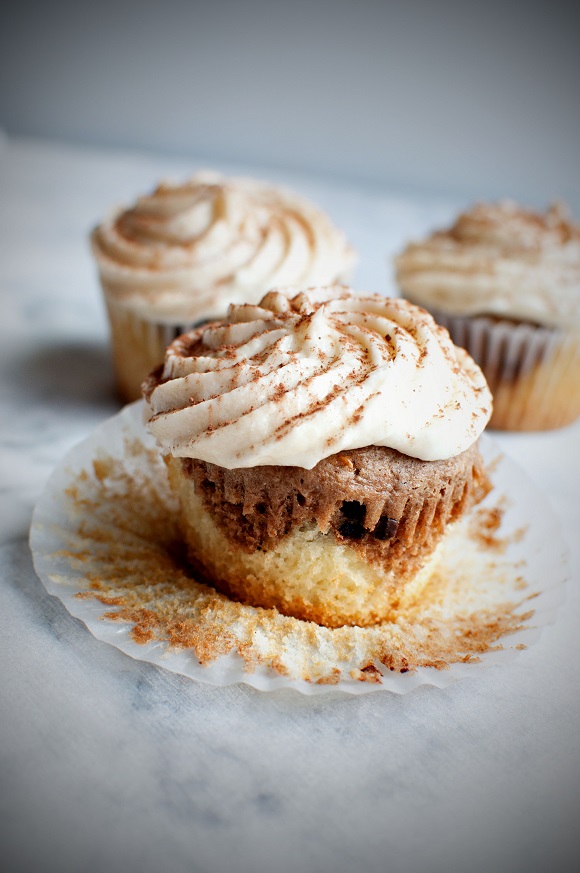 My husband (yes he read through her cookbook too) decided he wants to make her slow cooker short rib breakfast hash.
And the slow cooker beer pulled pork sliders with mango slaw, and the grilled gouda, bacon, and caramelized onion grilled cheese.
Me, I was all about the Mocha Coconut Tiramisu.
Ironically…and this could be why I have more padding than others all of my favorites were out of the Celebrations (for times when calories don't count) and then Stuff to Sip On (aka booze) sections.
I planned on making the tiramisu and then decided I would do a recipe more in honor of her then just from her book.
Because I'm going to give away a copy of the book (out of my own pocket because I think it's THAT awesome) so that you can see her recipes for yourself.
So back to what I made.
I made Coconut Mocha Tiramisu Cupcakes.
Jessica has a thing for coconut.
Even more so the combo of coconut and mocha.
So I figured I would make something with those flavor profiles and since I was going to make the tiramisu throw a little tiramisu twist in there as well.
So I did.
I made a coconut/coconut mocha chocolate chip cupcake with a coconut Mascarpone frosting.
So hopefully she will like them…we did.
P.S. It's a great day to buy my cookbook Holy Sweet!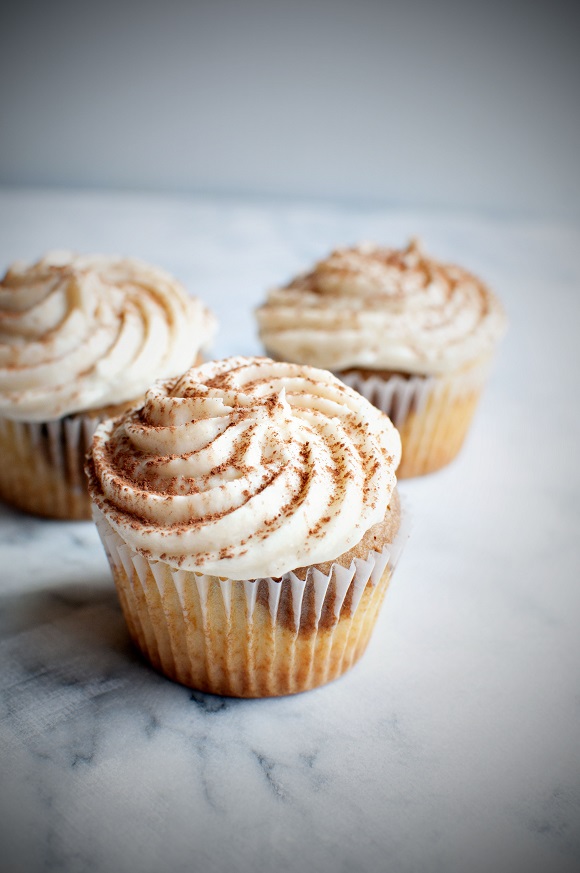 Want More Tiramisu Inspired Recipes?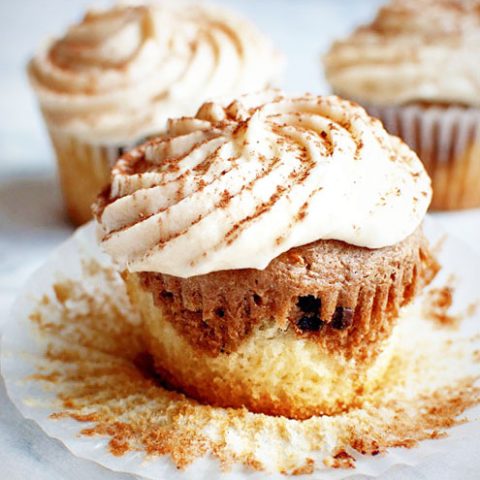 Coconut Mocha Tiramisu Cupcakes
Ingredients
Cupcake Batter:
1 ½ cups all-purpose flour
1 cup cake flour (you can use all-purpose if you need)
1 TBSP. baking powder
1 tsp. salt
½ cup unsalted butter, at room temperature
¼ cup vegetable oil
1 ½ cups granulated sugar
1 tsp vanilla extract
1 cup coconut milk (the can will be half solid half water liquid…you want the watery liquid, if there is not enough sub whole milk for the rest)
5 egg whites
1 tsp. powdered coffee (I used Starbucks Via)
2 TBSP unsweetened cocoa powder (I used Rodelle)
½ cup mini chocolate chips
Coconut Mascarpone Frosting
½ cup heavy whipping cream
½ cup coconut milk solids (this would have been on top of the can you used for the liquid in the cupcakes)
¼ tsp. powdered coffee
8 ounces Mascarpone cheese, at room temperature
3 cups powdered sugar
Cocoa powder for dusting
Instructions
For the Cupcakes:
Using muffin tins or just sturdy cupcake liners on a baking sheet, prepare for 14 cupcakes.
Sift together flours, baking powder and salt in a medium bowl; set aside.
In a mixing bowl (if using a stand mixer use the paddle attachment), cream butter and sugar until light and fluffy, about 3 minutes.
Add vanilla extract and beat until incorporated.In a liquid measuring cup, combing vegetable oil and coconut milk liquid.
Add flour mixture and milk/oil mixture alternatively to the mixing bowl.
Beat on low speed after each addition.
Pour mixture into a large bowl.
Scrape down to make sure you get all of the batter.
Clean out bowl and switch to whisk attachment.
Beat egg whites until stiff peaks form.
Fold 1/3 of the egg whites into the batter, to "lighten" the batter.
Gently fold in the remaining egg whites.
Remove half the batter into a medium size bowl.
In the mixer bowl add in the cocoa powder and coffee powder.
Mix until fully combined.
Fold in the chocolate chips into the mocha batter.
Evenly distribute the plain coconut batter between the cupcake liners.
Then follow with the mocha batter, adding it on top of the coconut batter.
The liners should be ¾ of the way filled.
Bake at 375 degrees for 18 to 20 minutes or until done.
Cool on a wire rack.
For the frosting:
Using an electric (or stand) mixer, whip the cream until stiff peaks form.
Add the Mascarpone cheese and coconut milk solids and beat until smooth.
Add the coffee powder and 1 cup of powdered sugar, mix on low until fully combined.
Add the remaining powdered sugar, 1 cup at a time. If frosting is too thick thin with milk.
If frosting is too thin add more powdered sugar.Frost the cupcakes and dust with cocoa powder.
*please note this post contains an Amazon affiliate link