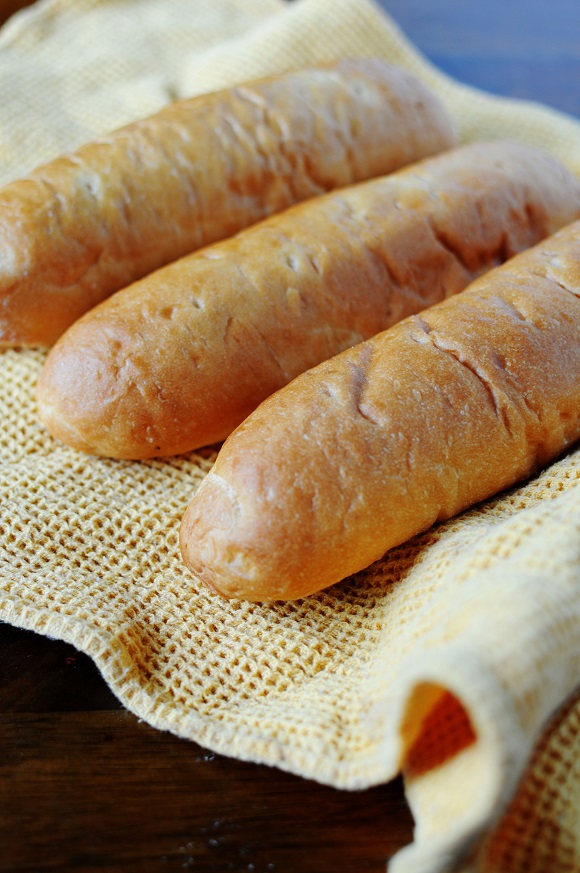 Super quick post today. Several people asked about the bread in the soup post and they are actually brioche hot dog buns that weren't cut. So I went ahead and made some more and am giving you the recipe. We use this recipe for hamburger buns as well (though usually used for pulled pork not hamburgers).
If you were still thinking about being less of a frump and wanted to join in on Style and Stylability there is still time to join. I need a refresher course as I sit in sweatpants today. 🙂
Don't forget to enter to win a copy of Jessica's Seriously Delish cookbook. You have until Wednesday (Oct. 8th) night to enter.
Lastly lots of comments on how Crazy Cocker Spaniel is doing. Better than before but still sadly has a ton of allergies which leads to pretty much continual staph infections (the non-MRSA type). But she's in good spirits and gets in her usual amount of trouble trying to eat garbage and wake us up at 3am to take her to the bathroom. 🙂 Here's a picture of her trying to be a photography helper.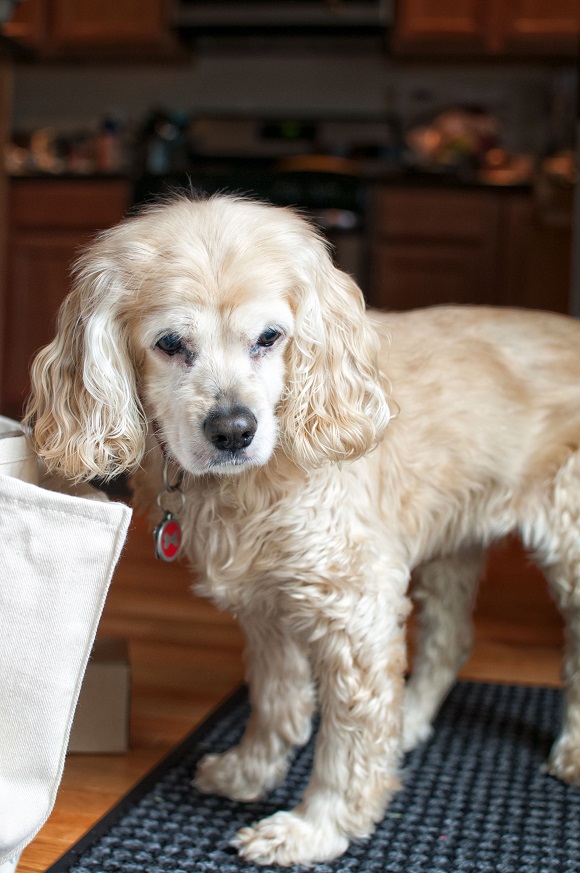 Brioche Hot Dog Buns
In the medium bowl, combine one cup warm water, the milk, yeast and sugar.
Let stand until foamy, about five minutes.
In the bowl of a stand mixer, whisk flours with salt.
Add butter and mix on low until small crumbs form.
Add in yeast mixture and beaten egg and mix on low until dough forms.
Scrape dough onto clean, well-floured counter and knead, scooping dough up, slapping it on counter and turning it, until smooth and elastic, 8 to 10 minutes.
The dough will be on the sticky side so it can be a bit messy, but keep in mind that the more flour you knead in, the tougher the buns will get.
Shape dough into a ball and return it to bowl. Cover bowl with plastic wrap and let rise in a warm place until doubled in bulk, one to two hours.
Line a baking sheet with parchment paper. Using dough scraper, divide dough into 8 equal parts. Gently roll each into a hot dog shape and arrange two to three inches apart on baking sheet. Cover loosely with a piece of plastic wrap lightly coated in nonstick spray and let buns rise in a warm place for one to two hours.
Set a large shallow pan of water on oven floor.
Preheat oven to 400 degrees with rack in center.
Beat remaining egg with one tablespoon water and brush some on top of buns. Sprinkle with sesame seeds, if using.
Bake, turning sheet halfway through baking, until tops are golden brown, about 15 minutes.
Transfer to a rack to cool completely.
Makes about 6-8 hot dog buns
3 TBSP warm milk
2 tsp active dry yeast
2 ½ TBSP sugar
2 large eggs, divided (one beaten)
3 cups bread flour
1/3 cup all-purpose flour
1 ½ tsp salt
2 ½ TBSP unsalted butter, at room temperature