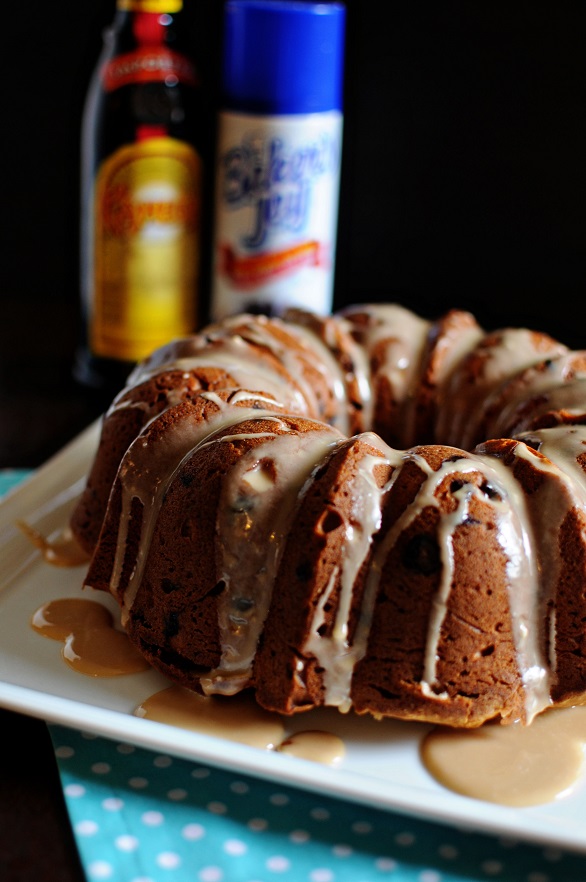 Everyone seems to have a sweets personality. Some people are chocolate-aholics, some are plain vanilla Janes, some like tart citrus, and others like me, will take just about any sweet that comes their way. 🙂 So when Baker's Joy contacted me and told me they were creating a baking personality quiz to know Which Sweet Treat Are You? That sounded like fun. I got to pick a personality…so I went with boozy. 😀
With the result of your quiz you get a recipe that matches your personality. You can take the quiz every day and I suggest you do because from April 22nd to May 5th 2014 you have a daily chance to win a $50 Visa gift card and a year supply of Baker's Joy and one grand prize of a $500 Visa gift card + a Kitchen Aid Mixer + a year supply of Baker's Joy! To take the quiz go HERE.
If you are saying to yourself what is Baker's Joy?…it's is simply that. An invention that made anyone who bakes be joyous. Back in the day you used to have to grease and then flour pans and baking sheets and it was kind of a pain and I would be lazy and not want to…then my baked goods would stick and I would get mad at myself for being lazy. Then came the invention of baking spray…non-stick spray with the addition of flour, perfect for baking. And it is. Such a time saver and works great…especially when making a Bundt cake (as those suckers can stick!).
Speaking of Bundts…I made for my recipe a boozy and yummy Tiramisu Kahlua Pound Cake. The use of coffee and Mascarpone cheese gives it the tiramisu flavors and well the Kahlua explains itself. 🙂
I'd love for you to go take the quiz and come back and tell me what personality you are (just leave it in my comments) and I wish you much luck in winning the daily and grand prize!
***Baker's Joy compensated me for ingredients and sent me a complimentary can of Baker's Joy (which is a product I already use…hence me working with them). You can find them on Facebook and Twitter.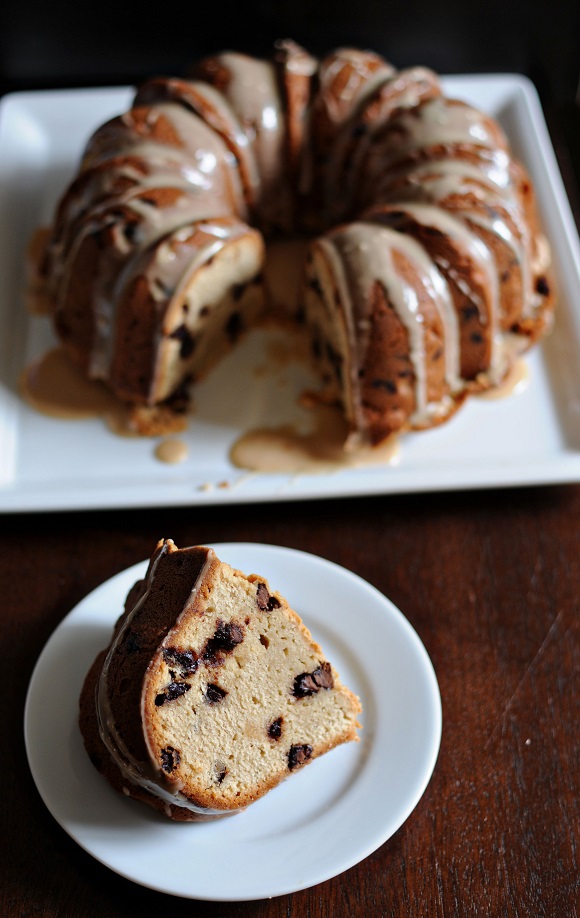 Tiramisu Kahlua Pound Cake
Ingredients
1 cup unsalted butter, at room temperature
8 oz. Mascarpone cheese (you can use cream cheese as substitute), at room temperature
3 cups granulated sugar
1 tsp. powdered coffee
1 tsp. salt
6 large eggs, at room temperature
2 vanilla beans, scraped and pods discarded
2 TBSP Kahlua Coffee Liqueur
3 cups plus 2 TBSP sifted all-purpose flour
12 oz. milk chocolate chips
Bakers Joy Baking Spray
For the Glaze:
2 cups powdered sugar
4 TBSP Kahlua (or more if you want)
Milk to thin (I used about 1 TBSP)
Instructions
For the Cake:
Spray a 12-cup Bundt pan generously with Bakers Joy Baking Spray.
Using stand mixer with the paddle attachment, cream together the butter and Mascarpone cheese in until light and fluffy, about 4 minutes.
Add sugar, powdered coffee, and salt and beat for 10 minutes, occasionally scraping down sides of bowl.
Add eggs 1 at a time, beating until blended, and scraping down the bowl after each addition.
Beat in vanilla bean seeds and Kahlua.
Beat in flour at low speed until batter is smooth (do not overbeat).
In a small bowl toss the chocolate chips with the 2 TBSP flour. Fold into the batter…flour and all.
Transfer batter to pan.
Place pan in cold oven.
Set temperature at 200°F and bake 20 minutes.
Increase temperature to 250°F and bake 20 minutes.
Increase to 275°F and bake 10 minutes.
Increase to 300°F and bake cake until knife or wooden skewer inserted near center comes out clean, about 1 hour longer.
Cool cake in pan on rack 15 minutes.
Turn cake out onto rack and let cool completely before glazing.
For the glaze:
Whisk together the powdered sugar and Kahlua. Use the milk to thin the glaze to the consistency you want.
https://www.sweetrecipeas.com/2014/04/22/tiramisu-kahlua-pound-cake/