This Key Lime Raspberry Tiramisu is a tart and refreshing take on the classic dessert made with a key lime filling and raspberry sauce.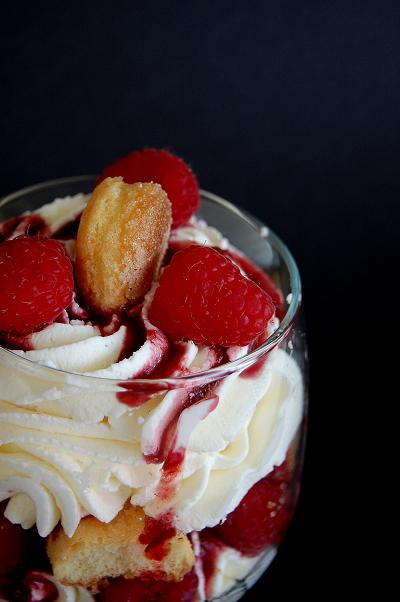 I'm down to the brass tacks and details of the wedding these days.
All the major things are dealt with and we are down to the tiny stuff.
And by we, I mean me. 😛
Because, well, my fiance is a show up and let's get married kind of guy.
He isn't at all concerned about my mother's homemade strawberry rhubarb jam having matching labels that coordinate with the beer coasters I designed.
Though I am sure deep down he really does care…hahaha, okay maybe not.
One of those little details is figuring out what desserts to serve.
Since I am doing the baking it's up to me to decide.
I have a list of like 15 desserts…half of which seem to be Funfetti or sprinkle based (Heather would be so proud).
My fiance and I are not huge chocolate fans (though we certainly get a hankering for it from time to time).
We both LOVE key lime and so I have a strong feeling key lime is going to be a cupcake flavor.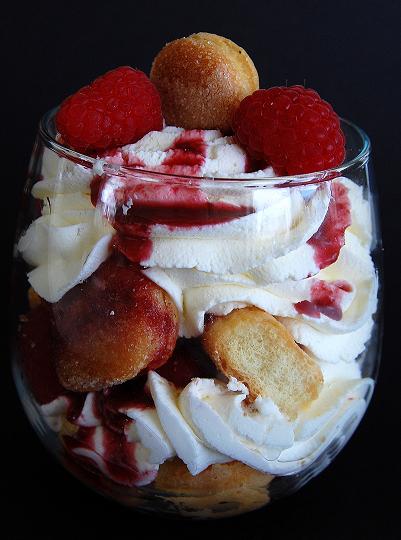 So while going through my archives I ran across this Key Lime Raspberry Tiramisu from June 2009.
The read was an interesting one since I was considering stopping blogging around that time.
Aren't you glad I chose to stay. 😛
I remember this dessert well.
It was SOOOO good.
Like I got my hand stuck in the smaller jar trying to wipe it with my finger to get the last bit of the filling along the sides.
I wish I was joking but it was stuck.
It happened once to a Pringles can as well.
Which I think Pringles has a conspiracy anyway about can design just to mess with people.
So maybe you can help with the dessert ideas for the wedding.
I don't want anything that requires a fridge or freezer as there won't be one.
Nothing that requires utensils really….think portable eats.
Is there some bar cookie or cupcake on my site that you have made that you have love and think should be there?
Speak up please!
P.S. It's a great day to buy my cookbook Holy Sweet!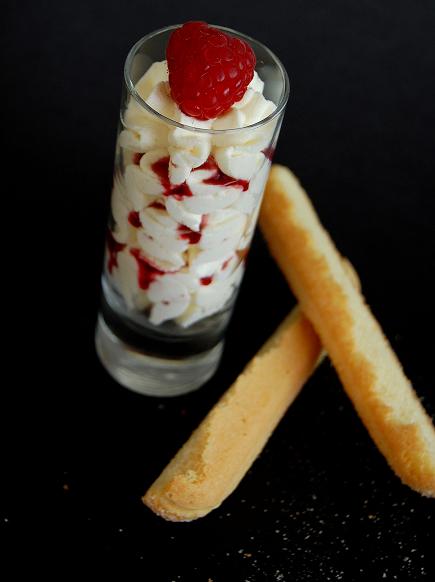 Want more recipes like this? Try these:
Coconut Mocha Tiramisu Cupcakes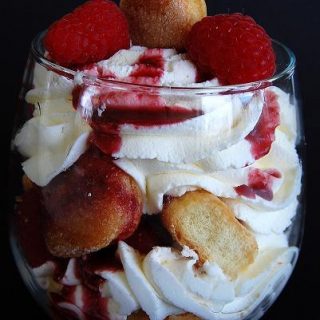 Key Lime Raspberry Tiramisu
Ingredients
Raspberry Jam Sauce:
12 ounces frozen raspberries
6 TBSP sugar
Key Lime Simple Syrup:
¼ cup granulated sugar
¼ cup water
zest of two key limes
3 4.40-ounce packages Champagne biscuits(or lady fingers)
Key Lime Filling:
3 cups heavy whipping cream
8 ounces Mascarpone cheese, at room temperature
½ cup powdered sugar
3 TBSP fresh key lime juice (if you can find)
1 cup fresh raspberries for garnish
Instructions
Use a 8-x-8-inch pan.
Cook frozen raspberries and 6 TBSP sugar in saucepan over medium heat until mixture resembles a jam and is reduced to 1 cup, stirring frequently, about 15 minutes.
Cool jam mixture.
Push through a sieve to get a sauce-like consistency.
Combine sugar with ¼ cup water and lime zest in a small saucepan. Bring to a boil, stirring occasionally until sugar has dissolved.
Remove from heat, and cool to room temperature.
Strain out the zest before using.
Using and electric mixer, whip the cream until stiff peaks form.
In a mixing bowl, fold 2/3′s of the whipped cream into the Mascarpone cheese, along with the powdered sugar, and key lime juice.
Blend until cream is fully incorporated.
Lay the lady fingers at the bottom of dish. Brush the layer with Key Lime Simple (about 1/3 of it) followed by the Raspberry Jam Sauce.
Spread 1/3 of the cheese mixture over the lady fingers.
Scatter 1/3 cup fresh raspberries on top of the cheese mixture.
Repeat the procedure until all of the lady fingers and cheese mixture are used.
Spread the reserved whip cream over the top of the tiramisu.
Allow the cake to set, about an hour.
Garnish with fresh berries.
Makes 10 servings.
To make Parfait style:
Break up 4-5 lady fingers.
Put about 5 pieces at the bottom of a clear glass of your choice.
Brush with syrup.
Add raspberry sauce.
Pipe in Mascarpone filling.
Top with a little more raspberry sauce.
Add raspberry.
Repeat till you hit the top of your glass.