These Tiramisu Cupcakes have a white cake batter brushed with espresso and topped with mascarpone frosting garnished with ladyfingers.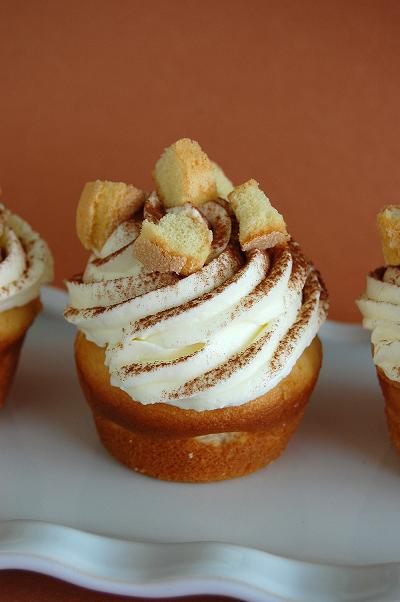 So today is a Way Back Wednesday today as in addition to going to the hand surgeon next Wednesday (limited cooking) I once again took a slap shot to the ankle on New Year's Day. 🙂
My Orthopedic loves me.
Good news is that while it was the same ankle and hurts a whole bunch I'm like 93.674% sure it's not fractured this time.
It does however hurt to stand on (so again with the limited cooking).
I am avoiding the gym for the next couple weeks anyway until it weeds out again so this is just helping me. 😛
Despite all that 2013 has actually started off rather well.
I don't really remember how 2012 started off but it really does seem like 2013 started off better.
As tradition I don't like to list all the things I'm going to accomplish in 2013 because come 2014 I come back and read this.
And then just get depressed learning that I didn't organize my house like I thought I was going to. 🙂
So without further ado what 10 things I am NOT going to do in 2013:
1. Become a Victoria Secret Runway Model. I mean sure they keep hounding me to do so but I have so many other commitments.
2. Go skydiving on purpose. Now if say I'm on a plane and things go wrong this one might have to be broken but since I'm not going anywhere on a plane this year that I know of I feel safe with that one.
3. Make a list of 101 things I am going to do in 1001 days.
4. Open up a restaurant/bakery/food truck.
People ask me all the time if I am going to do this.
No.
Why?
I like my sanity.
Plus I have enough people write and tell me that they use my recipes at their bakery or restaurant so you can eat my food that way.
5. Understand the Gangnam sensation.
6. Become any type of professional dancer.
After attending several ballroom cardio classes in which the minute I *think* I get the steps down the instructor always says "now in real time".
And then I resort to my jump up and down and flail my arms around move that I use in Zumba and hope for the best.
7. Own a cat.
Allergies do not allow this but I do love the grumpy cat.
8. Own probably anything on my Pinterest style board…unless of course I win the lottery which is totally the plan.
The universe needs to get my memo on that.
I'm only asking for $500 K after taxes….so I'm not asking for a lot!
9. Break any bones.
I have yet to accomplish this.
But this..this will be the year.
Oh sure my orthopedic surgeon won't get a new boat from me this year or upgrade her car but everyone needs a goal.
10. Give up my Hello Kitty addiction.
And of course I never plan on giving up sugar….God willing.
These Tiramisu Cupcakes were so good when I made them.
I love tiramisu though I am more a fan of the Americanized version of it (with lots of chocolate) than I am the straight Italian…though I will never turn down any version. 🙂
P.S. It's a great day to buy my cookbook Holy Sweet!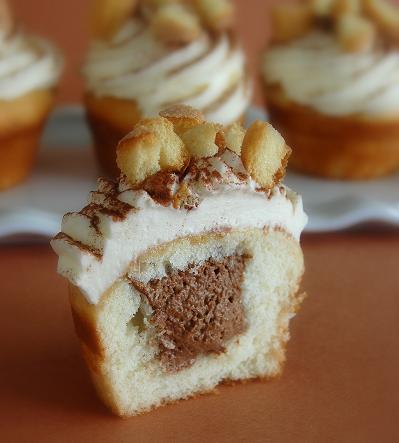 Want more recipes like this? Try these:
Coconut Mocha Tiramisu Cupcakes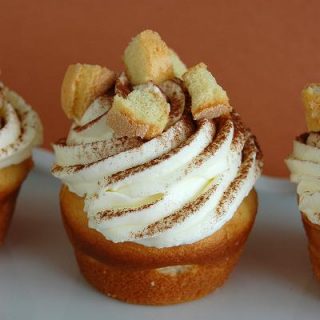 Tiramisu Cupcakes
Ingredients
Tiramisu Cupcakes
white cupcakes (recipe follows)
espresso chocolate mousse (recipe follows)
1/4 cup coffee or espresso
mascarpone frosting (recipe follows)
cocoa powder for dusting
crushed ladyfingers for garnish
For the White Cupcakes:
1 ½ cups all-purpose flour
1 cup cake flour (you can use all-purpose if you need)
1 TBSP. baking powder
1 tsp salt
½ cup unsalted butter, at room temperature
¼ cup vegetable oil
1 ½ cups granulated sugar
1 tsp vanilla extract
1 cup whole milk
5 egg whites
For the Espresso Chocolate Mousse:
2 cups chilled heavy cream
4 large egg yolks
4 TBSP sugar
2 tsp espresso powder
8 oz fine-quality semisweet chocolate, finely chopped
For the Mascarpone Frosting:
2 cups heavy whipping cream
8 ounces Mascarpone cheese, at room temperature
1 ½ cups powdered sugar
Instructions
For the Cupcakes:
Sift together flours, baking powder and salt in a medium bowl; set aside.In a mixing bowl (if using a stand mixer use the paddle attachment), cream butter and sugar until light and fluffy, about 3 minutes.
Add vanilla extract and beat until incorporated.In a liquid measuring cup, combing vegetable oil and milk.
Add flour mixture and milk/oil mixture alternatively to the mixing bowl.
Beating on low speed after each addition.
Pour mixture into a large bowl.
Scrape down to make sure you get all of the batter.
Clean out bowl and switch to whisk attachment.
Beat egg whites until stiff peaks form.
Fold 1/3 of the egg whites into the batter, to "lighten" the batter.
Gently fold in the remaining egg whites.
Grease and lightly flour muffin pans.
Fill each cup half full.
Bake at 375 degrees for 18 to 20 minutes or until done.
Cool on a wire rack.
For the Espresso Chocolate Mousse:
Heat ¾ cup cream in a 1-quart heavy saucepan until hot.
Whisk together yolks, sugar, espresso powder, and a pinch of salt in a metal bowl until combined well, then add hot cream in a slow stream, whisking until combined.
Transfer mixture to saucepan and cook over moderately low heat, stirring constantly, until it registers 160°F on thermometer.
Pour custard through a fine-mesh sieve into a bowl.
Melt chocolate in a double boiler, stirring frequently.
Whisk custard into chocolate until smooth, then cool.
Beat remaining 1 ¼ cups cream in a bowl with an electric mixer until it just holds stiff peaks.
Whisk one fourth of cream into chocolate custard to lighten, then fold in remaining cream gently but thoroughly.
For the Mascarpone Frosting:
Using and electric mixer, whip the cream until stiff peaks form.
In a mixing bowl, fold 2/3 cups of the whipped cream into the Mascarpone cheese, along with the powdered sugar.
Add remaining cream.
Blend until cream is fully incorporated.
Place in refrigerator until ready to frost.
Assemble:Using the cone method fill cupcakes with Espresso Chocolate Mousse filling.
Place top back on top of cupcakes.
Brush top of cupcake with coffee or espresso. Go light on this as they are fresh cupcakes, and not hard like most ladyfingers.
You don't want to soak them.
Frost top with Mascarpone Frosting.
Sprinkle cocoa powder on top of cupcakes and garnish with crushed ladyfingers.