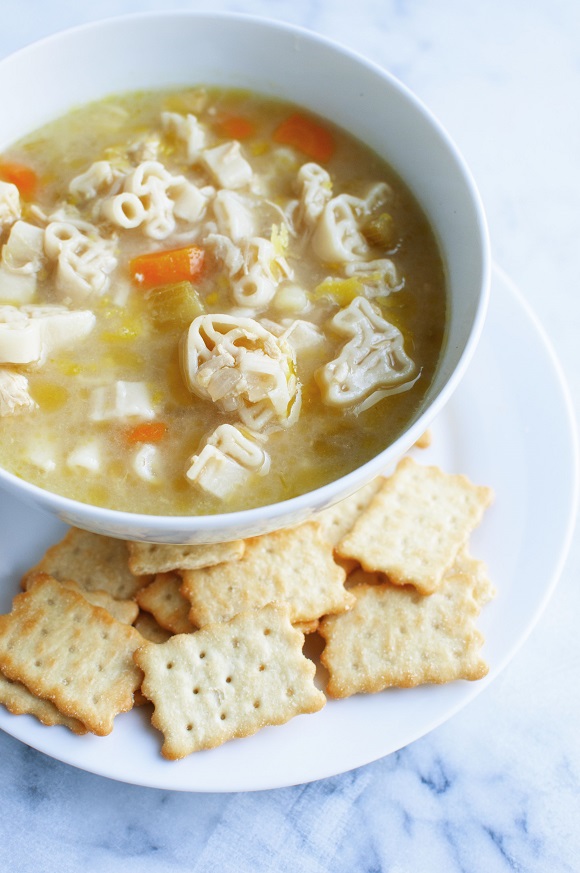 One of the many great things about my husband is the fact that he will eat pretty much anything. And I mean anything. The first thing I saw him eat (other than bar food) was at his house, he had hamburger buns, American cheese (with the edges crusty from being exposed to air), and mayo. To which he made a sandwich out of. When I pointed out the mold on the side of the bun he just ripped the mold off the bun and kept eating. I thought to myself wow he has been a bachelor for a long time. 🙂
Of course the irony is that he is a really good cook. And he had always cooked for his kids just not really for himself. And even though I had seen him eat some frightening things there were still some food sins I didn't want him knowing about. When you run a food blog everyone has these ideas about how you eat. While I do eat mostly whole foods there are some processed foods that I truly love and yes am slightly ashamed to admit.
So I was relieved when one of my biggest food sins was also one of MDP's. Walking down the Winco aisle there it was in all its glory: Chicken in a Biscuit. I have no idea why I love these stupid crackers. They are way too salty but I think it's because they taste like chicken noodle soup dried up on a cracker. I just burst out "I really like Chicken in a Biscuit". MDP followed up with, "they are on sale". Which they were. I said something along the lines of how bad they were for me and had zero nutritional value and he jumped in and finally confessed his love for the crackers as well. We came home and he immediately came home and started to spread the pimento cheese we had left over from these burgers onto the crackers. It was one of the many times I knew he was the one for me. 😀
The other thing I love to eat them with is chicken noodle soup. I make mine just a little different but adding lemon juice to mine. MDP and I love Avgolemono which is a Greek soup that is chicken, lemon, rice, and egg. It's really good. I love how the lemon brings freshness to the soup. So I started to add lemon a few years back to my chicken noodle soup and I've never turned back.
I add potatoes to my chicken noodle which you can omit if you are anti that much starch in your soup but I like it. I also decided that since we were making this soup to watch pre-season hockey that I would go with hockey shaped pasta that someone had given me. It's hard to tell but there are skates, goalie mask, referee, and a hockey player all among the veggies and chicken.
What about you? Do you have a food sins that you would like to confess? If so leave a comment.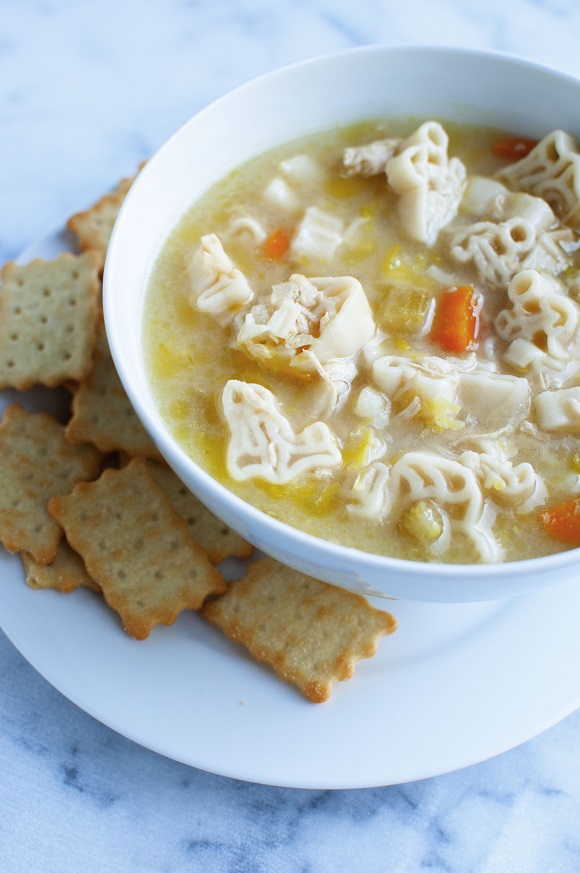 Lemon Chicken Noodle Soup
2 TBSP ghee or olive oil
1 large sweet onion, finely diced
3 large carrots, peeled and diced
3 large celery stalks, diced
3 cloves garlic, minced
2 golden Yukon potatoes, cleaned and diced
8-10 cups chicken stock (I like to start with 8 but usually have to add more the next day because the noodles soak it up)
1 ½ cups finely diced chicken (your choice of white or dark)
8 oz. noodles of your choice (we went with hockey shaped noodles 🙂 )
2 lemons, juiced (making sure no seeds snuck through)
Salt and pepper to taste
In a stock pot add the ghee, onions, carrots, celery, and potatoes.
Cook the veggies over medium heat until the onions become translucent, about 5-6 minutes.
Add the garlic and cook another minute.
Add the chicken stock and bring to a boil, once you have reached a boil, reduce heat to a simmer and let simmer for about 20 minutes.
Add the noodles and bring back to a boil. How long you boil again depends on the type of noodle using. Whatever the package says for cooking time.
Add the chicken and lemon juice and simmer until the soup is evenly warmed.
Add salt and pepper to taste.
Serve warm. 🙂