This Sticky Toffee Pudding Fudge is the popular UK dessert turned into fudge form using brown sugar, dates, and lots of pecans.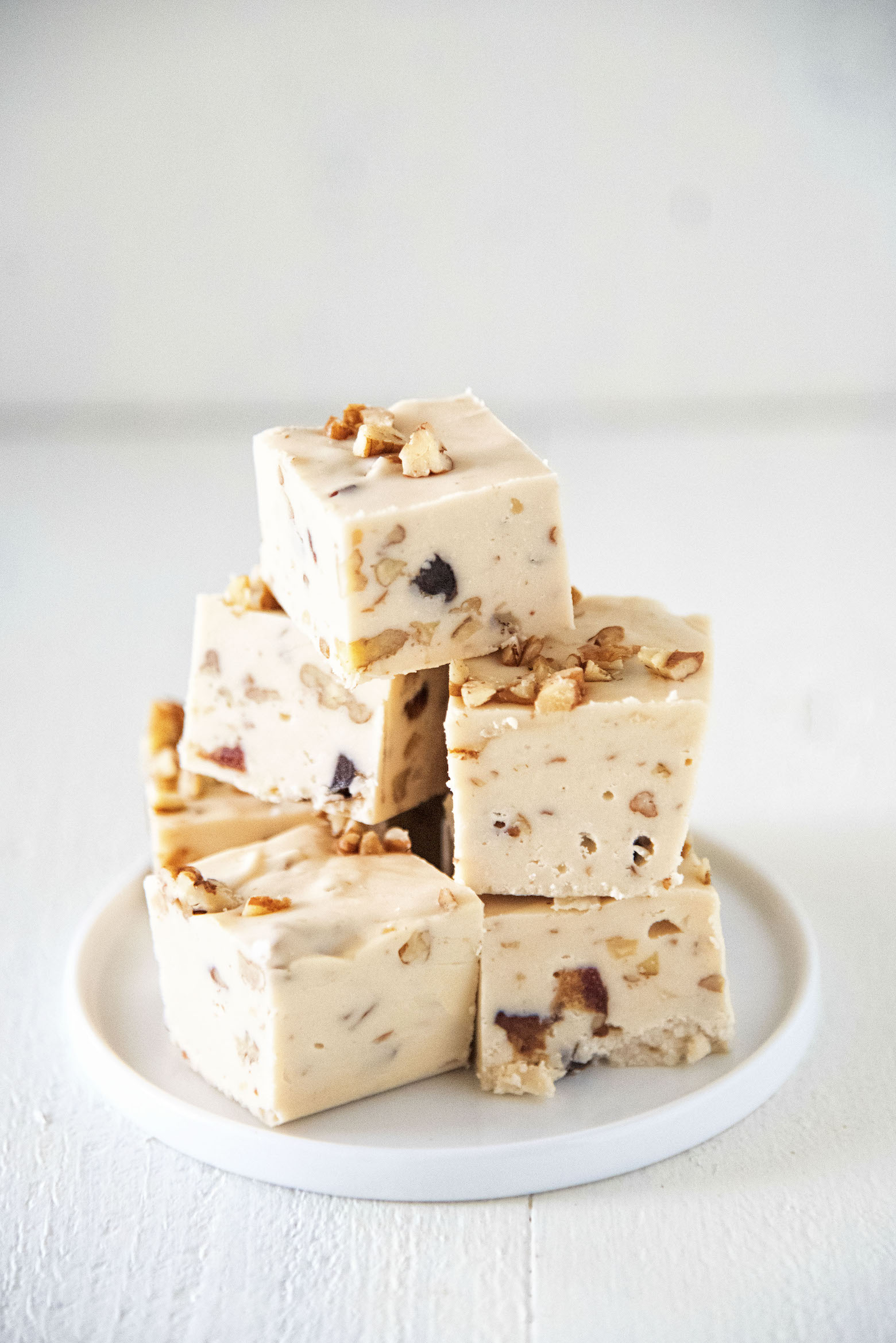 On one of the many trips my parents abandoned me as a child and went without me…my parents went to Scotland.
Without me.
They tried to make it up to me by bringing gifts.
I'm shallow so that worked.
Especially because many of gifts were cookbooks.
If you need a haggis recipe…let me know. Haha.
But she bought them all because she wanted me to recreate the Stick Toffee Puddings that she had while there.
Sticky Toffee Pudding for those that don't know is a sponge cake (everything is called pudding in the UK) that has dates (hence the sticky part) and covered in a toffee sauce (hence the toffee part).
My mother and I both prefer toffee sauce that has pecans which is why this fudge has it as well.
I thought about how to get the flavor.
The toffee sauce is brown sugar based and not granulated.
But brown sugar is too grainy.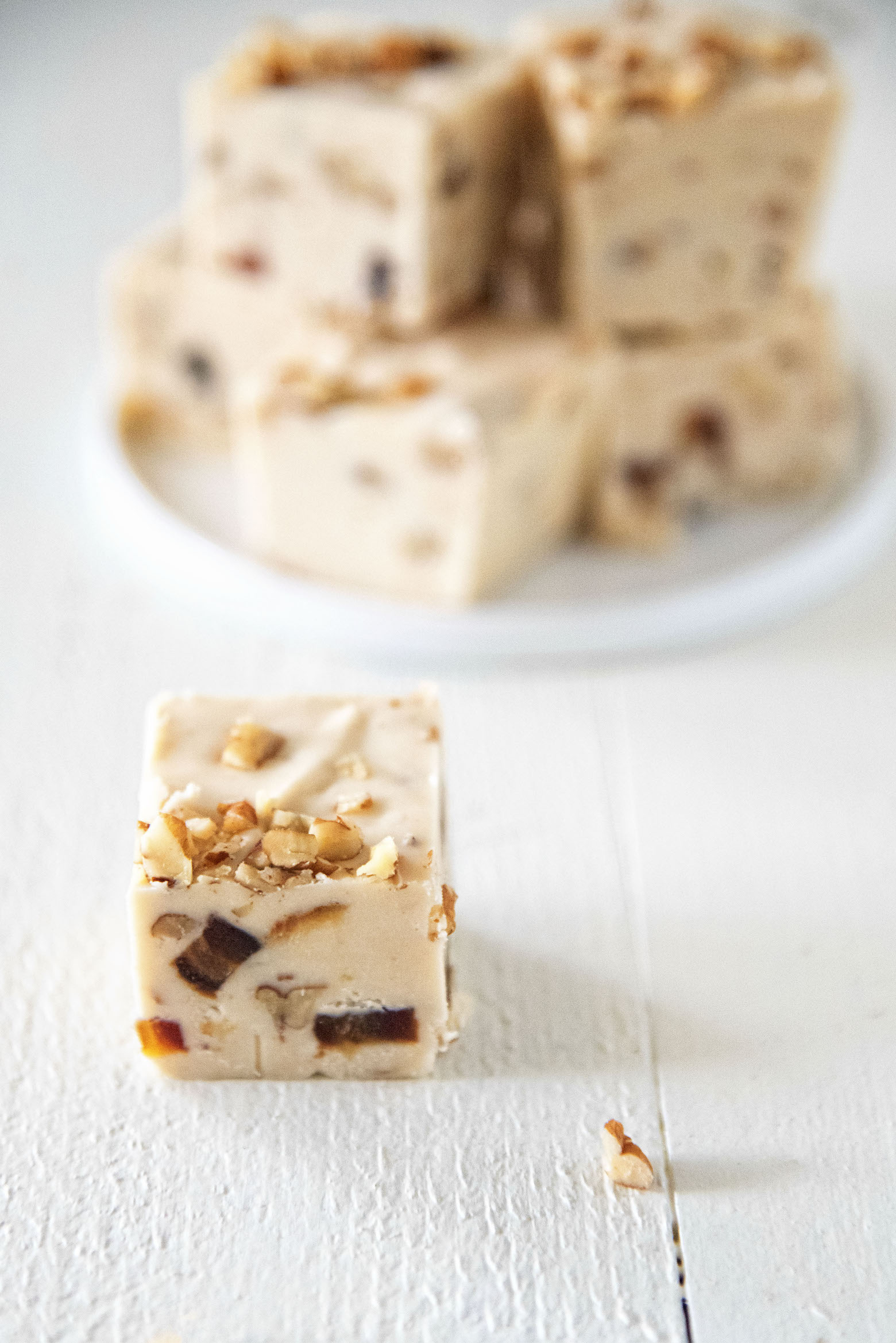 Enter my Vitamix Dry Grains Container.
Amazingly I use it all the time.
And I use it a lot to turn regular sugar into superfine sugar.
So I tried it with the brown sugar and it worked.
You could try it with a food processor but I'm not sure you will get a superfine consistency.
I basically made a toffee sauce of butter, brown sugar, and cream.
Then turned that into fudge with dates and pecans.
Turned out better than I could have imagined and really got the flavors I was looking for!
If you are a sticky toffee fan you should try it in bread pudding form.
And sticky bun form.
It's a great day to order my cookbook.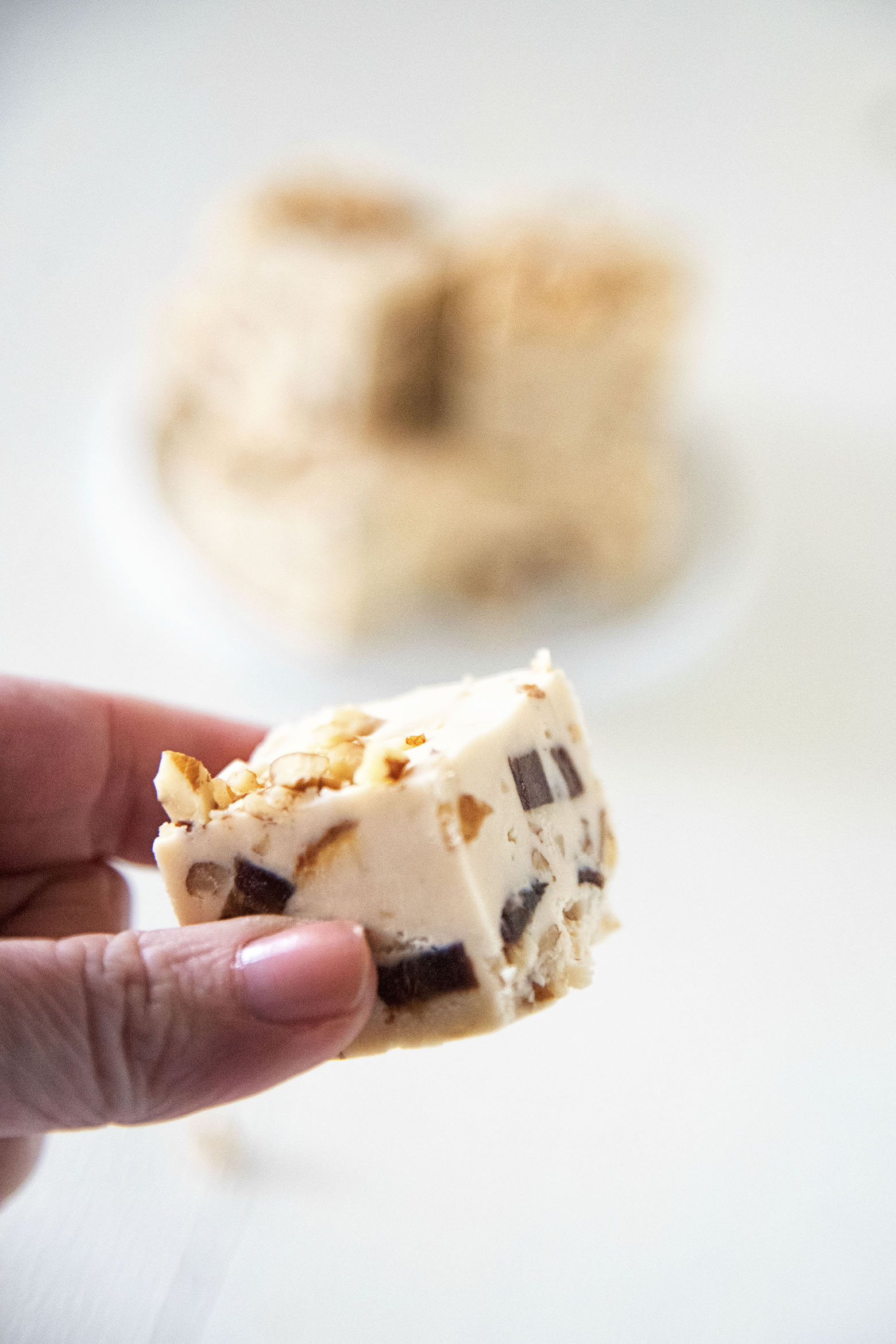 Want More Fudge Recipes?
Melted Chocolate Ice Cream Fudge
Lemon Blueberry Mascarpone Fudge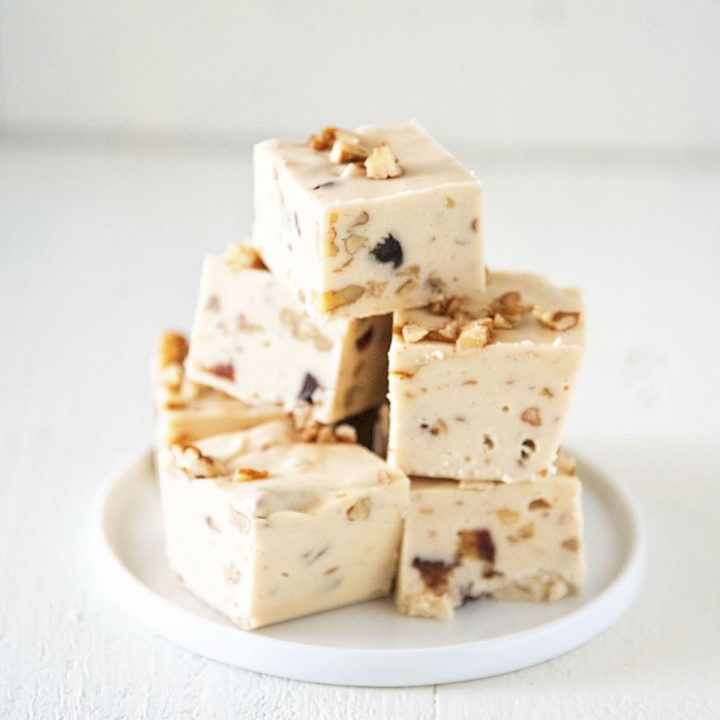 Sticky Toffee Pudding Fudge
Ingredients
1/2 cups granulated sugar
1 1/2 cups superfine brown sugar (brown sugar that has been through a food processor or dry mill)
4 oz. unsalted butter
⅓ cup heavy cream
2 cups white chocolate chips
7-ounce jar marshmallow crème
1 cup chopped dates
1 cup chopped pecans
Instructions
Line an 8×8 inch pan with parchment with an overhang so you can lift the fudge out later and coat with baking spray.
Combine sugars, butter, and heavy cream into a large heavy bottomed sauce pan and bring to a boil over medium heat.
Once boiling, attach a candy thermometer and reduce the heat to a hair above medium low and cook for 7-10 minutes until your thermometer reads 234°F (soft ball stage), stirring constantly.
Once you reach 234F remove from heat and add the white chocolate chips, stirring vigorously with a wooden spoon until the white chocolate has melted and the mixture is smooth.
Add the marshmallow crème and mix until well blended.
Fold in the dates and pecans.
Pour into prepared pan.
Top with pecan pieces if desired.
Let cool to room temperature. Then lift out of the pan and onto a cutting board.
Cut into whatever amount you want. I think I got about 24 pieces.