This Pineapple Upside-Down Cake Fudge is cake in portable candy form. Made with cake batter, dried pineapple, with butter cake and pineapple favorings.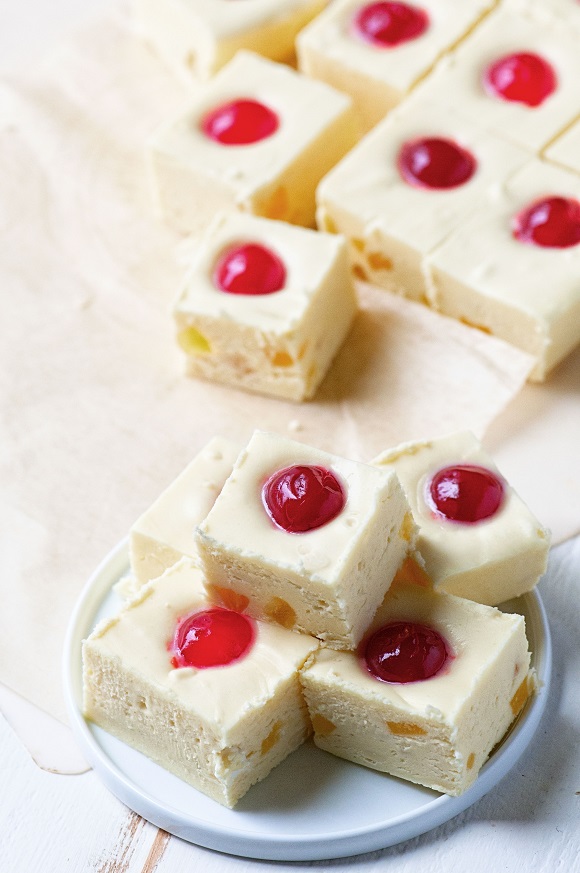 I wasn't kidding about being on a fudge kick lately.
I've gotten so good at it (which took a lot of practice) that I'm now just having fun coming up with non-traditional flavors.
Everyone loved the Hot Buttered Rum Fudge and the Cola Float Fudge I decided that I should keep making some non-chocolate fudge.
My dad loves the cake so I am making this Pineapple Upside-Down Cake Fudge in honor of him.
Plus it was a test run since I'm going to make some for him for Christmas.
All my fudge, of course, starts with the best butter out there, Plugra European Style Butter.
Every fudge I have made this season so far has been made with it.
I'm worth the best butter. 😀
You are worth the best butter. 😀
And probably most of the people you are giving it away to are worth the best butter…most. 😛
I knew the pineapple part would be easy to do.
The lollipop flavoring really does a great job in flavoring the fudge but how to get the cake flavor?
I knew I could add a little of dry cake mix to the fudge without it affecting the texture but would need something more.
Again, the butter emulsion came to the rescue.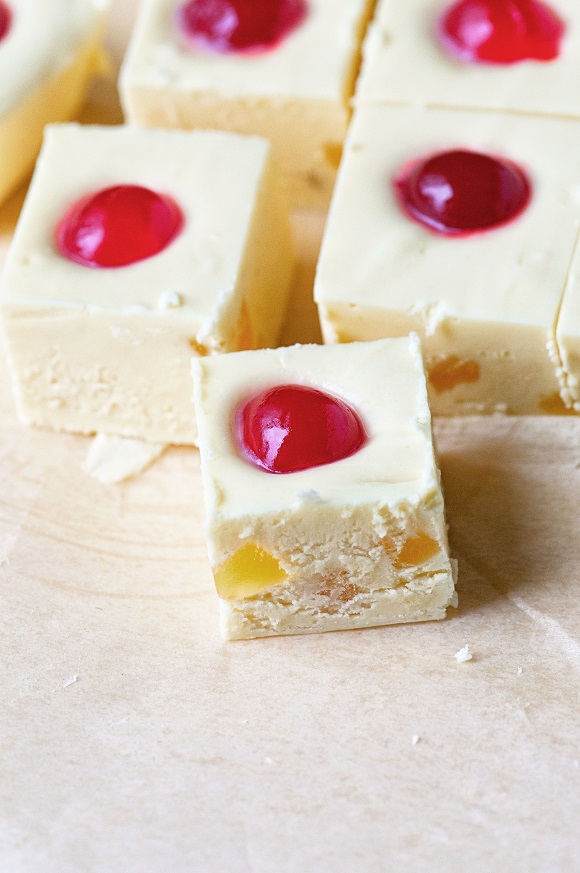 My husband loved the Hot Buttered Rum flavor the best…until he tried today's fudge, now it's the current front runner.
Then again that could change since I seem to make fudge almost daily now. 🙂
It's not too late to add this to your list of candies to make for the Christmas cookie tray.
And it's never too late to add Plugra butter to your shopping list.
*This post was sponsored by Plugra European Style Butter but the opinions, bad grammar, and overuse of smiley faces are all mine.

And as always, stay safe and order my cookbook. 😀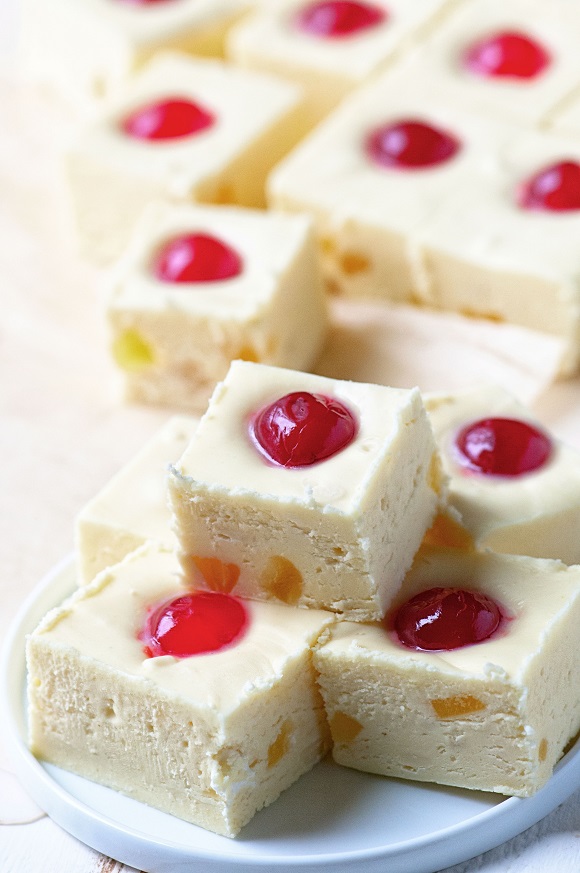 Want more recipes? Try these:
Pineapple Upside Down Pound Cake French Toast
Caramel Rum Pina Colada Bundt Cake
Pineapple Upside Down Bread Pudding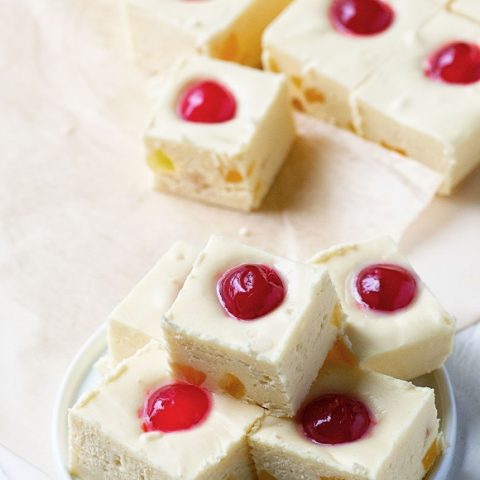 Pineapple Upside Down Cake Fudge
Ingredients
2 cups granulated sugar
4 oz. unsalted butter (I used Plugra)
3/4 cup heavy cream
2 cups white chocolate chips
2 TBSP yellow cake mix
7-ounce jar marshmallow crème
½ cup dried pineapple, diced
Maraschino cherries (garnish), cut in half
Instructions
Line an 8×8 inch pan with parchment with an overhang so you can lift the fudge out later and coat with baking spray.
Combine sugar, butter, and heavy cream into a large heavy-bottomed saucepan and bring to a boil over medium heat.
Once boiling, attach a candy thermometer (if you have a digital most you cannot attach to the side…just keep reading it every 30 seconds with an instant read) and reduce the heat to a hair above medium low and cook for 7-10 minutes until your thermometer reads 234°F (soft-ball stage), stirring constantly.
Once you reach 234F remove from heat and add the white chocolate chips, stirring vigorously with a wooden spoon until all has melted and the mixture is smooth.
Add the butter emulsion, pineapple flavoring, cake mix, and marshmallow crème and mix until well blended.
Fold in the dried pineapple pieces.
Pour into prepared pan.
Place cherries (if using) on top of fudge. Try and think about placement and where you will cut the fudge so that each square of fudge will have a cherry.
Let cool to room temperature. Then lift out of the pan and onto a cutting board. Cut into whatever amount you want. I think I got about 24 pieces.