Gummy Bear Fudge: Creamy white chocolate based fudge flavored with gummy bear flavoring and topped with gummy bears. Taste just like the gummy candy.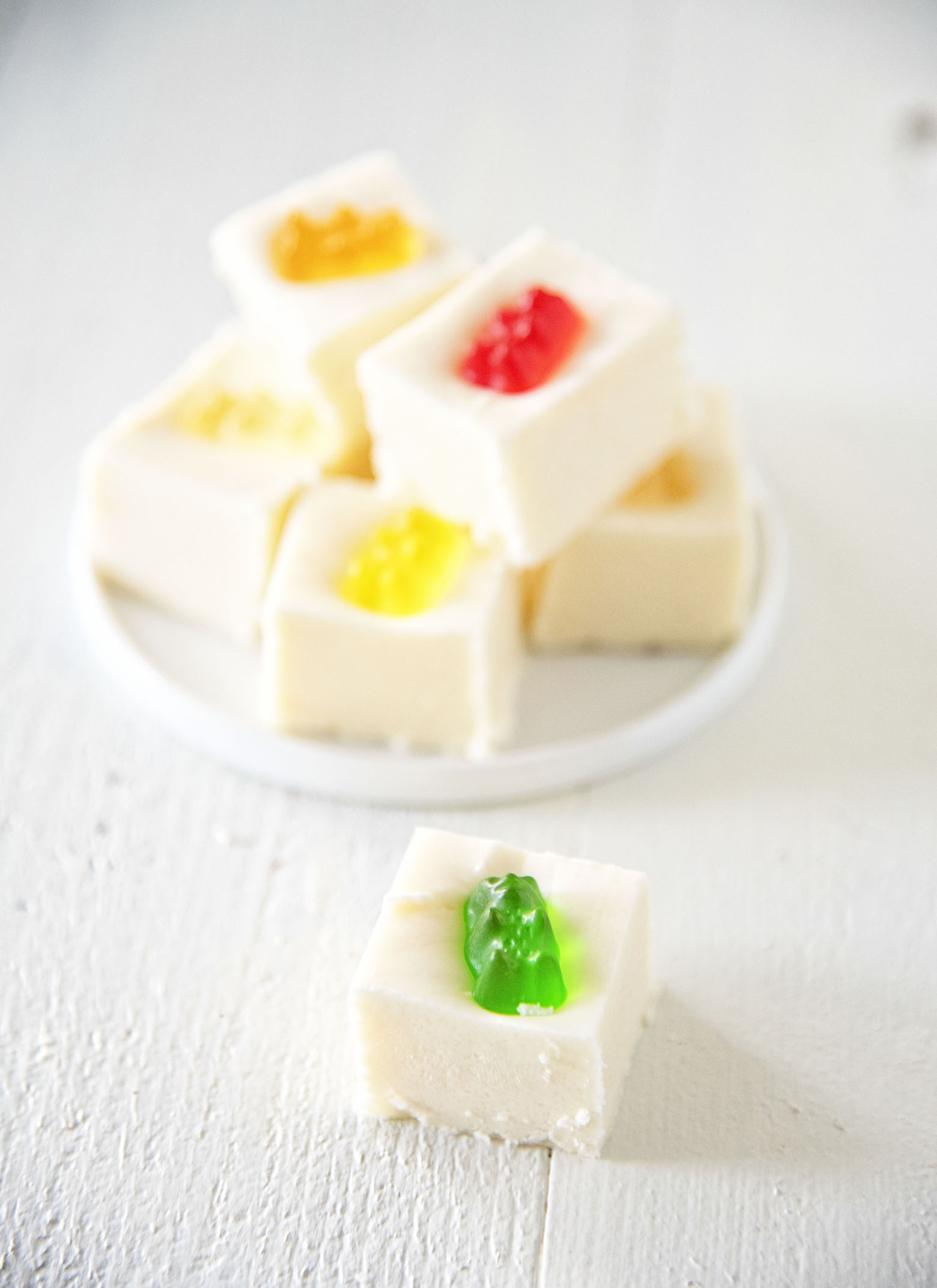 Years ago a friend and fellow hockey player asked me to make him Swedish Fish Fudge.
I figured out how to do it and he was in heaven.
Then he decided I needed to make him gummy bear fudge.
That is harder than the Swedish Fish because there are many types of gummy bears.
My friend and I are BIG fans of Haribo and these do not taste like Harbio gummy bears.
But they do have a fruity gummy bear flavor.
To get the flavoring you need to go to Wizard Labs.
I mention them often on the blog and I buy many flavorings from them.
It should come as no surprise that kids love this fudge. 🙂
As do those that enjoy a gummy bear.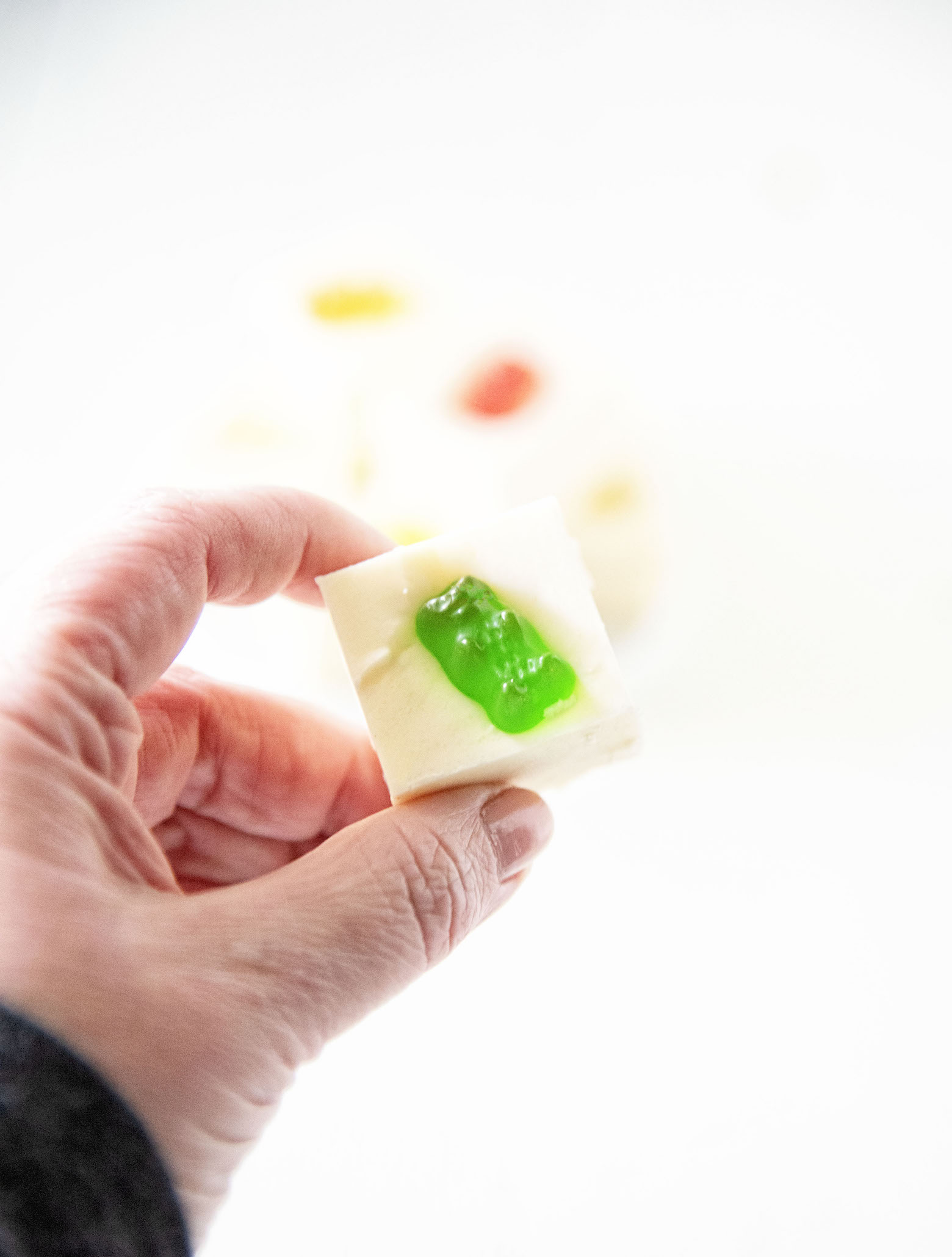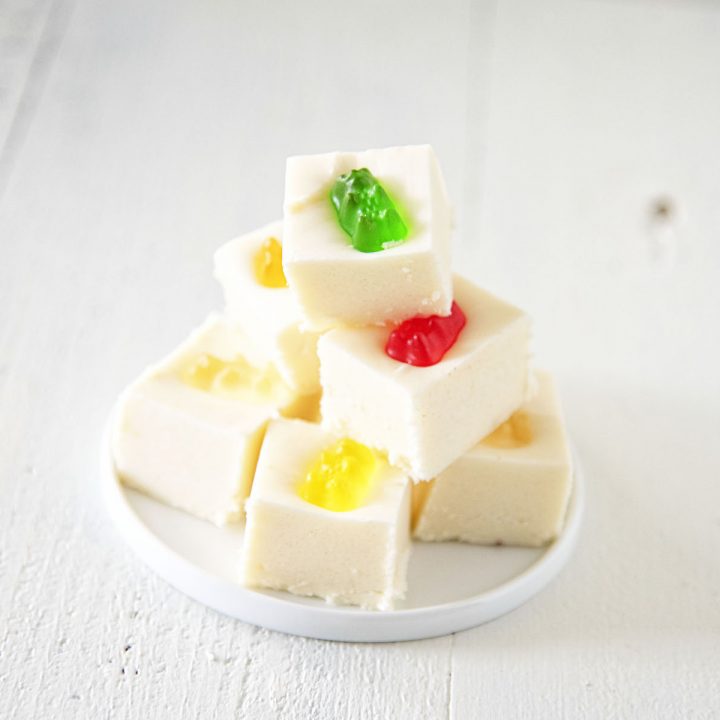 Gummy Bear Fudge
Ingredients
2 cups granulated sugar
4 oz. unsalted butter
½ cup heavy cream
2 cups white chocolate chips
4 drops of Gummy Bear Flavoring (see in blog post for where to buy)
7-ounce jar marshmallow crème
gummy bears for garnish
Instructions
Line an 8×8 inch pan with parchment with an overhang so you can lift the fudge out later and coat with baking spray.
Combine sugar, butter, and heavy cream into a large heavy bottomed sauce pan and bring to a boil over medium heat.
Once boiling, attach a candy thermometer and reduce the heat to a hair above medium low and cook for 7-10 minutes until your thermometer reads 234°F (soft ball stage) , stirring constantly.
Once you reach 234F remove from heat and add the white chocolate chips, stirring vigorously with a wooden spoon until the chocolate has melted and the mixture is smooth.
Add the Gummy Bear flavoring and marshmallow crème and mix until well blended.
Pour into prepared pan.
Top with gummy bears. Push slightly down on the candy so that it sticks to the fudge.
Let cool to room temperature.
Then lift out of the pan and onto a cutting board.
Cut into whatever amount you want.