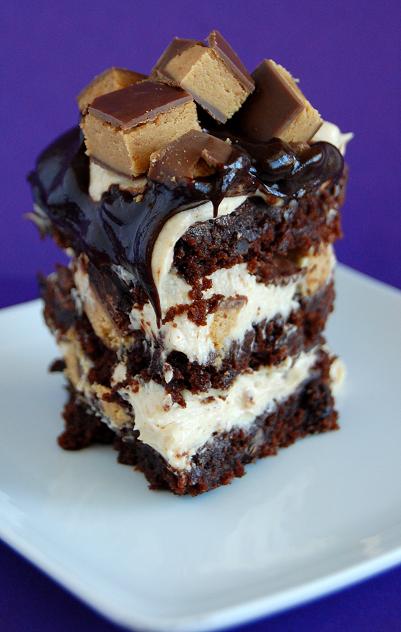 I entered a contest on Facebook and when people saw the photo they wanted the recipe (if you are bored and want to help me out go here). It got me realizing that many of the great recipes that I have on here people don't know about. The average blog reader only sticks around 2 years, so if I have been around 6, there are many a treat that you might have missed out on. So for the summer since I am a wimp and don't want to turn on the oven as much, I will be featuring Way Back Wednesdays. And yes, if you are wondering that is a nod to Mr. Peabody and the WABAC machine. 😀
The first feature is the Peanut Butter Cup Brownie Torte that prompted this idea in the first place. I will warn you that if you make this the American Diabetes Association will put a red flag by your name for making this. 😛 But red flags be dammed. I will also warn you that this is pretty rich, but darn good. To cut down on the richness if you desire I would use less peanut butter mousse. I didn't but I have a gold medal in sweets eating and you might still be at amateur status. 🙂
One of the questions asked by a reader was: How do you actually get people to eat your food? I bake and my family will try like ONE slice/piece/whatever and be like wow this is great! And then they don't eat any more so I'm left with a huge batch of whatever that I can't eat by myself. So how do you do it?
Much of it goes with my bff to his work. They are mostly male co-workers and are more than happy to eat homemade baked goods. I sometimes give to the neighbors. Sometimes to my hockey team or the referees I work with. The only thing that is hard to pawn off on are the frozen treats. Though if they knew they could make frosting out of melted ice cream, they might be more willing to take it.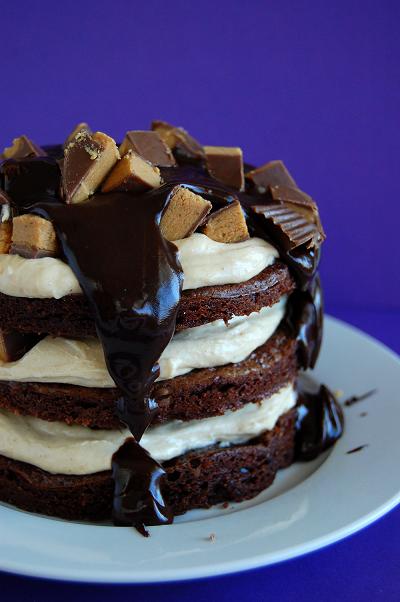 Peanut Butter Cup Brownie Torte
6 brownie rounds (recipe follows)
peanut butter cream cheese mousse (recipe follows)
lots and lots of peanut butter cup pieces (I chopped up about 15 Reese's Peanut Butter Cups)
chocolate ganache (recipe follows)
Brownie Rounds
7 TBSP unsalted butter, melted
1 cup granulated sugar
1 egg
1 egg yolk
½ tsp vanilla extract
¼ cup cocoa powder ( I used Green and Blacks)
½ cup all-purpose flour
¼ tsp baking powder
pinch of salt
½ cup semi-sweet chocolate chips
Preheat oven to 325F.
Butter and flour Six 4 ½ -inch Diameter Spring Form Pans. Set aside.
Using a stand mixer with the paddle attachment, mix together butter and sugar, about 2 minutes.
Add in egg, egg yolk, and vanilla. Beat another minute.
Pour in cocoa, flour, baking powder and salt. Mix on low speed until fully incorporated.
Fold in chocolate chips until completely distributed throughout the brownie batter.
Using measuring cups, pour a heaping 1/3 of a cup into each of the 6 prepared pans. If there is any batter left over, try to as evenly as possible, add to the prepared pans.
Bake for 20-23 minutes.
Remove from oven and let cool.
Peanut Butter Cream Cheese Mousse
½ cup whipping cream, chilled
5 ounces cream cheese, at room temperature
1/3 cup plus 2 TBSP powdered sugar
1/3 cup peanut butter (I used Jif…duh)
Using a stand mixer with the whisk attachment, whisk the whipped cream on high until stiff peaks form.
Place into a bowl and set aside.
Add the cream cheese and peanut butter and whisk on medium speed, until fully incorporated. Add powdered sugar and mix until combined.
Add whipped cream back into bowl and whisk on medium high until peanut butter mixture and whipped cream are fully incorporated and the texture is light and fluffy.
Place into a medium sized bowl and set in fridge while brownies fully cool. At least 30 minutes.
Chocolate Ganache
4 ½ ounces semi-sweet chocolate, chopped finely
½ cup heavy whipping cream
Place chocolate in a medium bowl.
In a small saucepan bring cream to a boil. Once the boil starts, pour over chocolate.
Let sit 5 minutes.
Whisk until mixture is smooth and glossy.
To Assemble the Torte:
Remove brownie from spring form pans. If still too warm, place in freezer for about 10 minutes.
Place one brownie circle on a plate. Add about a 1/8 cup of peanut butter mousse (I added much more to mine and actually doubled the recipe…but for photo reasons only. That much filling would be too much).
Scatter a handful of peanut butter cups.
Place another brownie round on top of the that. Then add another 1/8 cup peanut butter mousse. Then peanut butter cups.
Place third and final brownie round on top of second layer. Add a ¼ cup for the top layer of peanut butter mousse. And more peanut butter cups.
Pour ½ the ganache over the top of the torte. It might take some peanut butter cup pieces with it down the side. Just add more on top, you know you wanted to anyway. 😉
Repeat and make a second torte. You should have two total. You can share…but why would you? 😛