These Chubby Hubby Truffles have a peanut butter, malted milk, vanilla, and pretzel center all dipped in chocolate.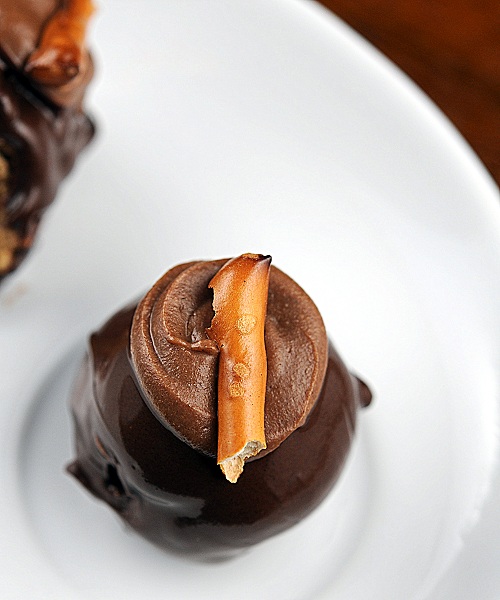 One thing my fiance gets asked all the time is "how do you not weigh 600 pounds?"
Especially after they eat something I have made or they visit this website. 🙂
What can I say…I like food.
He does too.
It's one of the things we have in common (which there are a ton more than that obviously).
But we do work out and play hockey.
And we don't sit around and eat they entire plate of cookies (though that depends on the cookie).
My fiance and I know we will never be skinny…and we have no desire to be.
Besides needing a little cushion for the pushing 😉 we just like food way too much.
So when I was on Pinterest going through things I had pinned I saw a recipe for Chubby Hubby Truffles and decided I needed to make them.

Mine are a little different in the fact that I stick to more of what the ice cream flavor is like.
It's a Ben and Jerry's Ice Cream flavor if you didn't know.
The flavor is a MALTED vanilla ice cream with chocolate covered peanut butter filled pretzels and ribbons of peanut butter.
So I added malted milk to mine and added a ribbon of peanut butter to the top.
They will certainly make you chubby that's for sure.
But that's what the treadmill was invented for…or torture…it might have been invented for torture. 😛
And as always, it's a great day to buy my cookbook.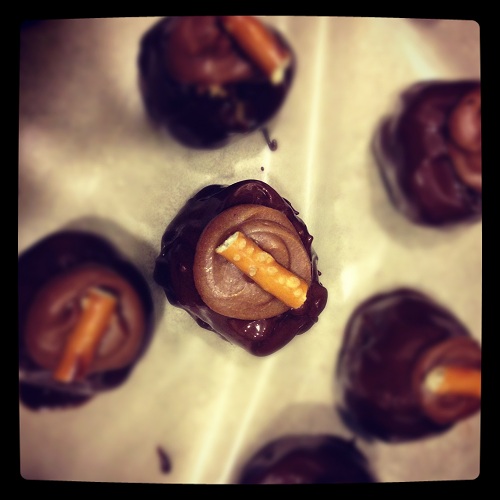 Want More Recipes Like This?
Chocolate Chip Cookie Dough Truffles
Snickerdoodle Cookie Dough Truffles
Oreo Birthday Cake Cookie Balls
Sugar Cookie Dough Truffle Cups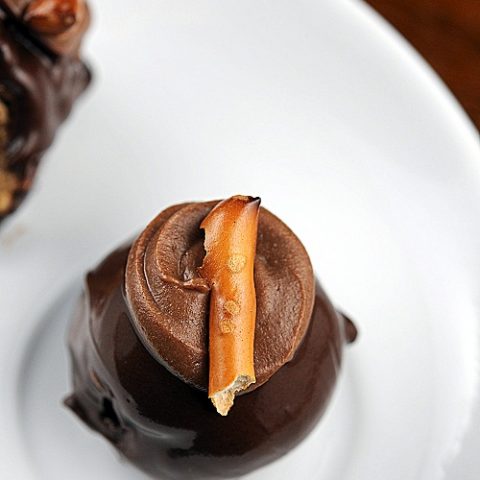 Chubby Hubby Truffles
Yield:
Makes about 18-20 truffles.
Ingredients
2 cups pretzel sticks
1 cup creamy peanut butter
1 TBSP unsalted butter, at room temperature
2 TBSP Lyle's Golden Syrup (or corn syrup)
¼ cup malted milk powder
½ tsp. vanilla bean paste (or extract)
3 TBSP powdered sugar
For Coating
1 cup semisweet chocolate chips
1 TBSP vegetable oil
For décor:
Pretzel stick pieces
½ cup Peanut Butter Chips
Instructions
Using a food processor add the pretzel sticks, butter, peanut butter, malted milk, vanilla bean paste, powdered sugar, and golden syrup and pulse until it all comes together. It takes a while. You want to make sure there are no large chunks of pretzel and that everything is incorporated…a taste test can help with that.
Roll them into 1-inch balls.
Place the balls on the wax paper-lined cookie sheet chill for at least 30 minutes.
When ready to dip the truffles, microwave the chocolate chips and vegetable oil together in a small bowl at 50% power in 30-second increments, stirring after each, until completely melted and smooth.
Working one at a time, dip one peanut butter-pretzel ball into the melted chocolate and use a fork or wooden skewer to roll it around, ensuring that it is completely coated with chocolate.
Let any extra chocolate drip off and place back on the wax paper-lined sheet.
Repeat with all of the peanut butter-pretzel balls. I suck at this part so don't feel bad if you do too!
Using the same bowl that you microwaved the chocolate in (let's not waste another bowl to wash) melt the peanut butter chips the same way you did the chocolate.
Put into a piping bag and pipe some on top.
Top that with a piece of pretzel stick.
Return the baking sheet to the refrigerator and again chill for at least 30 minutes.