These Snickerdoodle Cookie Dough Truffles are great alone for just snacking but also wonderful to use in a variety of desserts.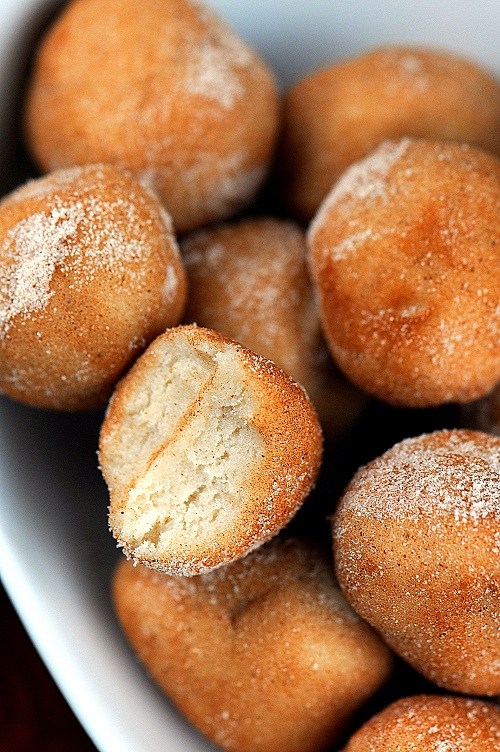 Left in the comments by one of my most favorite people of all time was a request for more snickerdoodle stuff.
So since I do big puffy heart her I am going to oblige her.
That and it's not too hard to convince me to make something snickerdoodle flavored (twist my arm).
It's funny that the vast majority of people who I adore and have been positive influences in my life (with the exception of my hockey peeps) have all come as a result of this blog.
If nothing else ever comes from me having this blog, the friendships that I have made from it have made any amount of time spent keeping this blog a float all worthwhile.
It's even is worth all the caramel burns. 🙂
They (whoever THEY are) say that the Internet often isolates and keeps people from having real life relationships.
I can see that in some ways.
And I think what is nice about the Internet is the fact that it allows me to search out and find people who I have things in common with.
Or are just good peeps that I could throw back some beers with instead of having to pick from what is just around me (no offense to my local friends 😛 ).
Some of those are people who are merely acquaintances.
The kind of people that I would meet up with for dinner if they were in town.
And some are people I would give money to and go at someone with a hockey stick if they asked.
They have done the same for me (well not the hockey stick…but it could happen).
One of the blessings (friend) that came into my life from my blog said to me when I commented about all of my good friends have either come from hockey or this blog was "passions bring good things to people".
That's a good quote, I like that.
I have two passions in my life: hockey and food…so really that makes total sense.
It also helps that hockey peeps and food lovers are for the most part pretty awesome human beings.
Oh sure there is always a rotten apple now and then…but that's okay because then I can write about them on this blog and exploit them for ad revenue. 😛
Suck that mean people.
These Snickerdoodle Cookie Dough Truffles are a take on the chocolate chip cookie dough truffles.
The ones I made for the ever hip expanding Chocolate Chip Cookie Dough Cheesecake which is excellent for all your post break up needs. 🙂
But I prefer sugar cookies and snickerdoodles to chocolate chip cookies (I know shoot me).
Plus I like any excuse to throw nutmeg into something.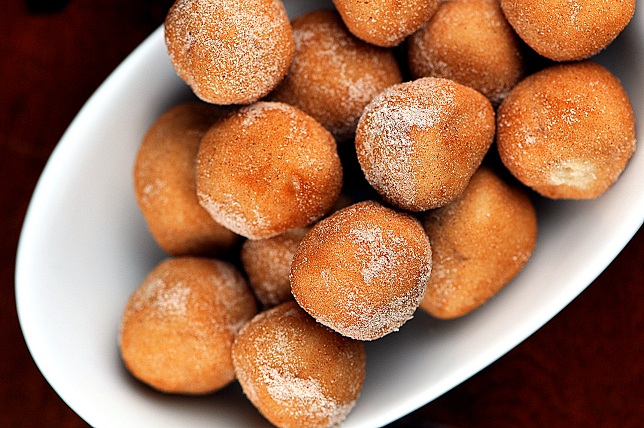 Want More Snickerdoodle Recipes?
Pumpkin Cream Cheese Snickerdoodle Blondies
Caramel Cream Filled Snickerdoodles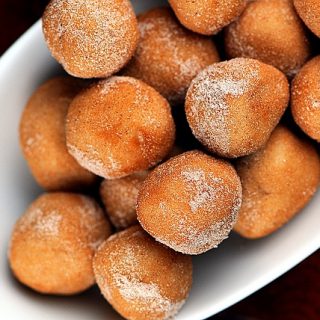 Snickerdoodle Cookie Dough Truffles
Ingredients
½ cup unsalted butter, at room temperature
¾ cup packed brown sugar
1 tsp. vanilla extract
½ tsp. salt
2 cups all-purpose flour (heat treated if you have safety concerns)
14 ounces sweetened condensed milk
½ tsp. freshly ground nutmeg
½ tsp. cinnamon
1 tsp. cream of tartar
Cinnamon sugar for rolling truffles in
Instructions
In a medium size bowl add the flour, spices, salt, and cream of tartar. Set aside.
Using a stand mixer (or a bowl and beaters), cream together the butter and sugar until light and fluffy, about 3 minutes.
Beat in vanilla.
With speed on low, slowly add flour mixture, alternating with condensed milk, beat well after each addition.
Shape balls into 1-inch balls and place into an air tight container. Roll them into the cinnamon sugar just like you would a snickerdoodle cookie. Store in freezer for at least 3 hours.
How many you get really depends on what you think a 1 inch ball looks like. 🙂 I will be using these in the next several recipes so be on the lookout.