Move over peanut butter cups because here comes Sugar Cookie Dough Cups! Sugar cookie dough truffles are surrounded by Sugar Cookie Candy Melts and topped with sprinkles. Perfect for a holiday buffet.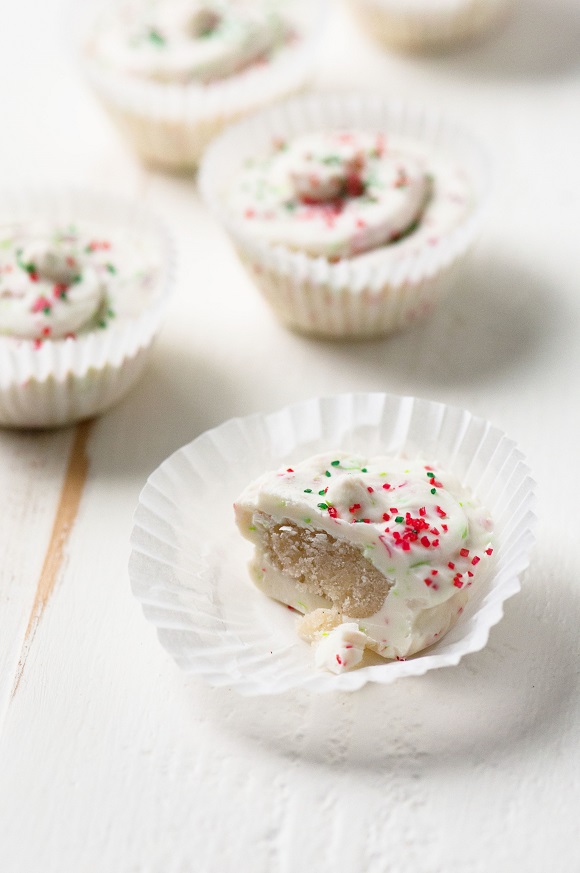 I love making chocolate chip cookie and/or snickerdoodle dough truffles but I'm not sure why it never occurred to me to make sugar cookie ones, I mean I love sugar cookies. They are the one cookie I make every year. We eat them while we open gifts on Christmas day…it's tradition.
These are in honor of Buddy the Elf as they are definitely sweet. I found the sugar cookie candy melts at Michaels and decided I needed to do something with them. That's when I saw chocolate chip cookie dough cups on Pinterest and decided to go for it.
If you can't find the melts I would just use white chocolate or even semisweet if you want to cut down the sweetness in them. Don't skip the sprinkles because Buddy the Elf wouldn't . 🙂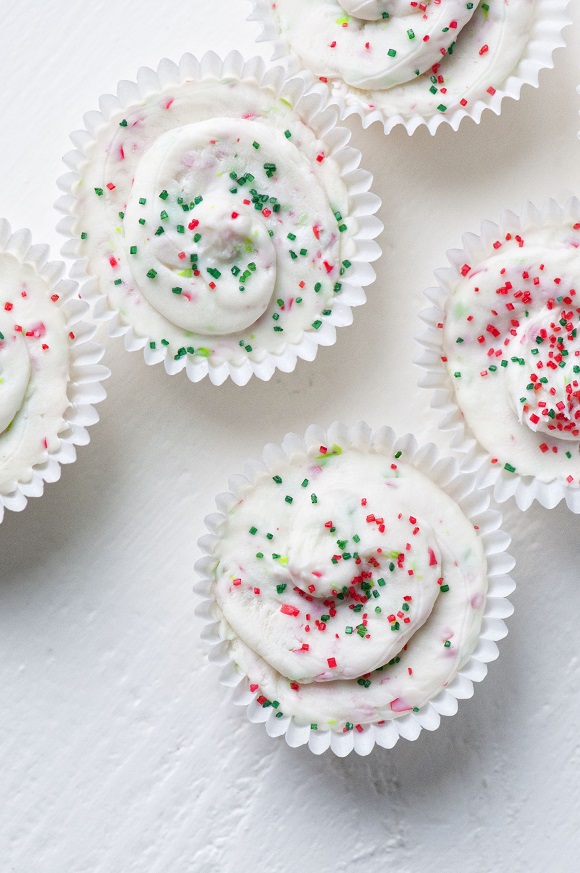 Sugar Cookie Dough Cups
½ cup unsalted butter, at room temperature
¾ cup granulated sugar
1 tsp. vanilla extract
½ tsp. salt
2 cups all-purpose flour
14 ounces sweetened condensed milk
2 (10 oz.) bags Sugar Cookie Candy Melts
Sprinkles for garnish
Using a stand mixer (or a bowl and beaters), cream together the butter and sugar until light and fluffy, about 3 minutes.
Beat in vanilla.
With speed on low, slowly add flour, alternating with condensed milk, beat well after each addition.
Shape balls into 1-inch balls and then press down to flatten it slightly.
Line a mini muffin tin with mini cupcake liners.
Heat the sugar cookie candy melts in a saucepan set over another saucepan of simmering water.
Stir until melted.
Spoon (or pipe) enough candy melts into the each cupcake liner to cover the bottom of it.
Set cookie dough ball into center of each liner.
Pour candy melts over cookie dough balls to completely cover.
Top with sprinkles if desired.
Place in refrigerator for 4 hours.